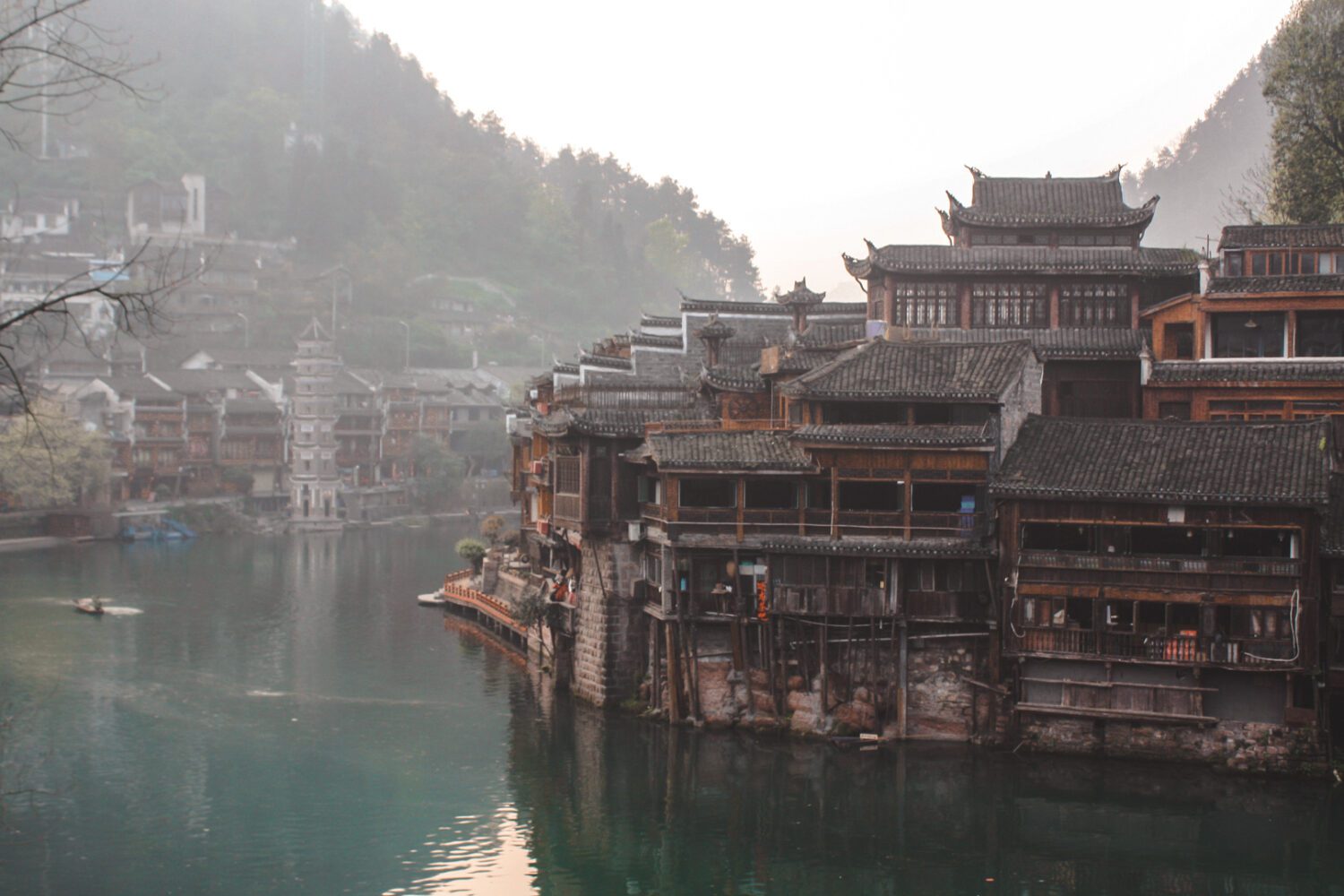 (Last Updated On: February 27, 2022)
China is a vast country with one of the oldest civilizations in the world, some of the most beautiful landscapes in the world, some of the most intriguing traditions and foods and the best news? It's still virtually untouched and unknown in the Western world. Pictures of China are only starting to crop up on Instagram and in a country of 9.5 million square kilometres and a population of 1.5 billion, there is still so much to explore. There are so many places and lesser-known places to visit in China- from Spring festival dragons and lanterns to epic, jaw-dropping scenery to the most delicious and succulent dumplings, China is a rollercoaster ride you'll never forget.
China is a highly rewarding destination to travel to albeit not the easiest. You may encounter a plethora of issues, annoyances and some hostility in some areas. Local people will ask you to pose for photos with them and you'll feel like a celebrity, you'll get stared at in the countryside and there will definitely be language barrier issues as people rarely speak English outside of Beijing, Shanghai and other major cities. Please don't let this discourage you. Travelling and living in China has been one of the most rewarding experiences I've had. Chinese people, even though they don't tend to smile, are extremely welcoming and generous and you'll probably get a few invitations for meals or visiting one's home. Younger generations who can speak English will be curious and want to spark up conversations with you. Crime and robberies are very low in China and the country is extremely safe to travel to.
If I haven't yet convinced you to put China on your wish list or even to book a flight there today, keep reading. I've travelled to many different destinations and these are the fourteen of the lesser known places to visit in China that I'll always remember as the ones that took my breath away and stopped me in my tracks again and again.
TOP TIPS FOR VISITING CHINA:
↠ The more Chinese you know before you arrive in China the better. I cannot stress how much easier a trip around China is when you can speak the basics. I would recommend learning the basic greetings, common questions and numbers. Before arriving in China I spent a good 6 months learning the language using Rosetta Stone– my favourite language learning platform. Had I not bothered some of these destinations would have been incredibly challenging to visit.
Get your own Chinese materials here from Amazon and start learning today!
↠ Get your haggling skills ready! Haggling is part of Chinese culture and if you visit a market or souvenir stall you are expected to do it. Normally you'll end up meeting the stall keeper somewhere in the middle.
↠ Don't tip. Tipping culture doesn't exist in China and you're not expected to do it.
↠ Tap water isn't potable in China. Get some water-purification tablets here, or even better a water bottle with a built-in filter here.
↠ Bring cash! In many places, especially in the countryside cash is still the main way to pay. The most common way to pay by card in China is through Union Pay
14 EPIC PLACES TO VISIT IN CHINA:
#1 ZHANGJIAJIE
Ever watched the movie Avatar and asked yourself where on earth James Cameron got his inspiration for landscapes of Pandora and those spectacular stone cliffs? This. is. it. Zhangjiajie is a place that will, no doubt about it, take your breath away- I know it did mine. Huge quartz-sandstone pillars thrust out from the earth covered by hanging vines and forests of vegetation. There are even trees perched lonesomely on the rocky outposts. Zhangjiajie is a landscape that's truly unique and there is nothing like this on the planet. Visit the park for a few days and each day trek the different paths around the exquisite landscape. Each path leads to a new rock formation or epic view. It's UNMISSABLE when in China and definitely one of the lesser known places to visit in China. I know I travelled all the way from Shanghai to see it, on a train!
Location: Hunan Province, Central China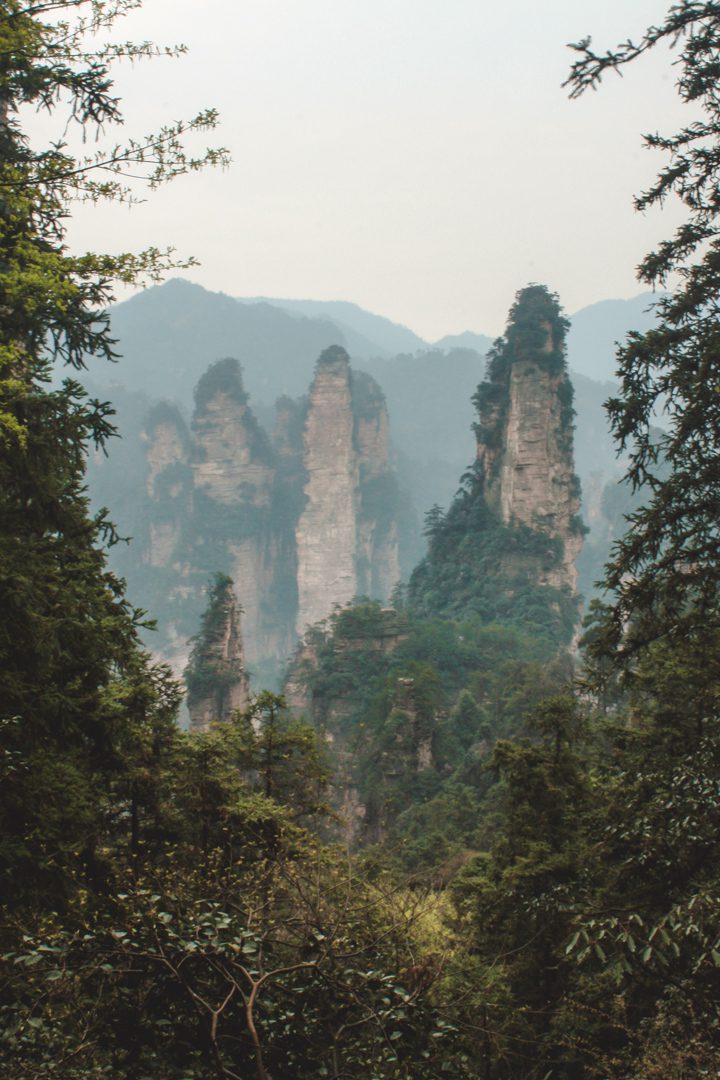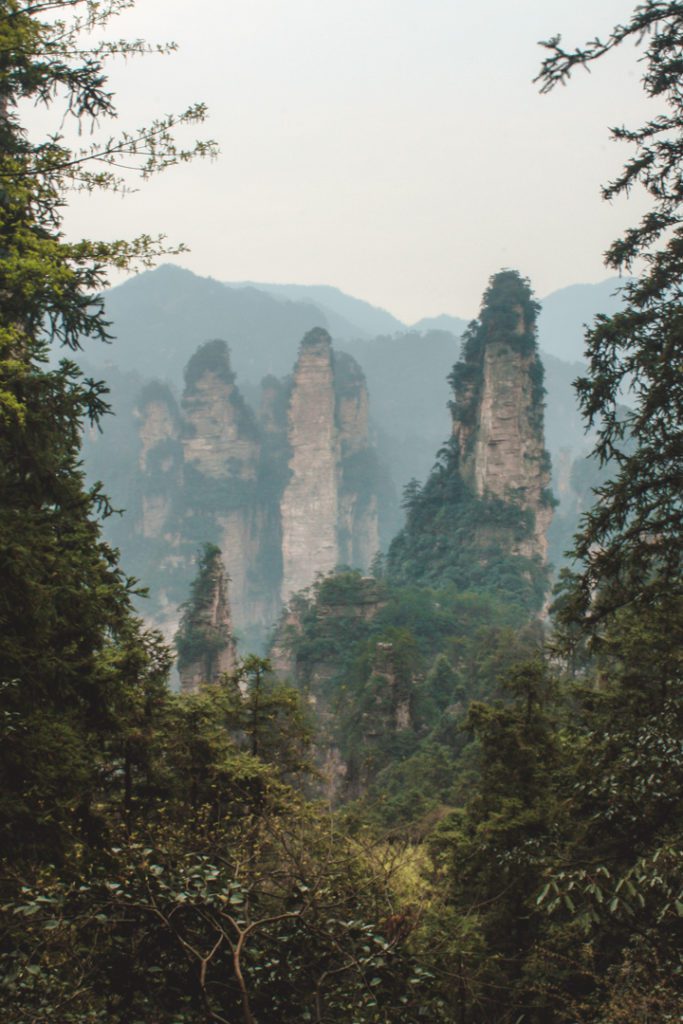 #2 FENGHUANG ANCIENT CITY
If there was ever a village frozen in time Fenghuang would be it. It's like something out of a Chinese fairytale. Stroll the banks of the river and admire the old wooden buildings on stilts, the perfect semi-circle bridges, which, when seen as a whole with their reflections in the water, make the perfect circle. Wander the crumbling cobble streets and eat at the many traditional restaurants. Discover the remains of Ming and Qing architectural styles and learn about the cities ethnic customs. Be prepared however, Chinese villages don't get better than this. Once you've experienced this, finding something more picturesque will be almost impossible.
Location: Hunan Province, Central China.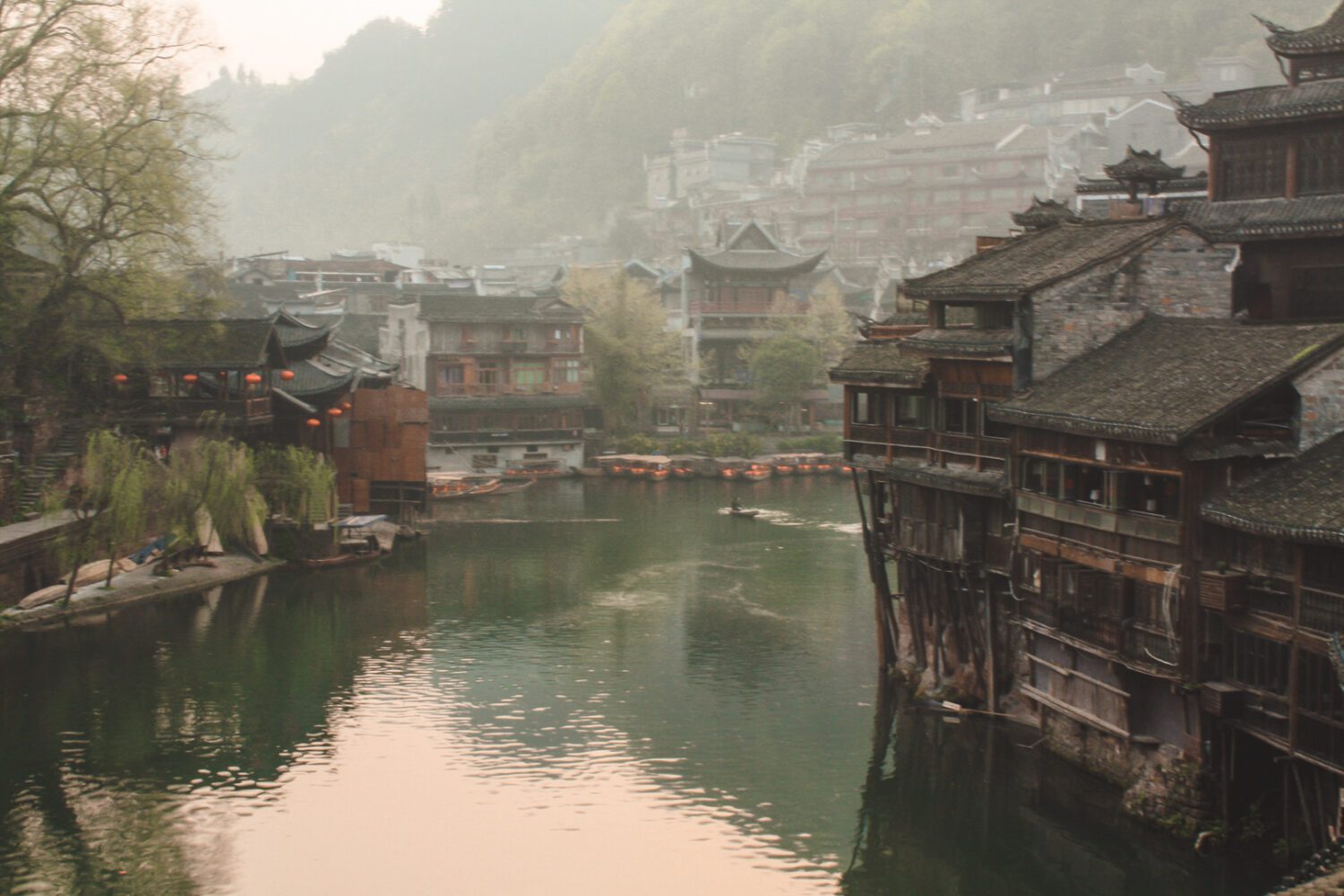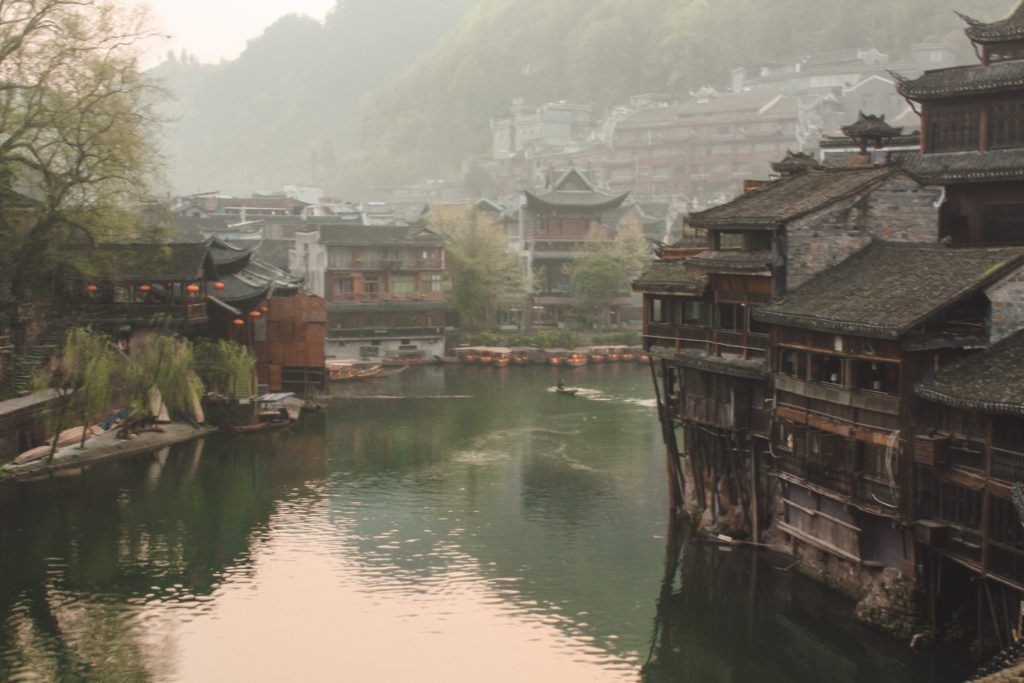 #3 YANGSHUO
While a trip to Yangshuo in Guangxi province is a must on any trip to China, it's not the town you want to see. It's the surrounding scenery that really captivates your wanderlust. Yangshuo is famous for the Li River and the cast limestone hills that follow the river along its course. Imagine a foggy cool steaming river at dawn, surrounded but mossy green limestone mounds that puncture the landscape as far as the eye can see- that's what you'll see here. Take a cruise on a bamboo raft down the river and admire the local fisherman who use specially trained cormorants to help them fish.
Location: Guangxi Province, South China
#4 HUANGSHAN (YELLOW MOUNTAIN)
Huangshan may just be one of my favourite places to visit in China. Just west of the city of Hangzhou is Huangshan or yellow mountain, a cloudy, moody mountain sanctuary. It's not exactly a lesser known place to visit by Chinese tourists and you will be mostly sharing the slopes with them. Visitors normally climb the mountain in the morning stay the night at the top and descend the next day. There are many hiking paths you can take that lead you all around the park to different and even more imposing scenery every time. Huangshan can be visited on an overnight trip from Hangzhou staying the night at a basic lodge on the top of the mountain. The most magical experience has to be watching the sunrise over the trees and mountains at 5 am the next day- make sure not to miss it!
Location: Anhui Province, East China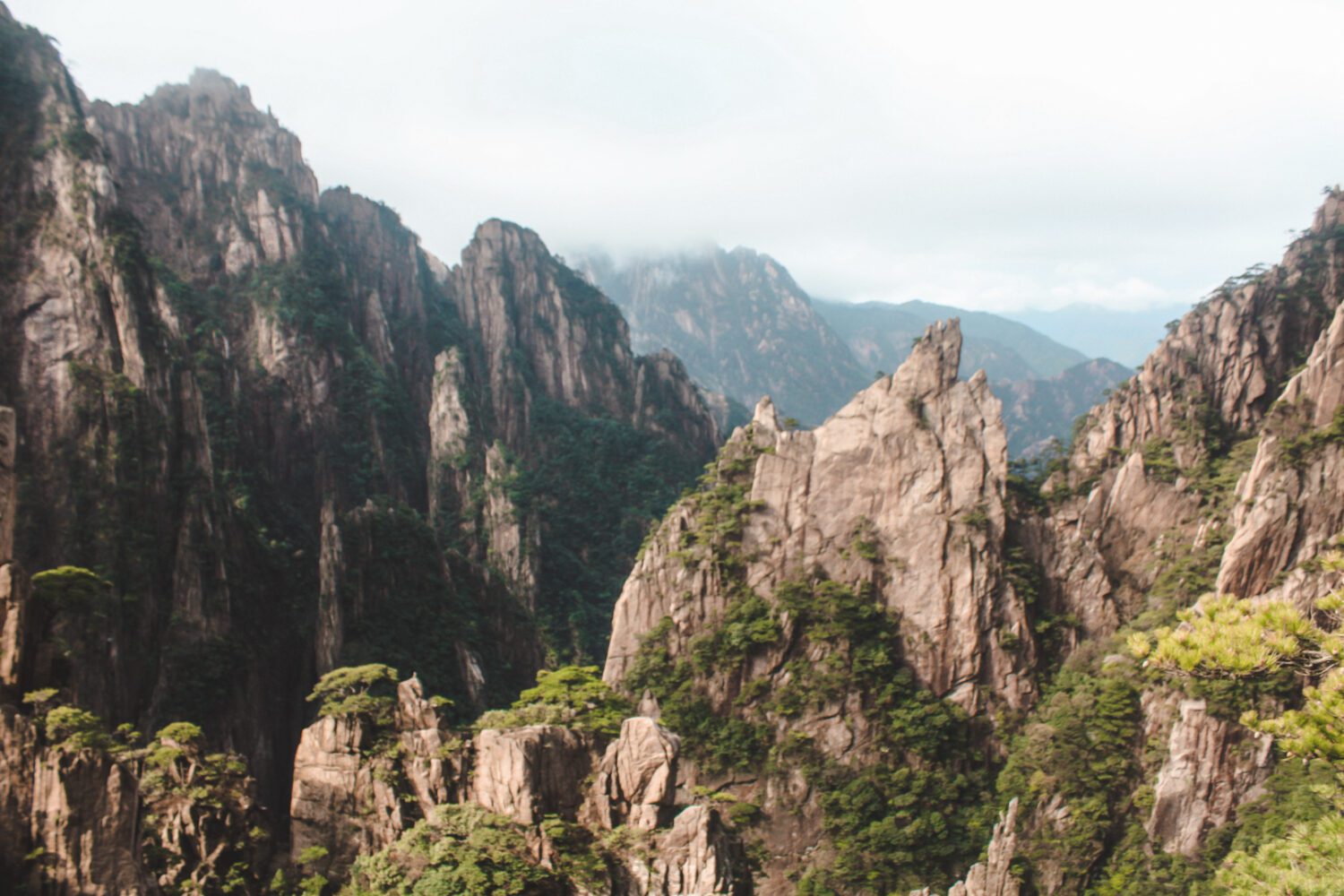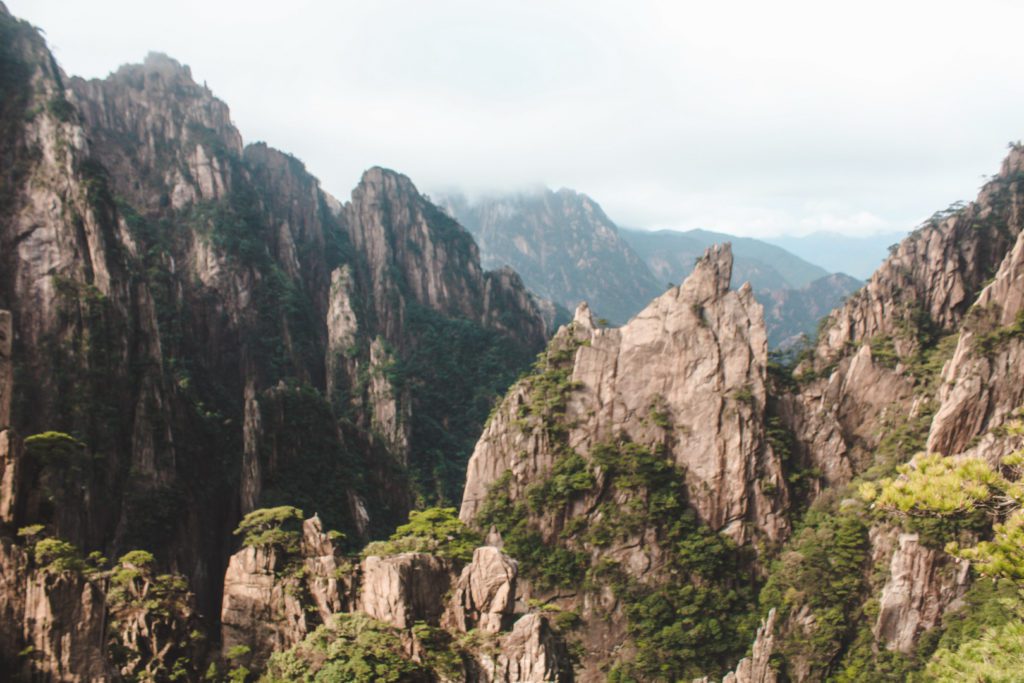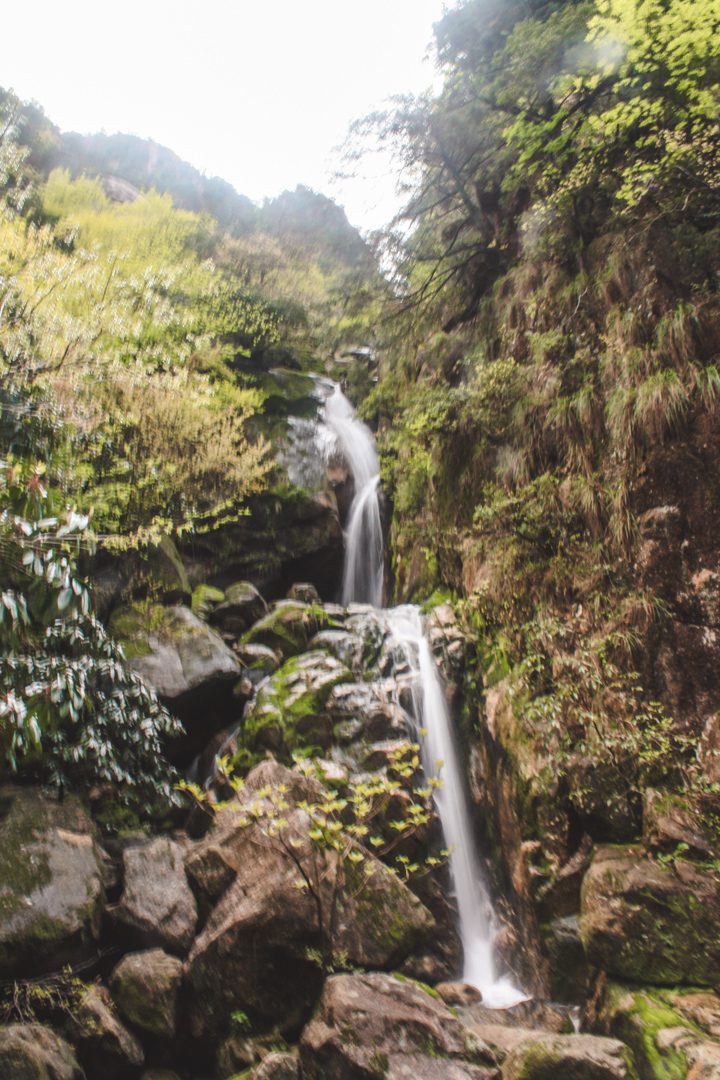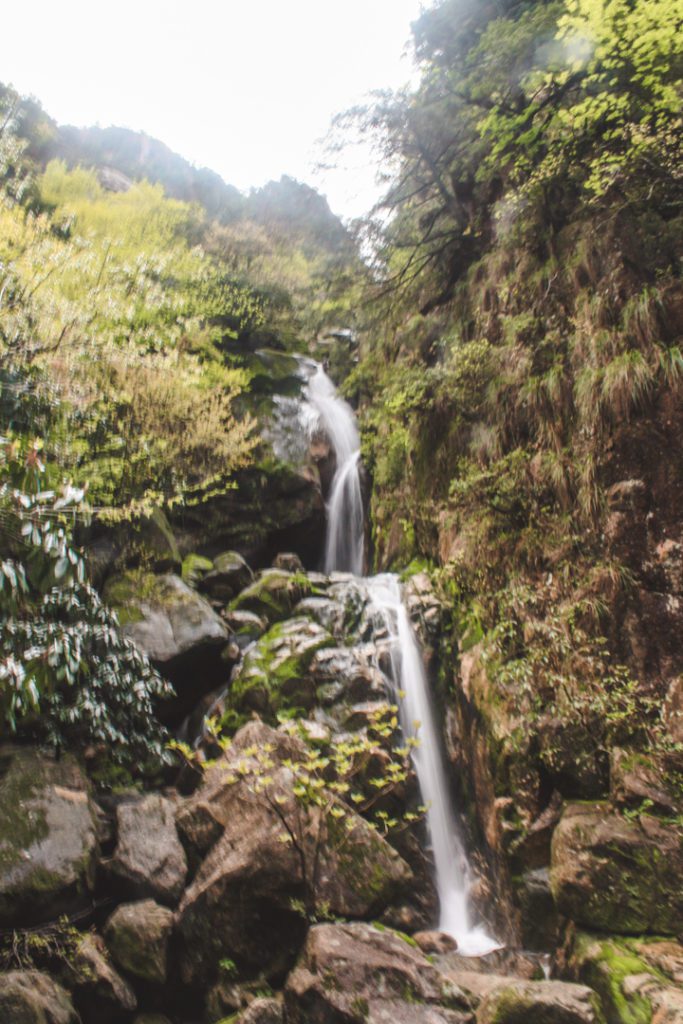 #5 SUZHOU
Suzhou, often called the Venice of the East, is the only big city on this list as Chinese cities can be chaotic and intense however, Suzhou outshines the rest. The old town is the place to spend your time, with slow-flowing canals crisscrossing ancient Chinese buildings, temples and bridges. The waterways can be navigated by boat or just be taking a stroll by the side of the canals to experience the romance that Suzhou has to offer. Gawk at the pavilions, gardens and lakes with their floating lilypads and when you're done stop for a well-earned snack and cup of tea. Suzhou can easily be reached by train from Shanghai, Nanjing or Hangzhou.
Location: Jiangsu Province, East China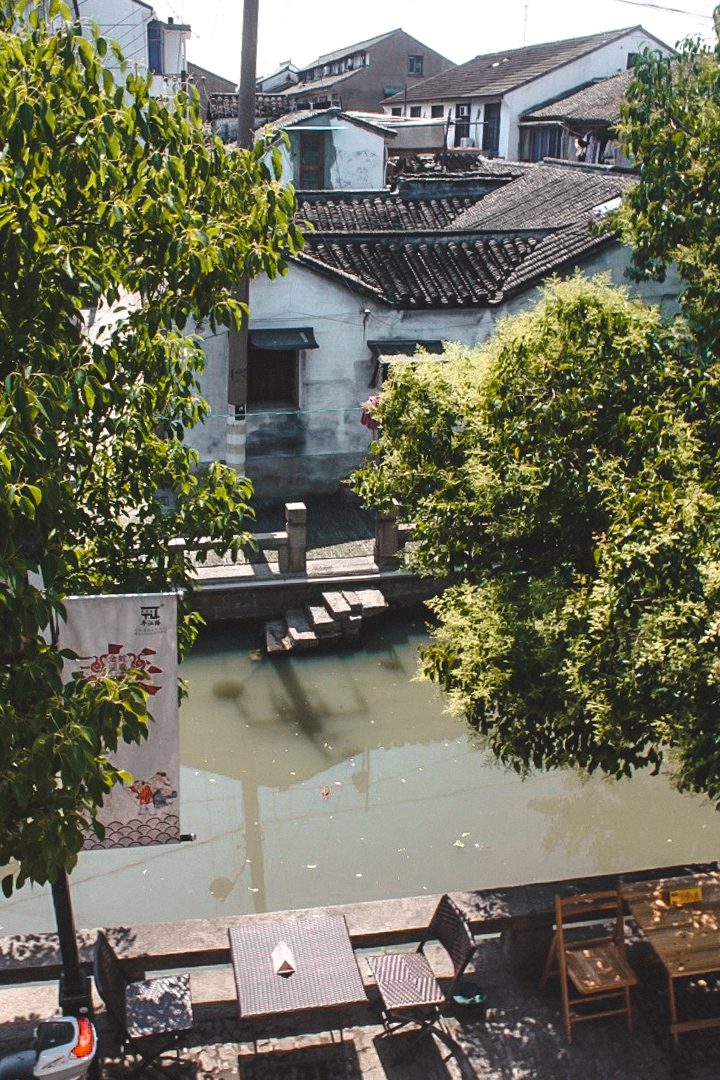 #6 JIUZHAIGOU NATURE RESERVE
Jiuzhaigou or 'Nine Settlement Valley' should be a natural Wonder of the World. Another landscape that's difficult to comprehend is real, this park offers rolling hills and dense forest pierced by lakes so turquoise they look photoshopped- so clear in fact that can look inside and see every branch, twig and fish inside. Visiting Jiuzhaigou is like visiting the set of a fairytale movie- we were constantly walking around and pinching ourselves to check if this was truly real. There's nothing to do here but simply walk the paths around the lakes and waterfalls and through the forests and marvel at its beauty. Zhouzhaigou is huge so make use of the public buses inside the park and I highly recommend to start the day early- even though it's definitely a lesser known place to visit in China by international tourists, it's very popular with national tourists.
Location: Sichuan Province, West China
#7 TIGER LEAPING GORGE
Yes, the name is real and no, you won't see any jumping tigers during your visit. Tiger Leaping Gorge is known as the of the most exhilarating, jaw-droppingly beautiful and sketchy treks in China. I haven't seen many landscapes both before and after Tiger Leaping Gorge that compare to its beauty and the impression it leaves on the visitor. This is China's largest and steepest gorge and a walkthrough here will have you gasping for breath, due to both physical excursion and the natural beauty of the place. The gorge towers over you as you walk through it, at times clinging to a tiny path that will let only one person pass. The best way to experience the gorge is to trek along it but the trek isn't for the faint-hearted or those with a fear of heights. You can also organise a driver to drive you through the gorge on the lower road however the views aren't anywhere near and amazing.
Location: Yunnan Province, South-West China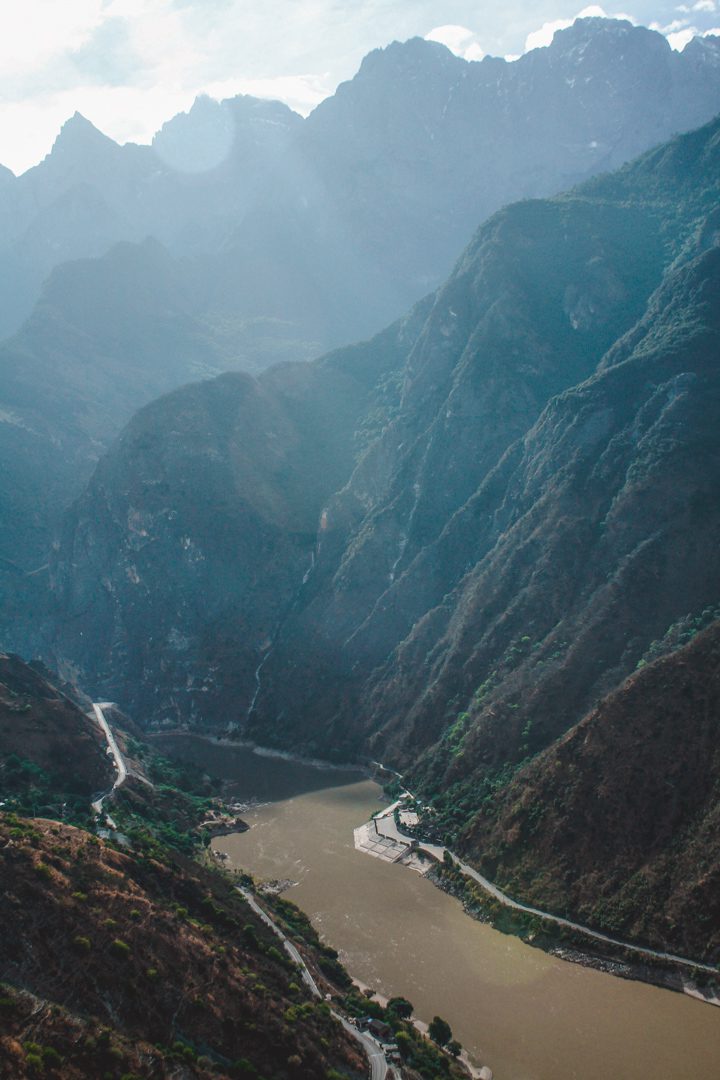 #8 LIJIANG
One of Yunnan's best places to visit, Lijiang is another Chinese fairytale town. Head straight to the historic old city and stroll the ancient cobbled streets and canals, admire the aged stone buildings with their tilled, Chinese style roofs and try the delicious foods on offer everywhere- don't miss the rose petal jam which might just be the best thing I've ever tasted. Head to Black Dragon Pool to get a photo of the famous views of the Yulong Snow Mountain Range and have a rest in the Moon Embracing Pavillion. No pavilion name ever sounded so romantic. Base yourself in Lijiang for a day trip to Yulong Snow Mountain, Tiger Leaping Gorge and onwards to Lugu Hu, China's answer to Lake Bled.
Location: Yunnan Province, South-West China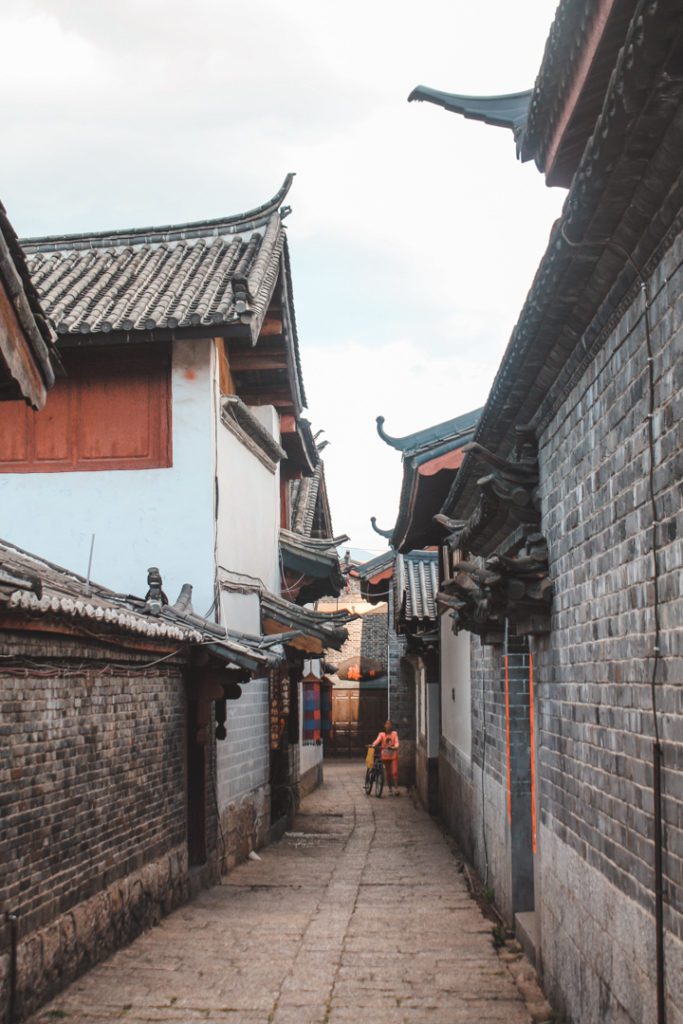 #9 SHANGRI-LA
Travel a little north from Lijiang and you'll find Shangri-la or Deqen (its name on Google maps). If you think that Shangri-la is a bit of a strange name for a town, even by Chinese standards then you'd be right. The town was renamed in 2001 after the fictional land of Shangri-la from James Hilton's novel Lost Horizon, simply to promote tourism. While the town itself is pretty and heaving with Tibetan culture and encounters, the main draw here is the Gandan Sumtseling Monastery- one of the most magnificent Tibetan monasteries you'll ever see. The main temples sparkle in the sunshine, the sunlight reflecting off their gold-gilded rooftops, monks go about their daily chores and prayers and healthy, well-fed animals come to greet you. Stroll around and observe daily life here and notice it's stillness and peace. Take a seat inside the temples and take a meditation break with buddha right in front of you.
Location: Yunnan Province, South-West China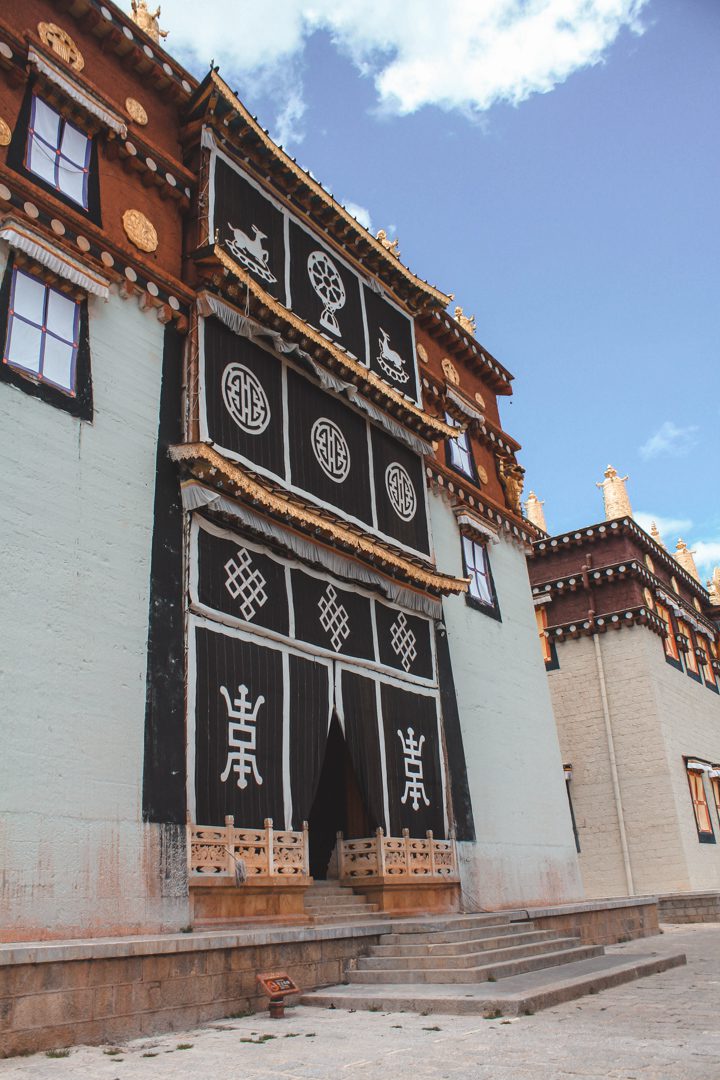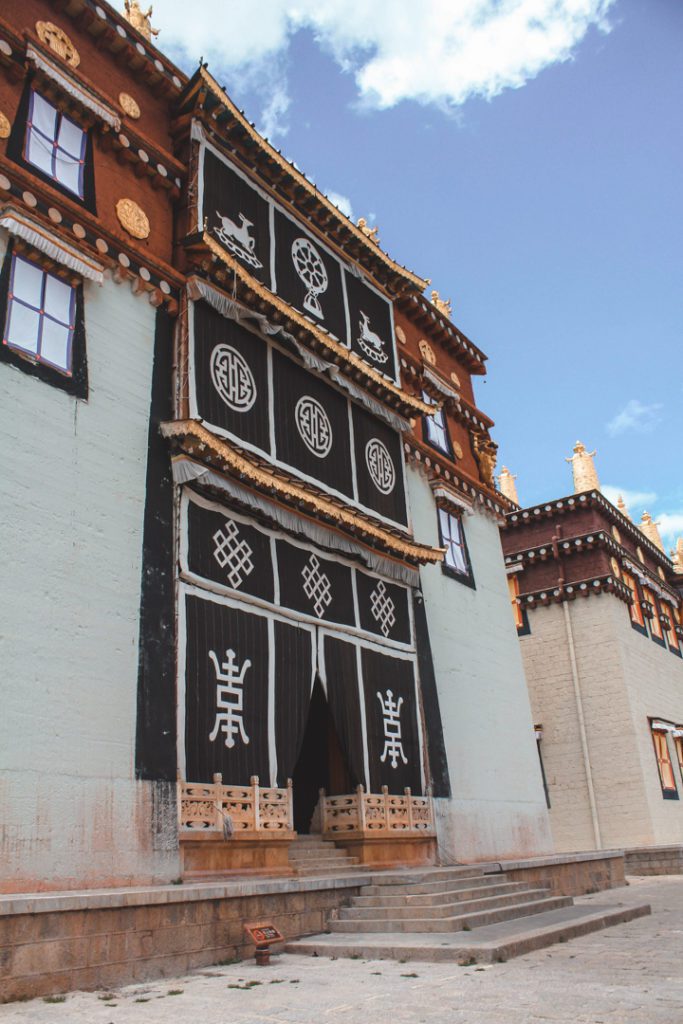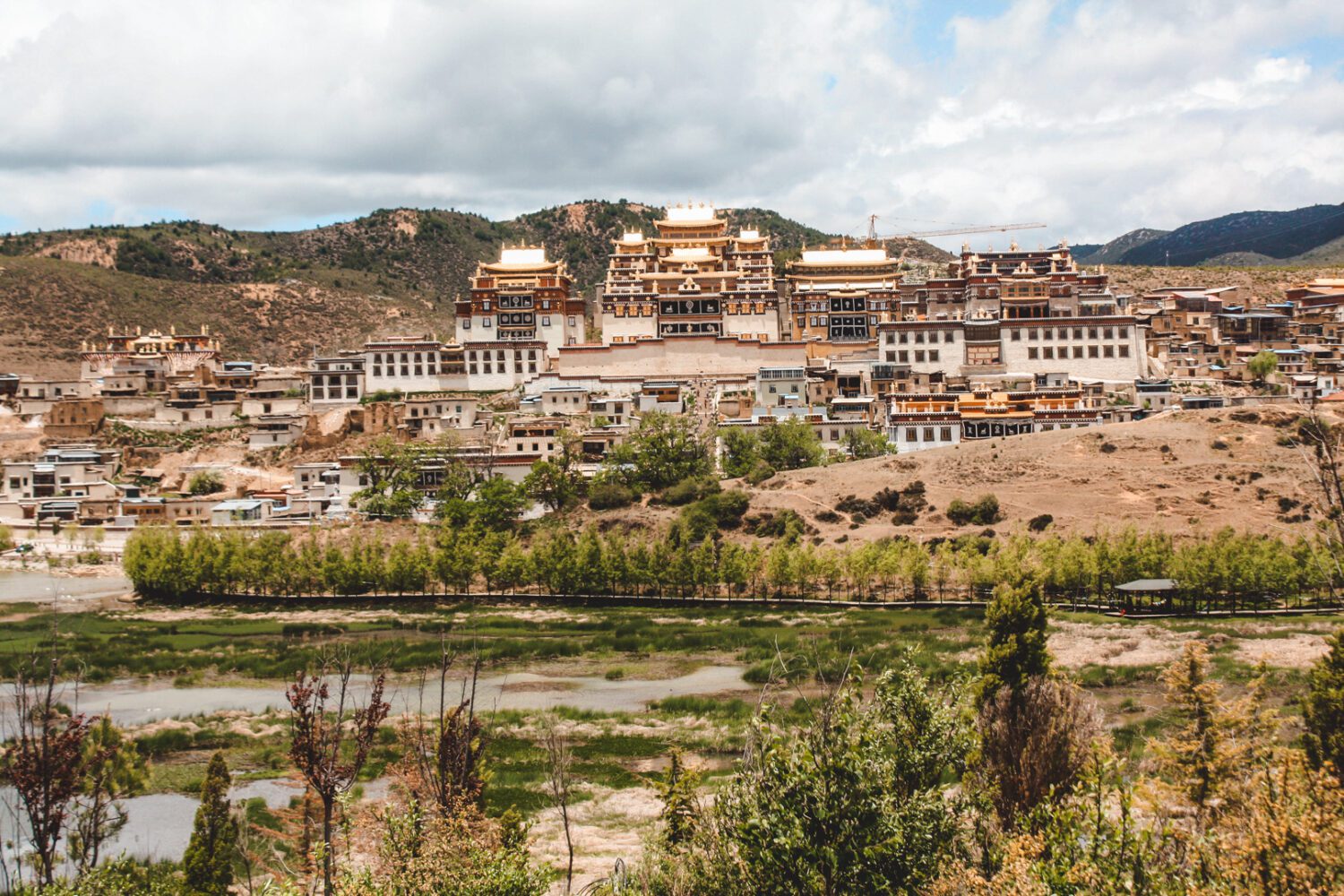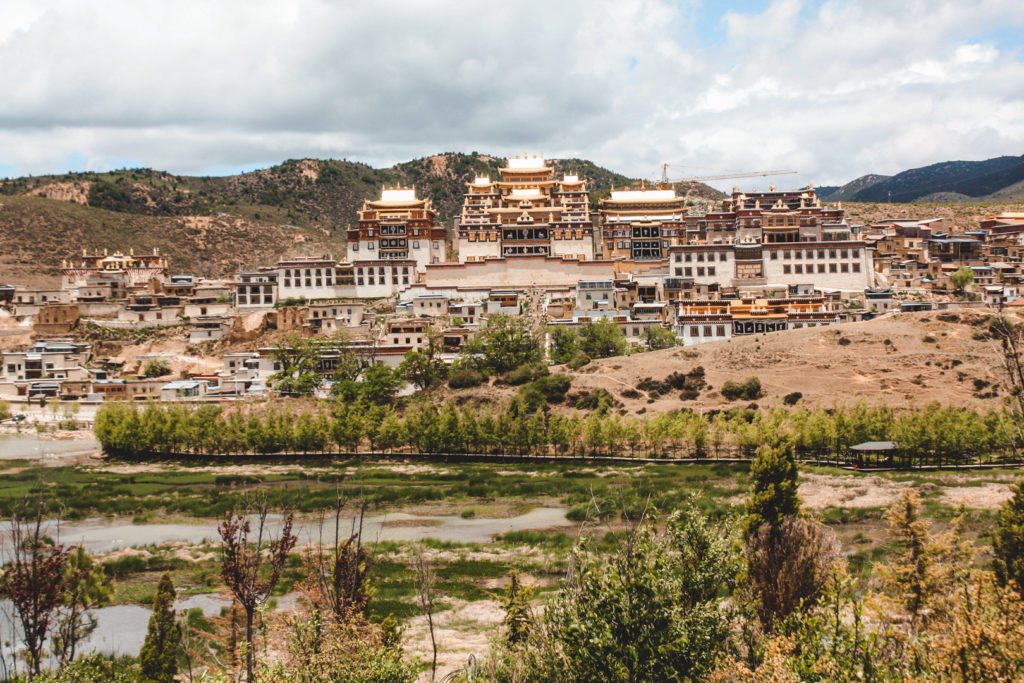 #10 NANXUN
Out of all the lesser known places to visit in China, Nanxun is a must. Known primarily by local tourists it's one of the highlights of canal-famed Zhejiang Province. Nanxun is the condensed, village version of Suzhou. A visit to Nanxun makes the perfect day trip from Shanghai or Hangzhou. Stroll through the narrow, cobbled streets, sip tea in a tea house by the canal surrounded by hanging red lanterns, and take a long and slow boat ride around the town. Nanxun is by far my favourite canal village in China.
Location: Zhejiang Province, East China