(Last Updated On: March 9, 2020)
If you're planning your trip to Milos, Greece there is one place that you simply cannot miss. Known for it's colourfully painted fisherman houses and beyond-epic sunsets Klima, Milos is a historical, port town turned sleepy village.
Many travellers visit Klima each day and most head to the waterfront to stroll the stone walkway admiring the colourful local architecture or syrmata– the quintessentially Greek boathouses with apartments above. Visit Klima in the evening and you'll be saturated in golden light as the sun sets on another day, something I highly recommend you do.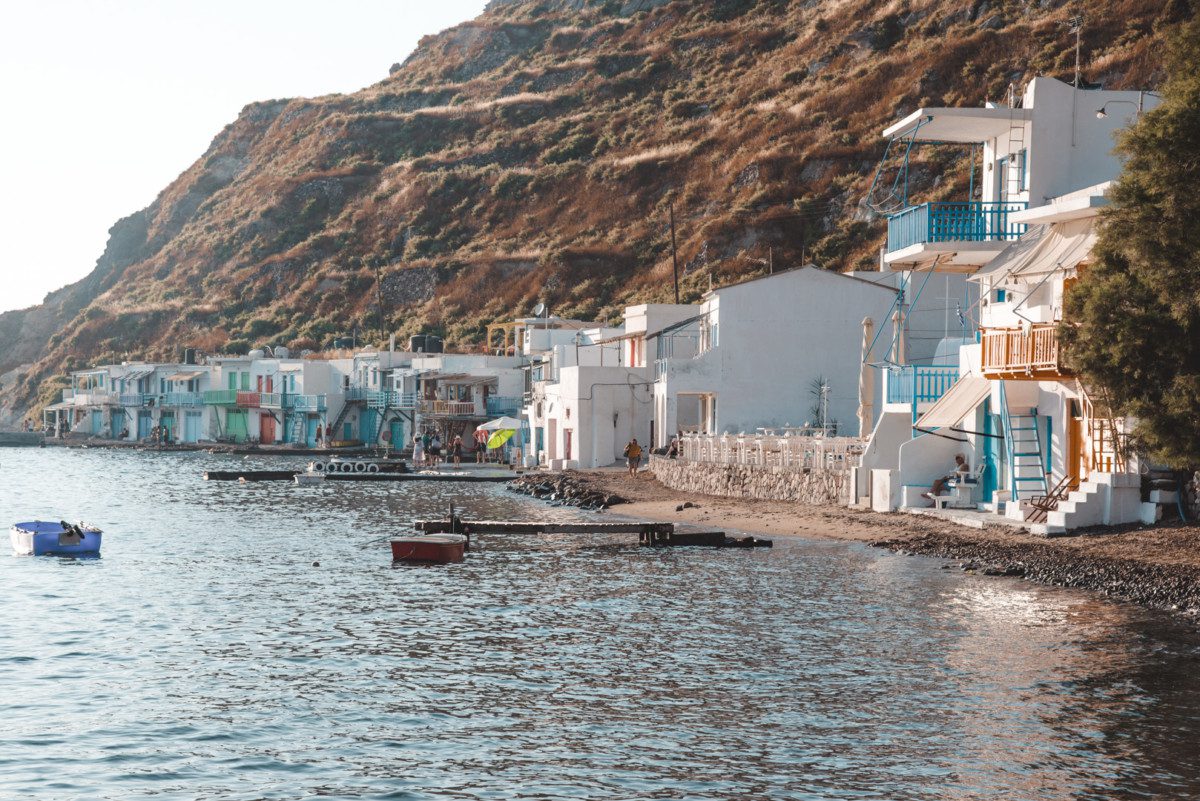 BEST TIME TO VISIT KLIMA, MILOS
With Greece being one of the most popular destinations in Europe right now, I would highly recommend avoiding travelling to Milos during the summer high season (July and August). If you can, the shoulder season is the best time to visit, from late May to mid-June and from September until mid-October. This way you avoid the crowds, prices are lower, the weather is still fantastic and the sea is warm enough to swim in. The best time to visit Klima is towards the end of the day for sunset.
HOW TO GET THERE
Klima is located not far from Plaka, just downhill from the town of Trypiti. It's about a 5 minute car ride from Plaka or 15 minutes from Adamas. If you've rented your own car or scooter you can drive right down the hill and park on the side of the road as you get into the village. If you're using public transport, get off the bus at Trypiti and from there you can walk down the hill. It's about a 20-minute walk down and a 30-minute walk back up again. When walking down lookout for oncoming traffic as the road is narrow and full of blind turns.
WHAT TO SEE AND DO
The beauty of Klima is that there isn't much to do. It's a place to simply gawk at the perfect Greek village in front of your eyes. The best thing to do is to take a stroll by the water's edge and photograph the gorgeously colourful fisherman's houses known as syrmata, which are surrounded by sunbaked golden hills. Sit on a bench with the locals, people watch and play with the kittens nearby.
Klima is also the perfect place to watch the sun go down behind the adjacent side of the island and it casts the most beautiful golden light all over the Klima waterfront. Sit down and enjoy it's golden, romantic light on the whitewashed houses and boats.
Want to know about all the best things to see and do in Milos? Check out the Complete Milos Travel Guide.
ATTRACTIONS AROUND KLIMA
There is so much to do in Milos from beach and village hopping to exploring the churches and museums. There are a few attractions not far from Klima that a worth visiting either before or after your visit.
Milos Catacombs – Located a stone's throw from Klima, discover a portion of the ancient history of Greece here. For a small fee you can descend and explore the tombs and inscriptions inside. The catacombs date back to Roman times and it's thought that Christians would use these cave-like structures on this side of Milos to hide from the Romans from prosecution.
Plaka Castle – Standing high on the steep hill just north of Plaka is this Venetian Castle. It dates back to the 13th Century from when Milos was under Venetian rule during the Byzantine Era. While what's left is mostly ruins, there are a few cute churches up here and not to mention, 360 views of the whole island. This is also one of the best places in Milos to watch the sunset if you're not planning to do that in Klima already.
WHERE TO STAY
Being the small village that it is, Klima has a handful of great accommodation options for those wanting to stay in this quintessentially Greek settlement. There are a handful of syrmatas or boathouses that have been converted and are available to rent for the ultimate local experience.
Dream Boathouse – For the most authentic converted greek syrmata this cosy boathouse is perfect for a couple wanting to relax in a peaceful village and do nothing all day but swim in the clear blue sea and eat olives and grapes by the handful. This property also has a little kitchen allowing you to make as much greek salad as you like.
Fisherman House – A similar set up to above, this converted syrmata is completely whitewashed and tastefully decorated. The view of the bedroom is divine not to mention the sea is on your doorstep. Who even needs a shower?
Panorama Hotel – Located further up the hill on the road down from Typiti this gorgeous hotel is simple but charming, has a restaurant on-site and sweeping sea views for as far as the eye can see.
Where to Stay Near Klima
Plaka and Adamas are the main towns on Milos and there are plenty of accommodation options in both, from idyllic holiday rentals to boutique hotels.

Halara Studios – His property, located high on a hill in Plaka has some of the best views and sunsets around. It's spotlessly clean, whitewashed and has a minimalist feel to it. Each studio comes with a small kitchen and a terrace which you won't want to move from.
Faros Apartments – Located a little outside Adamas, the capital of Milos, this idyllic property is perfect for those with their own transportation. Here you'll be able to rent spacious self-catering apartments with gorgeous views that go on for miles. From here to Klima its a 20-minute drive.
Airbnb is also a great option in Milos. If you've never used Airbnb before, sign up now and get $40 off your first stay.
WHERE TO EAT
There is only one eating option in Klima, on the waterfront so if you're planning to eat here at around sunset I'd highly recommend calling ahead and making reservations as tables fill up fast, especially during high season. Otherwise, there are many restaurants in nearby Typiti, up the hill and in Plaka.
Astakas – For the perfect romantic meal as the sun sets on another day in heaven, lets to honest, Astakas has a great Greek menu where you can find Mediterranean classics like Greek Salad, grilled vegetables, chickpea salads as well as grilled fish and seafood. Pair that with a glass of local Greek wine and you've got yourself the perfect evening.
TIPS FOR VISITING
↠ In the summer Klima, Milos can get very crowded, especially at sunset and parking is limited to the shoulder of the road on which you come in on. Try to come a little earlier if you've rented a vehicle as parking is limited.
↠ If you plan to eat at Astakas restaurant here at sunset, making reservations is highly recommended as this is a very popular time, more so during high season.
↠ When walking along the waterfront, especially on the wet stone, close to the water's edge- be careful. This stone is covered in a thin layer of algae which forms with the rising tides and is extremely slippery.
Want to ask me anything about your visit to Klima, Milos? Leave your comments and questions below, I'd love to hear from you.
---
Related posts you might like:
The Complete Milos, Greece Travel Guide
The Complete Guide to Things to Do in Paros, Greece
The Perfect 1-day (or less) in Athens, Greece
---
LIKE IT? PIN IT AND SHARE
*This post may contain affiliate links meaning I get a small commission on a sale at no extra cost to you. This goes towards the running of the blog and allows me to keep creating quality content like this for free.