(Last Updated On: March 1, 2020)
Siete Tazas National Park or Parque Nacional Radal Siete Tazas is a gorgeous national park in the Central Region of Chile. Located 260km (3.5hrs) south of Santiago, it's the perfect place to base yourself for a few days if you're looking to get away from the bustling city and experience some wild and untouched nature.
Siete Tazas translates to 'Seven Cups' in English and the name comes from the seven natural, rock pools, linked by small waterfalls, which in my opinion are the highlight of the park. I've lived in Chile for 5 years and I couldn't quite believe I'd waited this long to visit this extraordinary place. We concluded that it was quite easily the best national park located close to Santiago. Expect to see hectares upon hectares of native forest, two spectacular waterfalls, the 'seven cups' and lots of other spectacular landscapes along the way.
BEST TIME TO VISIT SIETE TAZAS
The warmest time to visit is during the Chilean summer months December- February. Note that January and especially February are Chilean vacation months so if visiting at this time, book your accommodation in advance and avoid weekends. A great time to visit the park is during the spring September-December and autumn March-May, where you can see the landscape transform into a wave of beautiful autumnal colours. During the winter the park may be closed due to heavy snowfall- check ahead of time when planning to visit during winter. My favourite time to visit is December-January or early March.
HOW TO GET TO SIETE TAZAS
CAR
The easiest way to reach 7 Tazas is by car. Cars can be rented in Santiago for about $43 per day for a basic small car. From Santiago head south on Highway 5 until you reach Molina. From Molina take the K-175 all the way to Siete Tazas. Note that the roads in the National Park aren't in great condition and at the time of writing, much of the K-175 was under construction starting from about 6km outside the park. It is passable in a small car but be prepared for a lot of dust.
PUBLIC TRANSPORT
From Terminal Alamada bus station in Santiago, you can catch a bus to Molina. From Molina you can change for another bus that goes to Radal Siete Tazas or Parque Ingles. The local buses stop all along the road so you can get off earlier if your accommodation is outside the park. Some buses go all the way to Parque Ingles where there is a campsite and some cafes. During low season May-September due to less demand there are less public buses. Check here for timetables and booking your ticket online, although this isn't necessary- some Spanish knowledge will help here. 
HITCH-HIKING
Hitch-hiking is fairly popular still inside the park so if you'd like a ride from one spot to another its an idea. If you're going to hitch-hike in the summer find the portions of the road that are paved (there are a couple inside the park), otherwise you'll get sprayed with a cloud of thick dust every time a car passes.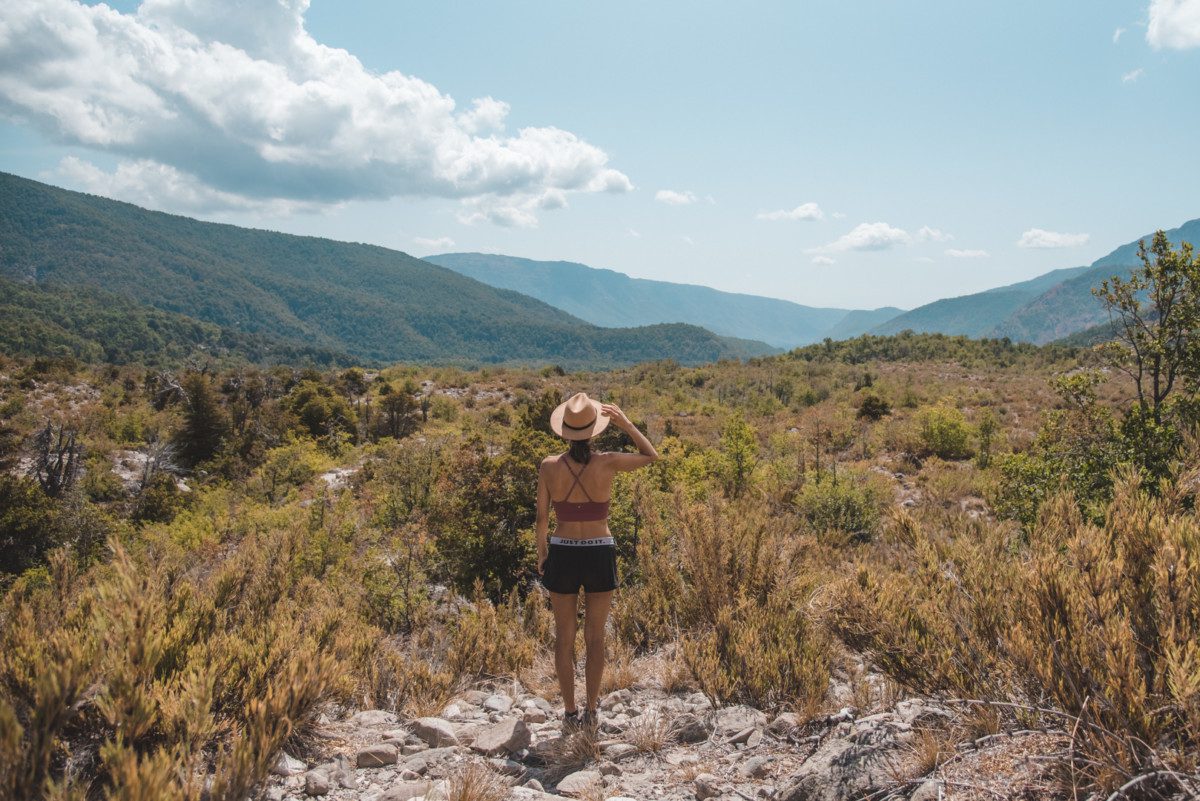 WHERE TO STAY
The most common form of accommodation in and around the National Park is either camping or in rustic cabins. There is some, yet limited accommodation inside the park – many other options are located just outside the park entrance. If you have a car then I'll recommend staying outside the park as you have a lot more choice, which helps, especially during high season.
ACCOMMODATION OUTSIDE THE PARK
If you've got your own gear, camping is definitely the way to go. Campsites, in general, are pretty well organised and they all have good pitches, bathrooms and washing facilities. Pitches on campsites outside the park come with their own barbecues (ours did) which make a great change for cooking food.  We camped at Eco-camping Entre Rockas which I would highly recommend. All their electricity and hot water are generated through solar panels and they also provide eco-friendly detergents. It's a gorgeous site and you can camp right by the river.  Noteworthy campsites outside the park include Cabanas Alto Radal Siete Tazas and Cabanas Los Molles. If you're not up for camping or simply don't have the equipment all the above also rent cabins. They are simple wooden cabins with simple furnishings and a super cosy atmosphere.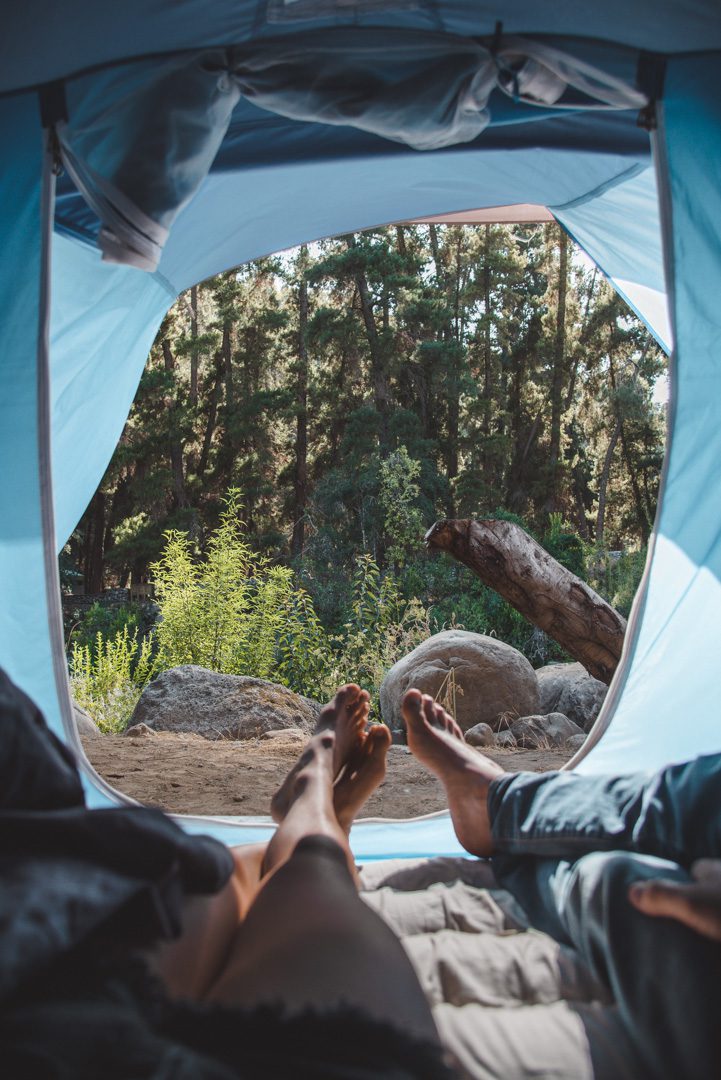 ACCOMMODATION INSIDE THE PARK
There a few camping and cabin options inside the park too. The most popular and probably the one with the best infrastructure is Valle las Catas. They have cabins and pitches to rent and while they are more expensive they include the entrance fee to the park. If you don't have a car I would recommend staying in Valle las Catas as it's walkable to the main sites of the park. Note that if you stay inside the park you won't be able to light any kinds of fires which include barbecues, so make sure you have a camping stove. Other noteworthy campsites are Camping Rocas Basálticas located right by Parque Ingles- great for those needing to be up early for the trek to El Bolson and Cabanas y Camping Santa Camila, located just inside the park. 
WHAT TO EAT
Self-catering is really the way to go in Siete Tazas. There are some cafes where you can grab some light meals and junk food in Parque Ingles and right before the park entrance where there are some food trucks, coffee stands and grocery stores.  If you're coming by car, stop at a supermarket in Molina to grab all your groceries and supplies. If you're taking the bus try to bring as much as you can from either Santiago and Molina.  Our favourite plant-based camping meals were a veggie barbeque, black bean, corn and avocado tacos and spaghetti with tomato sauce. Every lunchtime we made sandwiches for a little picnic in the park. In was simple but healthy, nutritious and filling.
WHAT TO SEE AND DO
Siete Tazas National Park definitely has enough to do to fill up a couple of days. Here are the main sites that cannot be missed:
SALTO VELO DE LA NOVIA
This is the first waterfall you come to upon entering the park and there is a viewpoint from the road. The waterfall is stunning and it tumbles over the craggy rocky cliff into the azul pool below. You'll notice the native forest and vegetation all around it- creating a scene like something out of Paradise Lost. You might, however, be surprised by little water there is and this goes for the entire park. In 2010 Chile had a huge earthquake, which cracked and separated some of the bedrock and since then much of the water flows underground.
MARVEL AT SIETE TAZAS
One of the most beautiful sights you'll see in the park- the Siete Tazas are seven rocky pools, each one placed at a lower elevation than the previous one. Water spills from the top one down to the last one via small waterfalls. The water is the clearest deep, ice-blue you'll see. We arrived for just after sunrise and enjoyed the stillness, tranquillity and the perfect golden light the location had to offer. To reach Siete Tazas and Salto La Leona (below) which is essentially past the start of the park you'll have to pay the entrance fee which costs CLP$5,000 for foreigners and CLP$2,500 for Chileans. 
HAVE A PICNIC AT SALTO LA LEONA
Continuing down the path from Siete Tazas you'll eventually start descending down the steep cliffs into the old riverbed of the Rio Claro (since the earthquake the river now flows underground to reappear at Velo de la Novia). Jump over the huge boulders and make your way to the peaceful waterfall. At the base of it, you can bathe in the icy water of the plunge pool and there's even a sandy/dust beach where you can relax on for the rest of the afternoon. It's the perfect spot for a picnic.
HIKE PARQUE INGLES
Parque Ingles is a wonderful, green valley surrounded by jagged, wind-swept mountains and it's great for a walk or a picnic. It's also the starting point for many treks around the park. See the hiking section below for all the treks.
RELAX IN NATURE
Even if you're not of the adventure type Siete Tazas is also a great place to relax and read a book and take in your surroundings. You can head to Parque Ingles, find a shaded spot and read a book or simply relax in a hammock at your cabin. 
BATHE IN THE CLARO RIVER
Yes, the water in Siete Tazas is inviting and oh so clear it's almost drinkable but don't let that fool you. It is ice-cold water that comes straight from the high Andes. In most places in the park, it's impossible to access the river due to the steep cliffs that flank it's side but at one point it opens up allowing you to bathe in the rock pools. This point is called 'Malacara' and it's accessed only by trekking from Parque Ingles. Read more in the 'Hiking' section below. 
Not sure what to see and do in Santiago, Chile. Check out my 36-hour Travel Guide to Santiago here.
HIKING
Siete Tazas is loaded with hiking paths of varying difficulty allowing you to really choose what you feel like doing. 
El Bolson – This is one of the longest and most popular treks in the park. Starting at Parque Ingles, the El Bolson trail snakes through the forested valley and around to El Bolson, a higher, spectacular valley fringed with towering peaks and cascading waterfalls. It's a stunningly wild place of pure, unadulterated nature. Upon arrival, rest and admire the view, have a picnic lunch and visit Cascadas Gemelas, a pretty twin waterfall closeby. You can also camp at El Bolson and many people do so in the summer- the campsite is pretty barebones though. The trail is 11km one way and can be completed in a day and while it is very long it is a comfortable, almost- flat walk most of the time.  Expect to complete it in 5-8hrs.
La Montañita – starting at Parque Ingles, this difficult trek or climb even, takes you out of the immediate valley straight up the adjacent mountain for the most beautiful views of the valley below. It's only 4km long but it's a steep uphill almost all the time and takes about 5-6hrs to complete.
Malacara – Malacara is a beautiful, short trail, perfect for those interested in swimming and those not interested in a long trek. The Malacara trail uses the same trail as El Bolson for the first 2km and then branches out towards the Rio Claro. The trail winds through native forest, rustic footbridges and apocalyptic looking trees that have been burned out by lightning. After 3.5km you'll end up at Malacara where you can descend to the only part of the Claro river which can be accessed for swimming in the entire area. You'll find many natural rock pools of clear but ice-cold water to bath or soak your feet in. This is a gorgeous place for a picnic or to spend a few hours before heading back.
Los Chiquillanes – Another challenging option in the Parque Ingles valley is Los Chiquillanes, a steep path taking in native forest and an ancient volcano- it's top long since blown off. This 5.5km path (one way) will reward you with stunning views of the valley. Put aside 4-5hrs to complete this. 
---
Related posts you might like:
The Perfect Tour of Chile's Central Valley
The Ultimate Top 10 Chile Bucketlist
What to Do in Santiago Chile in 36 hours
The Ultimate 4-day, self-drive itinerary for the Atacama Desert
PIN IT FOR LATER