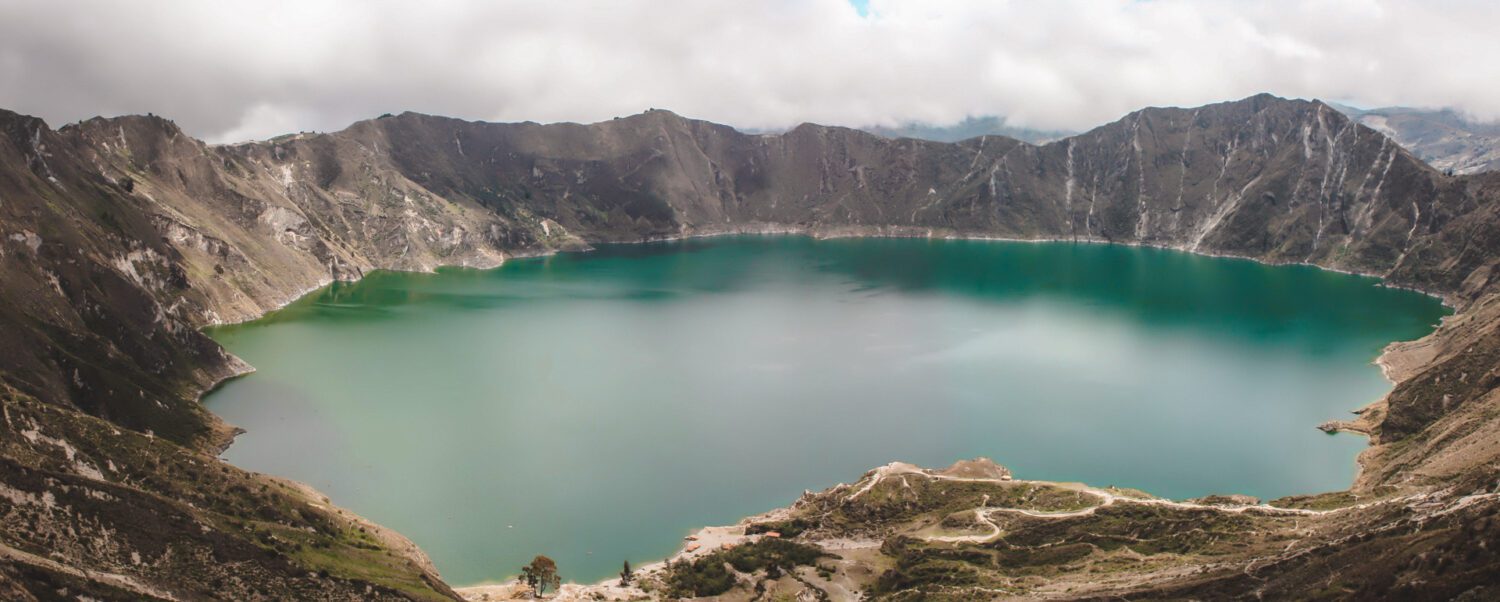 The Ultimate Ecuador Bucket List | Where To Go in Ecuador
(Last Updated On: December 4, 2022)
Ecuador, the small country in Northern South America nestled between Peru and Colombia, has some serious offerings for those willing to visit. It's a country often overshadowed by neighbours Peru and Colombia, however, this small country has a colonial heritage and rich culture, some of the most beautiful landscapes in South America, pretty beaches and an archipelago of islands that's probably one of the most untouched places on earth. Are you ready for the Ultimate Ecuador Bucket List?
With it's gentle, accommodating people, looming, snow-capped volcanoes and miles of golden Pacific coastline, Ecuador is guaranteed to captivate those who visit and stay awhile. Here is my collection of the top things that you cannot miss in Ecuador, places where I was mesmerised and bedazzled, places that I would go back to in a flash.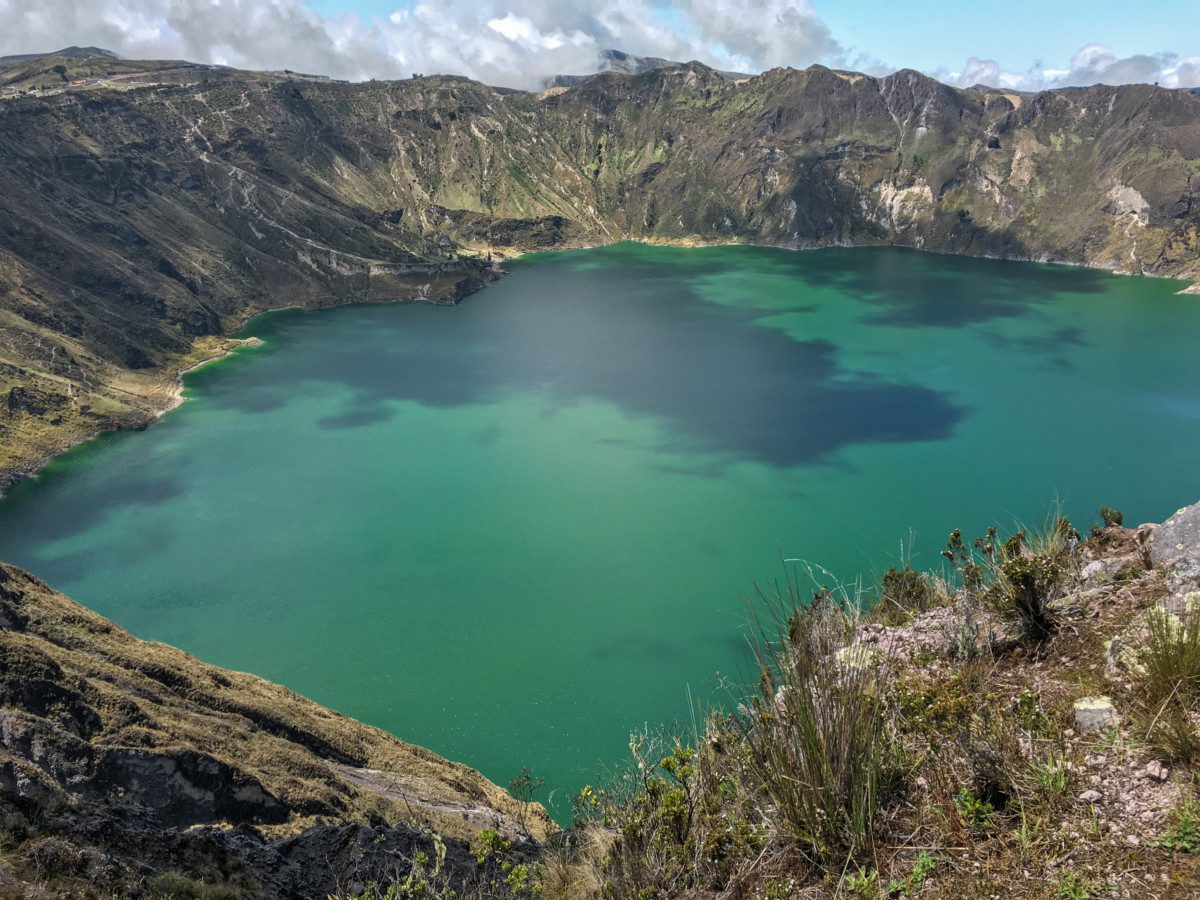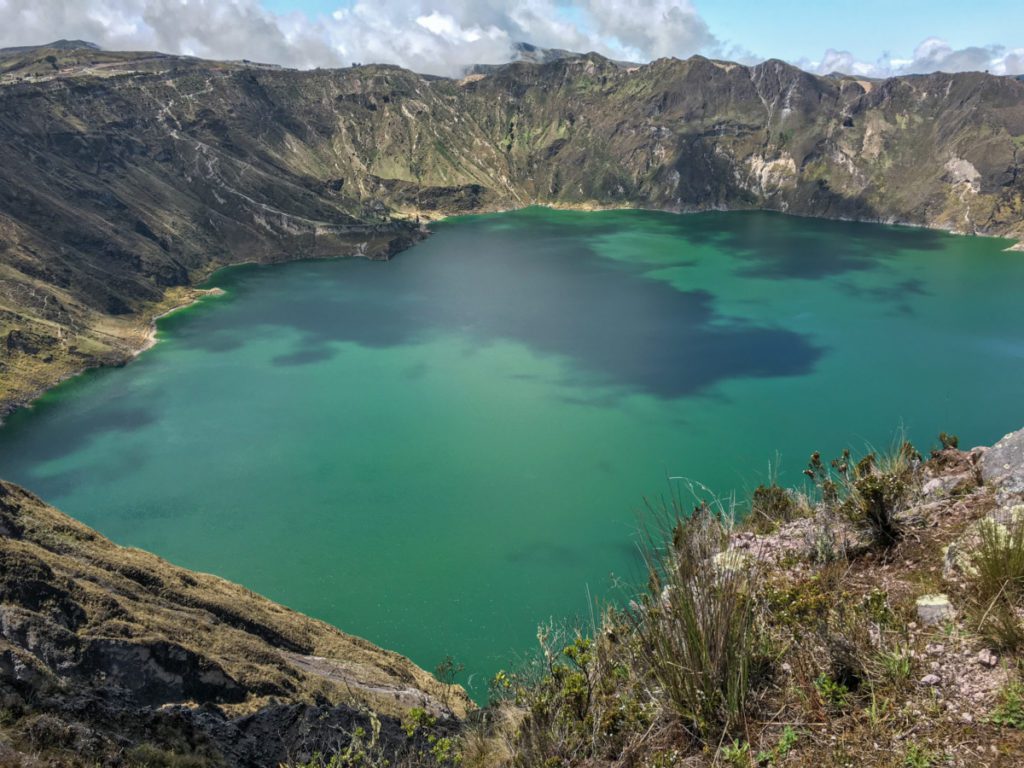 WHEN TO VISIT ECUADOR
Ecuador is a year-round destination, but be prepared for all types of weather. There are so many different geographical regions all with their own microclimate that it's very difficult to predict what the weather will be like during your visit. Due to the high altitude, it will always be cold in the mountains and warmer at the beach. The dry season runs from June-November and the wet season is December – May. I visited in January and as this is one of the best times to visit the Galapagos due to calmer seas, however, it was extremely wet in other places closer to the Amazon. I always recommend avoiding the high season June-September and December as it's overcrowded and prices skyrocket.
TOP TIPS FOR VISITING ECUADOR
↠ Pack for all kinds of weather. One week you might be on the beach in 30°C heat the next you might be doing some high altitude volcano climbing where the temperature may well hit 0°C.
↠ Prepare for some very high altitudes. Quito itself lies at 2,850m (9,350ft) and the volcanoes and high highlands have similar dizzying heights. Prepare well by planning your trip giving yourself some time to acclimatize at lower altitudes before continuing higher.
Check out my post for tips on exercising at high altitudes here.
↠ Bring good waterproofs. When I was there in January it rained a lot, especially toward the Eastern/Amazon parts of the country. I was seriously grateful for my good waterproof.
THE ECUADOR BUCKET LIST
GALAPAGOS ISLANDS
There are few places on earth that can compare to the Galapagos Islands. It was here where Darwin's research and findings contributed to his theory of evolution due to the fact that it is so isolated and has so many endemic species to study.
The Galapagos archipelago is characterised by 21 volcanic islands of different sizes, all making up the Galapagos National Park. Just some of the wildlife you can see here are sea lions, land and sea iguanas, blue and red-footed boobies, albatrosses, turtles, sharks and the giant Galapagos tortoise.
The beautiful thing about these islands is the way you interact with the wildlife. First, due to its isolation and later due to protection of the Galapagos ecosystem, humanity has never been a threat to the wildlife of these islands, meaning that the animals here are not scared of humans.
We often walked within a metre of sea lions, tortoises, iguanas and birds with tiny babies who didn't feel the least bit threatened and stayed where they were. This allows for such an enriching encounter as you can really look and appreciate the animals' shapes, sizes, colours and unique marks.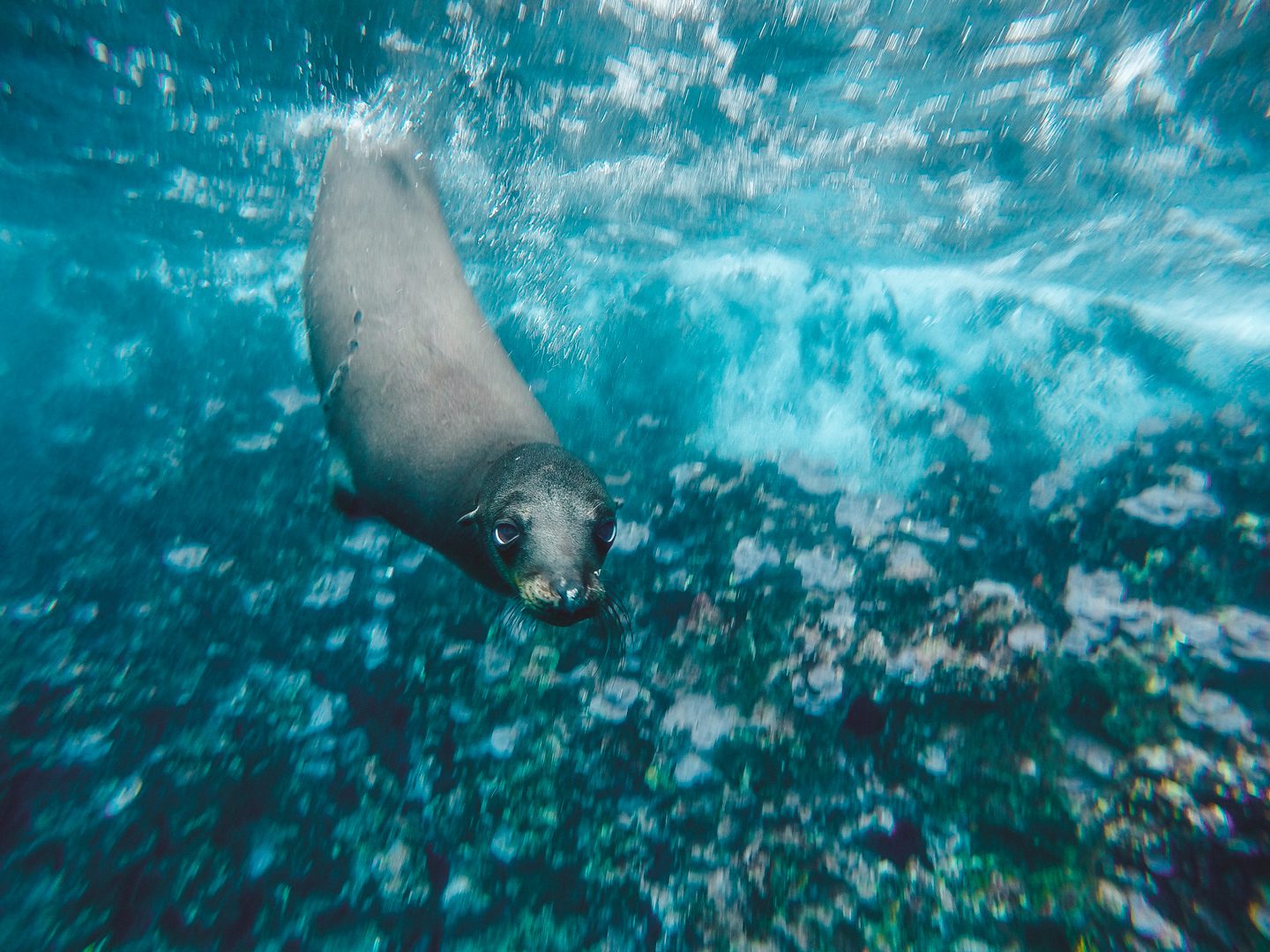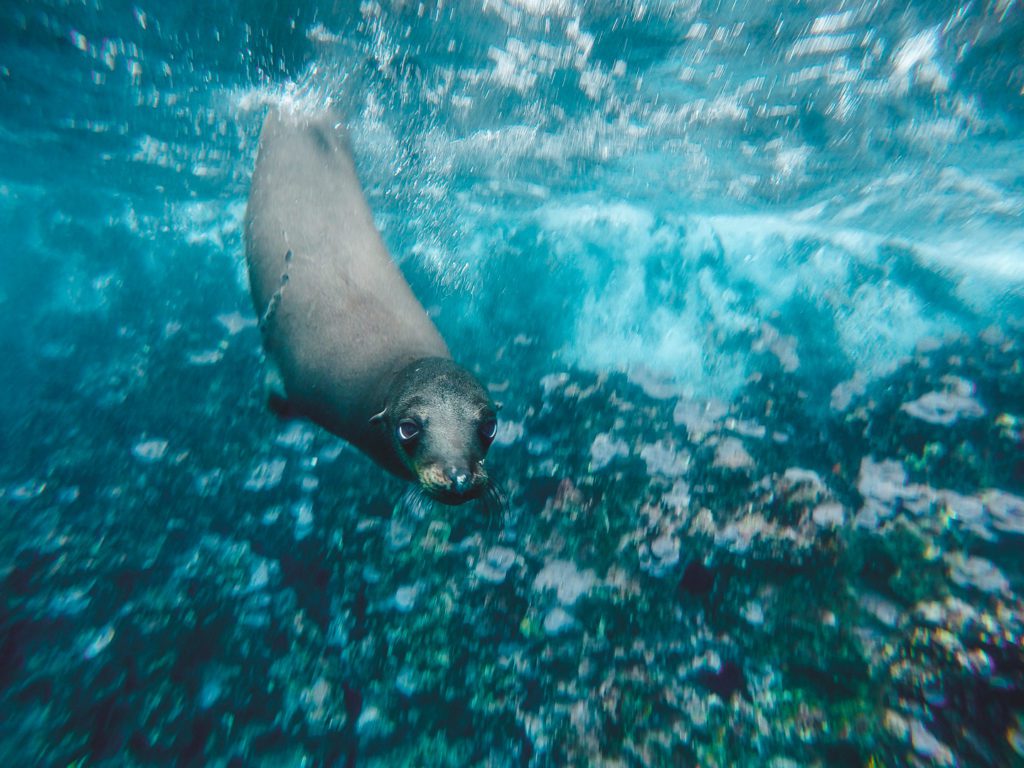 It's not just about the wildlife either, the stunning islands themselves have a completely pre-historic vibe to them, looking like scenes straight out of Jurassic Park.
The volcanic rock, flora, white sand beaches with zero litter on them, and the crystal clear waters make this a place like something out of a dream. It's simply like nowhere else on earth.
For the cheapest way to see the islands fly into Puerto Ayora and base yourself there, doing some day trips to the surrounding islands. If you can splash out, cruise around the islands on a catamaran for 4-5 days on an itinerary that takes you to the south or north islands. It's a little more expensive but worth every cent.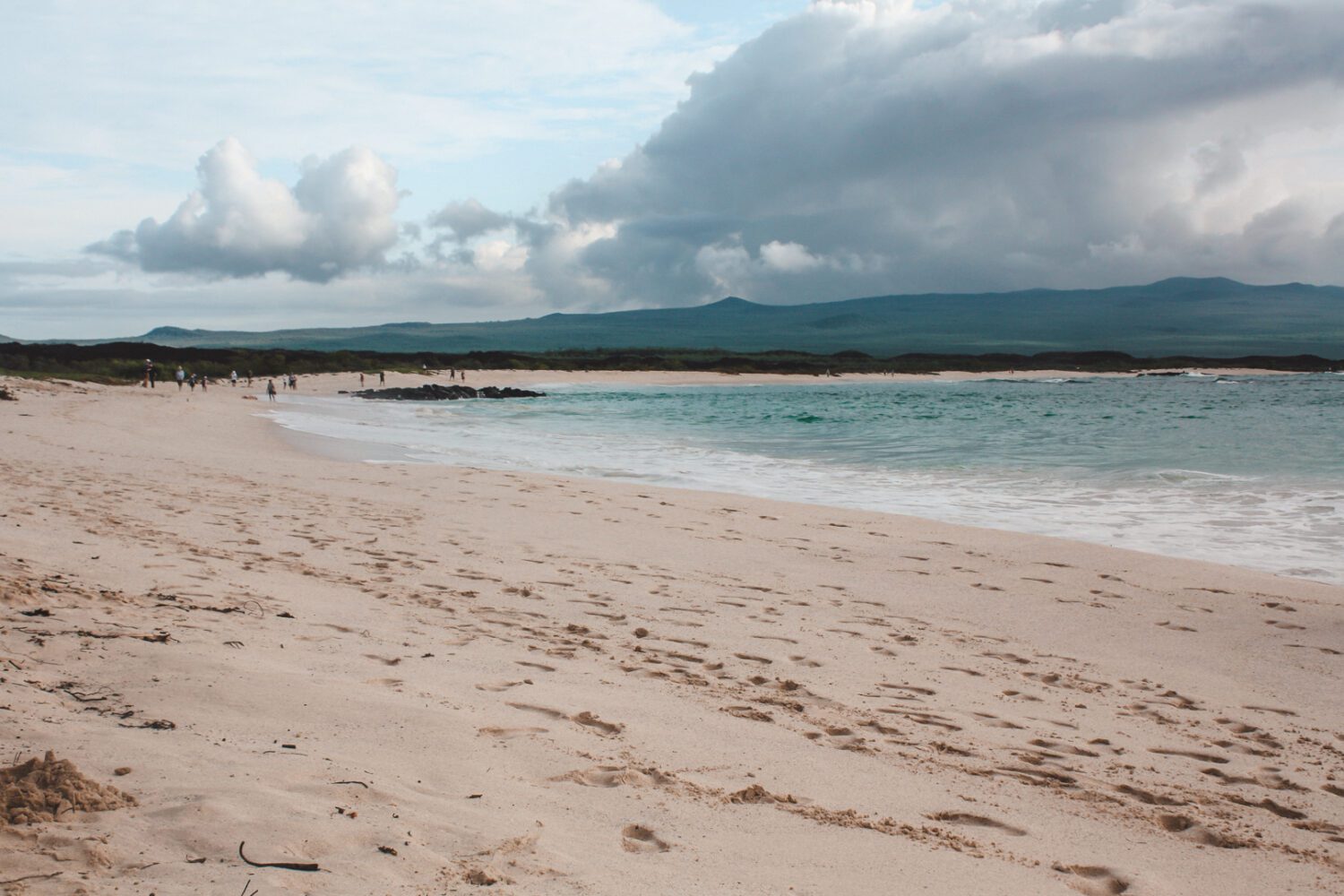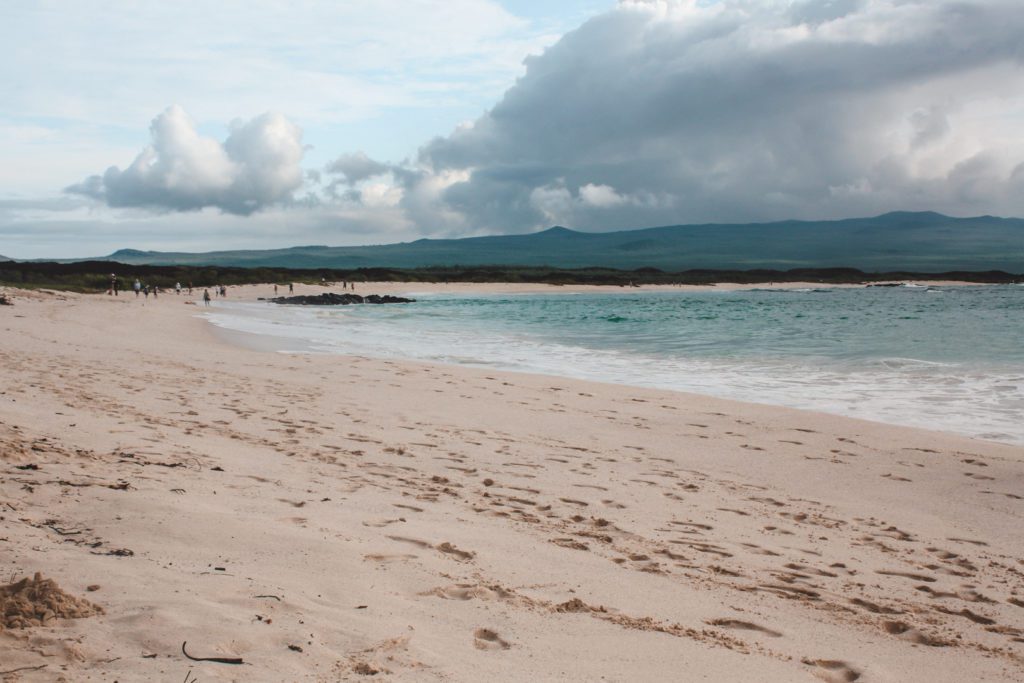 COTOPAXI NATIONAL PARK
Cotopaxi volcano is the symbol of Ecuador and the National Park shouldn't be missed off of any Ecuador itinerary. Located just south of Quito, it can be visited on a day trip if you leave early. Cotopaxi is one of the highest and most active volcanoes in the world and can be seen from all around this region in Ecuador.
The main activity in the park is climbing the volcano itself. You can drive or be dropped off at the main car park from where you can hike to Refuge Jose Ribas, located at 4,800m and then on to the Cotopaxi glacier located at the top of the volcano. On a clear day, the views from the top are magical.
Unfortunately for me, when I went the cloud was so thick I couldn't see a thing. Only for one moment it slightly cleared for a good volcano view.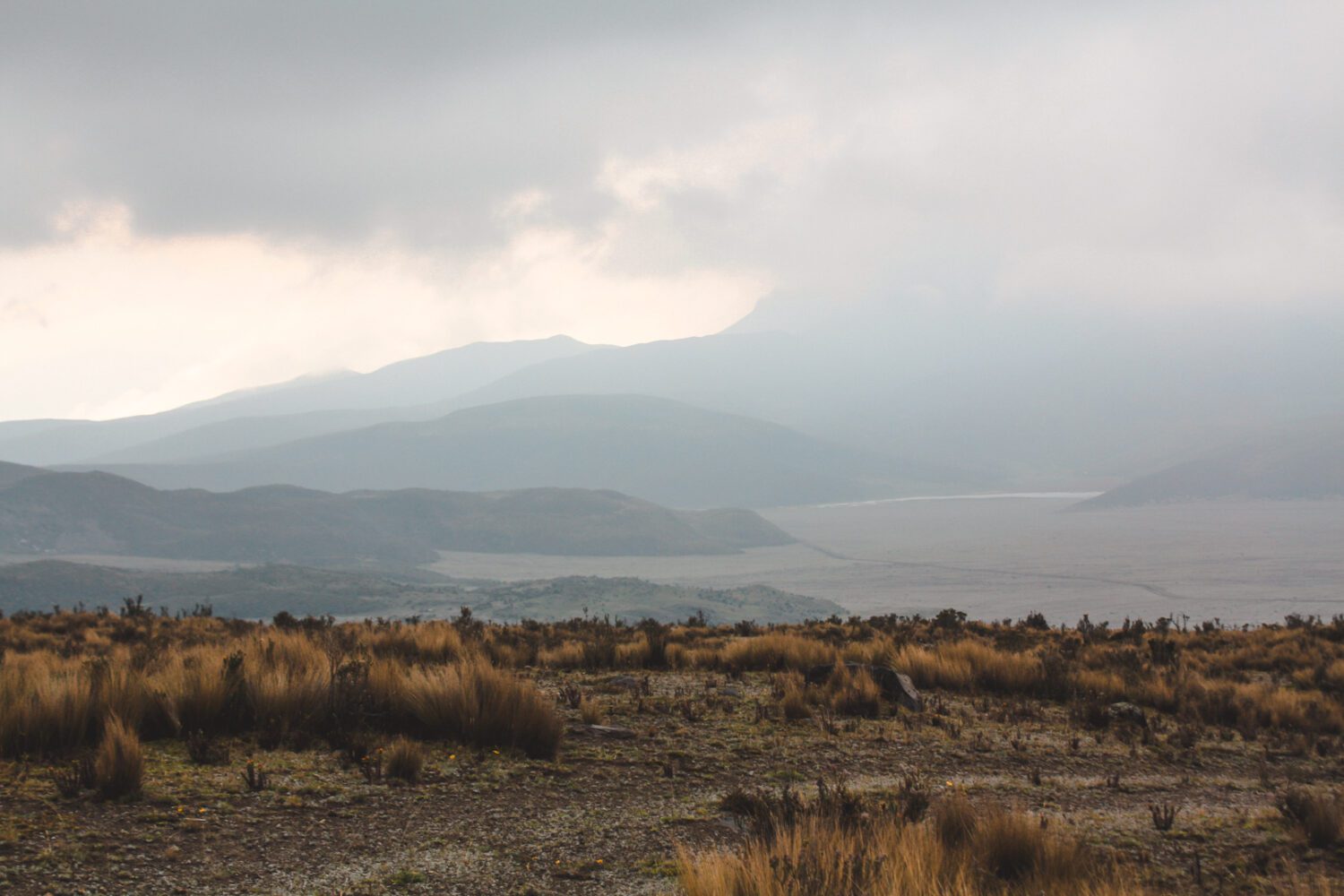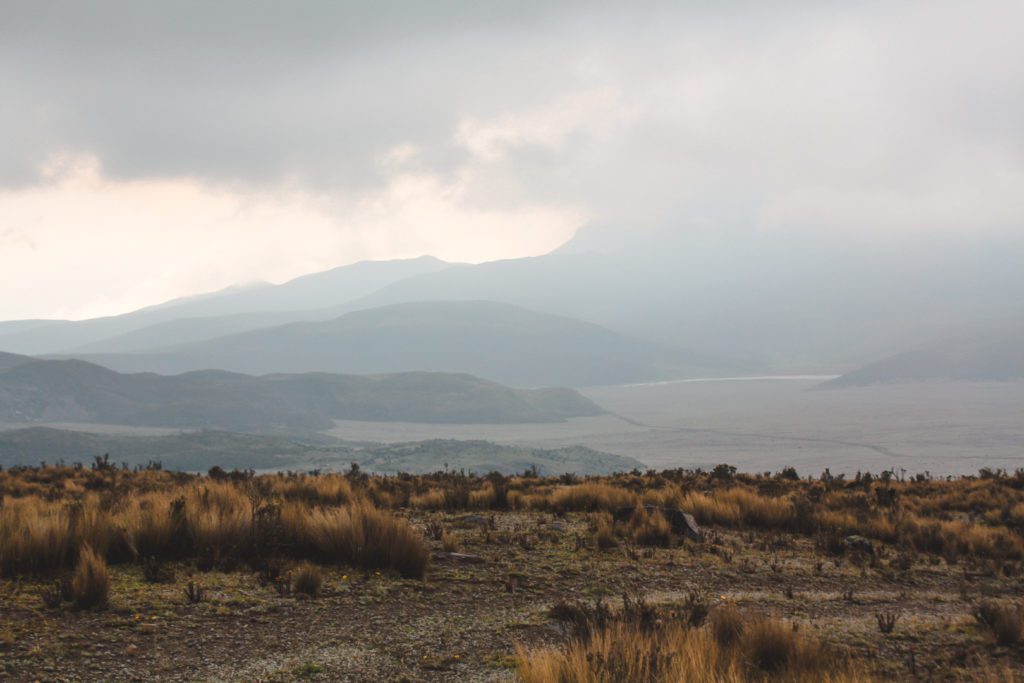 QUILOTOA CRATER LAKE
Imagine a landscape of greens and yellows, of rolling hills characterised by dry valleys and some of the most active volcanos on earth. Oh and then there's Quilotoa lake itself in the middle of it all, a 3km-wide lake of deep blue-green water which on a sunny day reflect the surrounding banks.
It's jaw-droppingly beautiful and well accessible from Quito, where on your way you can stop at some nearby indigenous villages and learn about some local Andean culture. Visit the lake and admire the breathtaking scenery, hike down to the water's edge or even kayak on the lake itself. You can visit on a day trip or why not stay longer and hike around the lake for three days in the Quilotoa Loop trek?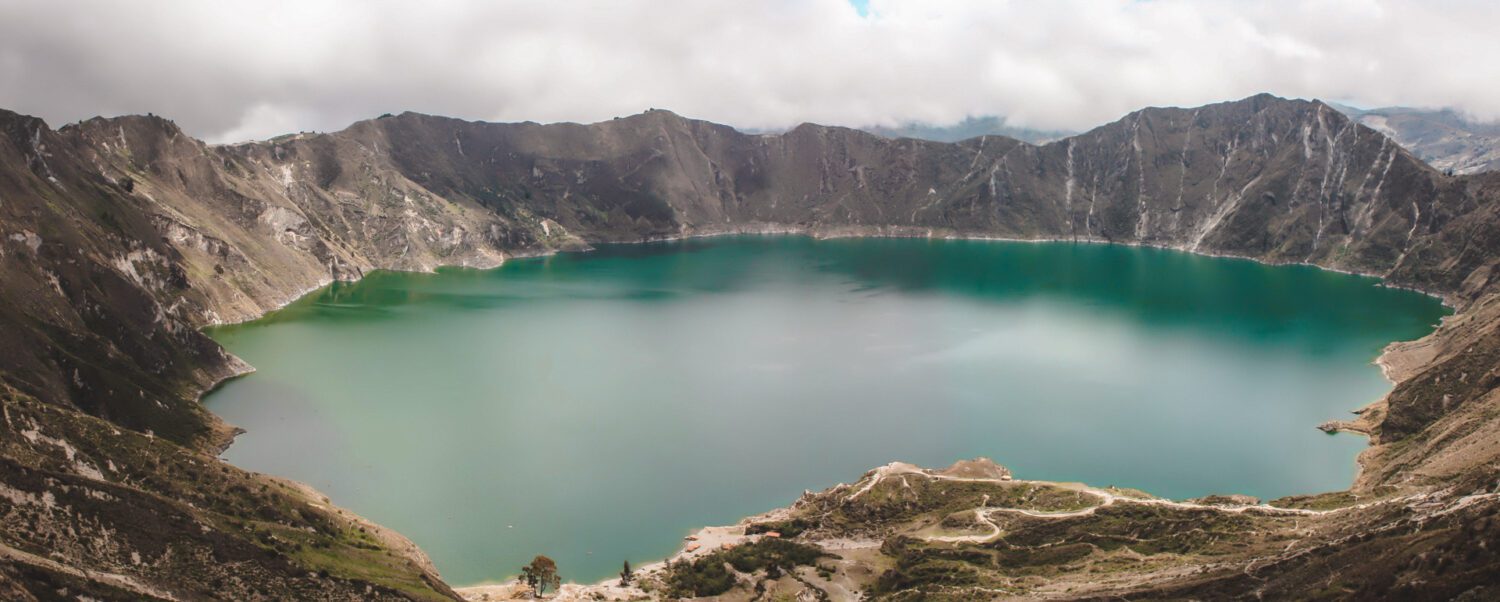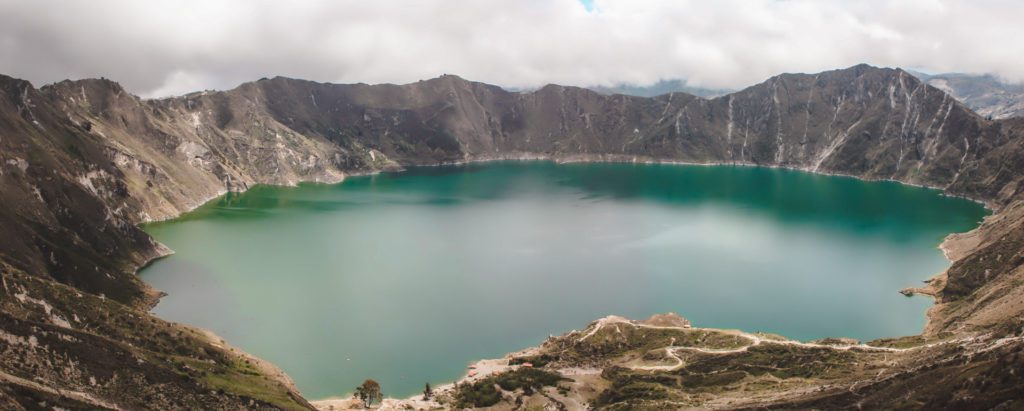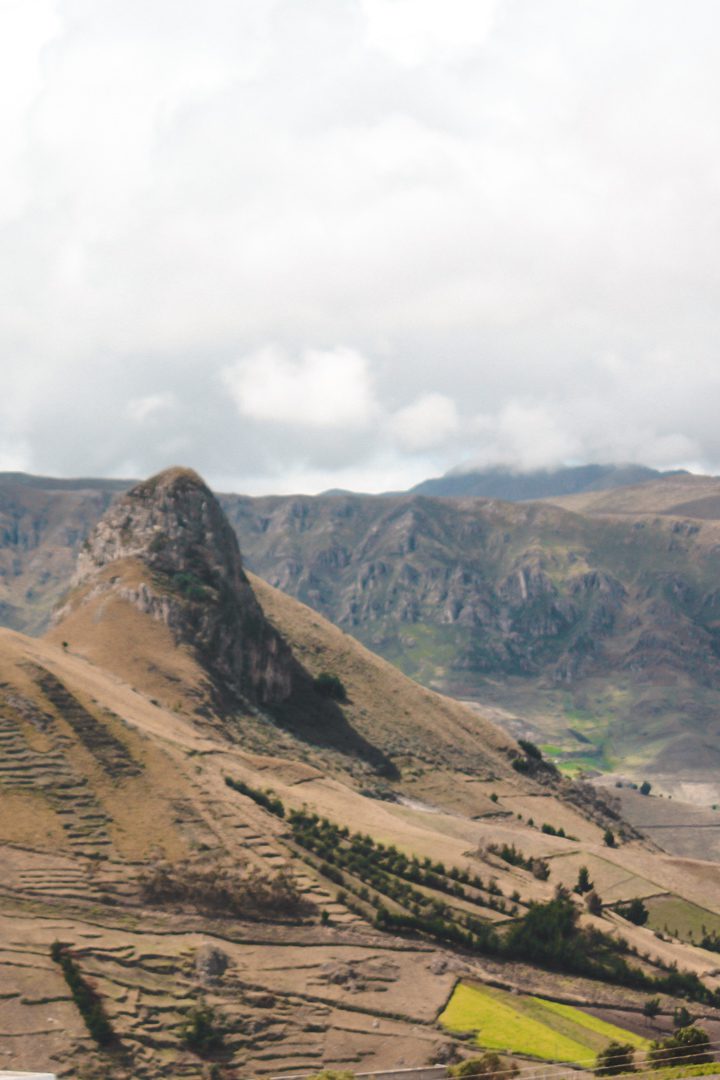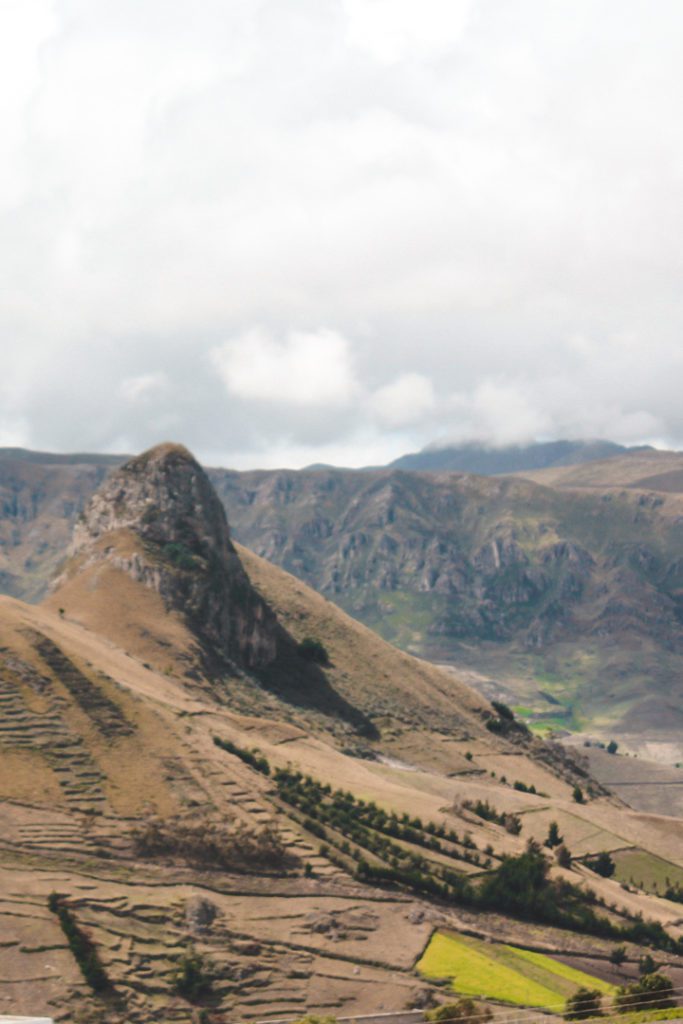 CAJAS NATIONAL PARK
Located 30km from the city of Cuenca, Las Cajas National Park was one of the most beautiful national parks I encountered in Ecuador but it took me completely by surprise. For the most part, I thought I'd been transported to Wales. The park is boggy, cold and wet and most of the landscape is covered in moss and yellow grasses.
The main activity here is trekking and there are many loops you can do, even day hikes, just ask at the reception desk at the park office or check their website here. The hikes take you through the magical forests, peaty landscapes and you'll follow many lakes and rivers through the cloud forests of the area. This was my favourite national park in the whole of mainland Ecuador.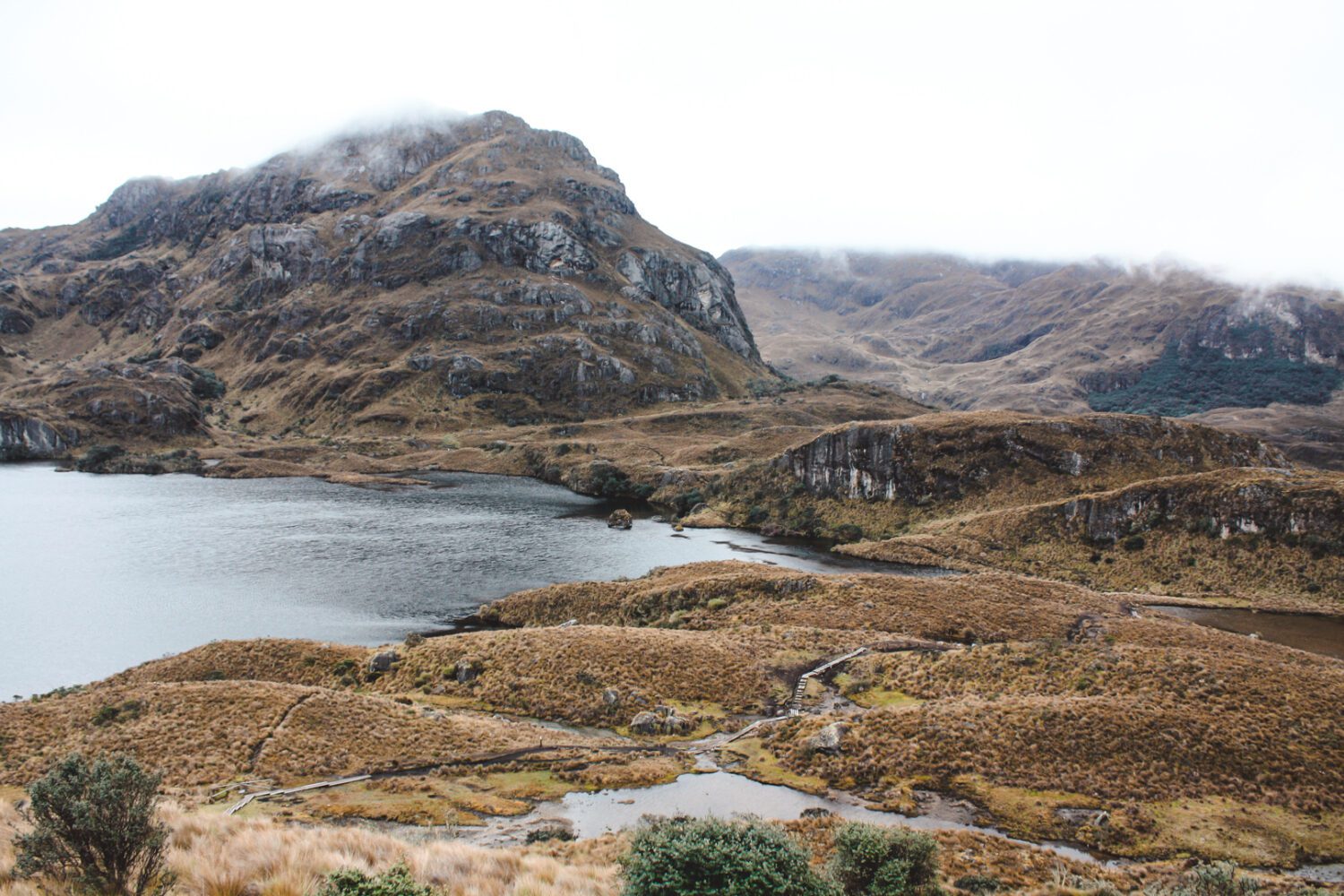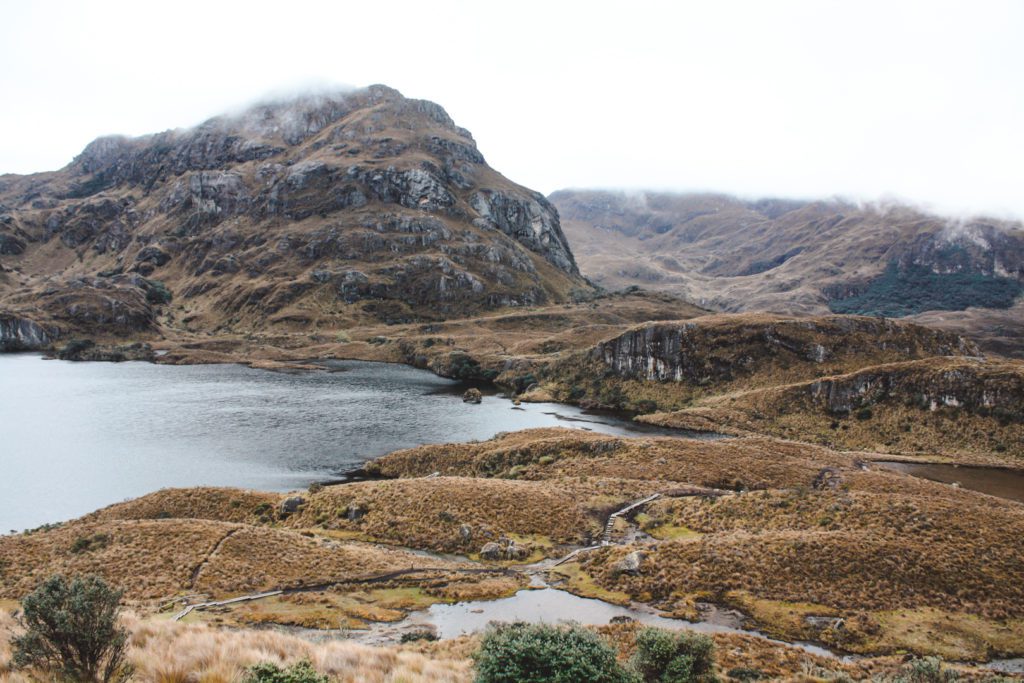 CUENCA
If you visit only one city in Ecuador, make sure it's Cuenca. This little town should definitely be high on your Ecuador bucket list. At the heart of this small city is the beautifully preserved colonial centre, which is a UNESCO World Heritage Site, in which you can admire all the colonial buildings and cathedral around the main square. The new blue-domed cathedral is one of the most beautiful in Ecuador.
Walk the cobbled streets and admire the old, intricate street signs and sample some traditional Ecuadorian dishes; my favourite is Locro de Papas, a delicious potato soup topped with corn and avocado.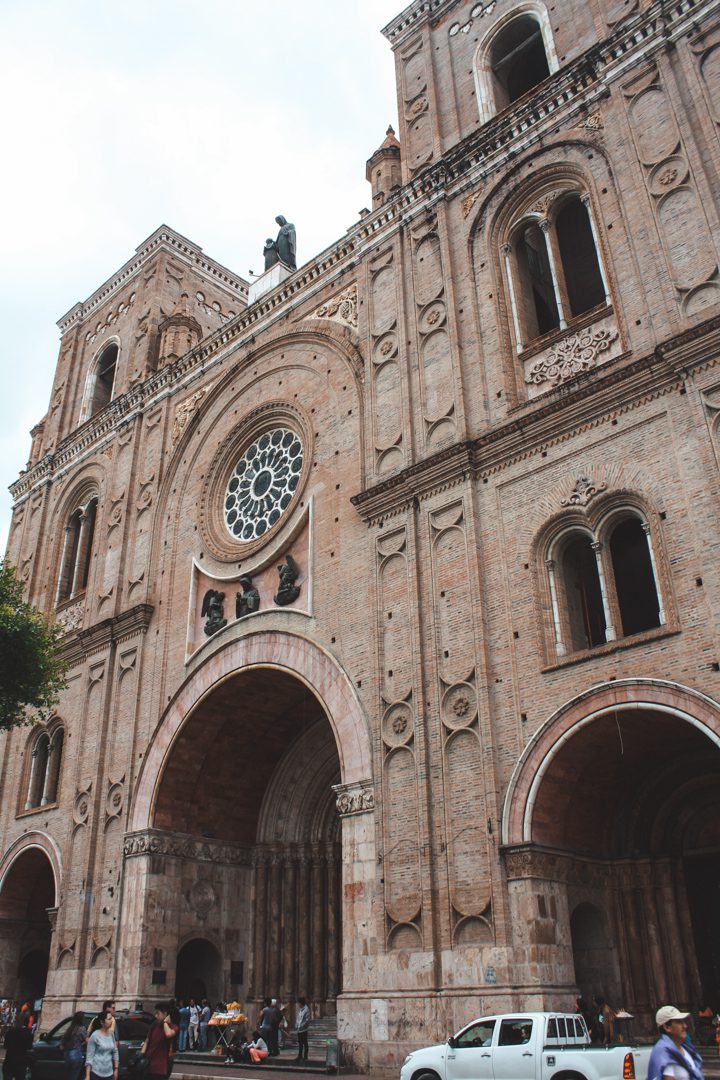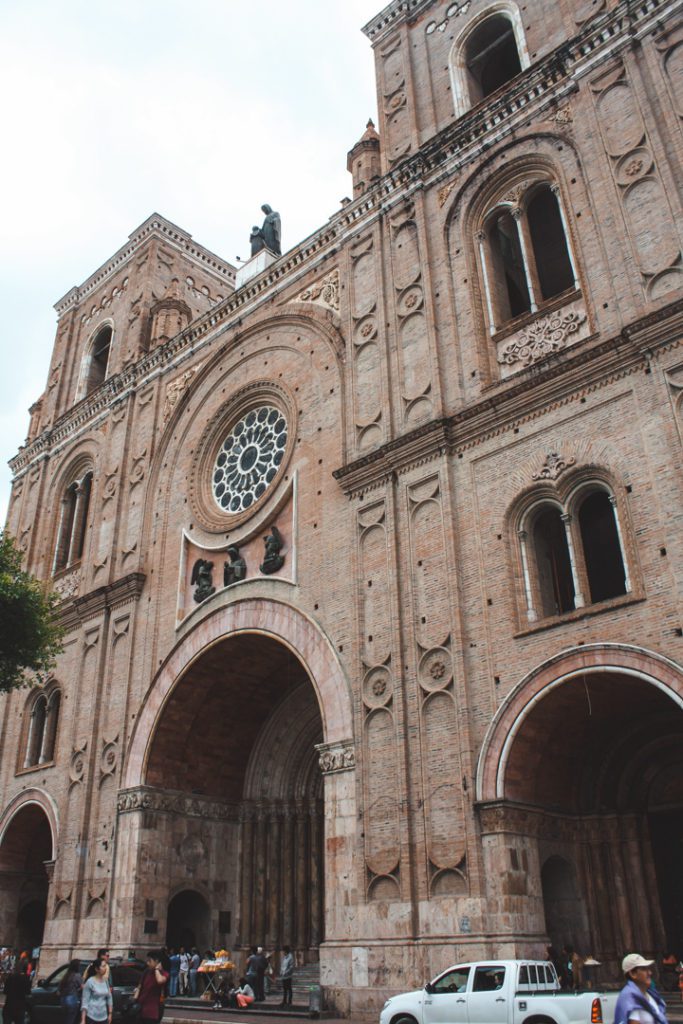 OTAVALO
Located only an hour north of Quito, the colourful market town of Otavalo is the place to go for some shopping and a glimpse into local market life.
Head up on a weekend and you'll be able to see the indigenous people who come into the town from the surrounding hillside villages to sell their produce and handicrafts. If you have a thing for local, Incan style handicrafts and a boho style, Otavalo Textile Market is something you simply cannot miss. Here you can buy hammocks, ponchos, gorgeous pillowcases, blankets and handbags.
Even if shopping isn't on your Ecuador bucket list, a trip here is well worth it just to catch a glimpse into local hustle and bustle. There's also a food market which is one of the best places to try some local Ecuadorian dishes.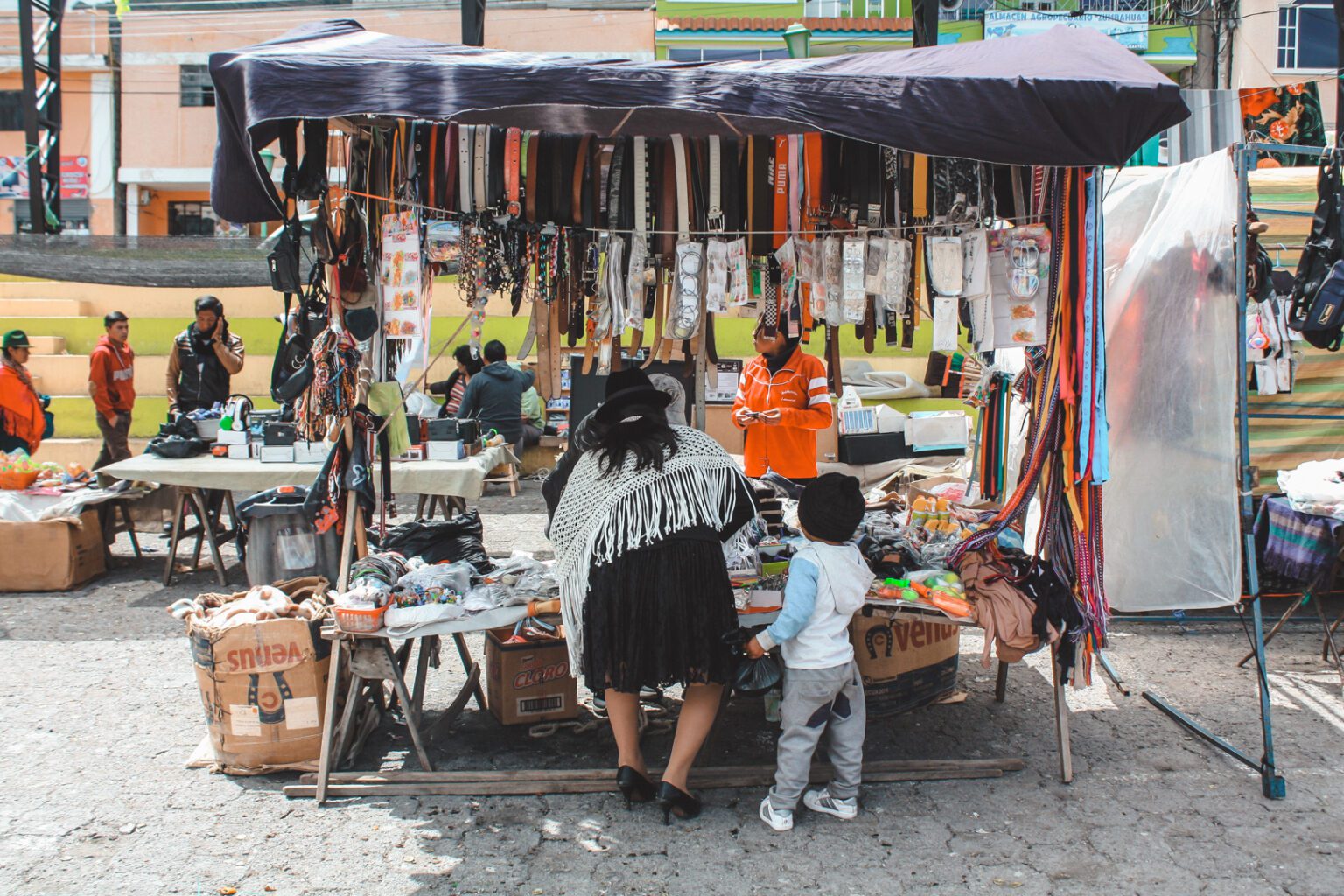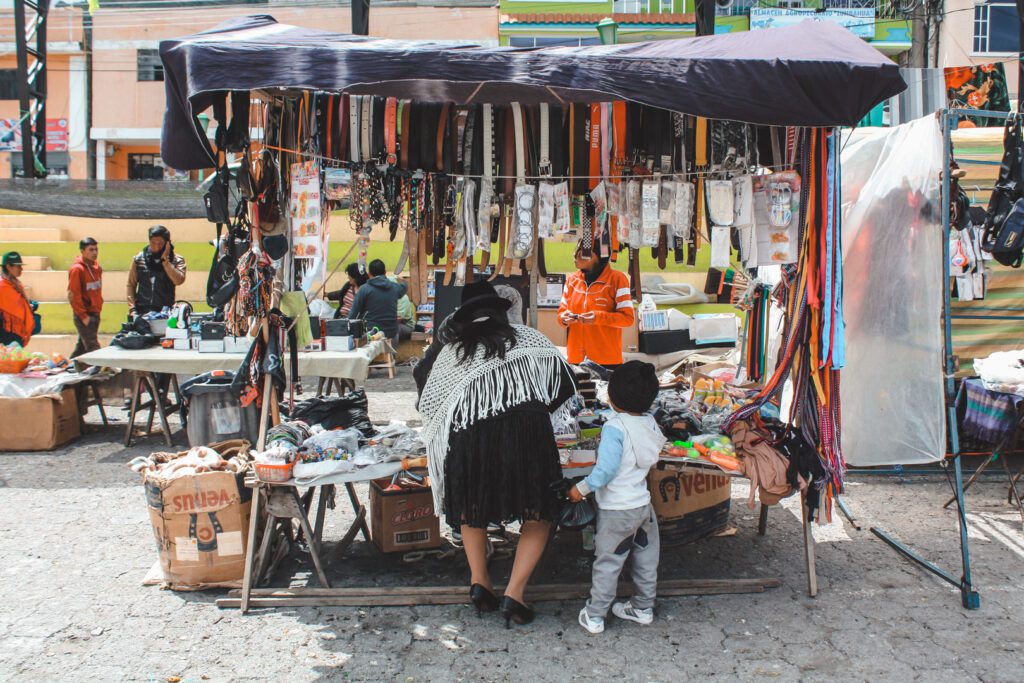 BAÑOS
Located on the fridges of the Amazon Rainforest Banos is a town in the cloud forest surrounded by nature and pristine jungle. While the town itself is quite agreeable, it's all about what's located around it.
There's plenty to do for the adventure-minded. I'm sure you've already seen the famous Casa del Arbol on Instagram, the treehouse with the swing over the side of the mountain or 'at the end of the world'? Yup, that's here and it isn't the only one.
Apart from swings, there are also many treks in the area and well as some stunning mountainous jungle landscapes and so many waterfalls to explore as well as ziplining and canyoning.
If you aren't quite feeling up to the adventure, you're in luck as Baños is also known for its hot springs and heated thermal baths. Take a day trip to one of the many in the area and soak those tired muscles. Why not indulge in a budget spa treatment or two?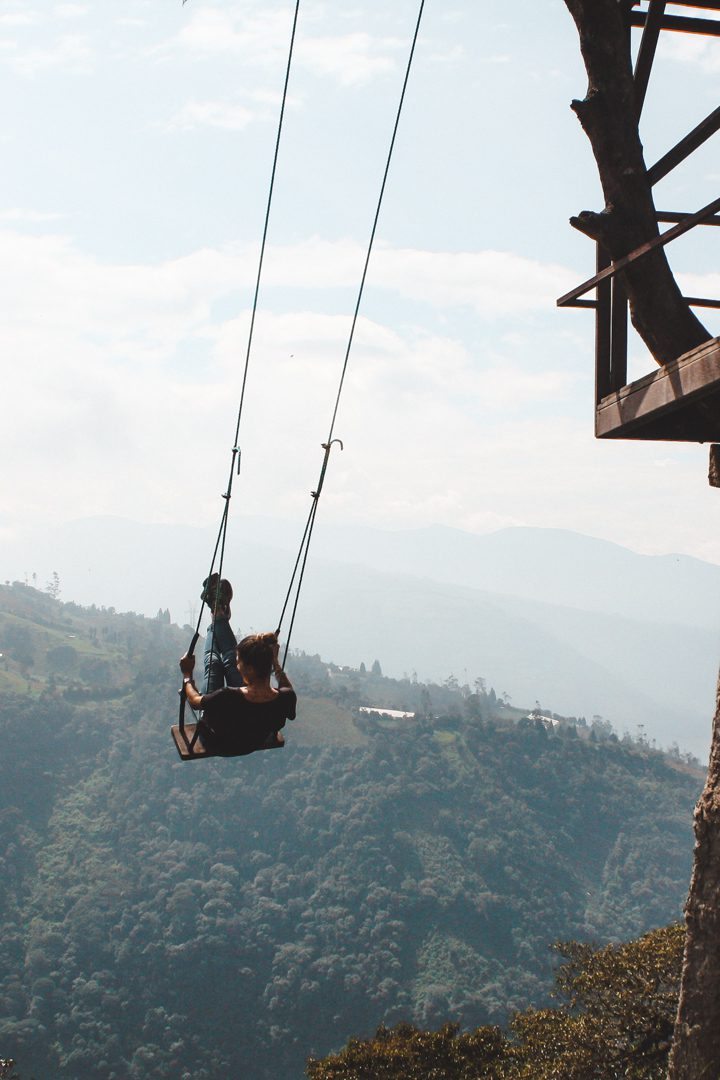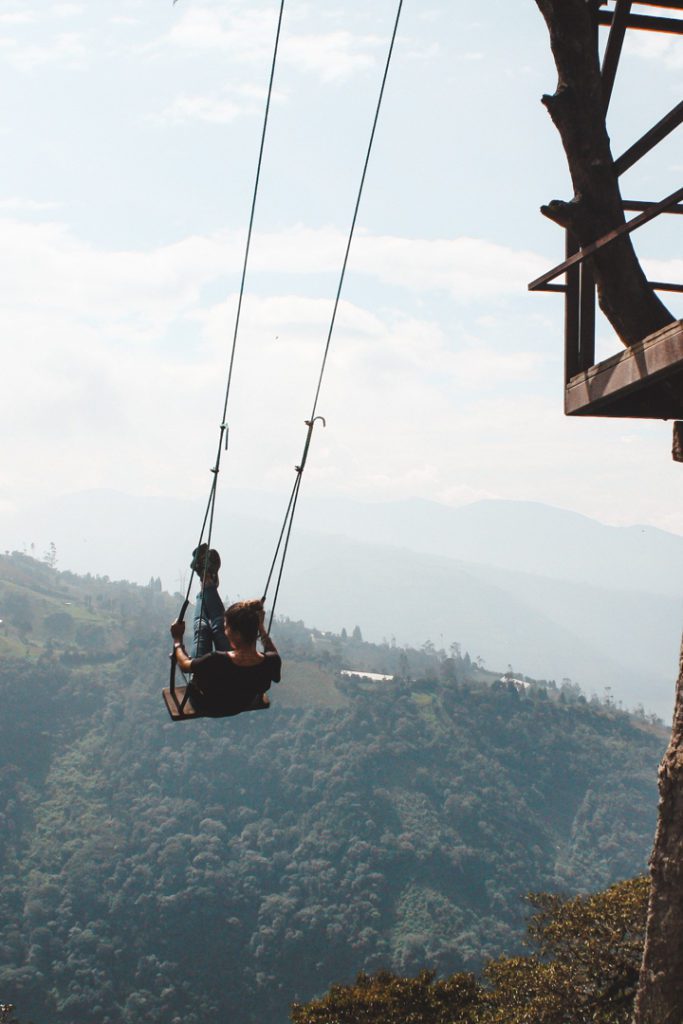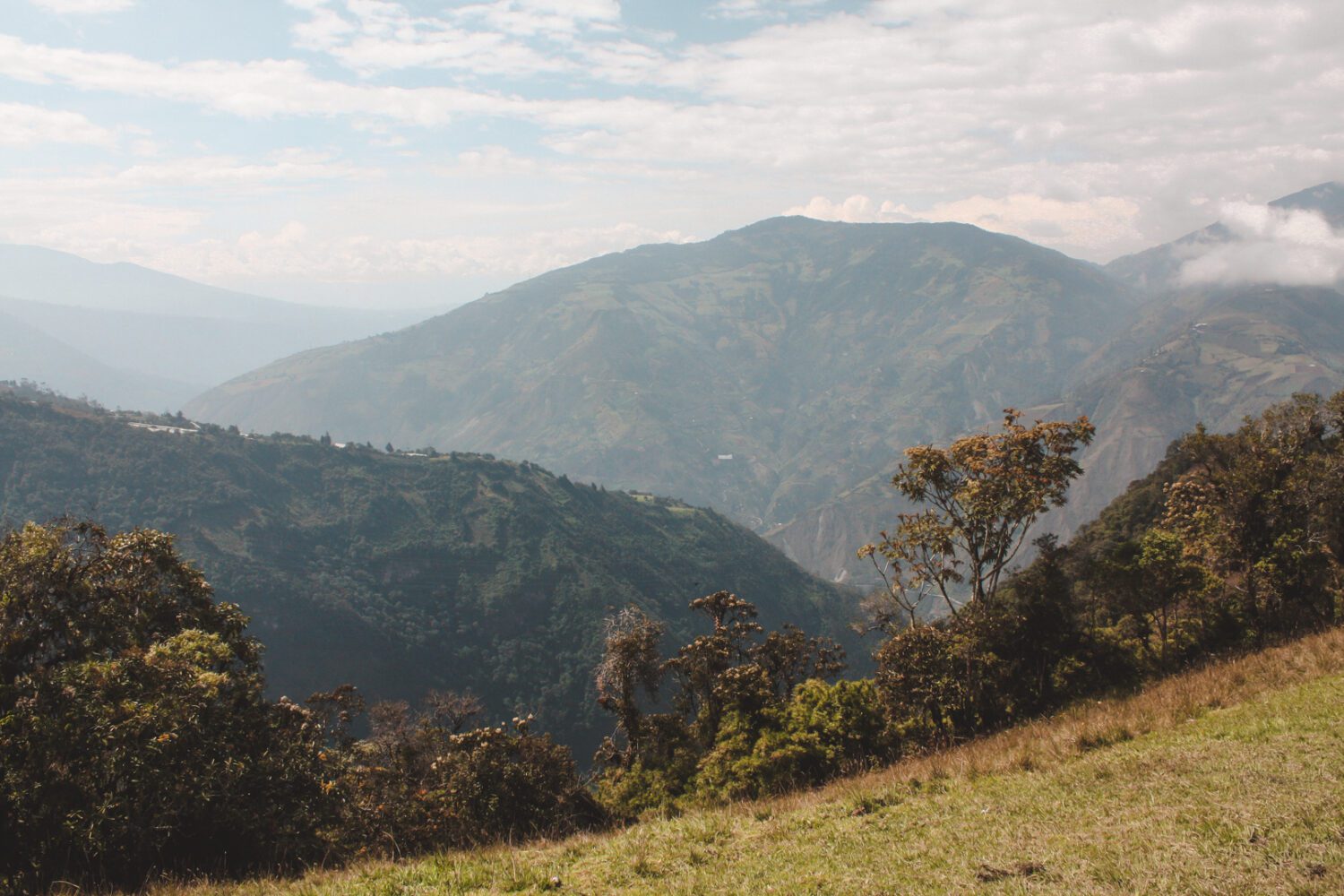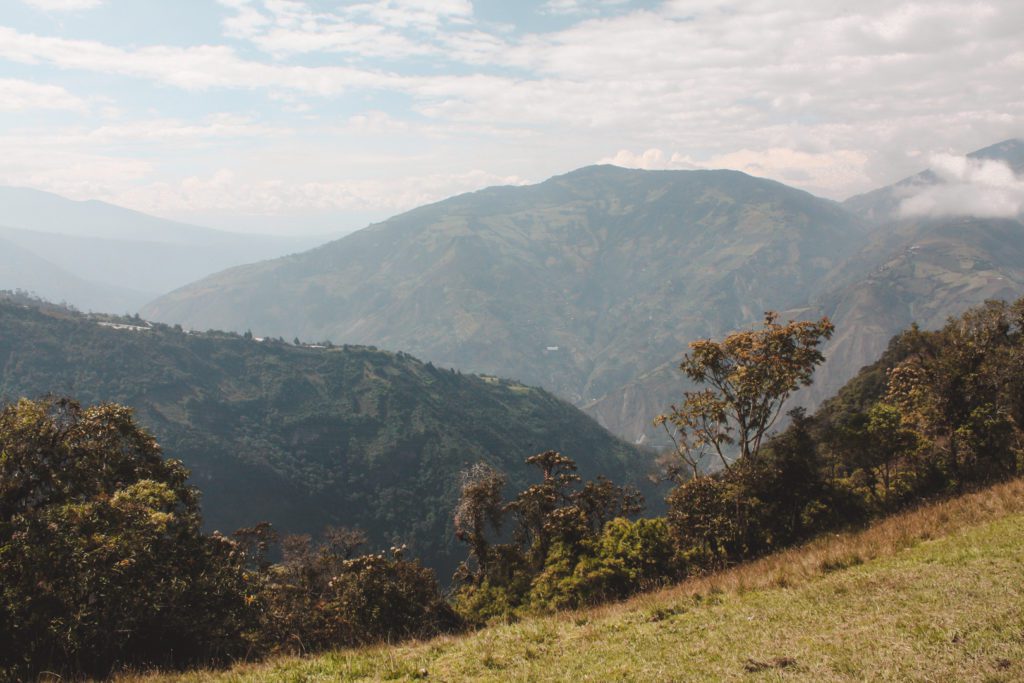 PAILON DEL DIABLO
The Pailon del Diablo or the Devil's Cauldron, apart from having probably the best name ever is another epic bucket list site you don't want to miss in Ecuador.
Located just outside Baños this spectacular waterfall can be visited as part of the seven waterfalls circuit from Baños. From the village of Rio Verde its a short, easy hike to the magical, awe-inspiring waterfall. Drench yourself in the waters and admire its immense hydrological power and then cross the suspension bridge for another vantage point of the gorge.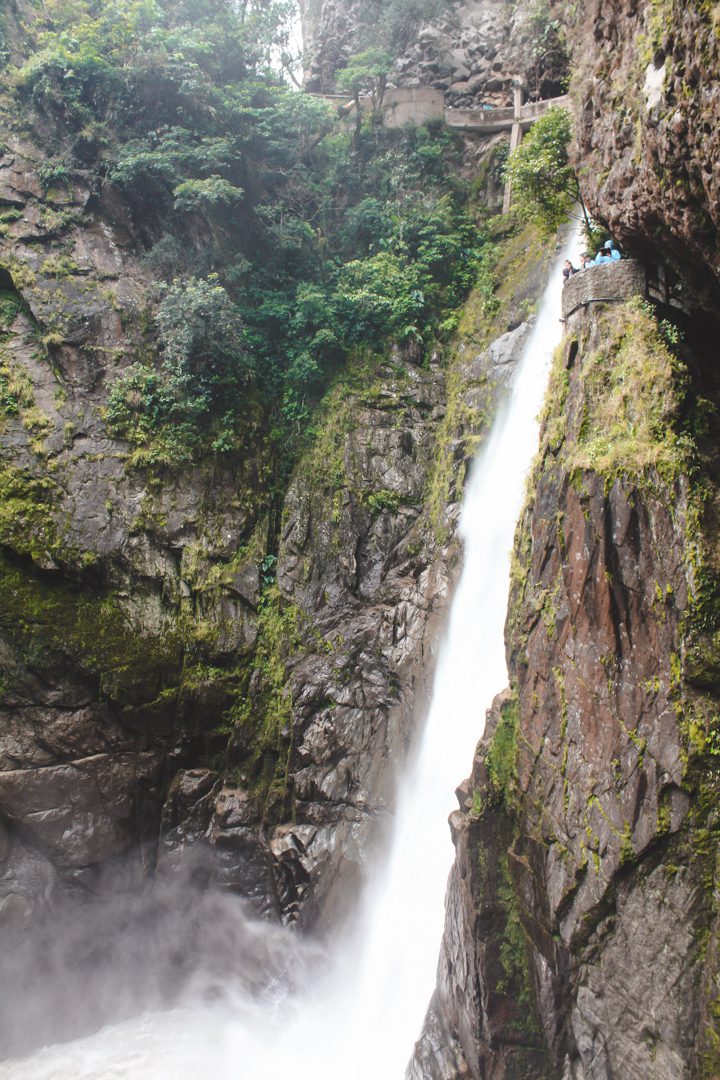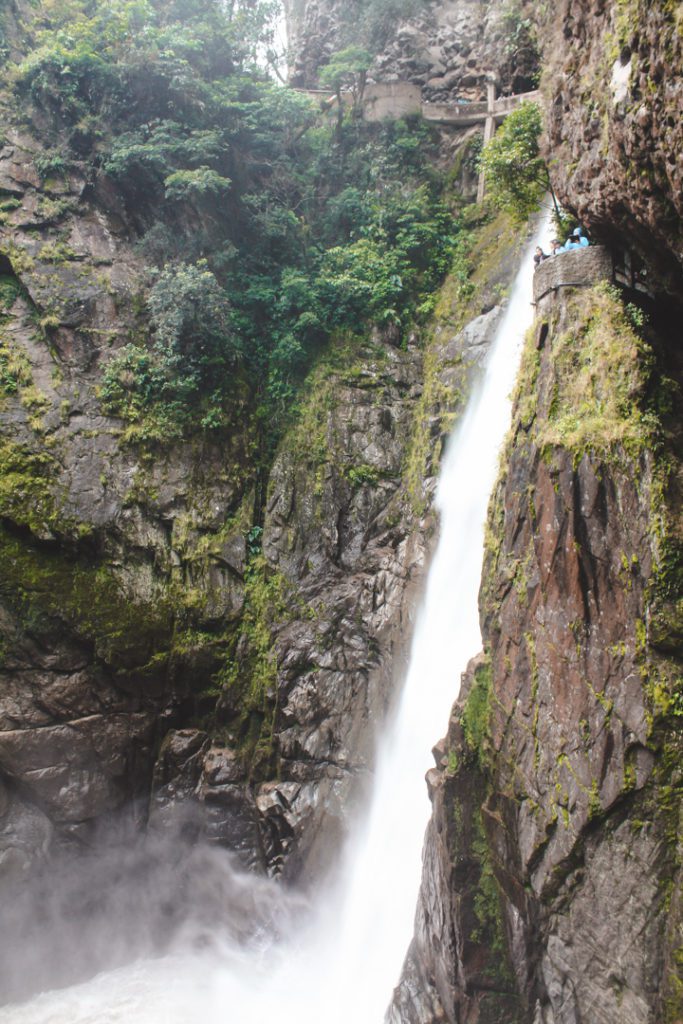 CHIMBORAZO VOLCANO
Chimborazo is Ecuador's next, most impressive volcano after Cotopaxi- this one, however, remains inactive. With an elevation of 6,263m (20,547ft), it's Ecuador's highest peak.
Base yourself in Riobamba, a local town that is worth exploring, where you probably won't bump into many other tourists. From here you can arrange transport or a tour to take you up to the volcano, where you can mountain bike down.
On the way up you'll learn about the local culture and agriculture as well as have the opportunity to see the amazing views of the volcano and the local wildlife. It's a day out you won't forget for a while.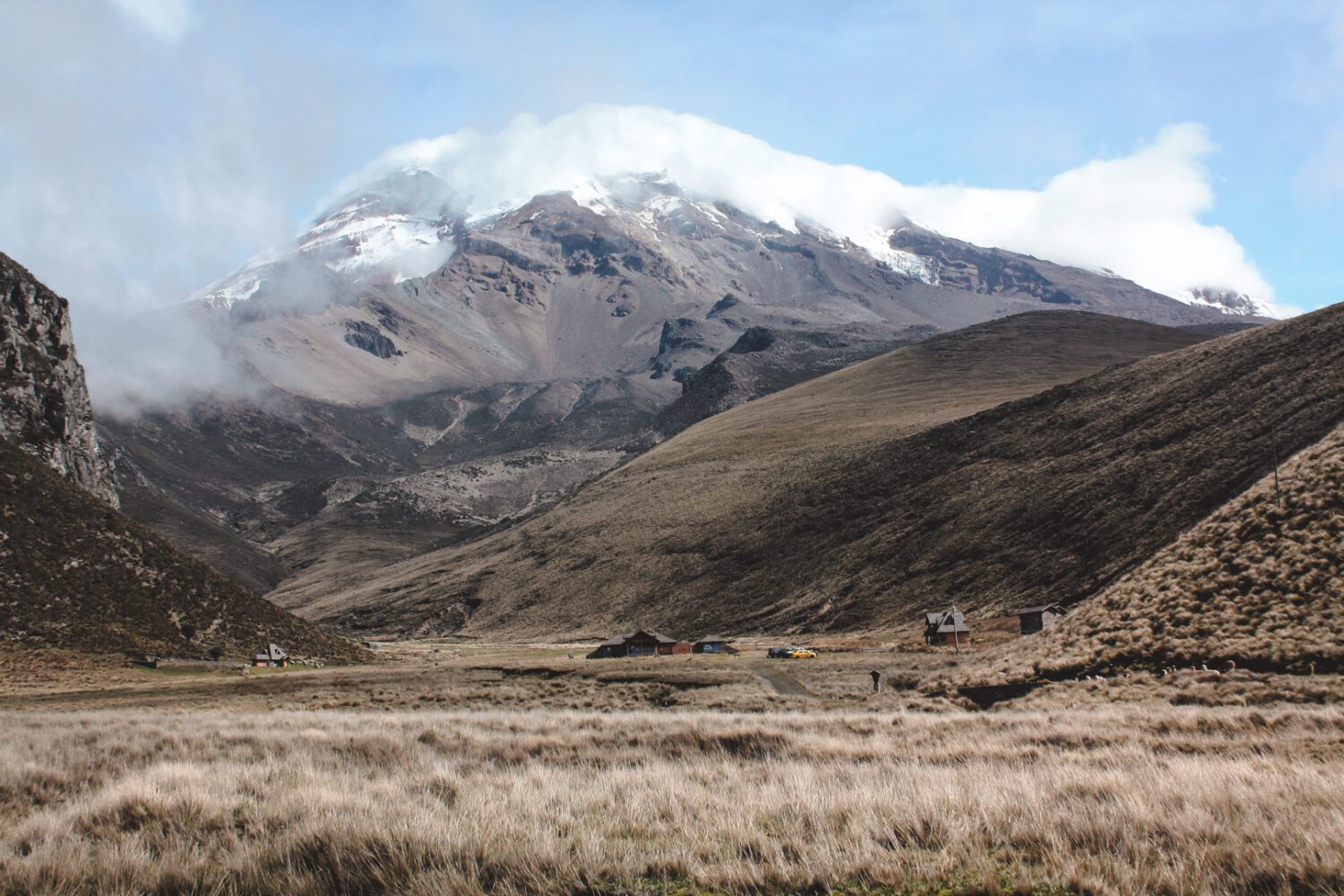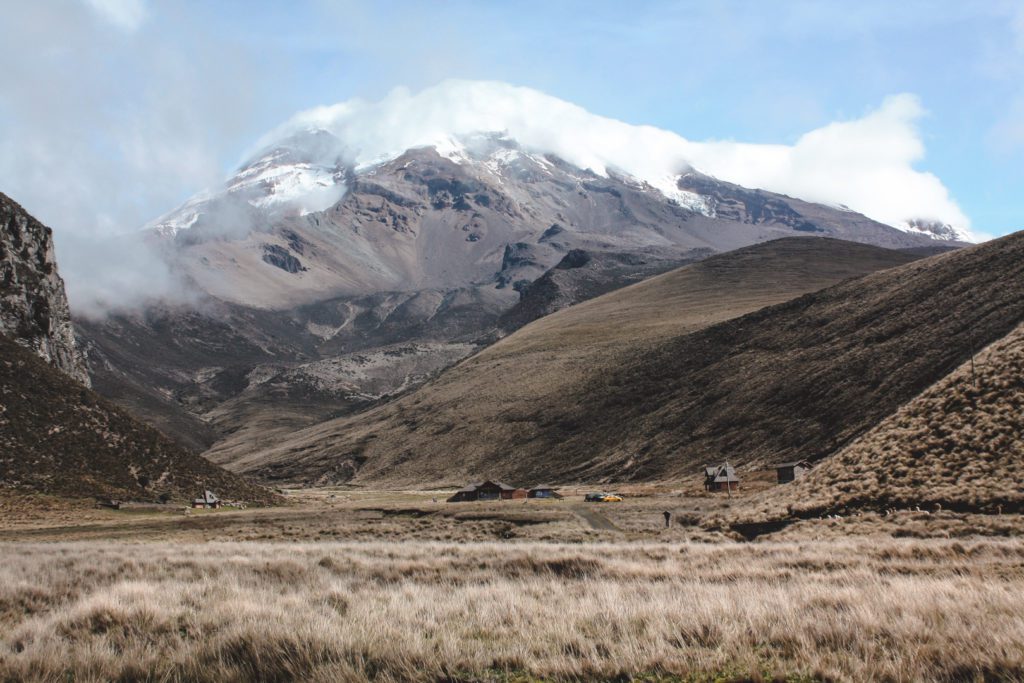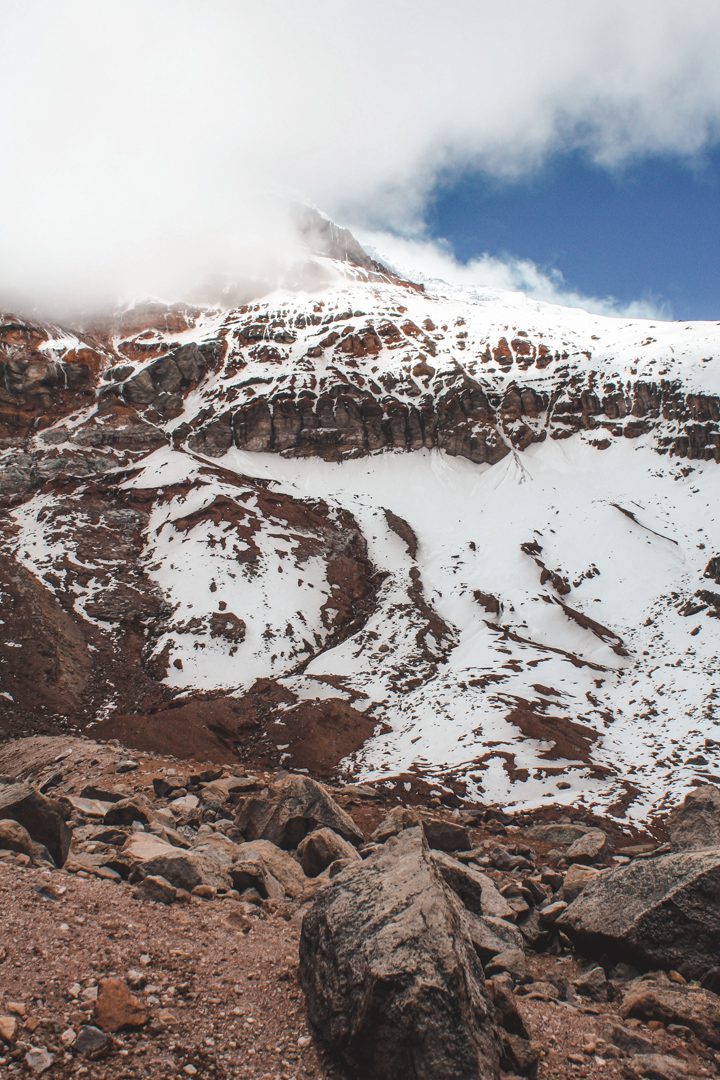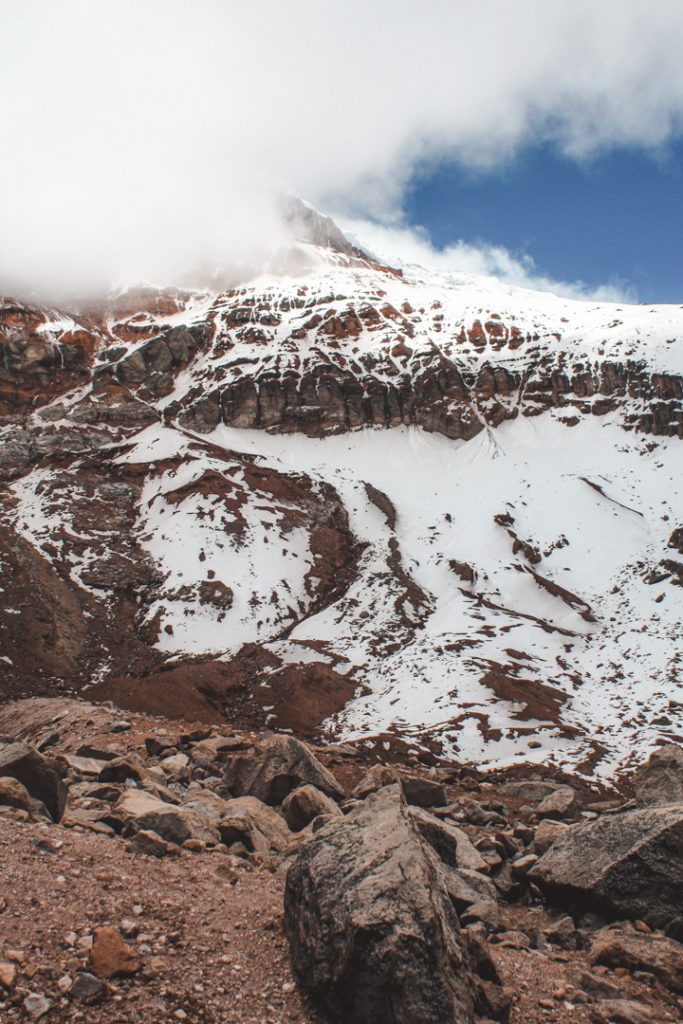 MOMPICHE
Ecuador's coast is chock-full of beautiful never-ending golden sand beaches and sleepy fishing villages, however, if I'd have to choose my favourite it would be Mompiche. This small village is the perfect mix of a sleepy fishing village, potentially about to get woken up by the tourist industry and long stretches of golden sand beaches. Its the place you go to relax, read a good book and watch the fishermen folding their nets at sunset.
---
What's on your Ecuador bucket list? Leave your comments and questions below. I'd love to hear from you.
Related posts you might like:
Colombia: 12 Mind-Blowing Places you don't want to miss
10 Amazing Things to Do and See in Lima, Peru
The Ultimate Rio de Janeiro Bucket List Guide
---
LIKE IT? PIN IT!