(Last Updated On: June 24, 2020)
Valparaiso, located on the Central Zone coast of the fifth region is just an hour and a half from Santiago, Chile's capital and a must-see on any Chile bucket list. Valparaiso is Chile's most bohemian city and it's full of patrimonial houses and buildings, skilled, politically-charged street art, ancient funiculars and houses that cling to the steep hill-sides. The historical centre of Valparaiso was declared a World Heritage Site by UNESCO in 2003 in an effort to conserve its unique culture, heritage and immigrant influenced architecture. Whether you're looking for some wanderlust or planning a trip to Chile this travel guide to Valparaiso is for you.
Most travellers visit Valparaiso for a day from Santiago as it's small and can be seen in a day. However, I do recommend you stay at least a night to really experiences its bohemian vibes and what this casual city has to offer. In this travel guide to Valparaiso, I'll outline all the best things to do and see, the best places to eat and some places to stay for the perfect 'Valpo' experience.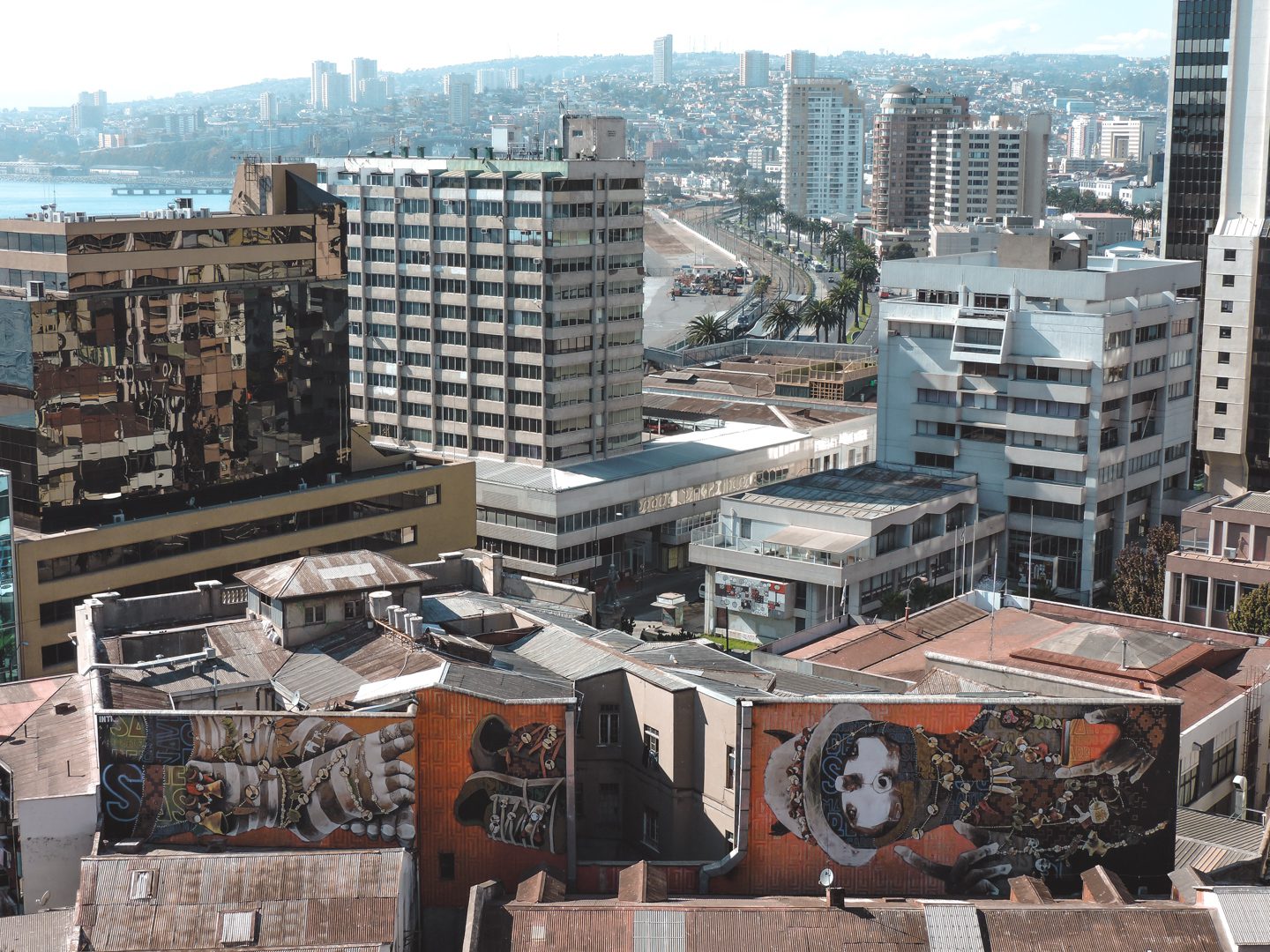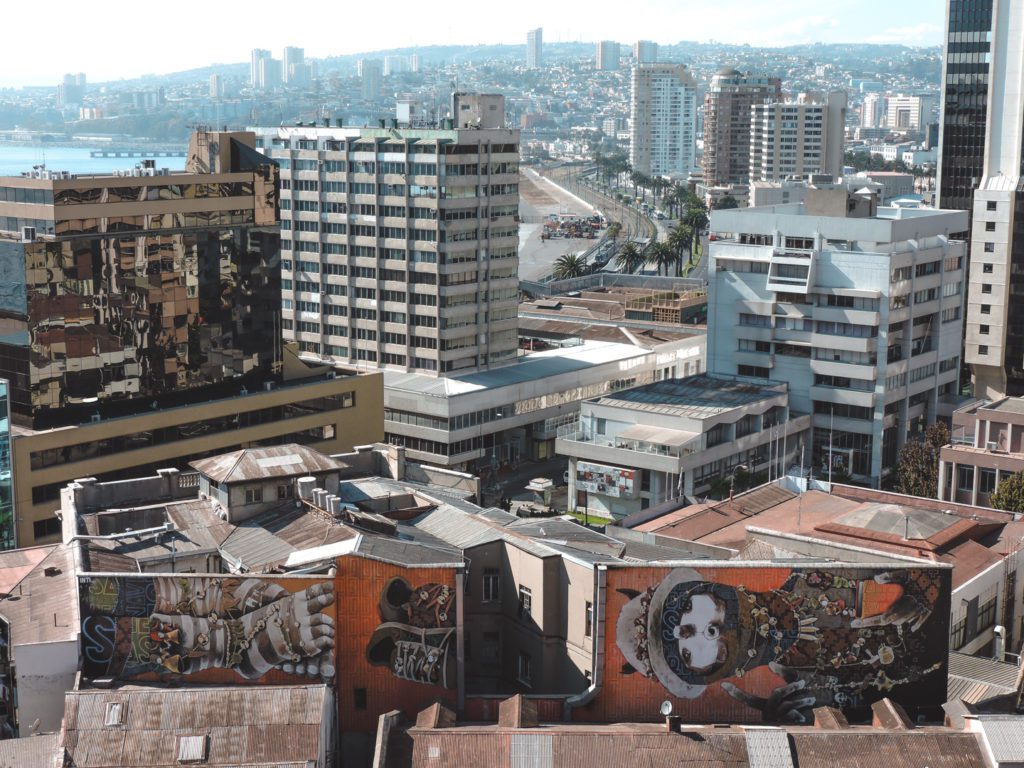 Valparaiso Top Tips:
When to go: Any time of year but check the weather, it's much nicer on a sunny day. Currency: Chilean peso. ATMs located in the centre of the city and are attached to banks, also in the major supermarkets.
↠ Valparaiso is extremely hilly so you'll be doing a lot of hill walking- wear comfortable shoes.
↠ While Valparaiso is, for the most part, a safe place to visit, robberies and assaults are sadly not uncommon. Have your wits about you, take care of your belongings and avoid the port areas and around Plaza Sotomayor after dark.
↠ Almost everything in Valparaiso is walkable but if you get tired, take the tram, who's route follows the coastline. Valparaiso is one of the last places in Chile that still has a working tram.
GET IN
Bus – the easiest and best way to get to Valparaiso from Santiago or any other nearby city. From Santiago, you can take the bus from Terminal Alameda or Pajaritos Metro Station and it costs about $6,000 CLP return. Turbus and Pullman are the main companies operating the route.
Private tour – many tour companies in Santiago combine a day trip to Valparaiso with a stop at a vineyard in the Casablanca valley.
Interested in exploring the vineyards of the Casablanca Valley on your way to Valparaiso. Check out my guide here.
THINGS TO DO IN VALPO
EXPLORE CERRO ALEGRE AND CERRO CONCEPCION
These two hills form the traveller and bohemian hub of Valparaiso and you will inevitably spend time here. Stroll the numerous alleyways and staircases admiring the street art as you go. Have coffee or lunch in one of the many artsy cafes or restaurants here and admire the sea views from the tops of the hill.
VISIT LA SEBASTIANA
La Sebastiana was Chilean poet Pablo Neruda's residence in Valparaiso and a must-see in the city's attractions. Not only does a visit here give you the chance to learn more about his life the house itself is a beautiful one, with quirky knick-knacks in every room, stylish furnishings and the most idyllic sea views.
TAKE A FREE WALKING TOUR
Various companies offering tours for tips depart from Plaza Sotomayor in Valparaiso for a 2-hour walking tour of the city. This tour was one of my most memorable experiences from Valparaiso and I'd highly recommend going on one. Our native guide was so passionate and informative about his city that I can't remember the last time I learned so much about a place. Guides tell you about the history of the city and it's significance as a port as well as take you to all the city's most alluring places. Tours are available in English and Spanish.
TAKE A GRAFFITI TOUR
One of the most unique aspects of Valparaiso is its street art and I'm not talking about some random scrawls on the walls. Some of Chile's most renowned street artists have their work on the walls here and taking a tour is the best way to experience it. The graffiti tour is the most popular and for good reason. Find out about the different artists and how to recognise their work as well as what the works represent and the political messages behind many of them.
TRAVEL IN A FUNICULAR
Valparaiso's funiculars date back to the early 1900s and were constructed to help people get from the lower, commercial parts of the city to their homes in the upper parts and hilltops. Many have since stopped working however there are a few that are still functioning for the general public. Here are the best funiculars to check out:
Artillería Railway– this is the oldest funicular in Valparaiso and was originally built to transport sailors from the port to the Navel School. Nowadays you can take this railway up Paseo 21 de Mayo for amazing views over the city.
El Peral – this rickety funicular connects the Plaza de la Justicia with the Yugoslavo walk located in Cerro Alegre. This is one of the most unique funiculars in the city.
Concepcion – this lift connects commercial Prat Street with Paseo Gervasoni, one of the most well-known lookout points in the city. Take the funicular up here, take a seat on a bench and stare out into the Pacific.
Reina Victoria – the steepest lift in the city, enjoy the best views of Cerro Concepcion and Cerro Carcel.
EXPLORE BARRIO YUGOSLAVO
Barrio Yugoslavo is a tiny neighbourhood next to Cerro Alegre. It used to be the place where all the Yugoslavs and Croats settled when they first arrived in Chile. Here, you can see some of the houses in which they lived, including the Barburizza Palace once a mansion belonging to a Croatian family and now the Museum of Fine Arts.
GET THE BEST VIEW OF THE CITY FROM PASEO 21 DE MAYO
Take the Artilleria railway at the top of this hill for one of the best views of the city. With the Maritime Museum at your back, admire the shape of the hills and their intricate architecture, the port and the glistening Pacific. On a clear day, you can even see the sand dunes of Concon in the distance.
TAKE A BOAT TRIP OF THE PORT
Change your perspective a little and take in the city from the sea- it's a completely different viewpoint. Many boats depart for the hour-long tour from the pier just south of Plaza Sotomayor. Your captain will take you around all the naval ships moored in the port and explain their history as well as talk a little more about the importance of the port and the city. Look out for the huge buoys bobbing up and down to get a glimpse of the giant sea lions basking in the sun. Unfortunately, when I went tours were only available in Spanish.
WHERE TO EAT
Famous dishes to try in Valparaiso are the standard Chilean classics such as cazuela, (a clear beef or chicken stew) pastel de choclo, (corn and meat pie) or empanadas. These dishes are difficult to find plant-based however, apart from empanadas. Plant-based eating is still a new and innovative concept in Chile, however, vegan restaurants and vegan options are on the rise. Here are my favourite places to eat for plant-based, health-focused deliciousness:
La Vitamínica– a delightful little cafe selling, light meals and refreshing fruit juices. Their daily changing menu is plant-based friendly and offers food that's healthy, local, organic and simple. Address: Huito 560, local 14, Valparaiso
Bokeh – No frills veggie cafe offering a chance to try plant-based empanadas, vegan coffees, cakes and sandwiches. Address: Cumming 1, Valparaiso
Ruka Prana – a small cafe serving a fresh and delicious veggie menu each day. Choose from soup or salad to start and then a main, juice and dessert. The food here is tasty and the portion sizes are big. Come hungry! Address: Manuel Antonio Matta 266, Valparaiso
Govindas Vegetariano– An excellent haven of healthy, delicious food in the heart of Valparaiso. Choose from a daily changing lunch menu, juices, smoothies and desserts. Address: General Cruz 539. Open for lunch only.
WHERE TO STAY
If you plan to stay the night in Valparaiso there are plenty of options for all budgets. Stay in a hostel on Cerro Alegre or in a traditional Valparaiso mansion with sea views. Here are my favourite places to stay:
Airbnb– I love using Airbnb for the variety of accommodation they have on offer especially in Valparaiso. It's great value for money too compared with the prices of Chilean hotels. If you've never tried it get $25 off today with your first booking.
Hotel Casa Higueras – My favourite hotel in Valparaiso. A converted 1920s mansion, they have the comfiest rooms and mattresses as well as stunning sea views in most of their rooms. Breakfast is varied and fresh and a dip in their pool after a long day of exploring is a delight.
Hotel Brighton– Perched on Cerro Conception, this hotel may have one of the prettiest terraces on the whole hill. The hotel itself is a typical Valparaiso mansion with corrugated iron sheet walls and pointed spire roofs. Each room is named after a British writer and is decorated in the traditional Chilean style.
Related posts you might like
Top Vineyard in Chile in the Casablanca Valley
The Ultimate Top 10 Chile Bucket list
How To 36 Hours in Santiago, Chile
The Best Hikes in Santiago, Chile
Have you got some questions about things to do in Valparaiso, Chile? Leave them below.
PIN IT FOR LATER