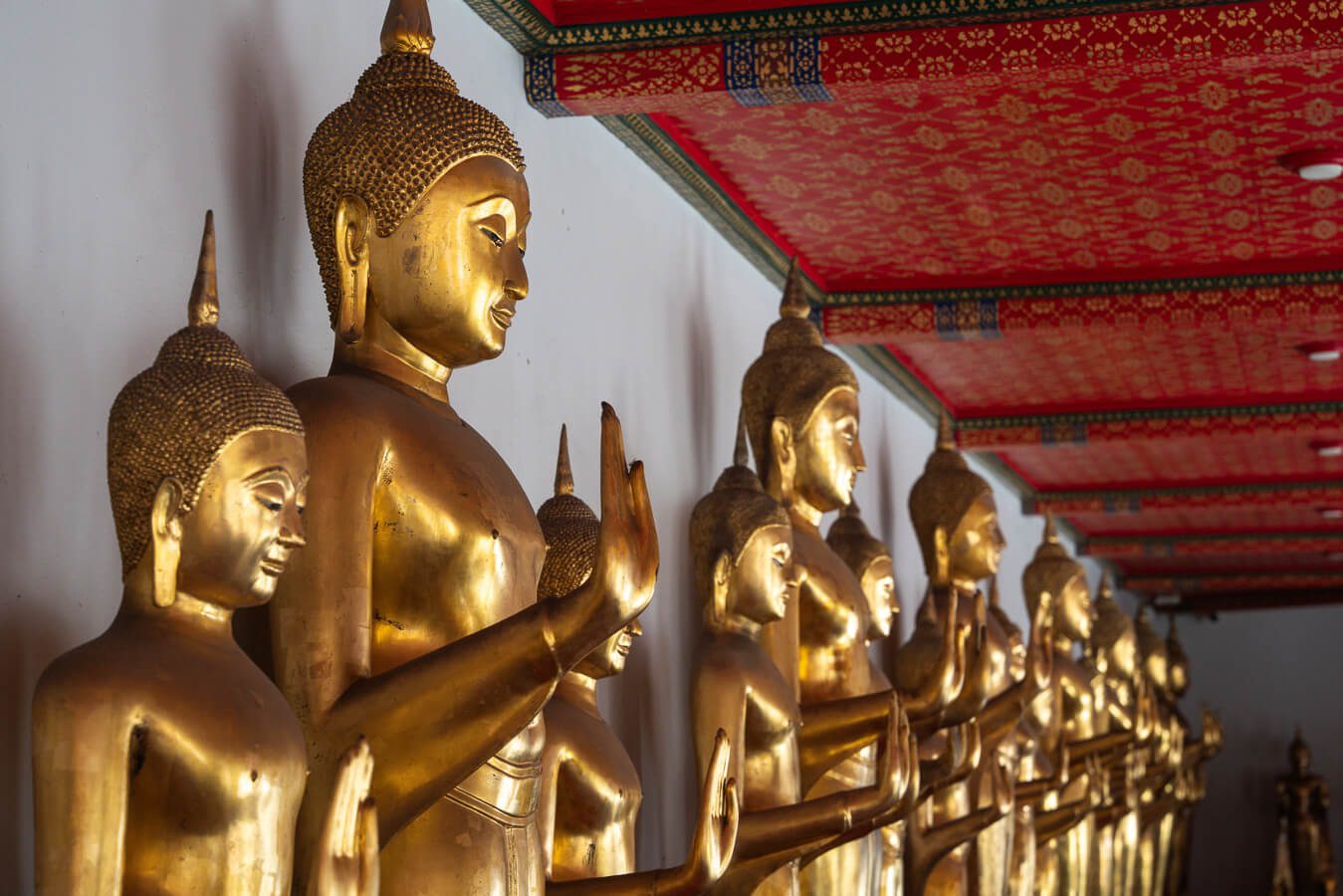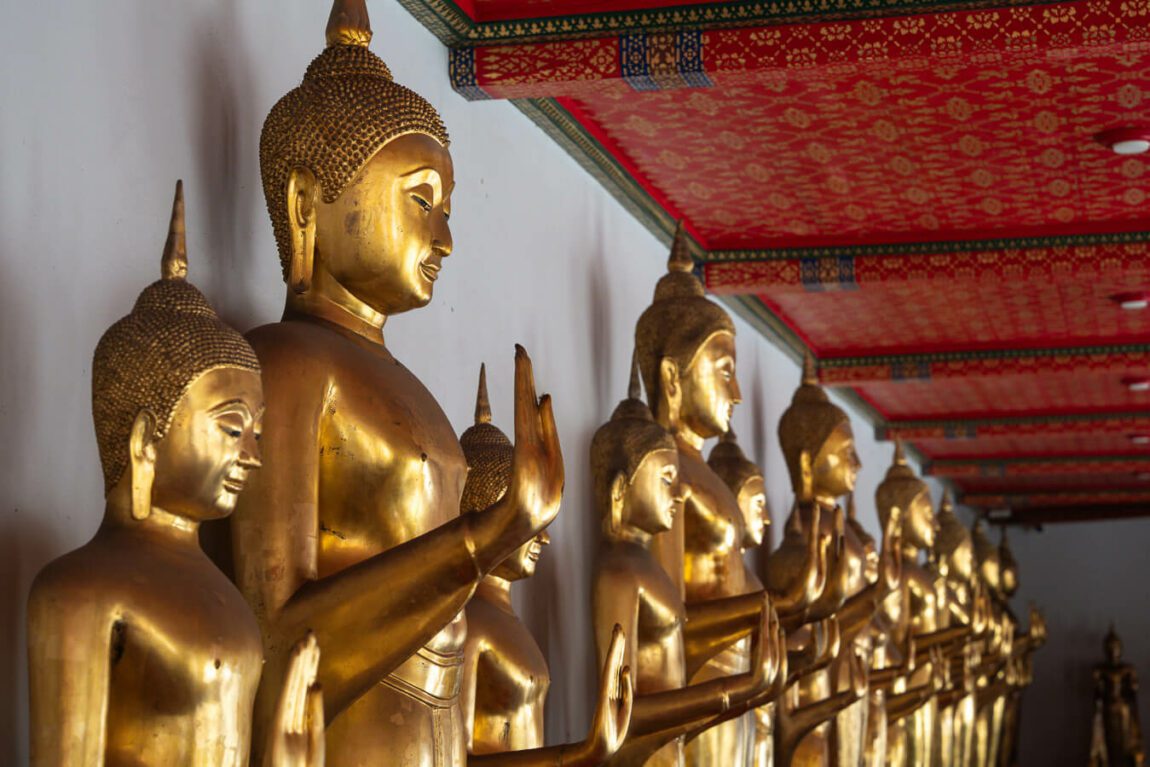 Bangkok Itinerary (4 Days): A Curated Insider's Guide
(Last Updated On: November 14, 2023)
Discover the Thai capital with our 4 Days in Bangkok itinerary and plan your perfect getaway to Thailand.
Bangkok is a special city. It's a place deep-routed in history, culture and religion with a contemporary twist, a beautiful place where traditional meets modern.
There are many things to do in Bangkok that will keep you busy throughout your stay from glistening golden palaces and temples seeped in history to soaking in the light and on a rooftop bar at sundown. Bangkok is a place for anyone, for shoppers, party-goers, foodies, culture or history buffs and of course wellness-focused travellers.
Whether you're visiting Bangkok for just a few days, a few months or even on a layover of a few hours, Bangkok has something for you.
In this Bangkok itinerary for 4 days, you'll find all the things you simply cannot miss during a stay in the Thai capital and more. Whether it's your first visit or you've been before, I'm sure you'll find some value in this guide.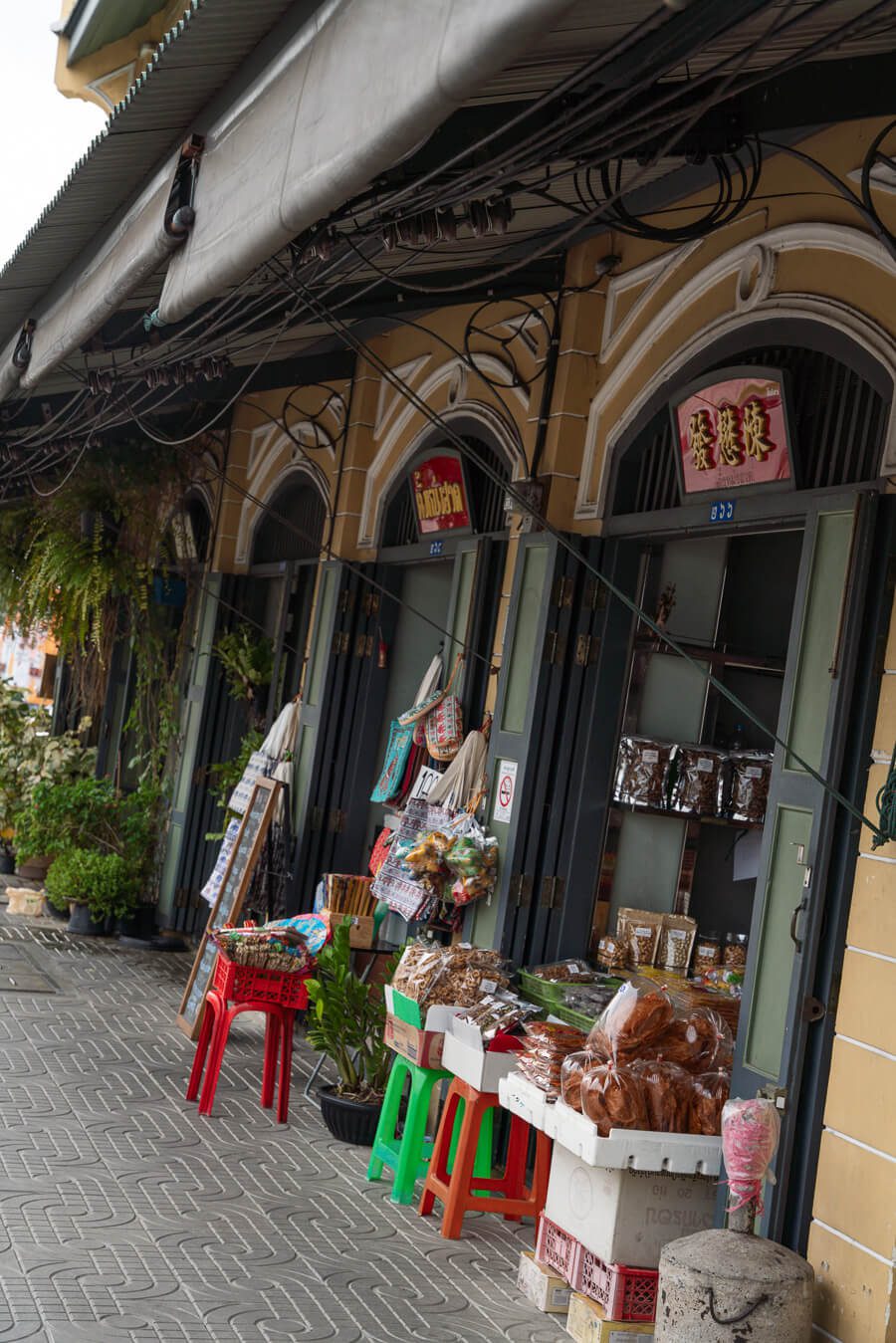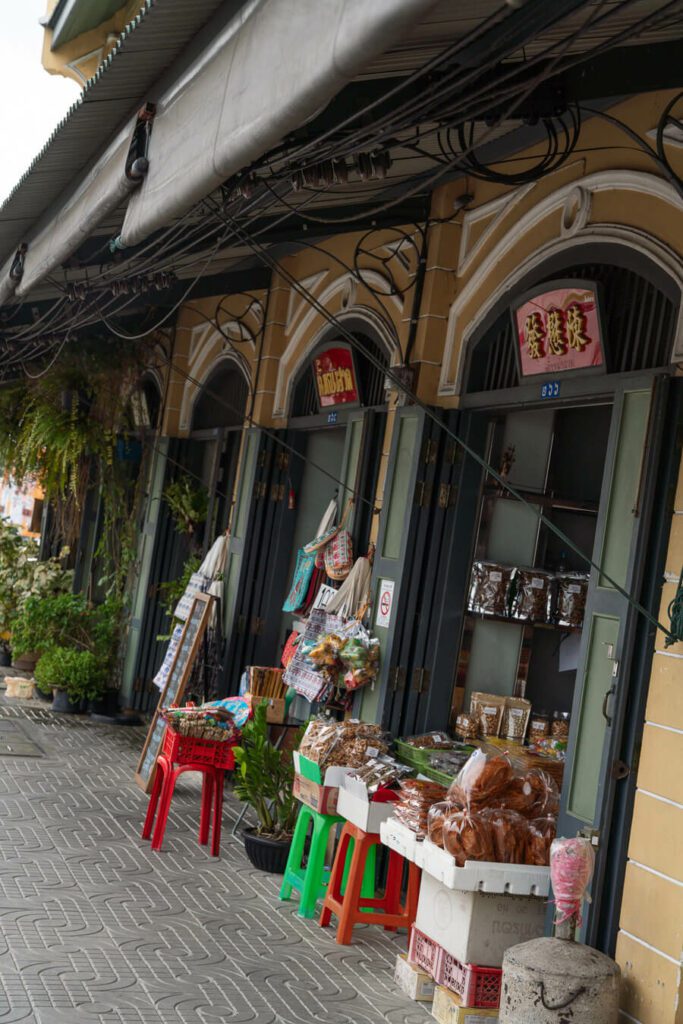 *This 'Bangkok itinerary 4 days' post contains affiliate links meaning I might make a small profit if you choose to book at no extra cost to you. This helps me to keep providing you with top-quality content for free.
When to Visit
Bangkok and Thailand can be visited all year round and the Thai capital makes the perfect escape at any time of the year. The busiest months and the high season, however, are from November- March, the coolest season.
The hottest time in Bangkok is March-May, but if you stay for Songkran- Thai new year- you'll be able to experience all the festivities and water fights.
The rainy season falls from July-October and at this time floods in the city are possible so keep that in mind. Whichever time you decide to visit Bangkok you won't be disappointed by this Asian metropolis that ever sleeps.
How Many Days in Bangkok?
Bangkok is a thriving city with so much to do, you won't get bored. Even after visiting 4+ times, I still manage to find little gems to explore and newly discovered things to do.
If it's your first time, aim for 4 days in Bangkok to make the most of all the sights and attractions. If you have more time then great, you can take advantage of all the great day trips from Bangkok.
If you have less than 4 days, you might need to pick and choose what interests you the most from each day of this curated 4 days itinerary in Bangkok Thailand.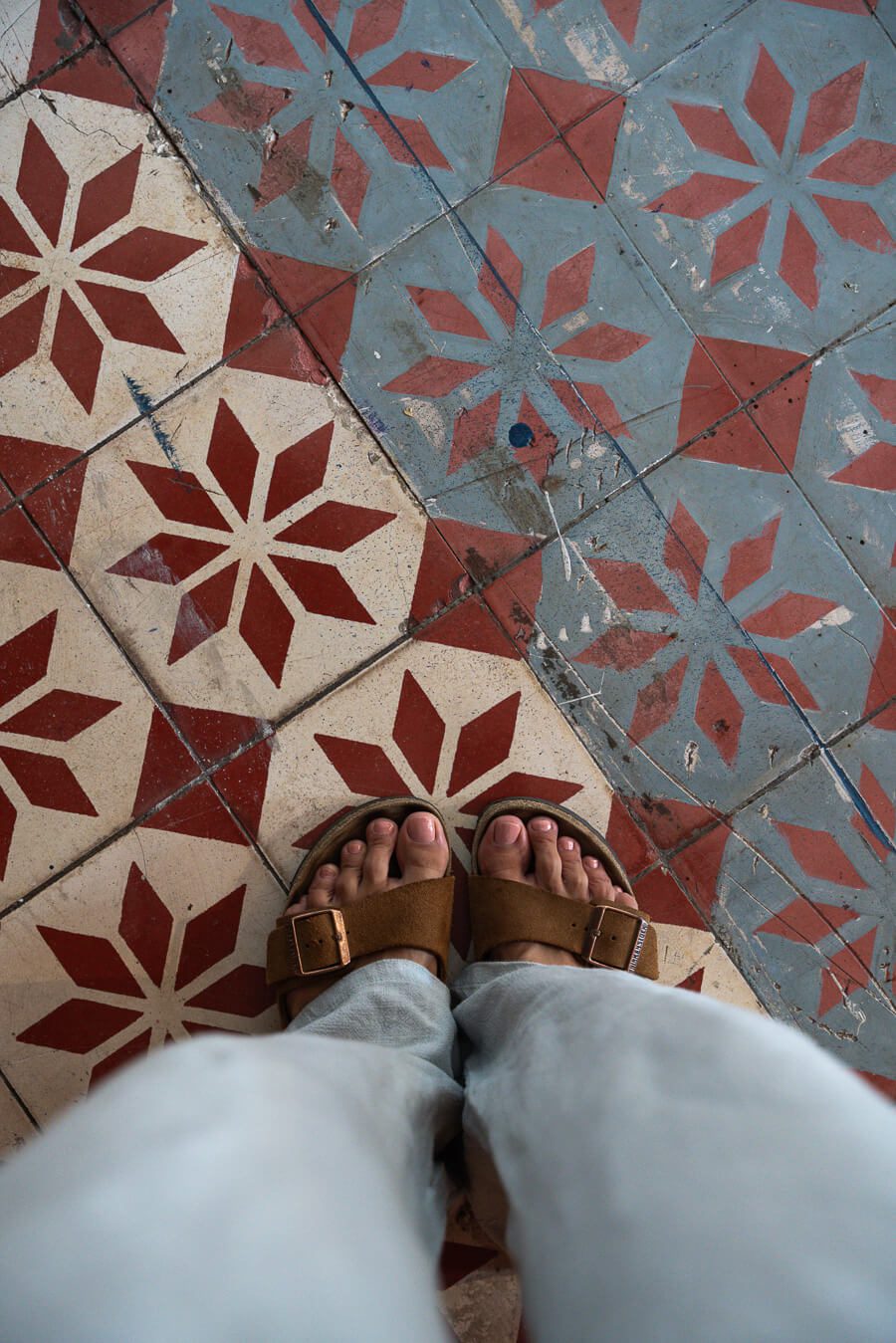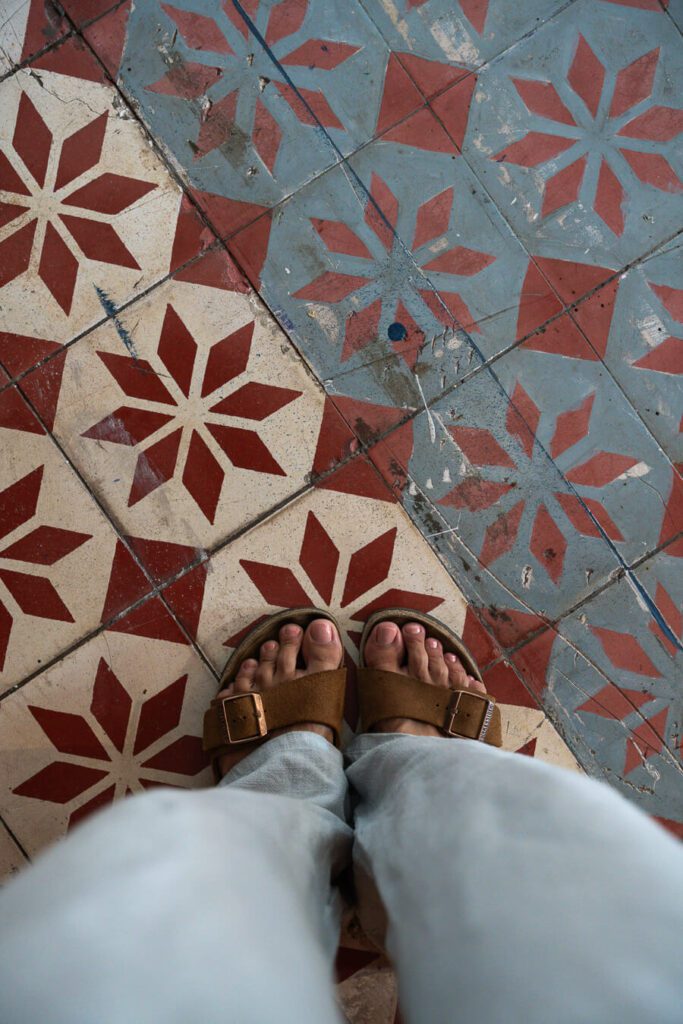 4 Days in Bangkok Itinerary
Your Bangkok 4 day itinerary and map
| | |
| --- | --- |
| Day 1 | Old Bangkok: The Grand Palace, Emerald Buddha, Wat Pho, Wat Arun, Wat Benchamabophit Dusitwanaram, Thai Massage |
| Day 2 | New Bangkok: Jim Thompson's House, Nai Lert Park Heritage Home, Siam Malls, Erawan Shrine, Lumphini Park, Rooftop Bar |
| Day 3 | Markets, Art & Chinatown: Samnoen Sadual Floating Market, Chinatown, Talat Noi |
| Day 4 | Shopping: Chatuchak Weekend Market, Golden Mount |

Your Bangkok itinerary 4 days
4 Day Bangkok Itinerary- Day 1: Old Bangkok
The Grand Palace & Emerald Buddha
Start the first day of your 4 days in Bangkok itinerary by exploring the beautiful and charming historic centre. This part of the city is the focal point for so many grand temples, elaborate palaces and significant buildings from Bangkok's history.
First thing in the morning make your way to the Grand Palace (opening hours-8.30 am-3.30 pm), the home of Thai Royalty.
This elaborate complex was built in 1782 and houses many administrative buildings, the famous temple of the Emerald Buddha and several other royal and throne halls.
Walking around this complex it's difficult to comprehend the intricacy of the detail and the sheer amount of gold. Don't miss the Temple of the Emerald Buddha and make sure to arrive early as it gets busy quickly.
Top Tip: Dress accordingly. You'll need to be wearing long pants and have your shoulder's covered to visit the palace (a T-shirt is fine). They won't allow you just cover your legs or shoulders with a sarong so make sure to dress accordingly on this day.
If you prefer to visit the Grand Palace on a small group tour to learn more about it during your itinerary of Bangkok, check out this Grand Palace Tour, which also includes hotel pick-up.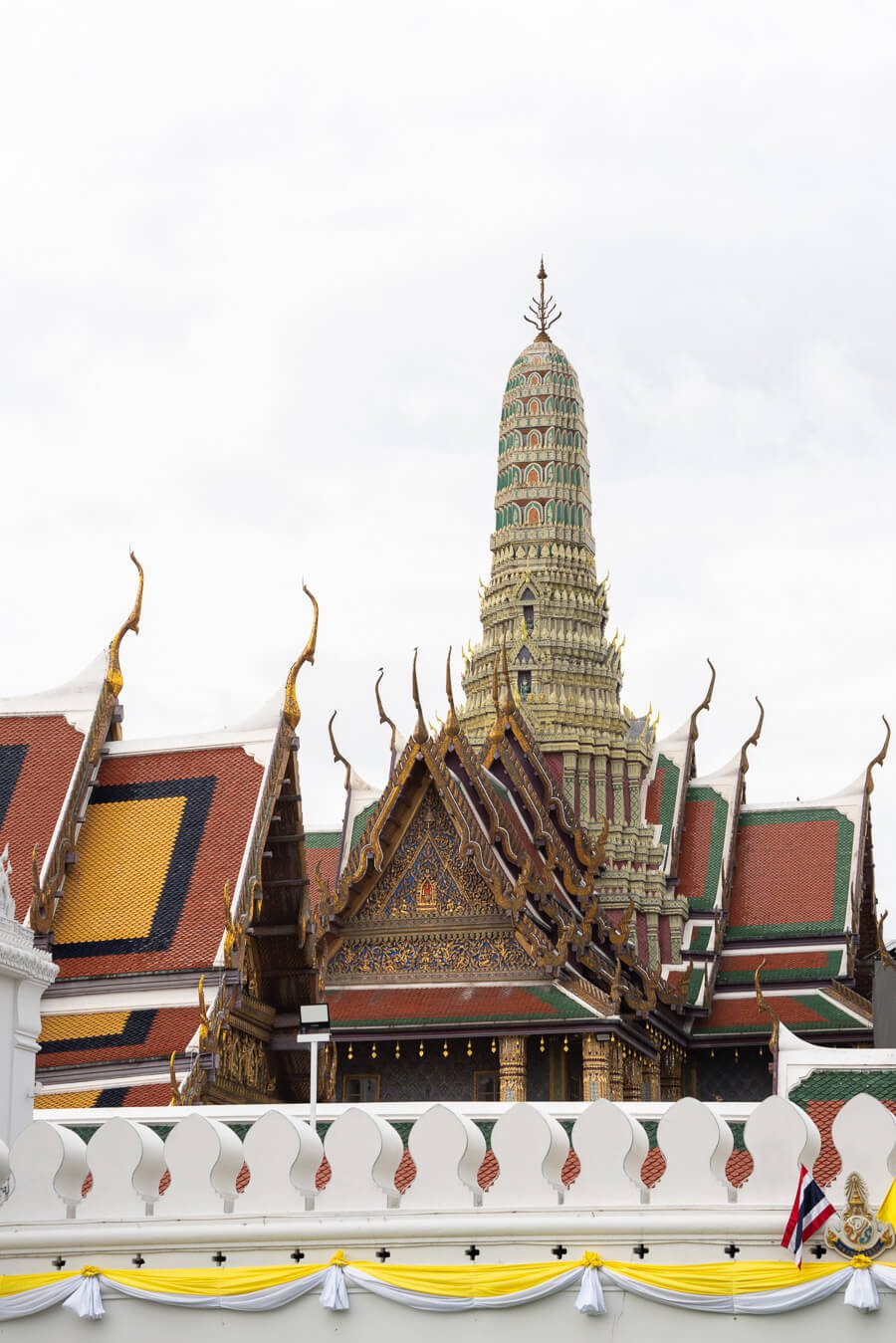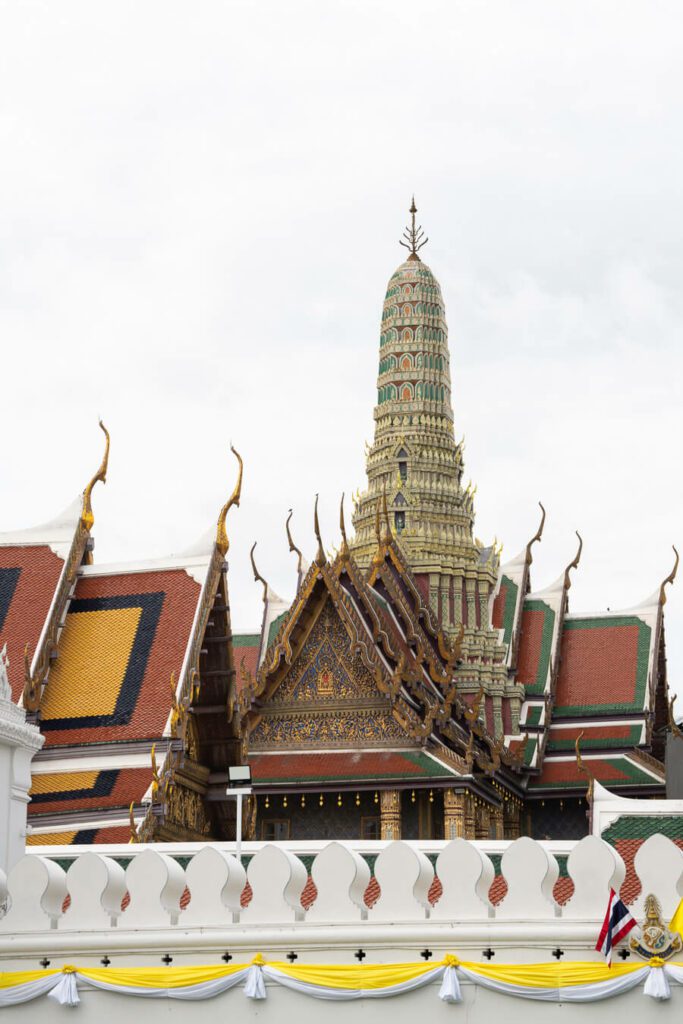 Wat Pho
Next, make your way just one block south to Wat Pho or the Temple of the Reclining Buddha. As its name suggests what you'll see here is a giant reclining Buddha statue prepared to be blown away. This gold-plated Buddha is 45m long and 15 metres high and its feet are encrusted in mother pearl.
This is the oldest and largest temple in Bangkok and if you visit just one during your 4 days in Bangkok itinerary, make sure it's this one or Wat Arun.
Make sure to also spend some time walking around and seeing the other temples and buildings, many contain beautiful Buddha statues full of history.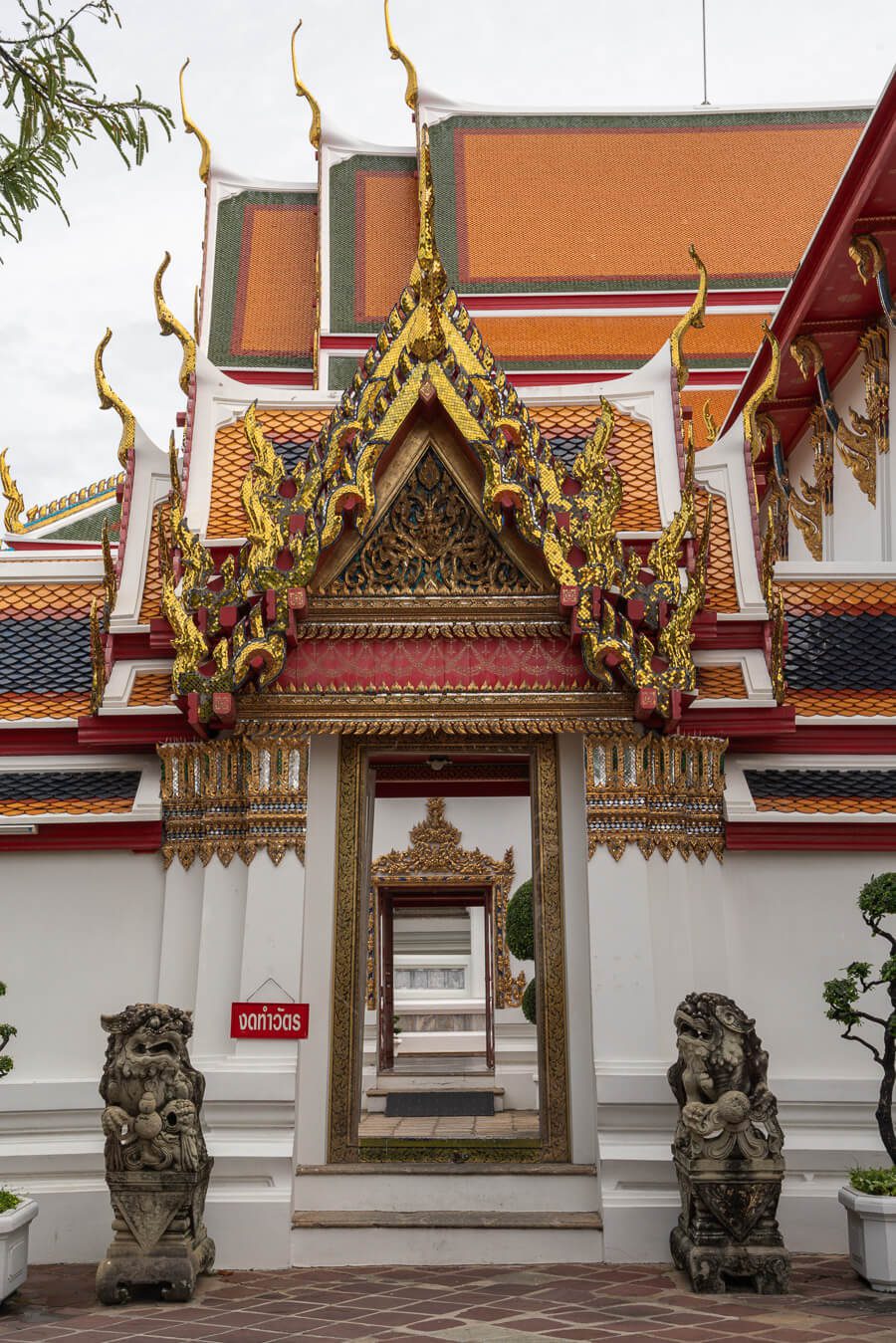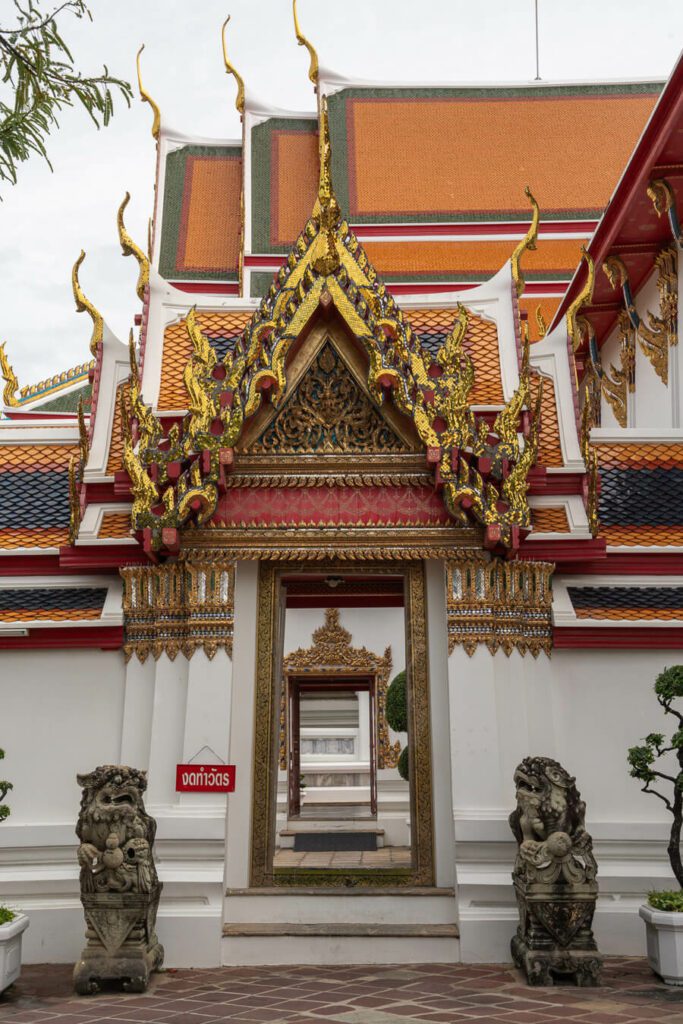 From Wat Pho continue on to Tha Tian Express Boat Pier, just a few steps away from Wat Pho. You'll pass through Tha Tian Food Market where you can grab a delicious Thai snack before continuing. They have lots of mango sticky rice, papaya salad and excellent fruit smoothies and juices on offer.
This market is also the perfect opportunity to try some South-East Asian tropical fruit including durian, the love-it or hate-it fruit that tastes delicious once you get over the smell. From the pier take the Chao Phraya Express boat directly over the river to Wat Arun.
Wat Arun
Architecturally, Wat Arun is one of the most unique temples in Bangkok and you can explore the temples and grounds. Its name means the 'Temple of Dawn' as the effect of the first light on the temple spires is magical. It's the perfect place to visit at sunrise- I wish it opened earlier than 8 am.
If you want to know a little more about the history of these temples and prefer to visit with a guide, you can opt for this Private Bangkok in a Day City Tour where a specialist guide will take you to all of the above sights and more.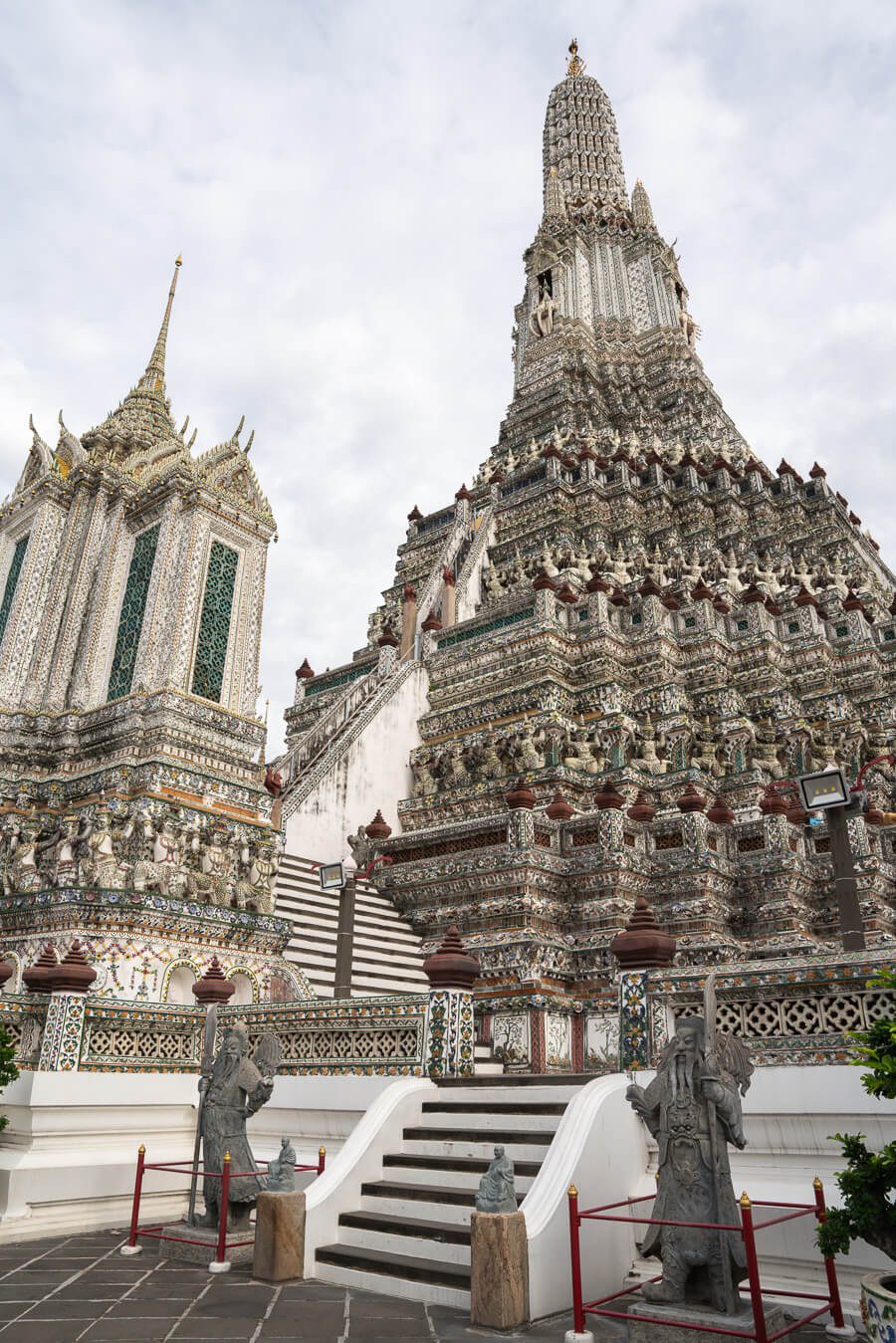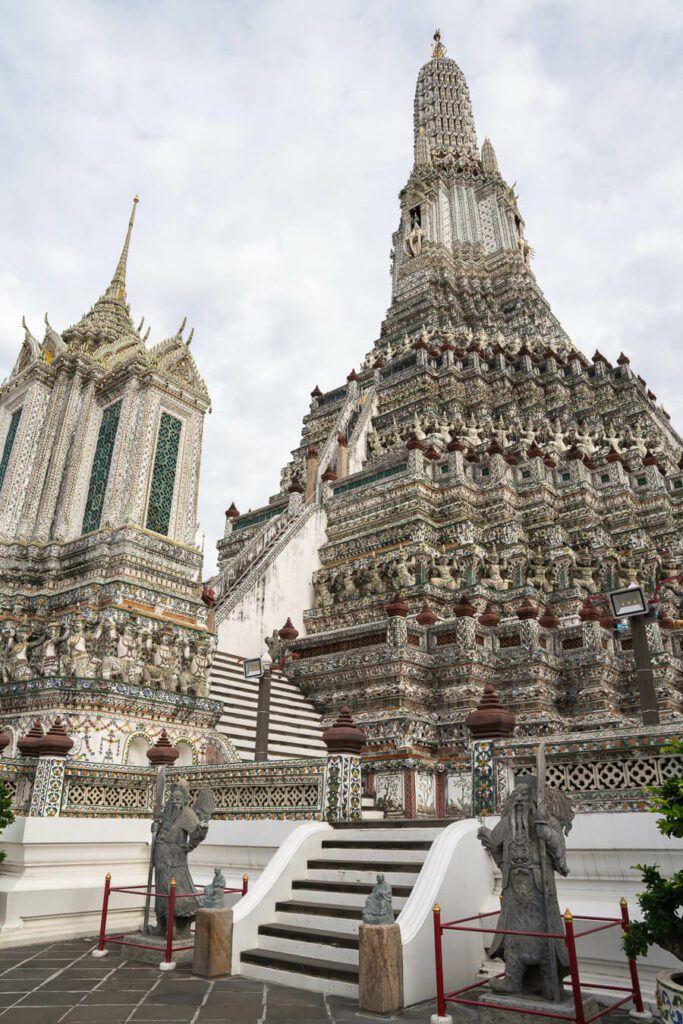 Wat Benchamabophit Dusitwanaram
If you still don't have enough of the beautiful Thai temples, finish your day with Wat Benchamabophit Dusitwanaram, one of the most beautiful temples in Bangkok. This is a little way out from the river so you'll need to take a taxi to get here but it's well worth it.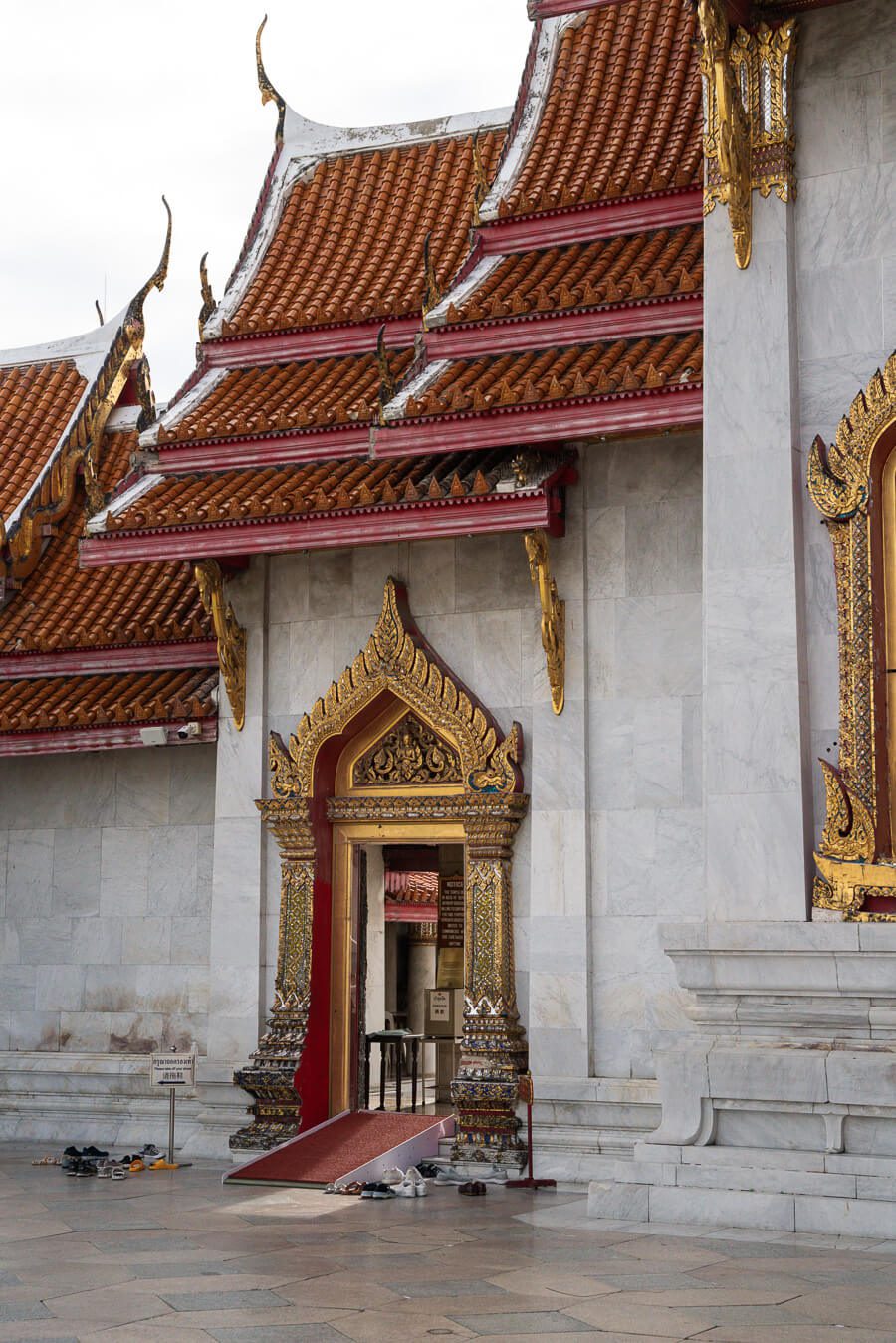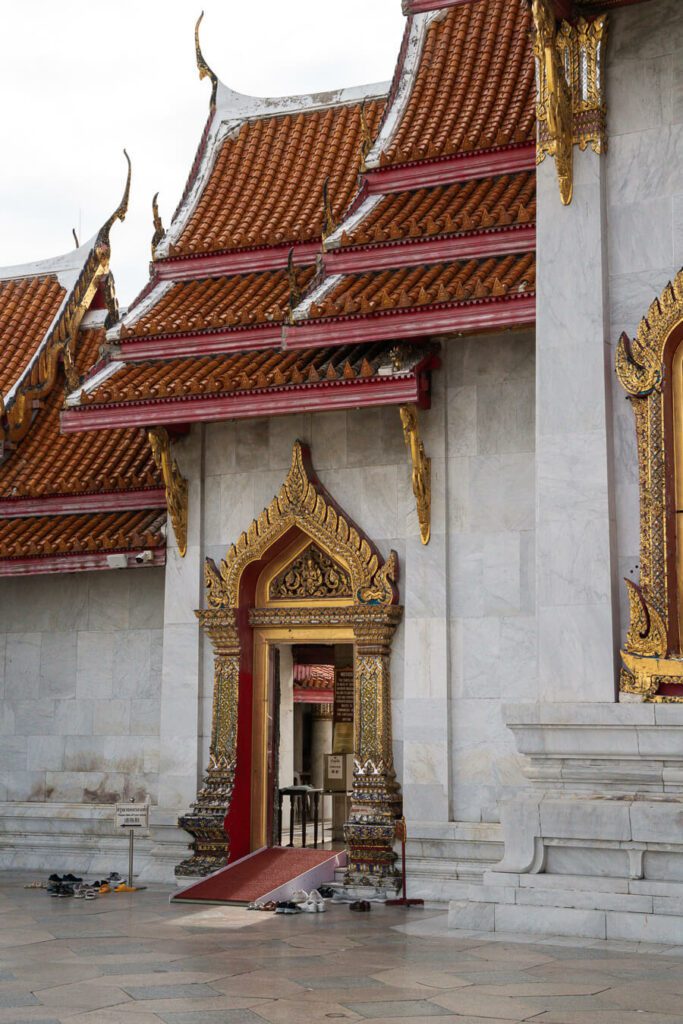 Also known as the Marble Temple, this famous Bangkok temple is one of the best examples of Bangkok's ornate style of temple architecture.
The Ordination Hall found at the complex's heart is a sight to see with a large, seated, gold Buddha inside. Don't miss walking around the temple complex too for sights of chatting monks and locals escaping the Bangkok heat.
Get a Thai Massage
Finally, to finish your day indulge in a Thai massage or an alternative massage of your choice. No Bangkok travel itinerary is complete without it.
The Thai massage technique is far from the soothing Western practice and involves a combination of acupressure, yoga postures and Ayurvedic principles. The Thai massage leaves you feeling invigorated, perfectly aligned and relaxed. It's the perfect way to end the day. 
Thai massages are offered all around the city, but it's a good idea to dig around the find the most skilled artisans.
Alternatively, your hotel spa might be the best option. Both Capella Bangkok and Kimpton Maa-Lai, where I stayed during my last trip, have incredible spas which means you don't need to go to any extra effort for an evening massage.
4-day Bangkok Itinerary – Day 2: New Bangkok
Jim Thompson House Museum
On your second day in Bangkok, it's time to explore the other side of the city, the sleek modern financial and commercial centre and the gems that are located here.
Start your day with some traditional Thai culture and architecture at the Jim Thompson House Museum (9 am-6 pm) one of my personal favourite spots in Bangkok.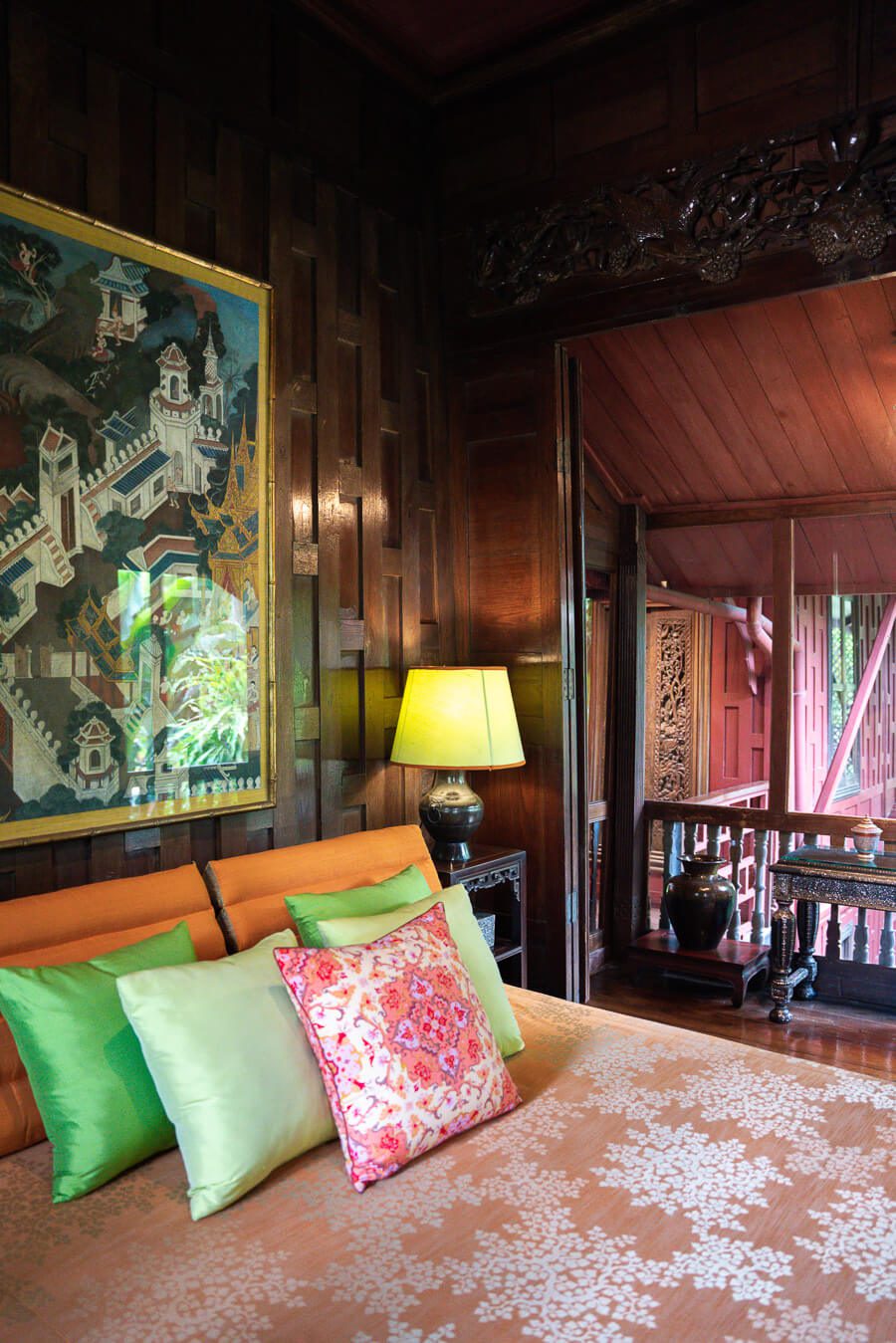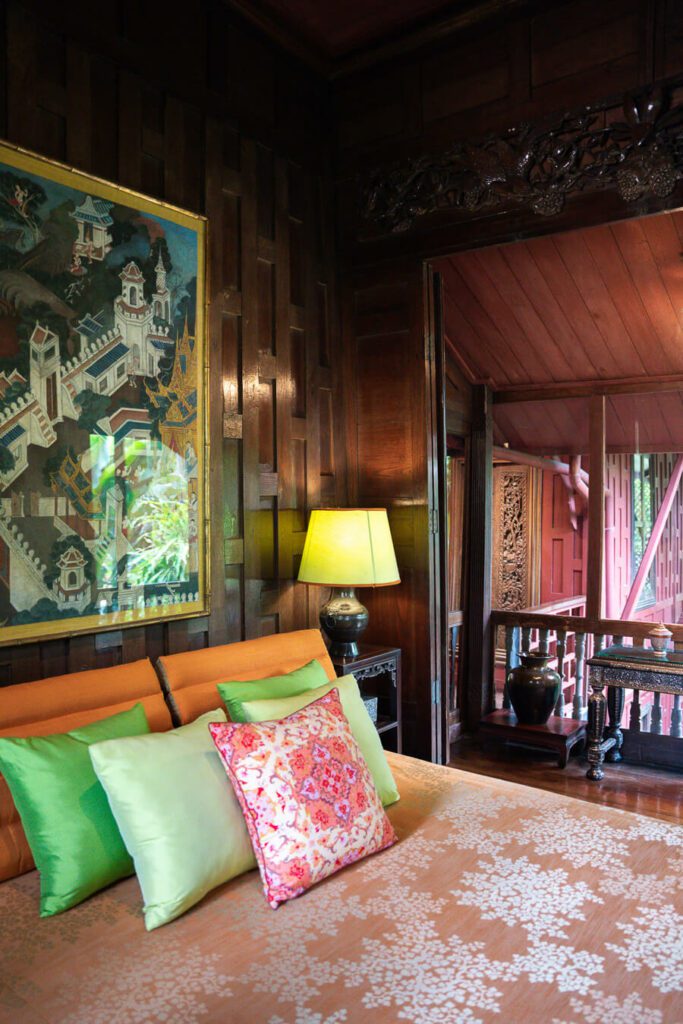 Jim Thompson was an American businessman who fell in love with Thailand after his first trip here. He moved to Bangkok and heavily invested in and worked hard to save the Thai silk trade. He was also an avid art collector and pieces from his collection can be seen in the house museum.
The house was made by combining six existing Thai buildings in the traditional Thai style and it's a fine example of traditional Thai architecture. This house is definitely a must-visit during your Bangkok itinerary as it's one of the most unique places in all of Bangkok to explore Thai heritage (albeit with Western influences), history and art.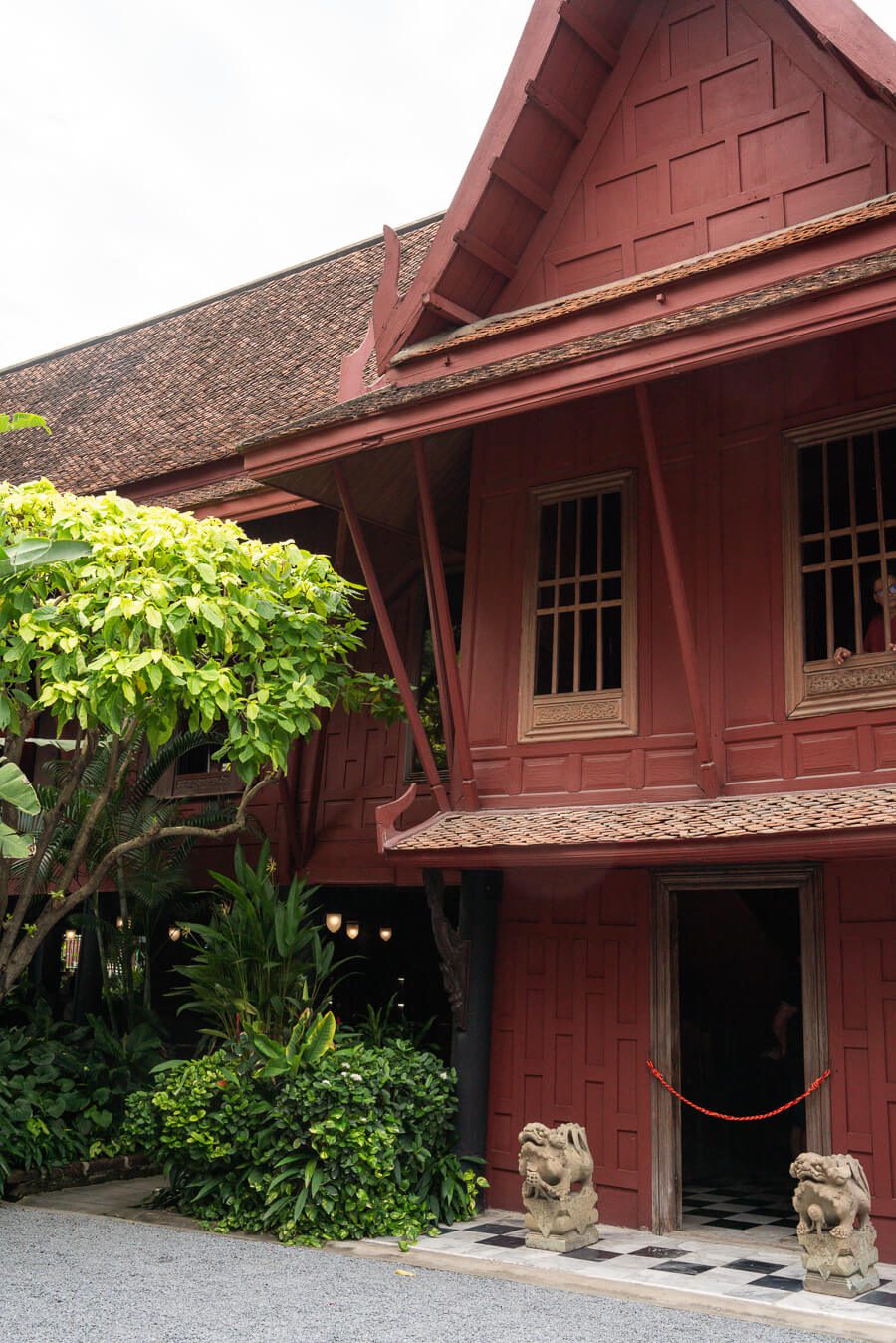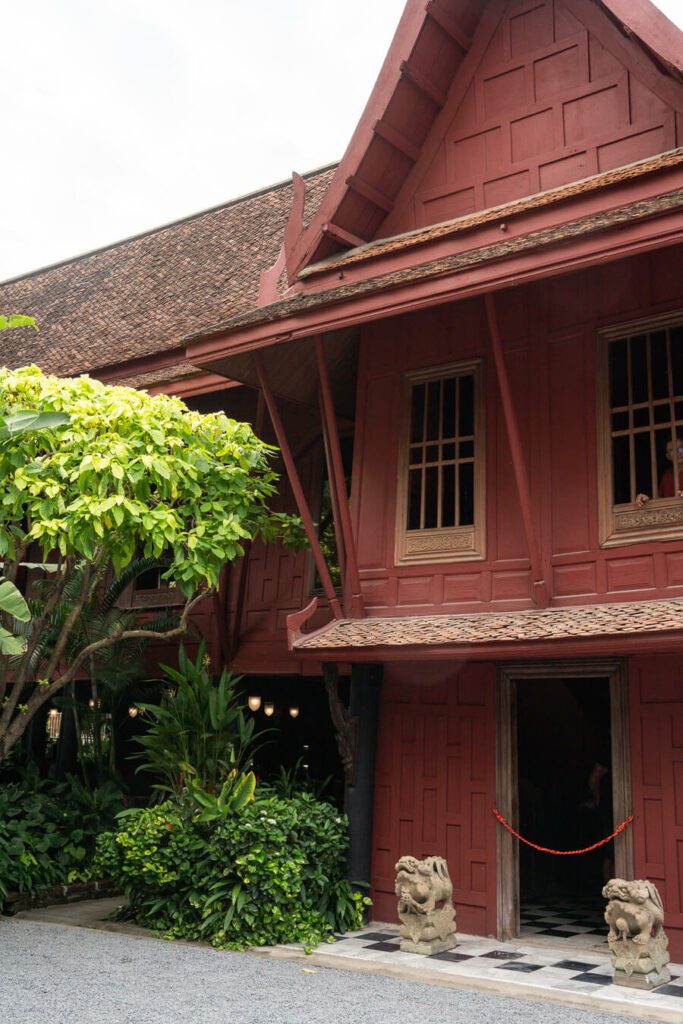 Explore Siam & The Malls
From here it's a short walk eastwards into the heart of Siam- Bangkok's bustling commercial district.
Here you'll find the biggest malls such as the Siam Paragon, CentralwOrld and Central Embassy, one of Bangkok's newest luxury malls. Although there's nothing particularly Thai about these mega malls if you are up for some shopping now's a great opportunity to indulge.
Just opposite the Siam Discovery Mall is the Bangkok Art and Culture Centre, a gorgeous space that deserves a quick walkthrough too if you have a minute.
IconSiam is also the newest mall on the Bangkok Mall circuit and it is one of the best for both luxury and high street shopping. It also has a fantastic food court too. It is a little out of the way however but you can take the BTS and then the shuttle boat over the river to reach it. It's a relatively quick and easy trip.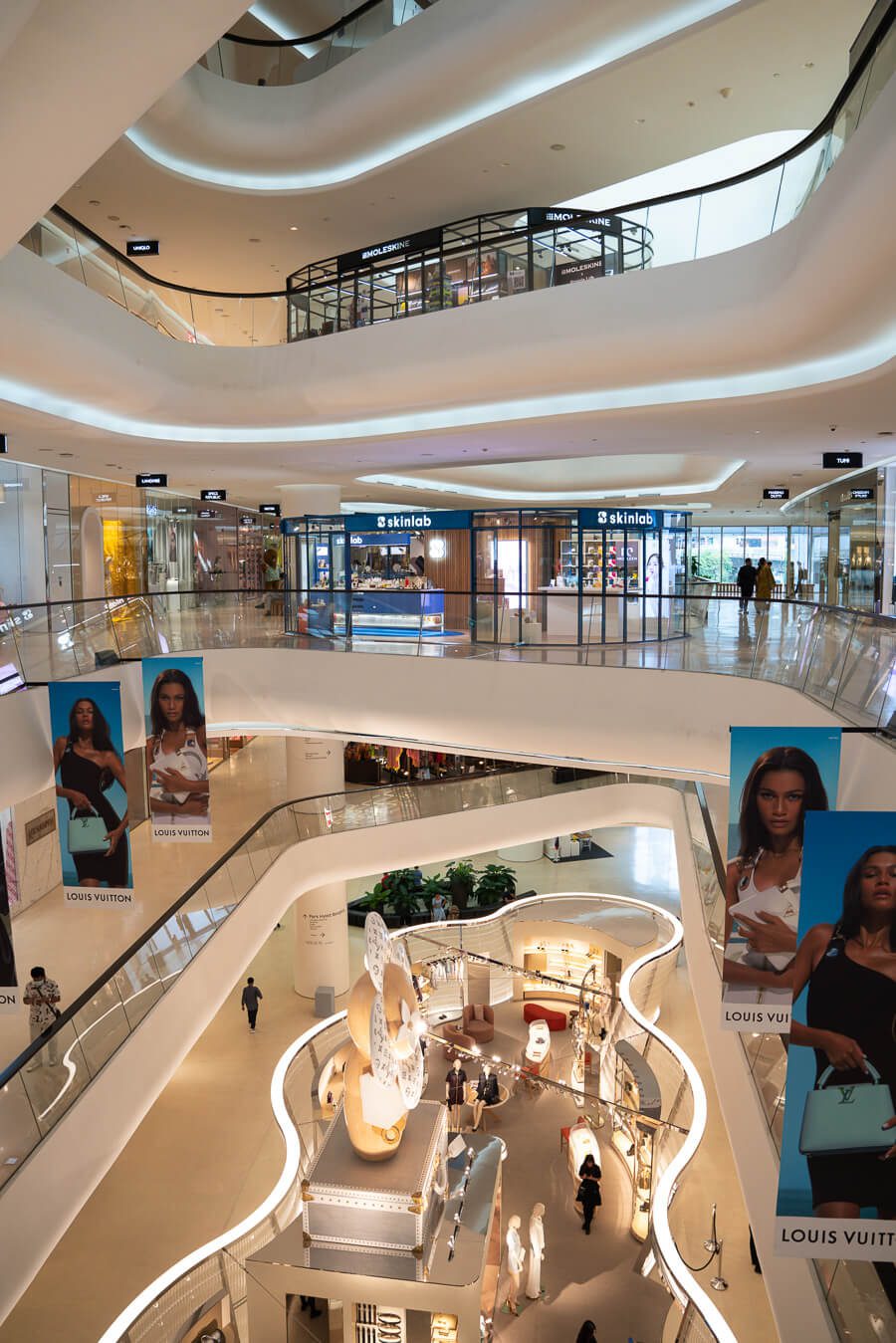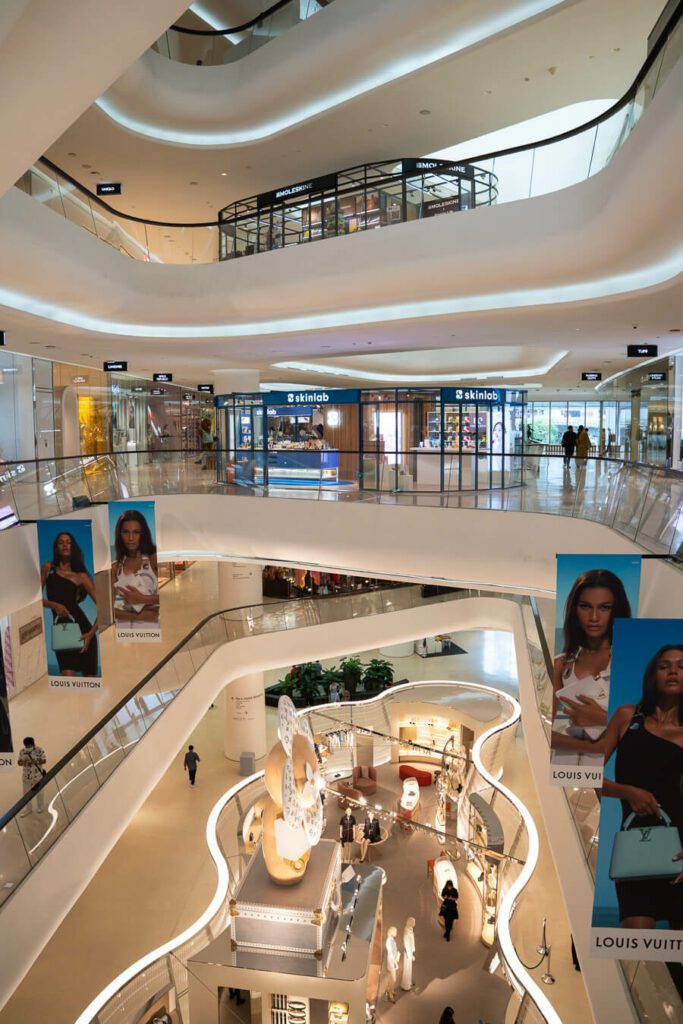 Erawan Shrine
Opposite the CentralwOrld Mall, you'll find the Erawan Shrine, a monument to Brahma the Hindu God of creation who is known as Phra Phrom in Thailand. This shrine is entirely open to the street so you'll see it, completely covered in marigolds before you even get near.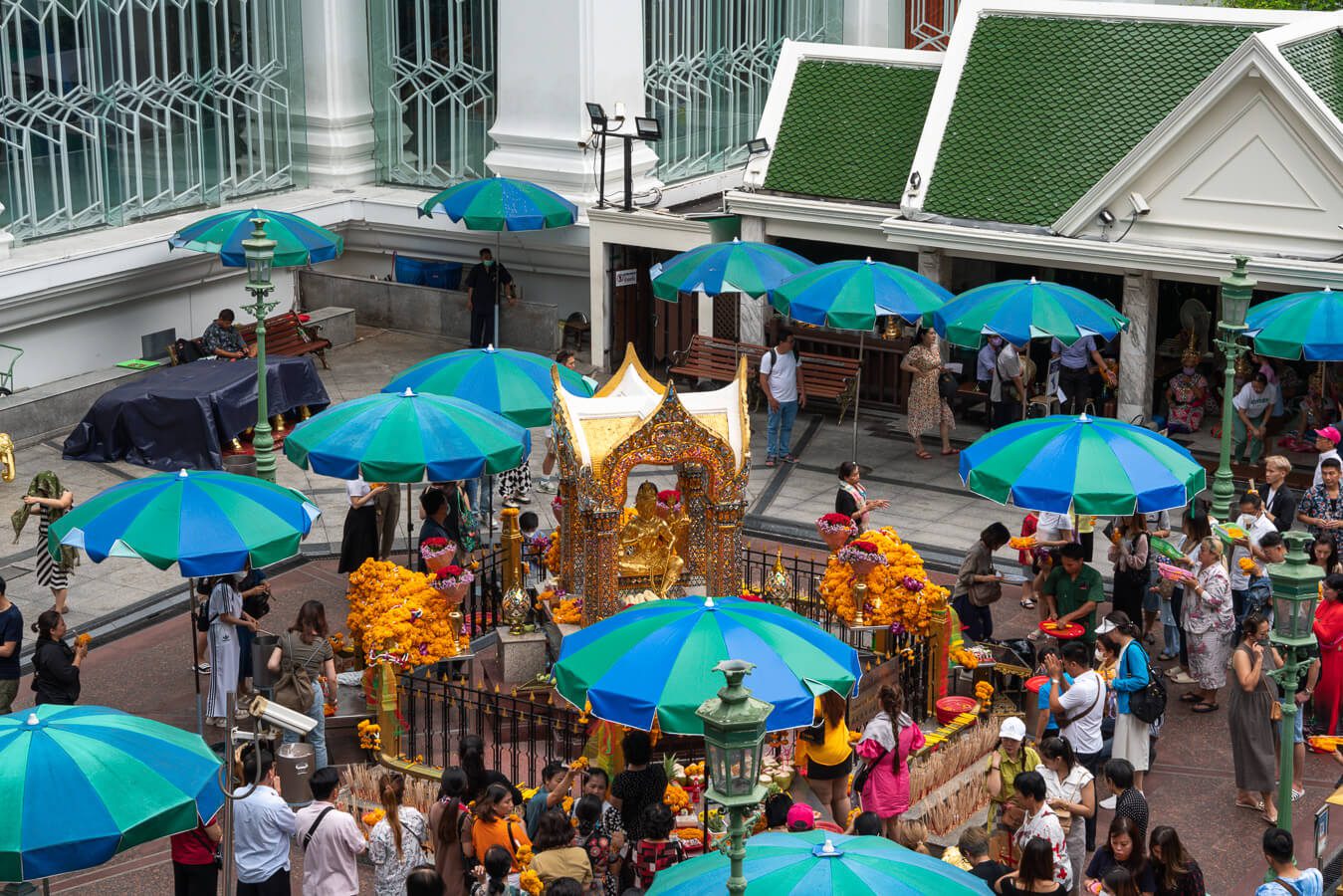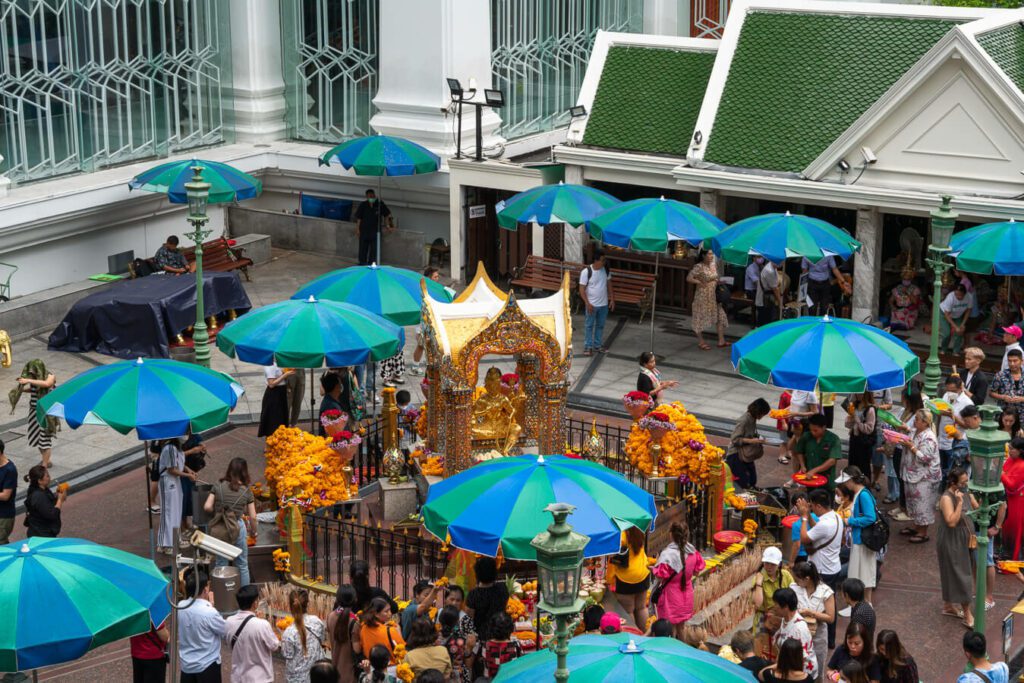 It's worth walking around and noticing the amount of gold and the beautifully intricate details. There are also regular performances by traditional dance troupes, so make sure to stay for that if you can.
Lumphini Park
Next head south along Ratchadamri Road all the way down to Lumphini Park. (If you're hungry and already looking for somewhere to eat then make sure to pop into Lumphini Hawker Stall, a brilliant street food buffet right on the northern perimeter of the park).
At Lumpini Park simply walk around and take in this gorgeous oasis of green surrounded by skyscrapers and Skytrain flyovers. In the park, there's also a boating lake on which you can spend the afternoon or simply relax with a book under the shade of a tree.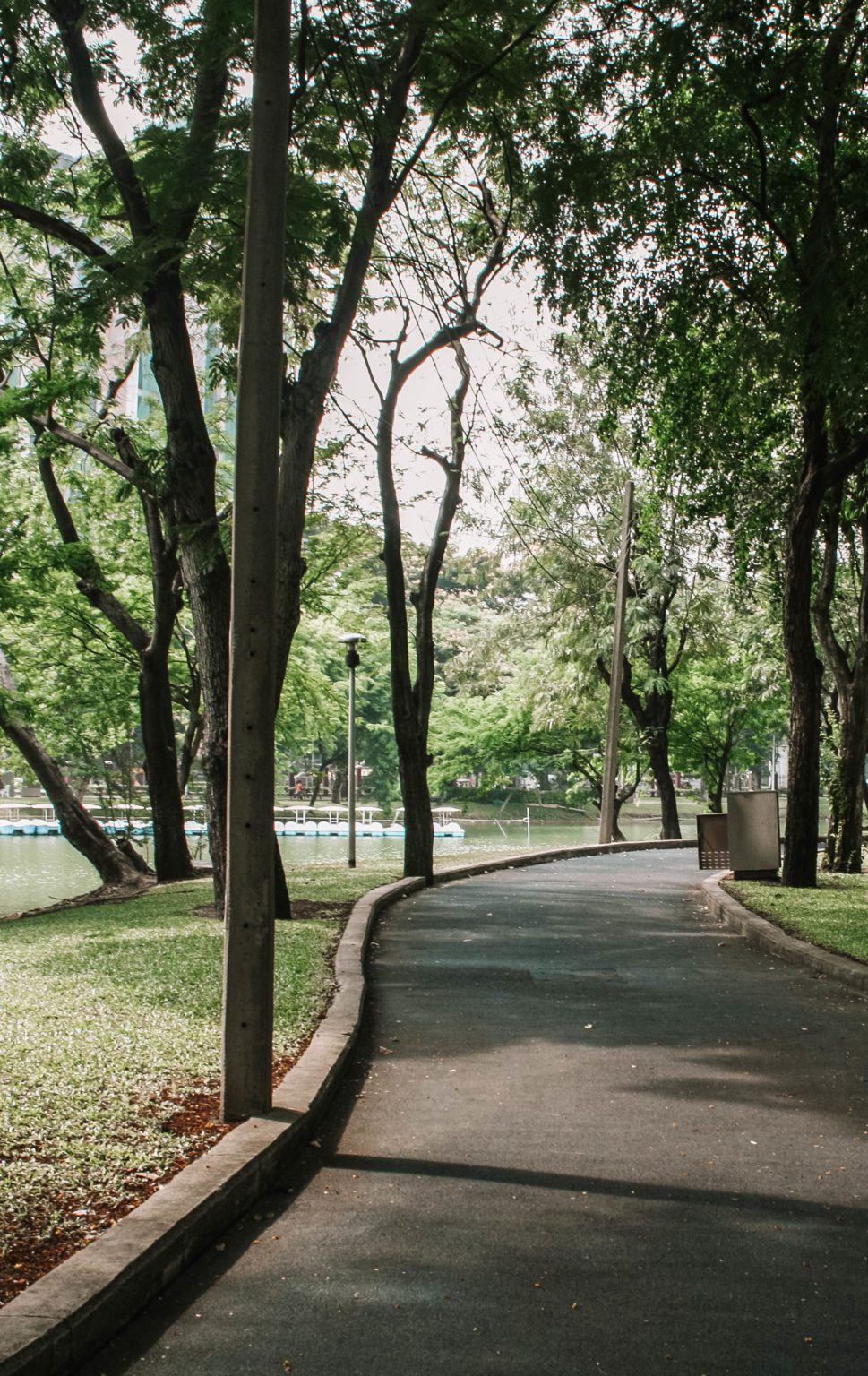 For sunset, it's impossible to miss Bangkok's views from one of the many rooftop bars available in the city. The choices are endless and you have to stay here for more than a month to visit each one.
My favourite rooftop bars are Penthouse Rooftop at the Park Hyatt, the famous Art Deco-styled Vertigo and Moon Bar and the more casual ABar Rooftop. Each bar has its charm and they are all perfect for watching the sunset while sipping a cocktail as the sky turns purple and the night begins.
Day 3
Visit Samnoen Sadual Floating Market
Start the third day Bangkok itinerary by visiting one of the most famous and important Thai commerce practices, the floating markets.
There are so many to choose from and while you'll have to travel to get to one (there aren't any in central Bangkok) it's well worth the trip to see the vendors selling their wares from wooden boats on the waterways. It's also a great place to sample some delicious and extremely authentic Thai food.
One of the best and closest markets to visit is Samnoen/Damnoen Saduak Floating Market, just 1.5 hours away from central Bangkok.
One of my favourite ways to visit this floating market is on this tour. They really take the hassle out of trying to get there yourself and the guides are friendly and knowledgeable. They even show you how coconut sugar is made. The tour gets you back to Bangkok by 2 pm and it's great value for money.
Book your place on the Samnoen Saduak Floating Market tour here.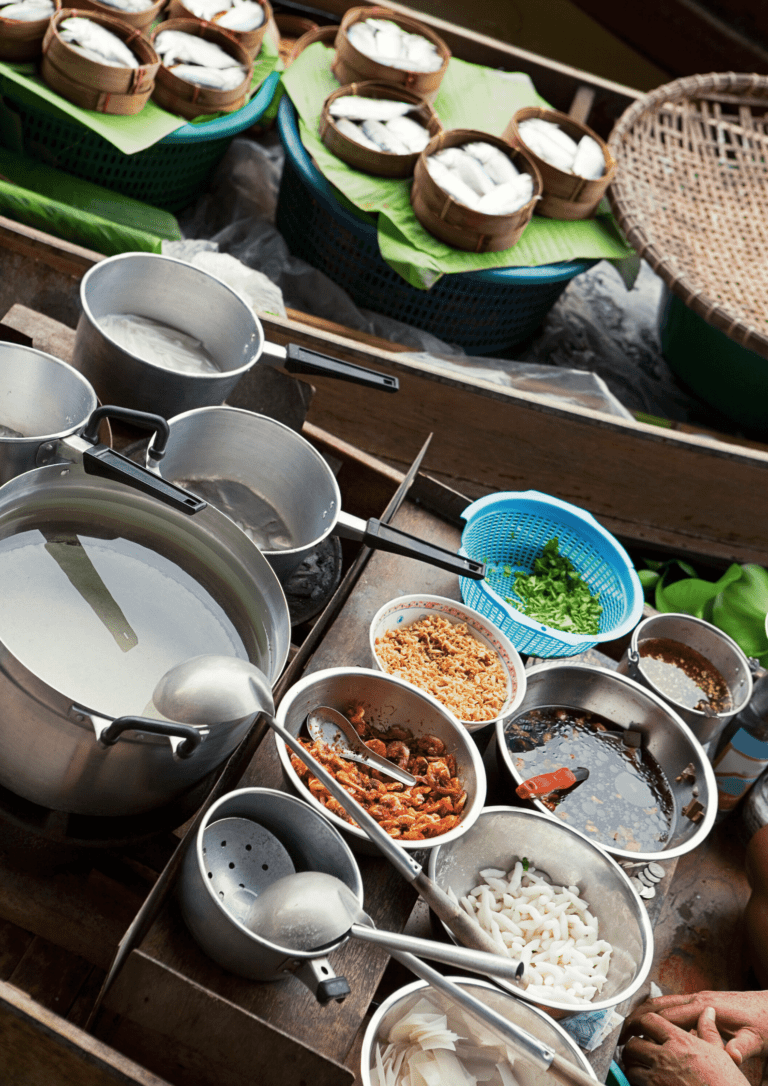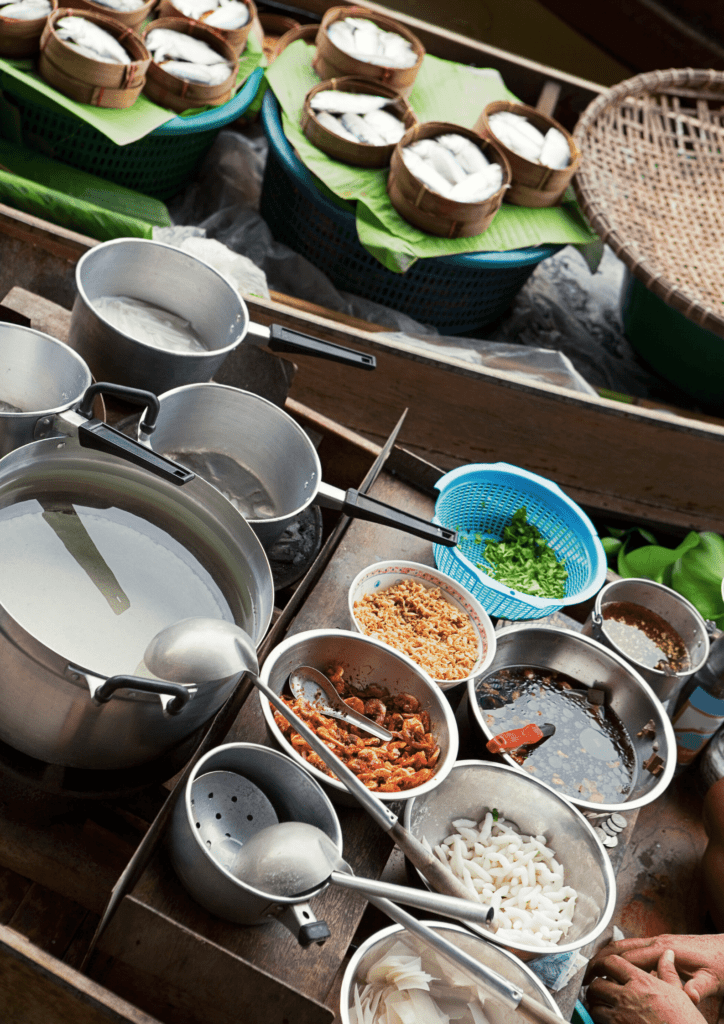 Explore Chinatown
In the afternoon head to Chinatown and to its heart on Yaowarat Road. This is always such a beautiful and unique district to explore for its Chinese-Thai fusion of traditions, culture and commerce. Peek into shops and explore the products on offer, sample some street food and if you love photography then this is one of the most impressive parts of the city.
When in Chinatown don't miss stopping for a coffee at CHATA speciality coffee. It's housed in a beautiful traditional building with a lovely garden and the coffee is strong, top quality and fantastic.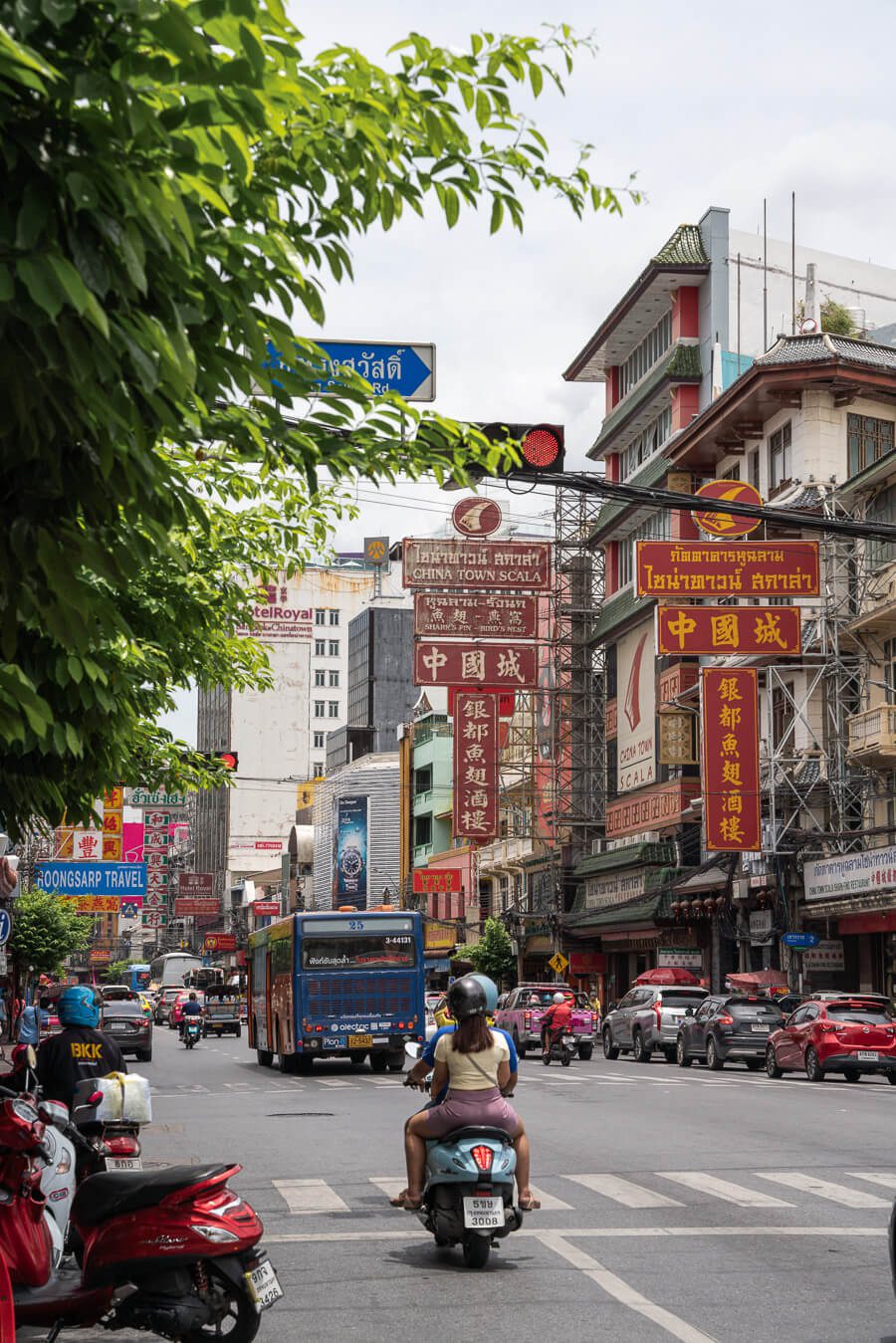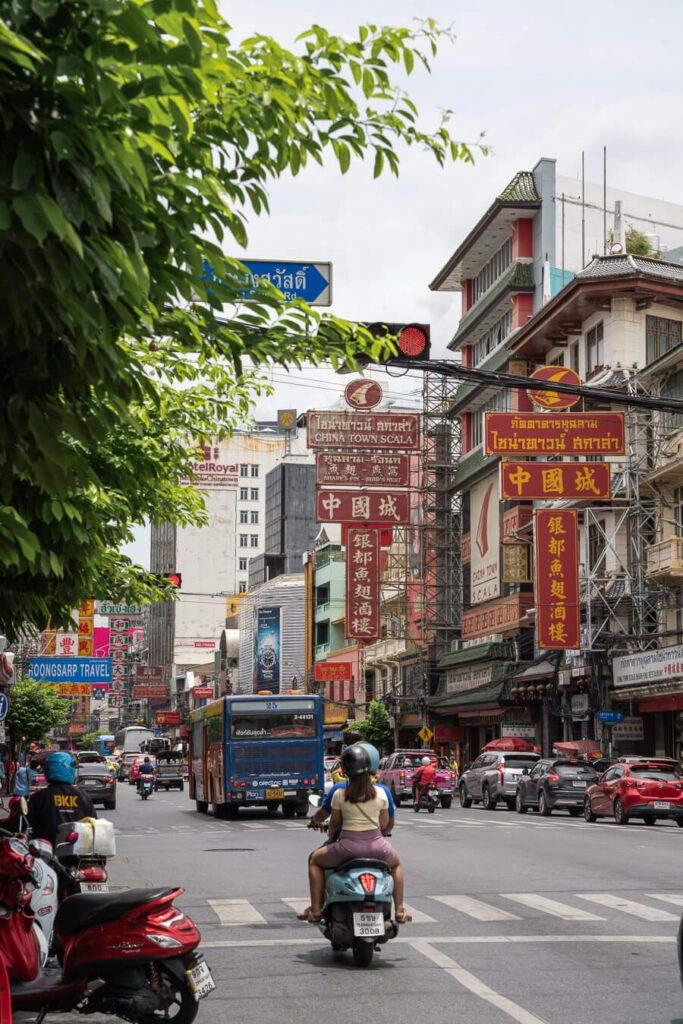 Talai Noi
Talat Noi is one of my favourite neighbourhoods in Bangkok and it's a must during your 4 days Bangkok itinerary. It's relatively new, in the sense that it's actually a very old neighbourhood but it's been regentrified recently with an abundance of art gallery spaces, boutiques, cafes and street art.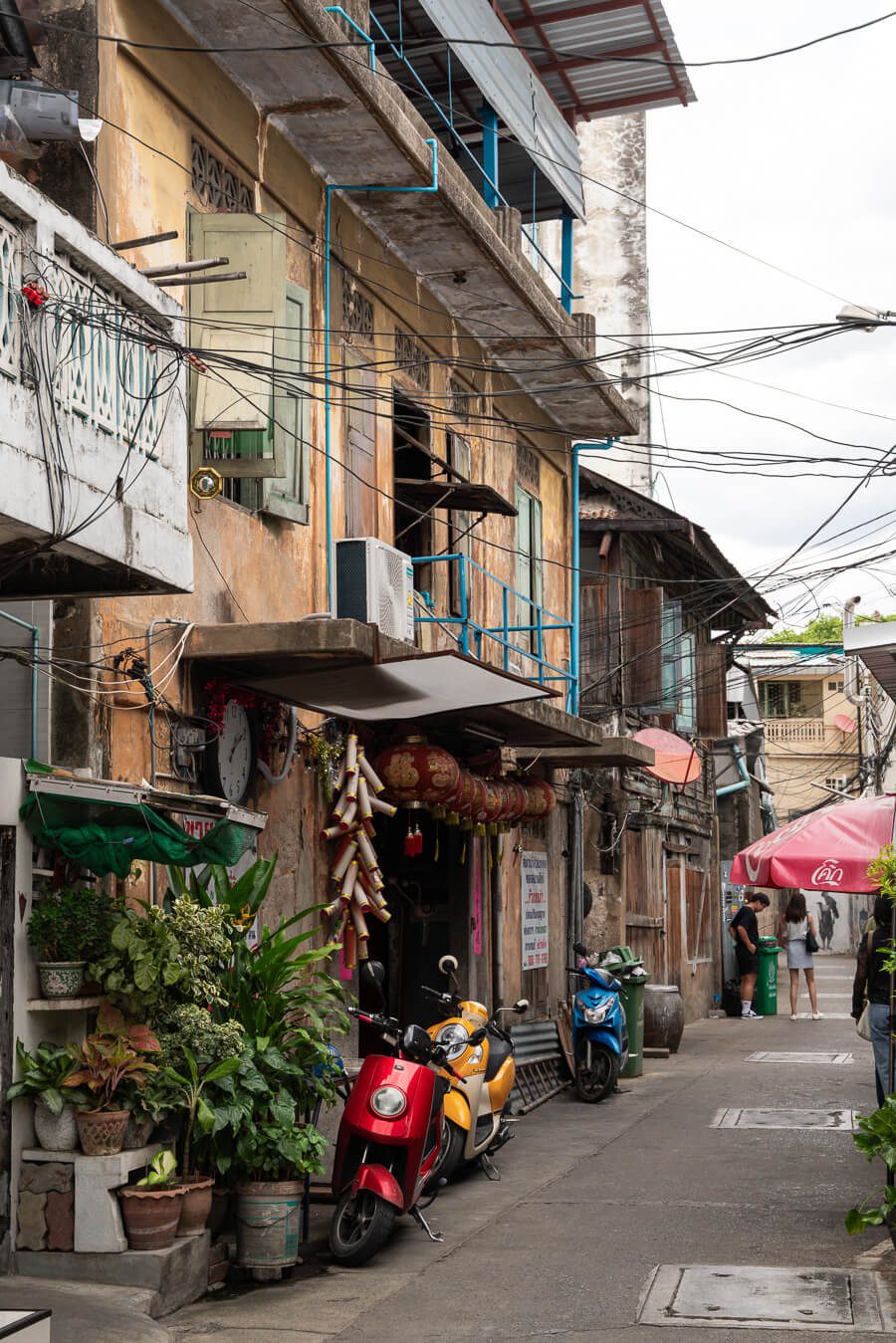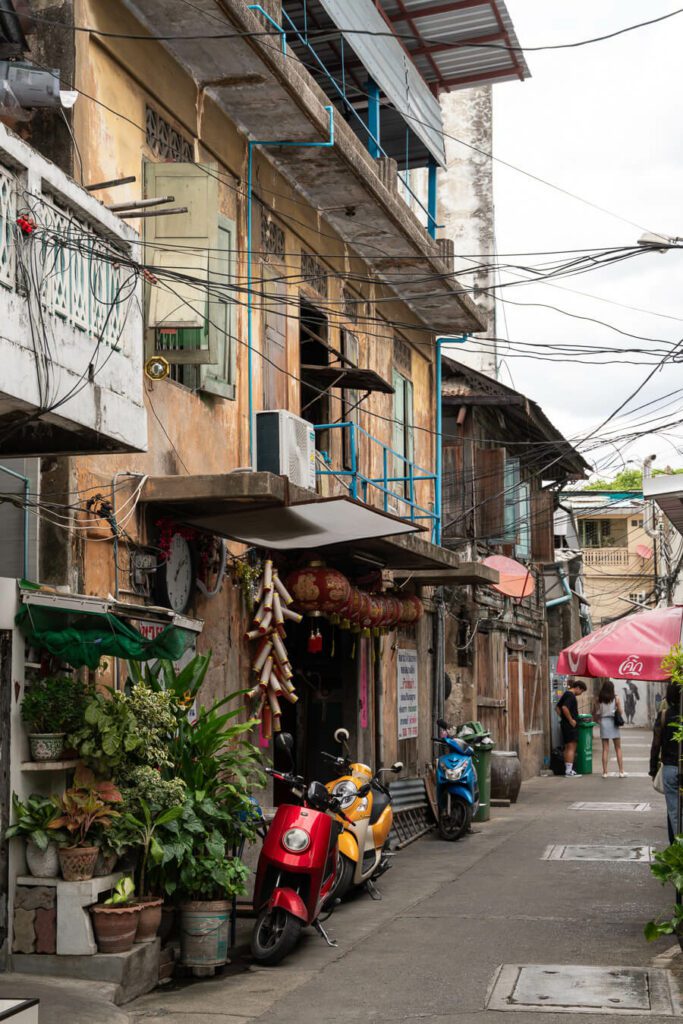 Talat Noi is full of incredible places to discover everywhere you turn. Some of the best coffee shops and tea houses are here as well as Warehouse 30, a couple space of boutiques and galleries.
Don't miss The So Heng Tai Mansion, a 19th Century Heritage building of Hokkien architecture. A little further down the road, there's also the beautiful Rong Kueak Shrine.
Read more: Talat Noi: A Guide to Bangkok's Coolest Neighborhood
Bangkok Itinerary 4 Days: Day 4
Day four of your 4 days itinerary in Bangkok Thailand is more of a relaxed day. Take this day to do more of what you like or if you must, get ready to depart.
Chatuchak Weekend Market
If you're in Bangkok at the weekend make sure to check out the Chatuchak Weekend Market. Even if shopping isn't what you're into, this weekend market is full of both local people and tourists shopping, eating and socialising with friends and family.
One of the best things to do apart from shopping is just to walk around and experience the culture and hustle and bustle of the place. Grab a juice or ice cream, sit down and people watch but if you are wanting to buy some cool t-shirts, buddha statues, or souvenirs to take home this is a great place to do so.
Make sure to also have lunch here if you're after a real Thai eating experience.
Golden Mount/Wat Saket
In the afternoon take a Grab taxi to the Golden Mount or Wat Saket for sunset.
This temple sits on a circular hill which you have to climb to get to the top but thanks to the extra effort, it makes it a magical experience.
Not only can you explore the temple itself but it also provides 360° views over Bangkok and is the perfect place to watch the sun go down on another day.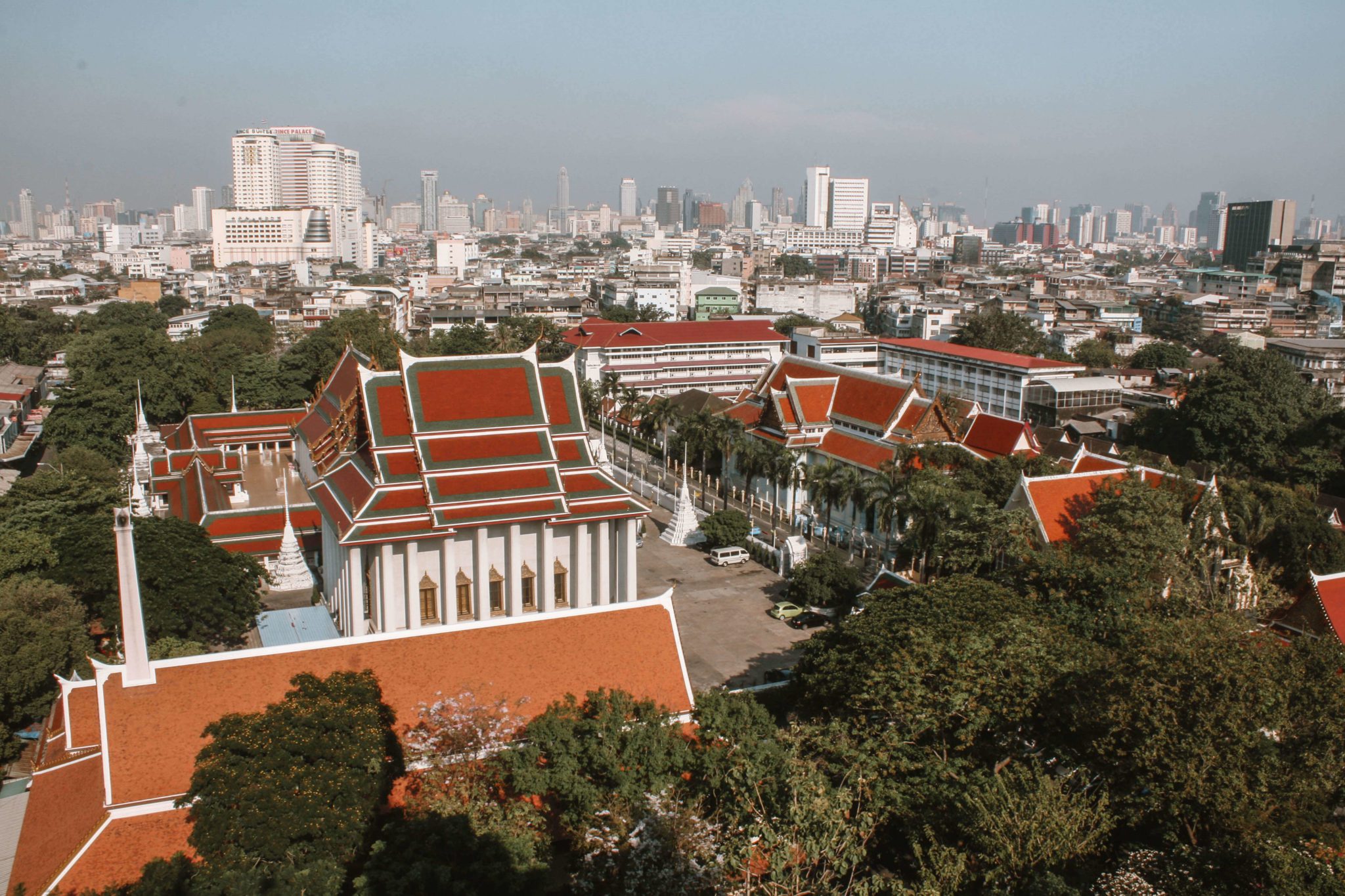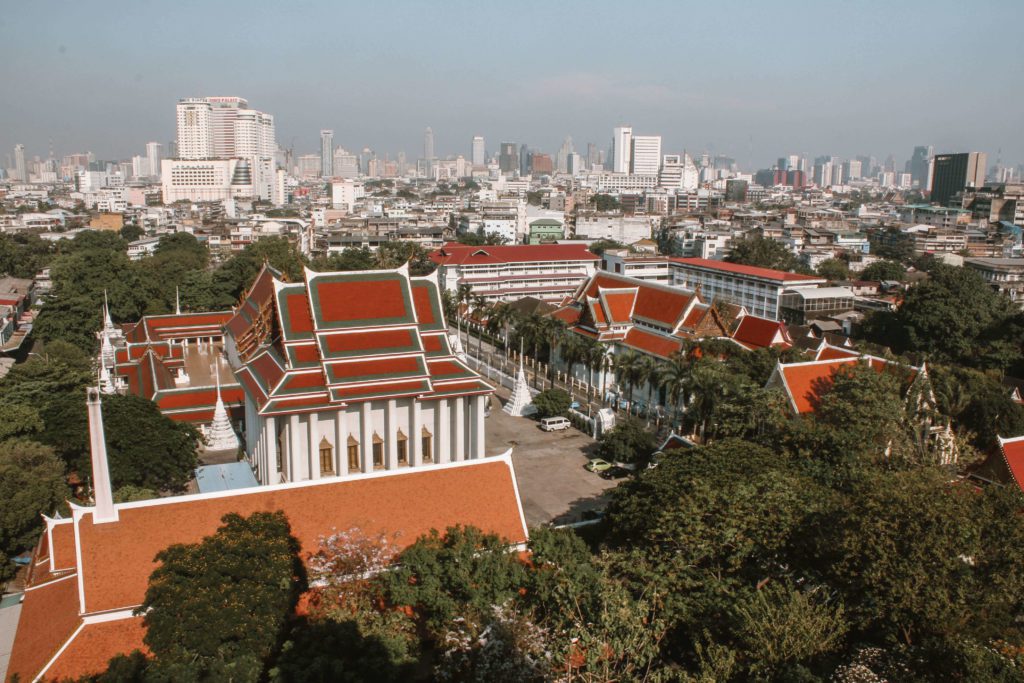 Read more: 4 Days in Hanoi Itinerary | A City Guide to Vietnam's Capital
Best Day Trips from Bangkok
If you're in Bangkok for more than 4 days I'd definitely recommend an overnight or mini-break to some of the below destinations. Here you can learn even more about Thai history and culture or simply relax on the beach on a paradise island after these hectic few days exploring Bangkok.
Ayutthaya
Ayutthaya is the ancient capital of Thailand, located just 40 miles north of Bangkok. It was founded in 1351 and continued to be the capital of what's now Thailand until 1767 when it was destroyed by the Burmese.
What's left of the original city is now a UNESCO World Heritage Site and the historical centre is full of the remains of hundreds of buildings and temples whose red-brick remains still stand today.
Ayutthaya is Thailand's answer to Cambodia's Angkor complex or Myanmar's Bagan. It's definitely worth a day or overnight trip from Bangkok. 
Getting to Ayutthaya from Bangkok is very easy and there are many buses, minivans and trains available from Bangkok. Click here to book a very affordable minivan or private transfer to Ayutthaya via Bookaway. It's the most hassle-free way to get there.
You can also visit Ayutthaya on a small-group tour instead. Click here to check out the best Ayutthaya small group tour from Bangkok.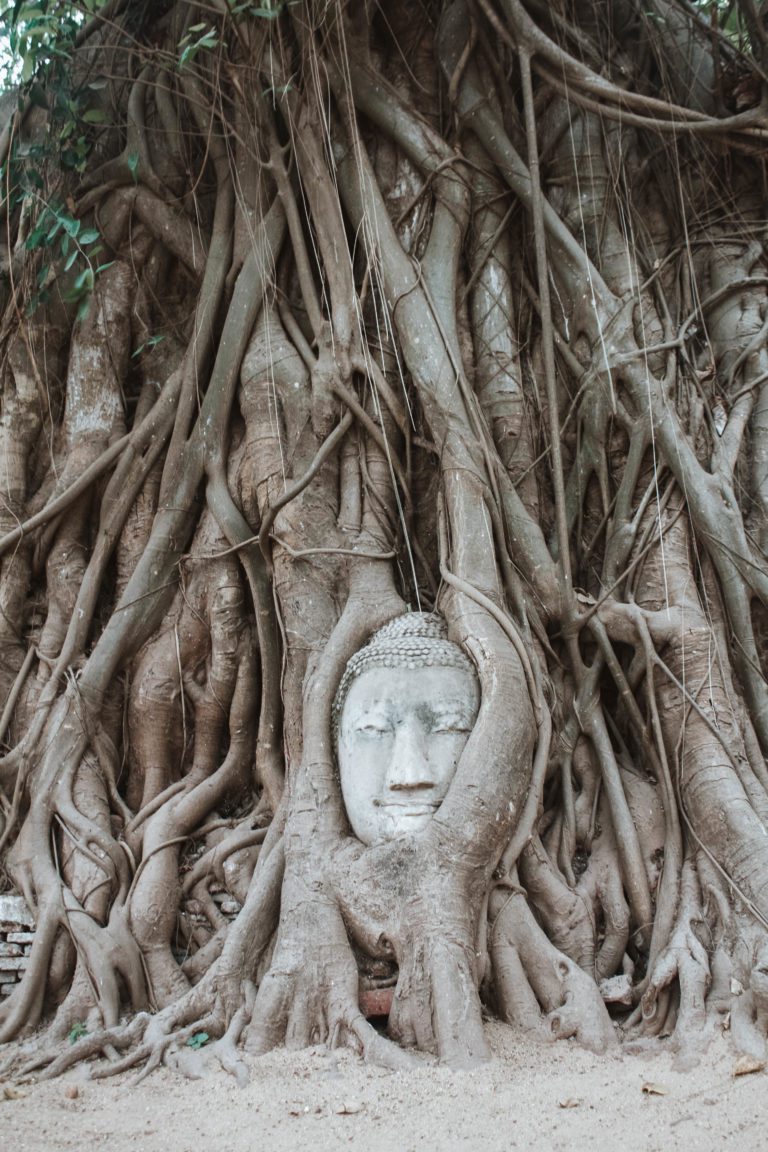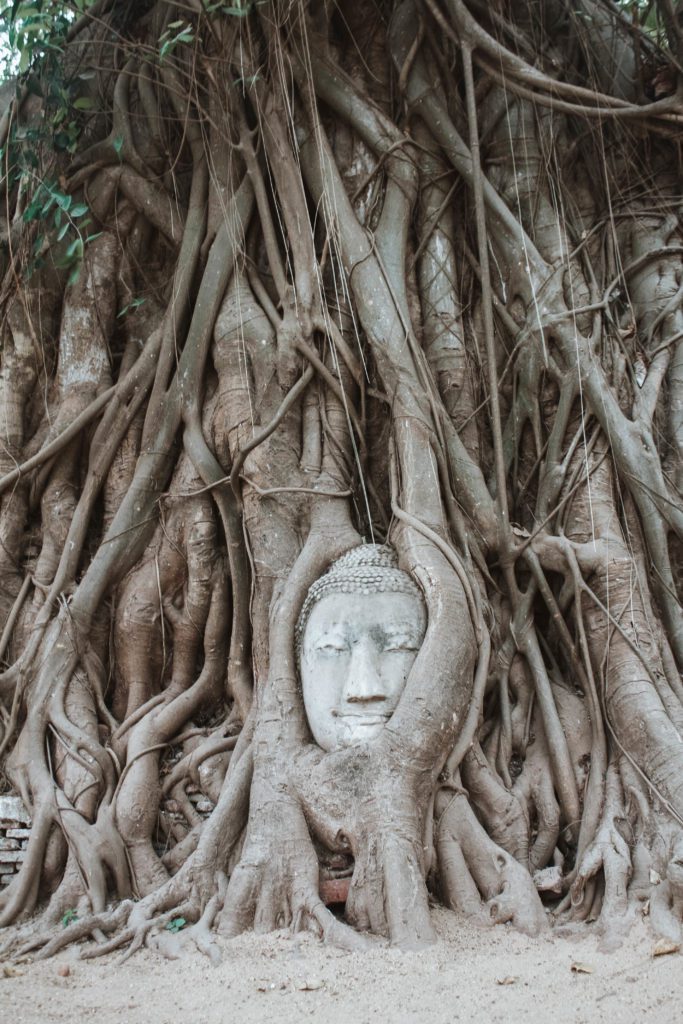 Koh Samet
Koh Samet is the perfect beach break close to Bangkok. If you're done with the city, Koh Samet makes for the perfect beach island retreat for a few days. It's also a great stopover if you're headed to Cambodia overland. As it's about 140 miles east of Bangkok it's probably a good idea to stay at least two nights.
With accommodation suiting any budget, this is the perfect place to relax for a few days. I highly recommend staying in a hotel away from the main village and beach in order to get away from the party scene if you really want to relax.
During the day spend your time at a local spa or beach hopping around the island. One of my favourite little beaches to relax was Ao Nuan.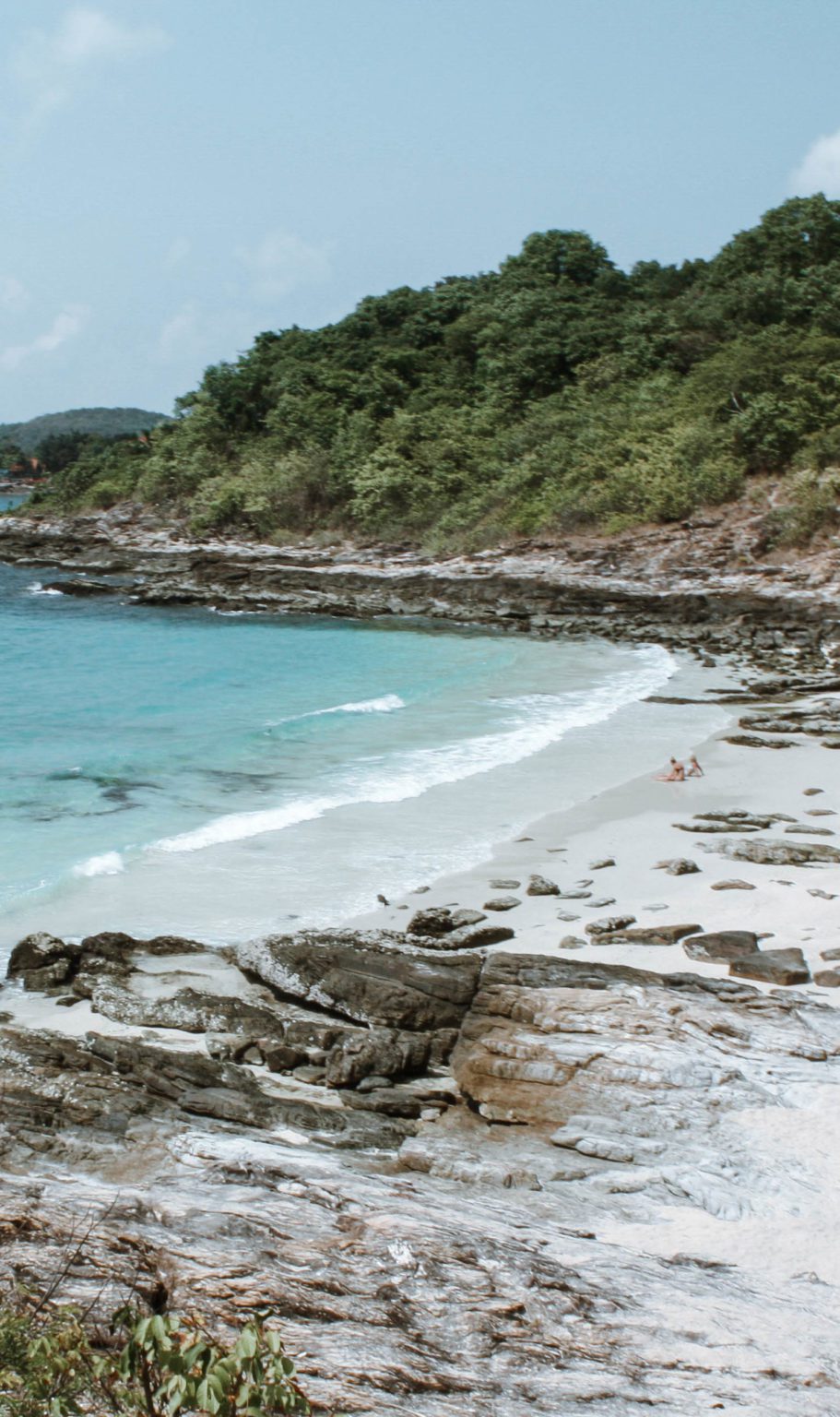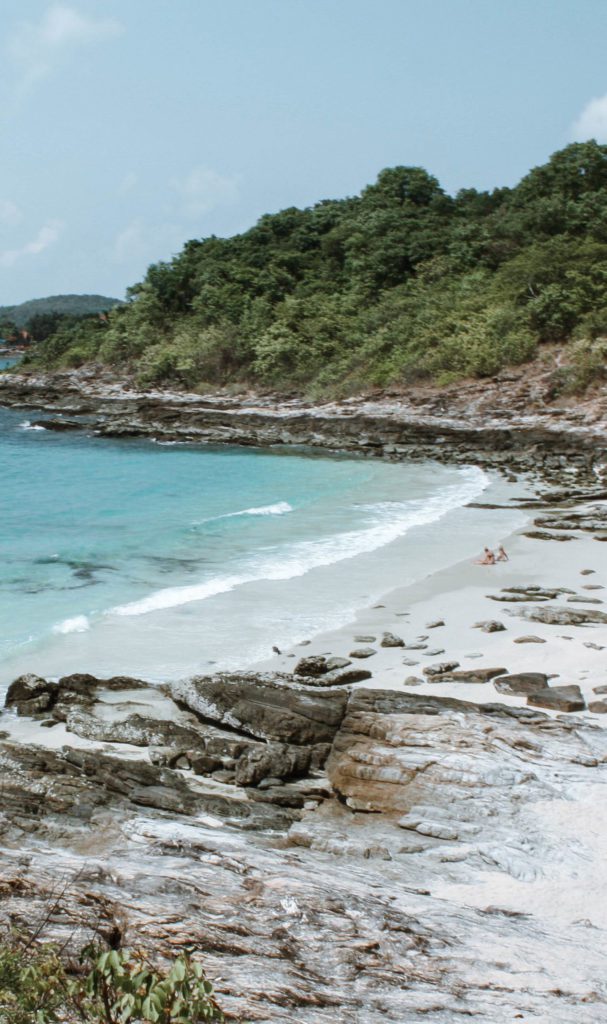 Khao Yai National Park
Thailand's great National Park Khao Yai is located in Eastern Thailand about 2 hours from Bangkok and it makes a great escape for nature and wildlife lovers.
It's the ideal place to go to get away from the city and its heat by enjoying any one of the hiking trails or waterfalls.
You'll also get the chance to get up close to some of the amazing wildlife that lives here, elephants, sambar deer, monkeys, porcupines and a large variety of different birds. During the wet season, the park might be inaccessible so check before setting out.
The Erawan Museum
If you do have some extra time on your Bangkok 4 days trip, then perhaps consider visiting the Erawan Museum. Not to be confused with the Erawan Shrine which is located on Sukhumvit, the Erawan Museum is located outside Bangkok but it's possible to get there by BTS.
The museum is known for its giant three-headed elephant art display as well as many other interesting antiques and arts from Thai, Chinese and Western cultures.
The museum itself is extremely beautiful and its pink building is quite photogenic.
The Ancient City
If you continue to the end of the Sukhumvit BTS line, you'll eventually get to the Ancient City, a 200-acre, outdoor, museum park. The museum features 116 structures of Thailand's famous monuments and architectural attractions- a great idea if you're not staying in Thailand long yet you still want to experience the best of it.
One of the highlights is The Pavilion of the Enlightened which isn't based on any historic buildings yet, it's gold-tipped roof is as wonderful as they come.
Check out some more tours and things to do below:
Where to Stay
During your 4 days Bangkok itinerary, whatever your itinerary, you'll probably need somewhere to stay. Bangkok has so many incredible hotels, Airbnbs, guesthouses and hostels to suit all budgets.
Generally, accommodation is great value for money in Bangkok. There are a few areas of Bangkok of interest to travellers and you'll probably want to base yourself in one of these districts.
Khao San Road and Banglamphu are the main backpacker area and the historical heart of the city, Chao Phraya Riverside, is a scenic place to stay with a mix of everything you might want nearby, Silom/Sathon, the main business and financial areas of the city and Siam, Bangkok's most intense shopping district.
Capella Bangkok– This beautiful riverside hotel is one of the latest additions to the luxury hotel scene in Bangkok. The location is excellent and so are the facilities and dining. Auriga Spa is one of the best in Bangkok and the service is truly exceptional. Check rates and availability here
Read more: Urban Oasis Redefined: Staying at Capella Bangkok Hotel
Kimpton Maa-Lai – This gorgeous property, located in the Siam/Sukhumvit/Lumphini area, is the perfect base for your time in Bangkok. With 4 on-site restaurants and bars, an outdoor pool, a superior spa and gym- this is one of the most fun spots in Bangkok today.
The rooms are modern, bright and airy and they have spectacular views over the concrete jungle that is the Sukhumvit area. Bar Yard on the top floor is also the ideal place for sunset drinks after a day of exploring. Check rates and availability here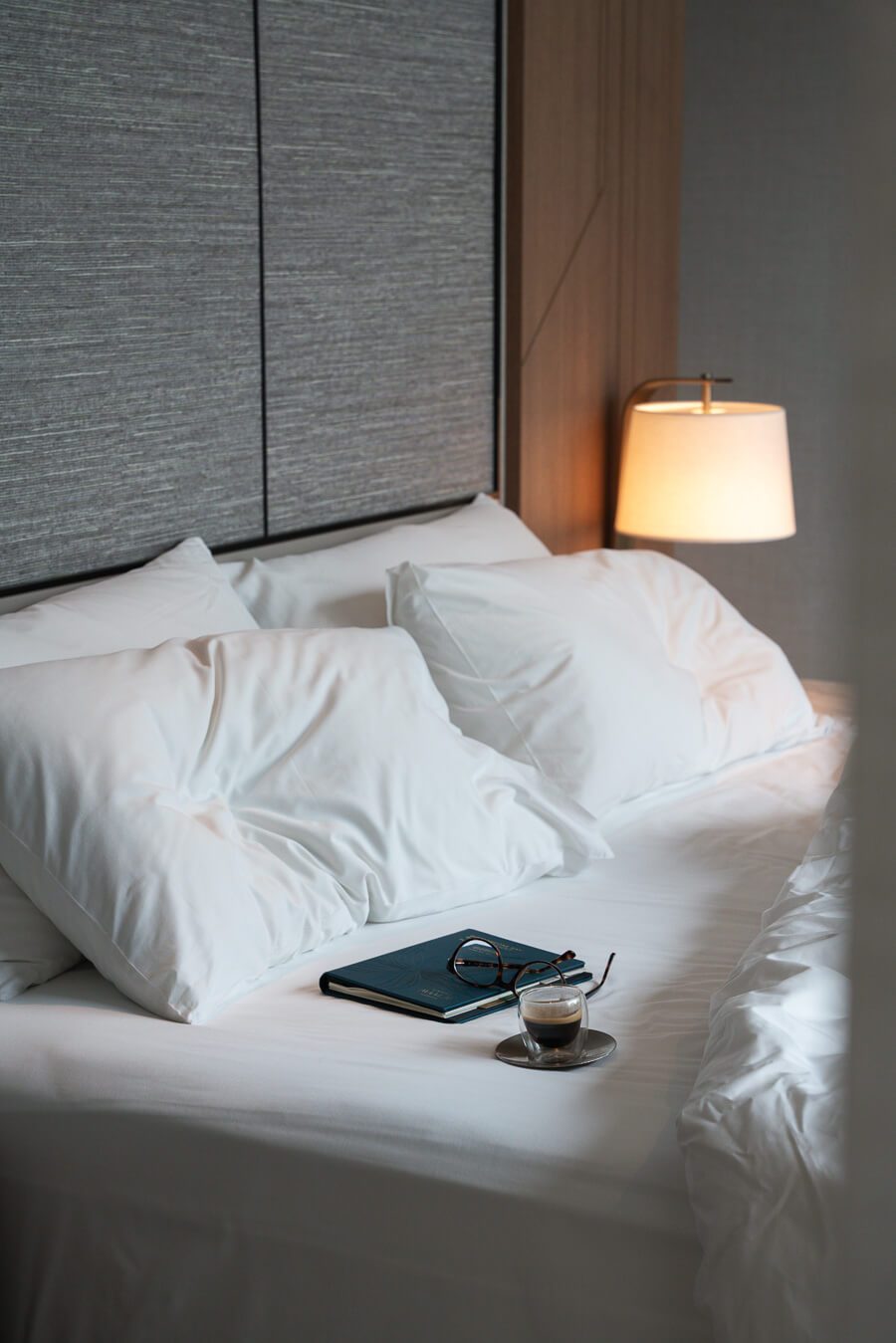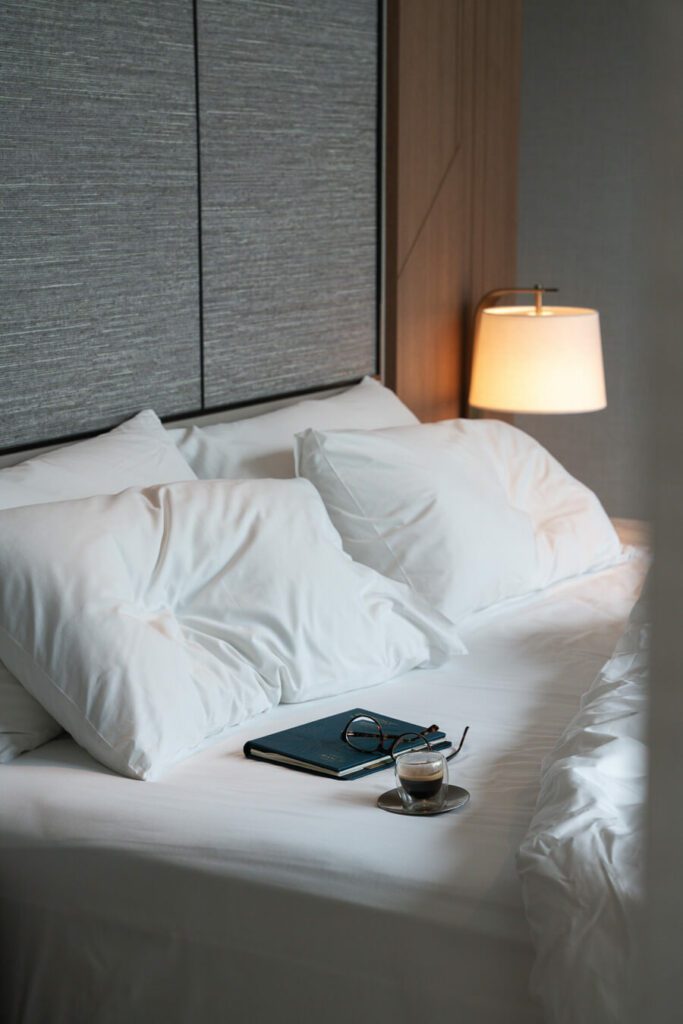 Mövenpick BDMS Wellness Resort Bangkok– If wellness is at the focal point of your trip to Bangkok this is where you need to stay. The Movenpick provides a luxury and stylish place to stay with everything you might need for your stay but it's the BDMS Wellness Resort next door that really makes it unique.
Take advantage of the newest BDMS Wellness Clinic in Thailand with services like genetic testing, dental, supplementation, toxic metal scans, inflammation markers and more. Check rates and availability here.
The Mustang Blu – This beautiful hotel is the best choice for design lovers in Bangkok. It's located in the heart of Chinatown and immediately takes you to another world. Their restaurant/cafe is amazing too so make sure to come by for a coffee to check it out even if you don't end up staying here. Check rates and availability here.
Where to Eat & Drink in Bangkok
Bangkok has no shortage of where to eat and you'll be able to find all kinds of delicious items to savour here from street food to Michelin Star dining experiences. It really is one of the most versatile cities in the world for food.
You don't have to go far to have a great, flavour-filled meal in Thailand and some classic dishes you have to try are Som Tum (Papaya Salad), Tom Yum (Spicy sour soup), Laab (spicy salad) and the famous Pad Thai and Panang (Thai curry).
It's also really easy to find vegetarian and plant-based food in Bangkok. Head to Happy Cow to find the best spots.
If you are plant-based then make sure to look out for a large yellow flag with red writing at the entrance to a restaurant which generally means they are vegetarian.
In recent years Bangkok has also stepped up its game when it comes to speciality coffee and aesthetic cafes and you'll find them all over the city today. I've listed my favourites below.
Food
80/20 Eighty Twenty – Modern Thai food made from 80% locally sourced and sustainable ingredients. Delicious.
Phra Nakhon– I don't normally seek out authentic local food inside hotels but this one is an exception. Located inside Capella Bangkok, the food here is outstanding. Modern and refined yet perfectly balanced and authentically Thai.
Mam Tom Yum Kung– Street food just off Khao San Road- their tom yum goong is some of the best I've ever had.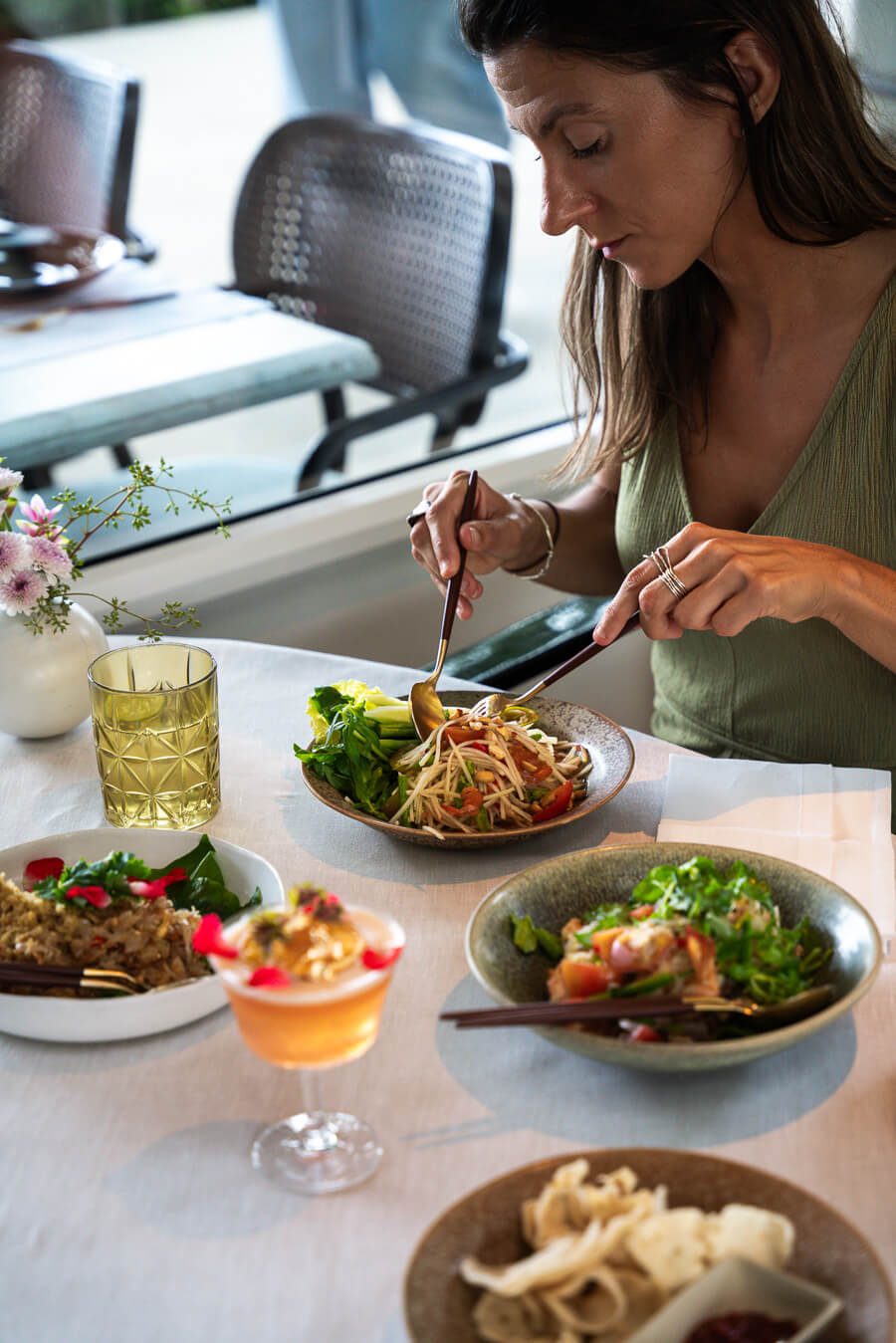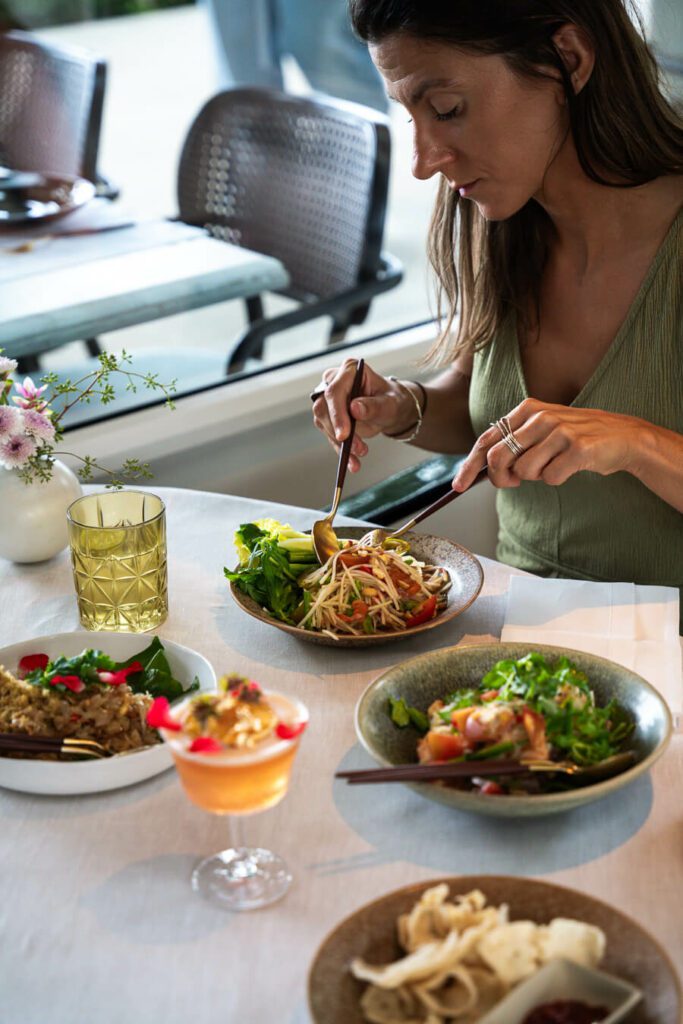 100 Mahaseth– New age Issan Thai food from Northeastern Thailand that's well-balanced, fresh, fiery and just delicious.
Ethos Vegetarian and Vegan– A good plant-based restaurant serves Thai, Indian and Western food such as curries, falafel, burgers, dhal, tempeh-based dishes and kombucha. It's tasty and there's so much variety available. Located in an alley behind Thanon Tanao, at the bottom of Khao San Road.
Drink
The Jam Factory– A former factory with a concept store and a lovely little cafe with an adjacent bookstore. This spot is a very cool place to relax and the coffee is great.
Hong Sieng Kong– A very trendy cafe in Talat Noi with good coffee and an indoor greenhouse. Come early as it gets busy.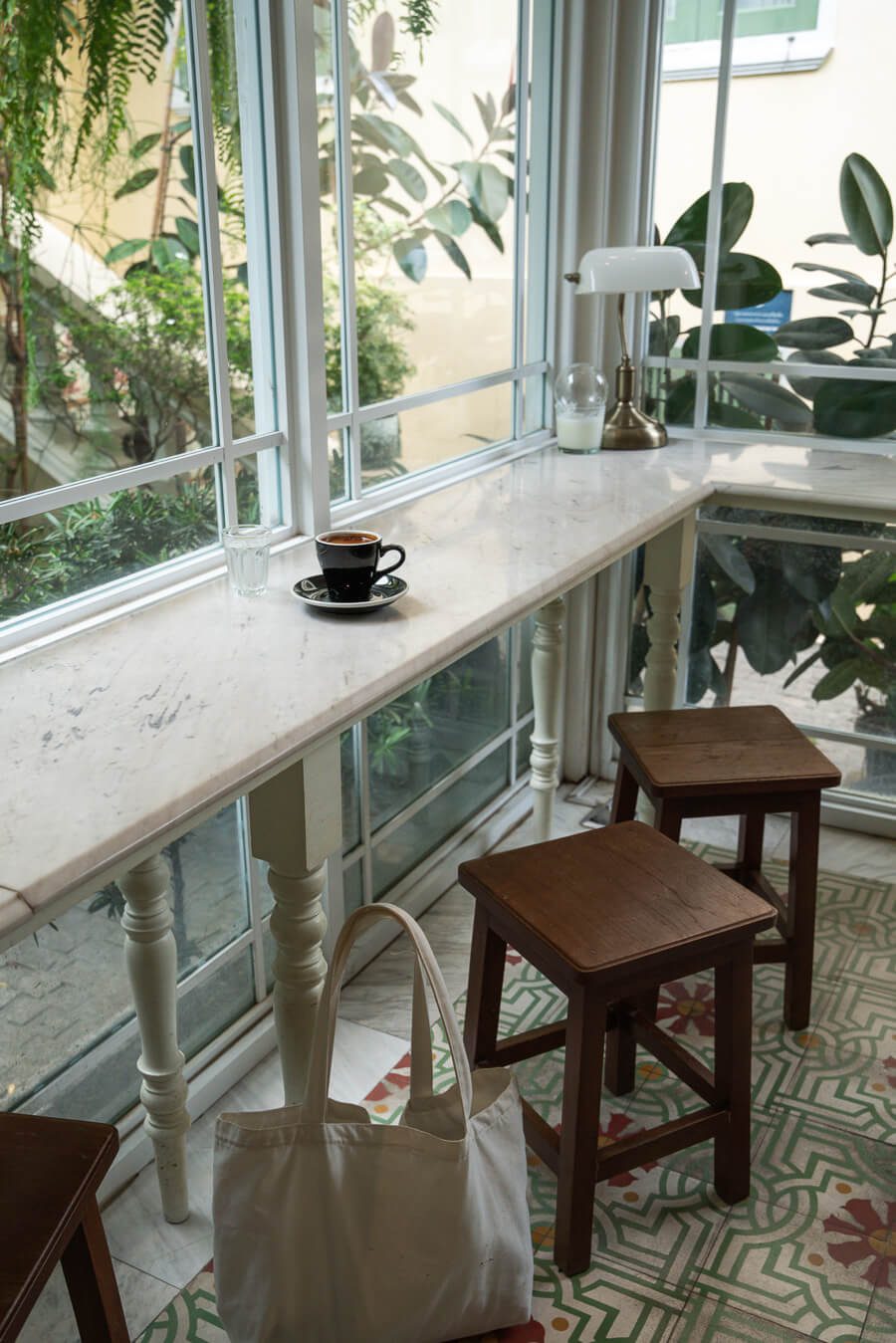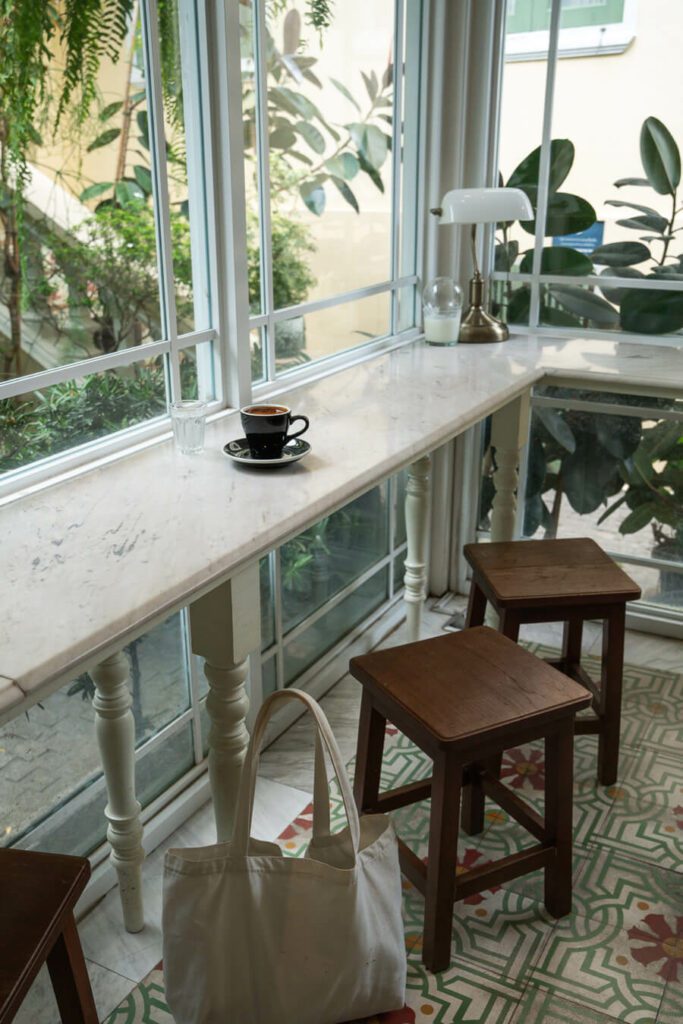 Citizen Tea Canteen– For those that prefer tea over coffee don't miss this super cool shop in Talat Noi. I love the Chinese influences here and the selection of black tea is fantastic.
Teens of Thailand– I didn't make it here unfortunately on my last trip but this vibey gin bar has been on my list for a while.
Top Tips for Visiting Bangkok, Thailand
↠ For this Bangkok itinerary for 4 days, make sure to dress appropriately when visiting temples. That means you need to cover your legs, up to the knee, and your shoulders. I suggest wearing either a T-shirt with shorts or long, loose pants with a sleeveless top and carrying a sarong in your bag. Upon visiting the temple you can then wrap the sarong around your shoulders or your waist depending on what you're wearing.
↠ Bangkok is huge and the traffic is terrible. This itinerary focuses on a different area each day so that you're not constantly travelling around the city. I highly recommend not traversing the city multiple times each day and sticking to exploring one whole area each day.
↠ Try not to travel during rush hour as traffic can be horrific. The best ways to get around the city are actually boat and, if you don't have luggage moto-taxi. The bikes beat the traffic easily and you can order them via Grab. They aren't the safest- the drivers rarely carry helmets for passengers- but they are good for short journeys at rush hour.
↠ Wear easy-to-take off and put on shoes or sandals. Footwear is banned inside Thai temples and holy places and you'll have to take off your shoes at the entryway. Life is a lot easier if you don't have to do up laces or play with straps 5 times every hour.
↠ If you're not using Grab (the Thai version of Uber) but a standard taxi or tuk tuk, agree on the price before getting in. Get ready to bargain as the original price will be a lot higher than what the journey is worth. If you're not comfortable with haggling, I definitely recommend using Grab.
↠ Don't forget to bring bug repellent and a lot of sunscreen. Bangkok is extremely hot and humid, especially in the hotter months.
---
Do you have any comments or questions about your Bangkok itinerary (4 days)? Leave them below, I'd love to hear from you.
Now more than ever, make sure not to leave home without travel insurance. For the last few years, I've been using Safetywing Nomad Insurance for all my individual trips and digital nomad lifestyle and there's no better company for all my insurance needs. Cover starts from as little as $42 per month. Get your quote below now.
Planning a trip right now? These are just some of my favourite websites I use to book everything from hotels to rental cars!
Rentalcars.com and Auto Europe for quick and easy car rentals worldwide
Booking.com for great deals on hotels
Agoda also for great deals on hotels
Get Your Guide and Viator for tours and adventures around the world
Related posts to Bangkok 4 days itinerary you might like:
Urban Oasis Redefined: Staying at Capella Bangkok Hotel
The Perfect Itinerary for 2 Days in Kuala Lumpur
The Definitive Ho Chi Minh 3 Day Itinerary
4 Days in Hanoi Itinerary | A City Guide to Vietnam's Capital
---
LIKE IT? PIN IT FOR LATER