(Last Updated On: April 8, 2020)
Kuala Lumpur is one of the most diverse cities in Asia. With a population that hails from all corners of the continent, your stay in Kuala Lumpur is guaranteed to be rich in culture, dissimilarity and experience. Even if you find yourself in KL, as it's local known, for just a day or two or on a stop-over, you'll find many places to visit and ways to entertain yourself. Exploring Kuala Lumpur is easy, entertaining and delightful. Here is your guide to the perfect 2 day Kuala Lumpur itinerary.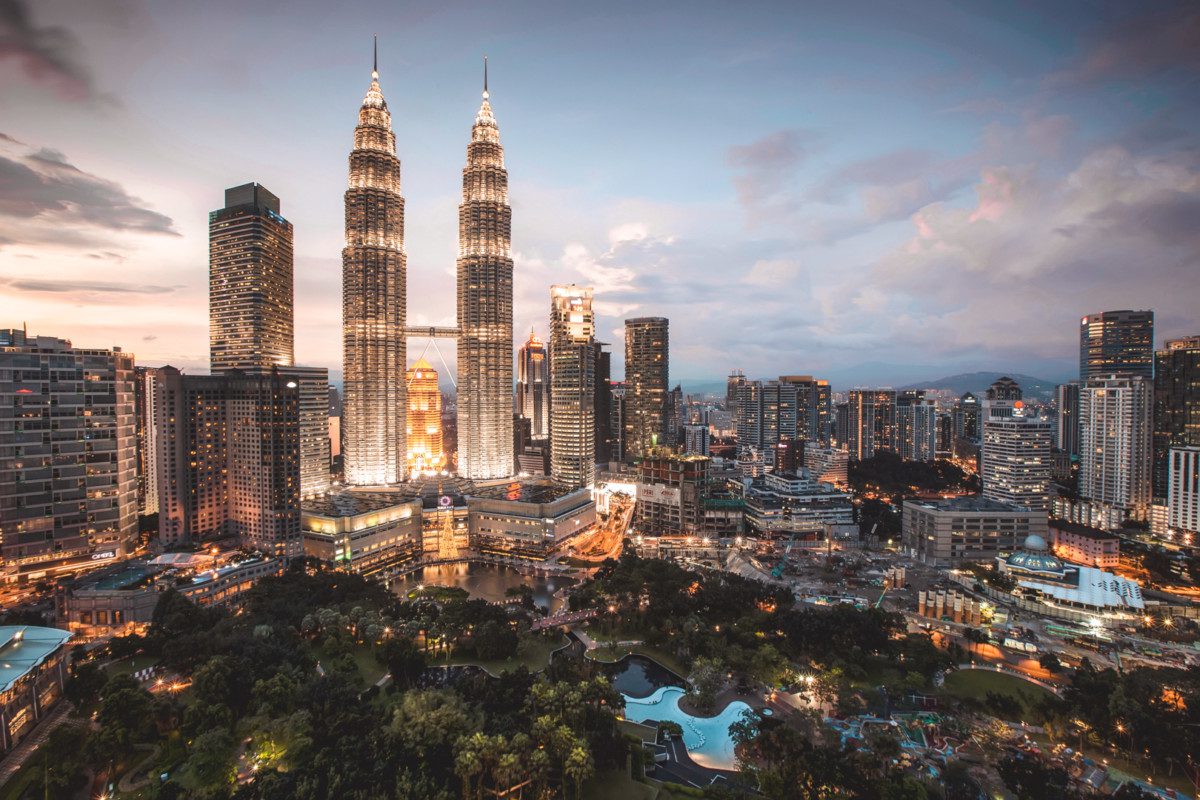 GETTING AROUND
Getting around Kuala Lumpur is generally very easy. The public transportation system is punctual, clean and fast and it is the best way to move around the city. If you're going to be using public transportation a lot I'd recommend getting a KLIA Transit TravelCard, a contactless smart card which allows you to pre-charge money onto it, saving you time and money compared to buying single tickets. On the metro you'll also find female only carriages which you can use if you don't feel comfortable with the mixed (many times they're less crowded too).
Walking is another great option for getting around the city. Many malls and sights are located very centrally and close to each another.
If you need to take a taxi then I'd recommend using Grab– it's safer option than getting a standard taxi off the street and you're less likely to get ripped-off. If you do use a taxi make sure to agree on the fare before getting in.
WHERE TO STAY
Most travellers opt to stay in Bukit Bintang, the centrally located heart of KL or in Chinatown. Here you can find both budget and mid-range accommodation which is close to the main sights and areas of interest in KL.
Budget– The Quay Hotel– A very slick budget option located close to the National Mosque. This modern style hotel features small but clean, minimalist rooms with ultra-sleek bathrooms with everything you'll need. The wifi is great and so is the swimming pool- the perfect place to cool off from the KL heat at the end of the day.
Mid-range – The Chow Kit – For a truly glamourous stay without breaking the bank- this hotel is beautifully decorated in a modern colonial style and takes you back to another era. It's fitted with fast wifi, has a great bar and kitchen and the breakfast is outstanding. For the price it really unbelievable value. My favourite place to stay by miles when I'm in Kuala Lumpur.
Splurge– WOLO Kuala Lumpur– Located in the heart of Bukit Bintang, the WOLO is a gorgeous, modern hotel with everything you might need for an amazing stay in KL. It's close to all the major sights and malls and each room is beautiful decorated and bathrooms are contemporary and minimal with marble and gold touches. They even provide a budget option room which is one large room with an open bathroom.
Airbnb also has many incredible options for Kuala Lumpur. If you haven't already signed up for Airbnb do so here and get $40 off your first stay.
WHERE TO EAT
There are so many great places to eat in KL you'd be here for the rest of your life trying to get through all the options. When talking about where to eat it's probably better to first decide what you want to eat. KL being so diverse has so many types of cuisines on offer; Malay, Indonesian, Indian, Western, Japanese, Chinese modern fusion… the list goes on. Here are some of my plant-based favourites I found on my travels.
Namul– Great 100% vegan cafe offering a variety of rice and noodle dishes mainly including sourdough bread burgers, tempeh and tofu. Food here is simple and local and incredibly tasty. They have a vast variety of teas on the menu too as well as kombucha and it's conveniently located right behind Merdeka Square.
Kind Cones – After a morning of exploring in the Malaysian heat- a cold, sweet treat should definitely be on the agenda in KL and this is the place to come. All their ice-cream is plant-based and it's creamy, rich and delicious. It's refined sugar free and soy-free, all their ice creams are made from a coconut milk or nut milk base. They also offer other vegan desserts such as chocolate cake, ice cream cookie sandwiches and more. Located in the heart of Bangsar Village.
Sushi Kitchen– Hands down my favourite restaurant in KL, even if it is modern Japanese fare. Their creations are delicious and everything is plant-based right down to the condiments. The restaurant itself is beautifully designed and decorated and so are the dishes- based on Japanese aesthetic and minimalism. They serve mainly sushi but also have items like curry and miso soup on the menu. It's fresh, healthy and delicious- a must-try in Kuala Lumpur.
THINGS TO SEE AND DO
PETRONAS TWIN TOWERS
One of the city's highlights and the symbol of Kuala Lumpur and Malaysia are these perfectly symmetrical twin towers. They are the tallest twin towers in the world standing at 451.9 m (1,483 ft). Wherever you go in the city, they'll be looming over you and even if you just have 2 days in this beautiful Malaysian city- you have to catch just the smallest glimpse of them. The towers look completely different in the day and at night and I suggest you try to visit at different times of the day. During the day you'll often catch them framed by a blue sky- the hot sun reflecting off their glass shell while at night, their bright, luminous glow casts a romantic spell over the city. Inside you'll find the Suria KLCC shopping mall and on the 86th floor, the observation deck for views of the entire city and even the surrounding countryside.
KLCC PARK
Bit dazzled by the height after a visit to the top of the Petronas Towers? Why not go for a stroll in one of Kuala Lumpur's most beautiful parks? KLCC Park is located right at the foot of the towers and is composed of well-watered green lawns separated by snaking paths and a large pond in the middle. While it does get quite crowded, especially at the weekends due to the mall next door, it's a lovely place to come for a stroll, coffee or evening picnic.
VISIT THE BATU CAVES
Located a little outside the city of KL itself is a must-see on anyone's Kuala Lumpur itinerary; the Batu Caves. It's a series of caves and cave temples carved into a limestone mountain. These caves, Hindu temples and shrines are some of the most sacred outside India and hundreds if not thousands of people come to visit everyday to pray, explore and socialise. Upon arrival you'll see the vast, heavenly staircase painted every colour imaginable, the entrance to which is guarded by a towering guilt-god. Make your way to the top and into the caves exploring the temples as you go. If you don't know much about Hindu culture it's a fascinating place to simply sit and observe. The Batu Caves are located north of Kuala Lumpur. The easiest and cheapest way to get there is by direct train from KL Sentral and the trip takes about 30 minutes one way.
EXPLORE LITTLE INDIA
Who said you have to leave Malaysia to experience India? Kuala Lumpur has a vast Indian population and it's one of the best Asian capital cities to experience Indian culture outside of India. Head straight to Brickfields, just south of KL Sentral Station and start exploring. You'll encounter row upon row of stores overflowing with fabrics for saris, incense and other bric n' brac as well as veg and non-veg restaurants everywhere you look. Why not stay for lunch and sample some delicious local Indian food?
PETALING STREET MARKET & CENTRAL MARKET
For a market experience right in the heart of Kuala Lumpur, Petaling Street, located in Chinatown is a muddle of cultures, sights and smells. It's a great place to buy cheap electronics accessories, clothing and knock-off watches as well as food. This area is one of the best places in KL for street food, especially freshly skewered tropical fruit, ice-cold coconuts and local coffee. In the area you'll also find Central Market which is more aimed at tourists wanting to buy souvenirs, however there are some great cafes and coffee shops inside, not to mention air con.
Planning a trip to China? Have a look at these 14 Epic Places in China that will make you want to go today.
MASJID WILAYAH MOSQUE
Considered by many to be one of the most beautiful mosques in Kuala Lumpur, the Masjid Wilayah (Federal Territory) mosque is a must if you're interested in Islam and the local culture. With 60% of Malaysians being muslim, it's a side of the country that's really worth immersing yourself in. This mosque is also one of Malaysia's most modern- it's symmetrical, angular and the whole structure is surrounded by perfectly manicured gardens and moat. The mosque is open for visitors and you'll have to dress modestly and if you're female, use one of the robes provided.
MERDEKA SQUARE
This would be a proper Kuala Lumpur itinerary without the most important square in the city- Merdeka Square which literally translates as Independence Square. It's a vast square with one of the tallest flagpoles in the world upon which proudly flies the Malaysian flag. While the square itself isn't too exciting it's what's around the square that proves to be the most visually appealing. The first building you'll notice is the Sultan Abdul Samad Building, a beautiful Arabian-Byzantine style building with copper domes and even a clock tower. It was here where the Malaysian Declaration of Independence was signed back in 1957.
THEAN HOU TEMPLE
This is, in my opinion the most beautiful buddhist temple in KL and a must on your Kuala Lumpur itinerary. It's colourful, ornate and just radiates happiness. Explore all the temple's tiers, altars and structures and check out the fun Chinese zodiac signs on the walkways. One of the best times to visit is around sunset where with the fading light the hundreds of hanging lanterns suddenly spring to life adding a gorgeous glow to the already magical site.
KL TOWER OBSERVATION DECK
For a view of the city from which you can actually see the Petronas Twin Towers included within the skyline, the KL Tower is the place you want to visit. The observation deck, located at 276m above the ground takes in sweeping views of the city in all directions. Part of the viewing platform is open to the elements too which adds a sense of adventure. At the top of this communications tower you'll also find a revolving restaurant, however we chose to eat elsewhere.
ISLAMIC ARTS MUSEUM
For an insight into Islamic arts and culture throughout the decades, the Islamic Arts Museum is a must. On display you'll find a wide range of Holy books, robes, replicas of ornate doorways and beautiful models of all the most significant mosques around the world. The museum building itself is also worth noting for its simplicity and clean lines. The pieces here are intricate, alluring and unique and if you have a couple of hours to spare why not check it out? Nearby you'll also find the Perdana Botanical Garden and the National Mosque of Malaysia, both of which warrant a quick look.
---
Any comments or questions about this 2 day Kuala Lumpur itinerary? Leave them below, I'd love to hear from you.
Related posts you might like:
14 Epic Places in China That Will Make You Want To Go Today
The Ultimate London Bucket List
The Complete 3 Day Itinerary for Copenhagen
---
LIKE IT? PIN IT FOR LATER
*This post may contain affiliate links meaning I get a small commission on a sale at no extra cost to you. This goes towards the running of the blog and allows me to keep creating quality content like this for free.