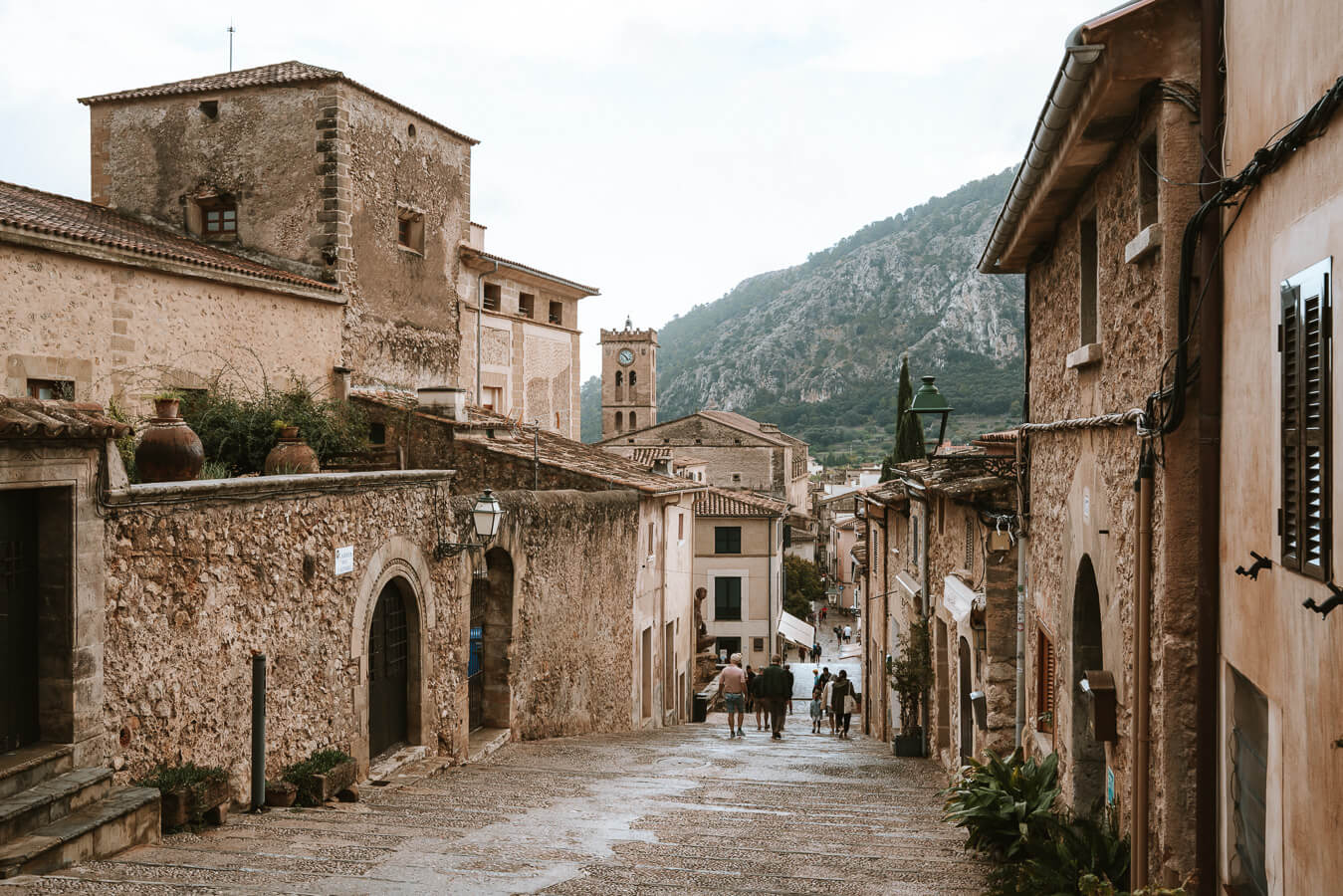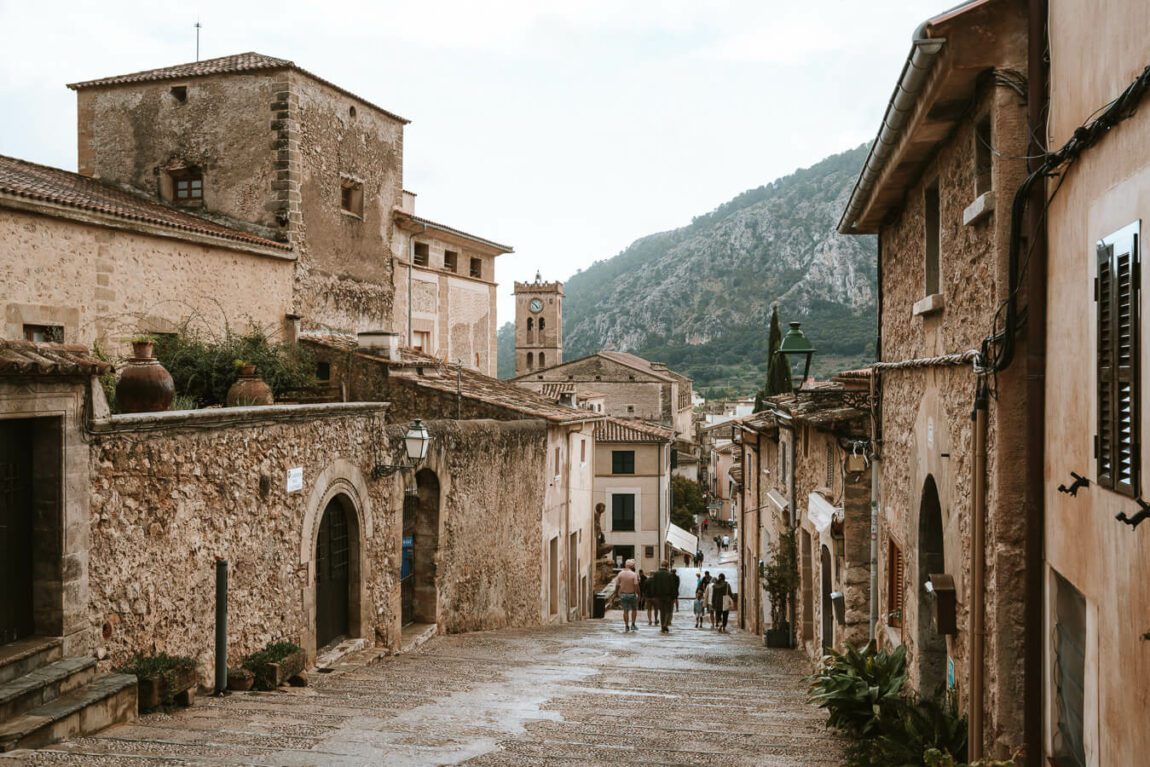 What to Do in Mallorca, Spain: The Insider's Guide
(Last Updated On: April 19, 2023)
Planning a trip to Mallorca? After recently visiting I can't wait to share with you what to do in Mallorca Spain so you can plan the perfect trip.
This year seems to be the year of travel to Mallorca, Spain. With its sun-drenched coves, crystal-clear, blue water, and stunning mountain villages, Mallorca is one of the best places to visit in the Balearic Islands, Spain, and Europe.
The island has so much to offer. There are the stunning ochre historic towns of Valldemossa and Deia. There is the jaw-dropping scenery of Cap de Formentor. There are the beautiful beaches of Calo des Moro and Cala Llombards. There's the delicious Mediterranean cuisine. The hiking and biking. The design shopping in Palma. I could go on. In fact, there's very little reason not to visit Mallorca this year.
While resort towns like Magaluf have gotten a bad rep in the past, things are changing fast and what'll you'll experience in Mallorca now is a dreamy, chic getaway that's impossible to refuse.
Keep reading to find out what to do in Mallorca Spain so you can plan your perfect trip. With more than 45 top things to do in Mallorca, you won't run out of activities or places to visit.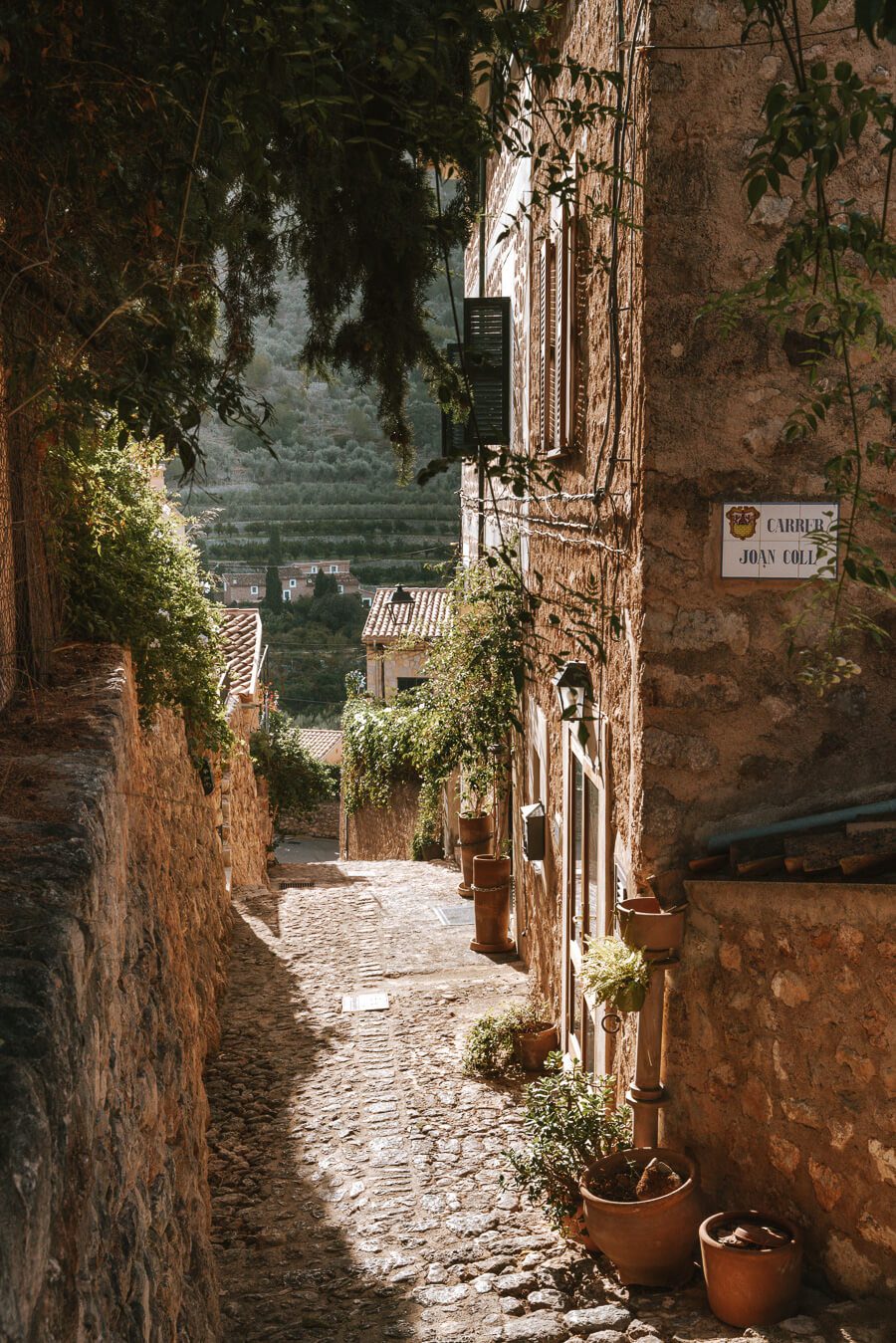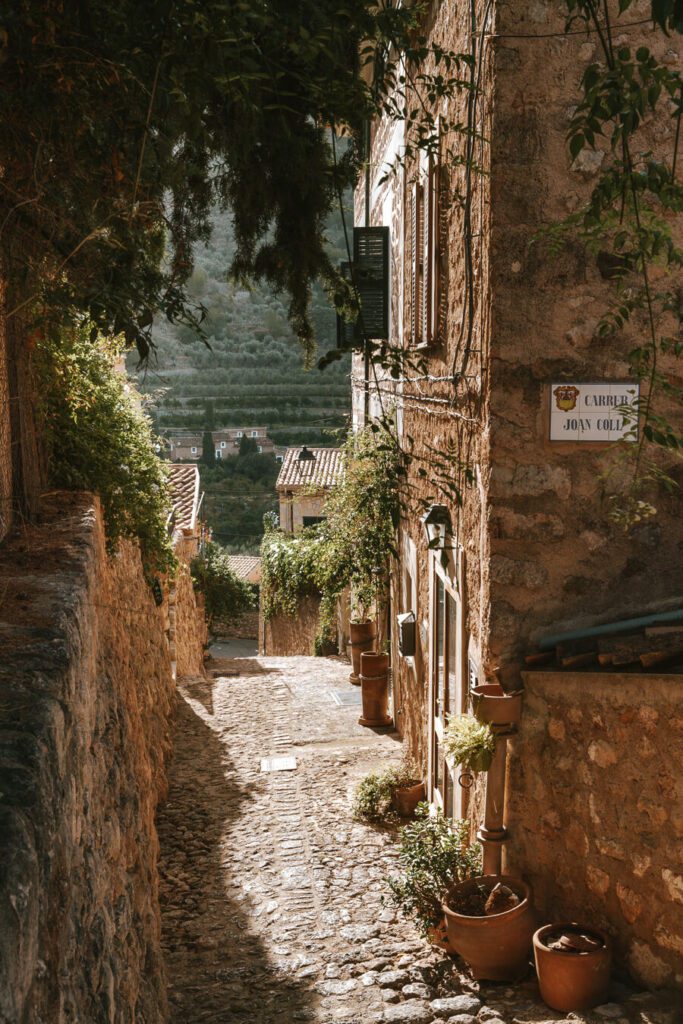 *This 'what to do in Mallorca Spain' post contains affiliate links meaning I might make a small profit if you choose to book at no extra cost to you. This helps me to keep providing you with top quality content for free.
Best Time to Visit Mallorca
Technically, Mallorca is a fabulous place to visit throughout the year. With 300+ days of sunshine each year, it's a much-loved place for a summer vacation, a spring retreat, or even a winter city break.
Essentially the best time to visit Mallorca depends on what you want to see and experience on the island. If you'd love to swim, spend time on the beaches, and lounge in the sunshine the best time to visit is between May-October.
This is also the best time to visit the cooler mountain regions in the north which tend to have their own microclimate.
If you prefer to avoid the crowds and peak season travel, then I'd highly recommend avoiding July and August.
If you're just heading to Palma for the weekend, again spring-autumn are the best times for this, but if you don't mind putting on a coat, winter can also be a good time to visit. You'll also benefit from no crowds and much better travel deals on flights and hotels.
I visited at the very start of October and the weather was still very warm and delightful.
How Much Time Do You Need in Mallorca?
Mallorca is so versatile with a lot to offer. How much time you need on the island really depends on what you want to do in Mallorca.
For those that want to see most of what to do in Mallorca Spain, you'll need 7-10 days and the flexibility of a rental car.
If you're planning a weekend city break, then 2 days are enough, but just for Palma. Given the number of flights offered from most parts of Europe and beyond, this is totally feasible.
With 4-5 days you'll be able to spend a day in Palma and then choose between the mountainous north or the south of Mallorca for the rest of your time.
Simply put, an epic itinerary is possible with any amount of time that you have to visit Mallorca. The longer the better.
Top Things to Do in Mallorca Spain
Explore Palma
There are so many things to do in Palma de Mallorca and you could easily fill two days in the Majorcan capital. From discovering the amazing dining and design scene here to seeing all the main sights like Palma Cathedral, there isn't a dull moment in this lovely, sunny city.
Some of the best Palma highlights include:
↠Visiting the Cathedral of Santa Maria of Palma, also known as La Seu
↠Explore the Old Town of Palma
↠Visit the Royal Palace of Almudaina, the Royal Residence in Mallorca
↠Go design shopping
↠Feast on the best tapas in town
↠Visit the Arab Baths
↠Shop at Mercat de Santa Catalina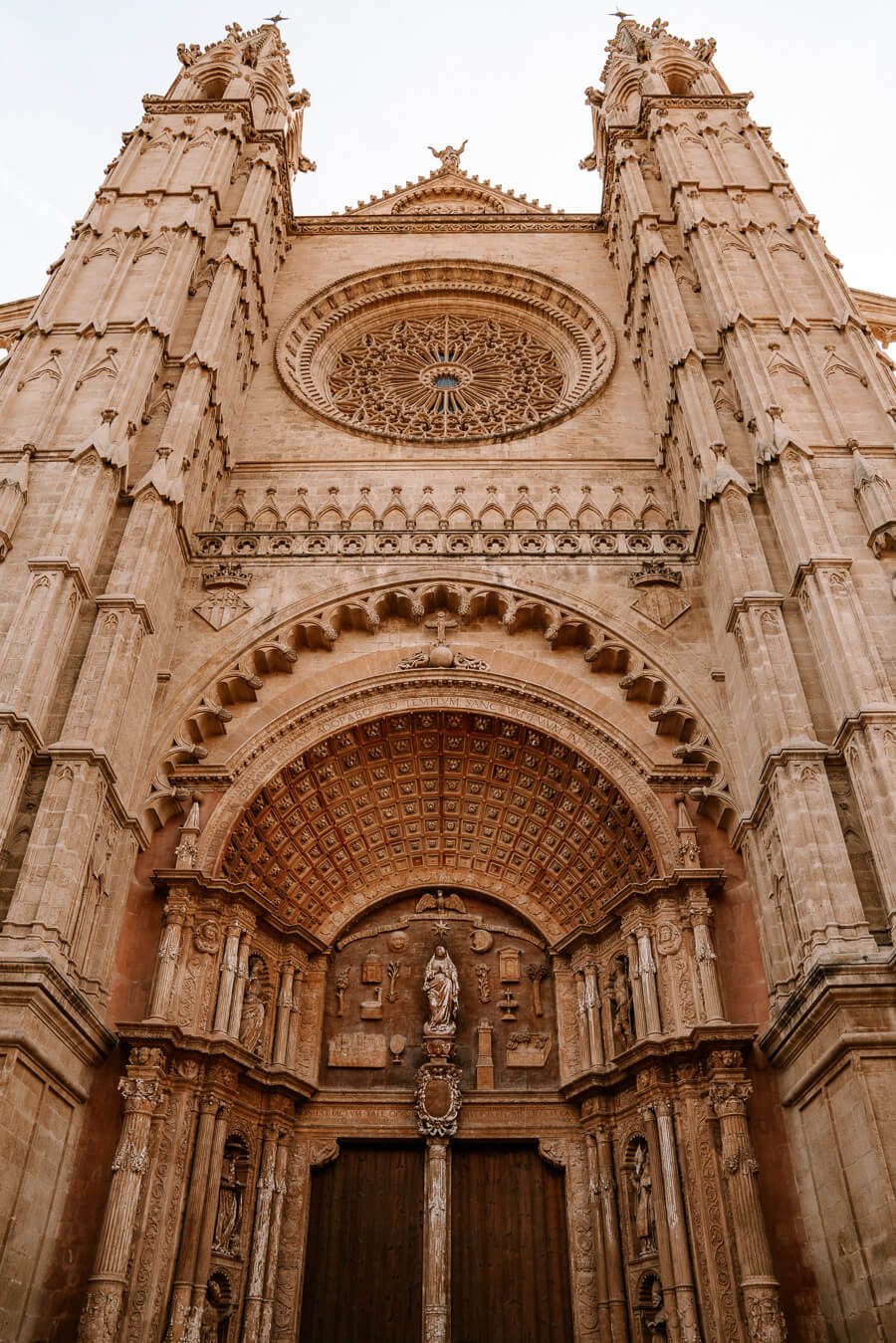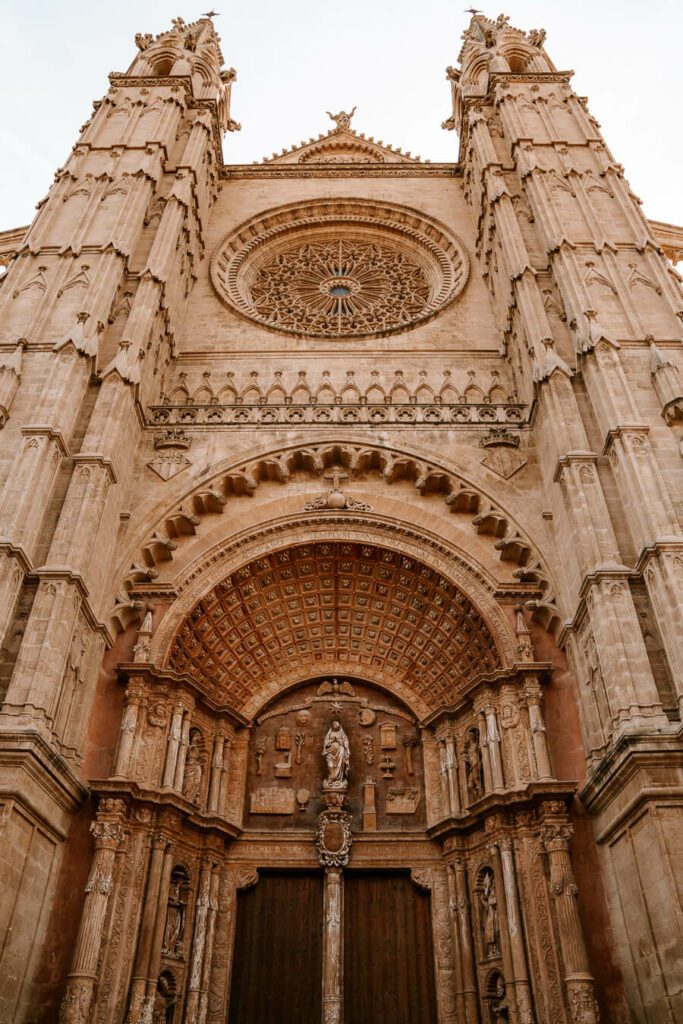 I won't go too much into what to do in Palma de Mallorca here. You can find them all in our separate Things to Do in Palma City Guide here. Make sure to read both guides to get the best insight into the city.
Most of Palma's main attractions and the old, historical heart can be covered in one day. However, I definitely recommend staying for 2 days, at least to really get to know the city a little more. It does have quite a lot to offer.
Wine Tasting and Vineyard Tour
While Spain is definitely a country famous for its wine, you'll be pleased to know that Mallorca also produces some very good wines. If you're a fan of wine and want to delve a little deeper into Mallorca's grape varieties, its wineries, and ultimately its wine, then going on a wine tour is a great idea.
You could visit a few of Mallorca's most famous wineries alone in your own rental car but this does involve quite a bit of research and planning. Even though I didn't visit, I've heard great things about Ribas Winery.
Otherwise, you can take a tour. This tour will take you to all the best of Mallorca's vineyards in the island's interior where you'll be able to find out more about local wine in Mallorca and of course, enjoy a sample of all the exquisite wines.
You'll also be able to see the beautiful landscapes of the interior and well as learn more about the culture, particularly the gastronomical culture, and history of the island.
Click here to learn more and book the Mallorca Full Day Winery Small Group Tour.
Go Olive Oil Tasting
Olive oil is one of Mallorca's main exports and there are many small and organic olive oil farms in Mallorca producing marvelous olive oil. If you're someone who uses a lot of olive oil in your kitchen, then it might be worth visiting an olive oil farm, going on a tasting, and taking some of the best olive oil home with you.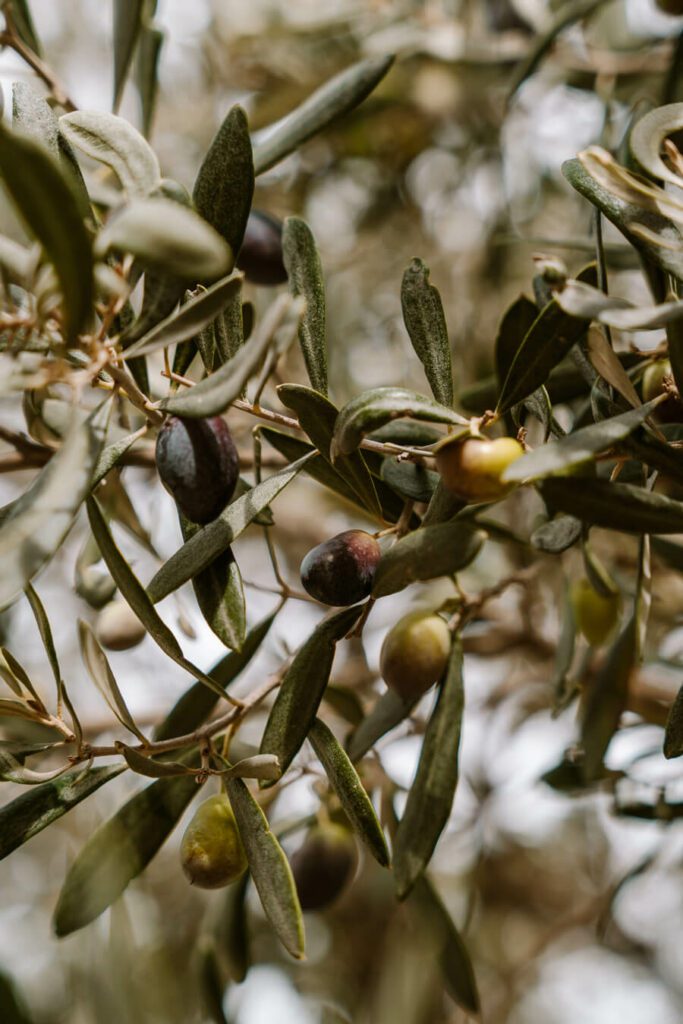 Some of the best olive oil farms you can visit for a tasting are:
↠ Finca Son Miranda – an agriturismo or farm stay that organizes tours of their olive groves and tastings of their organic oils. You can reserve a tasting through their website.
↠ Son Moragues – a fine spot in Valldemossa that makes some of the best, organic olive oil in Mallorca. You can visit the farm, and go for a tasting as well as some other great experiences like guided walks and picnic with their own homemade products (olive oil included).
Visit the Caves of Drach
The Caves of Drach are one of the most popular attractions in Mallorca. The Caves of Drach are an underground network of caves that go down to a depth of 25 meters. It consists of many tunnels with thousands of stalagmites and stalactites.
Inside the cave, you'll also find many underground lakes which aren't something you'll see in every cave. Lake Martel which is 117 meters long is one of the largest cave lakes in the world. The caves are beautiful and well worth the stop if you happen to be on the eastern side of the island.
If you have a rental car you can get to the Drach caves on your own accord. Entering the cave is with a guided tour only which lasts about an hour.
If you prefer not to rent a car you can join a Caves of Drach Guided Day Tour from Palma which has everything organized for you.
Explore Sublime Valdemossa
Valdemossa is my favorite village in Mallorca, along with Deia and Fornalutx (more on those later) and if you're thinking about what to do in Mallorca Spain, this should definitely be on your bucket list.
Valdemossa is a hilltop village located in Mallorca's mountain region. A visit here is an absolute must on any Mallorca itinerary because the stone village is simply beautiful.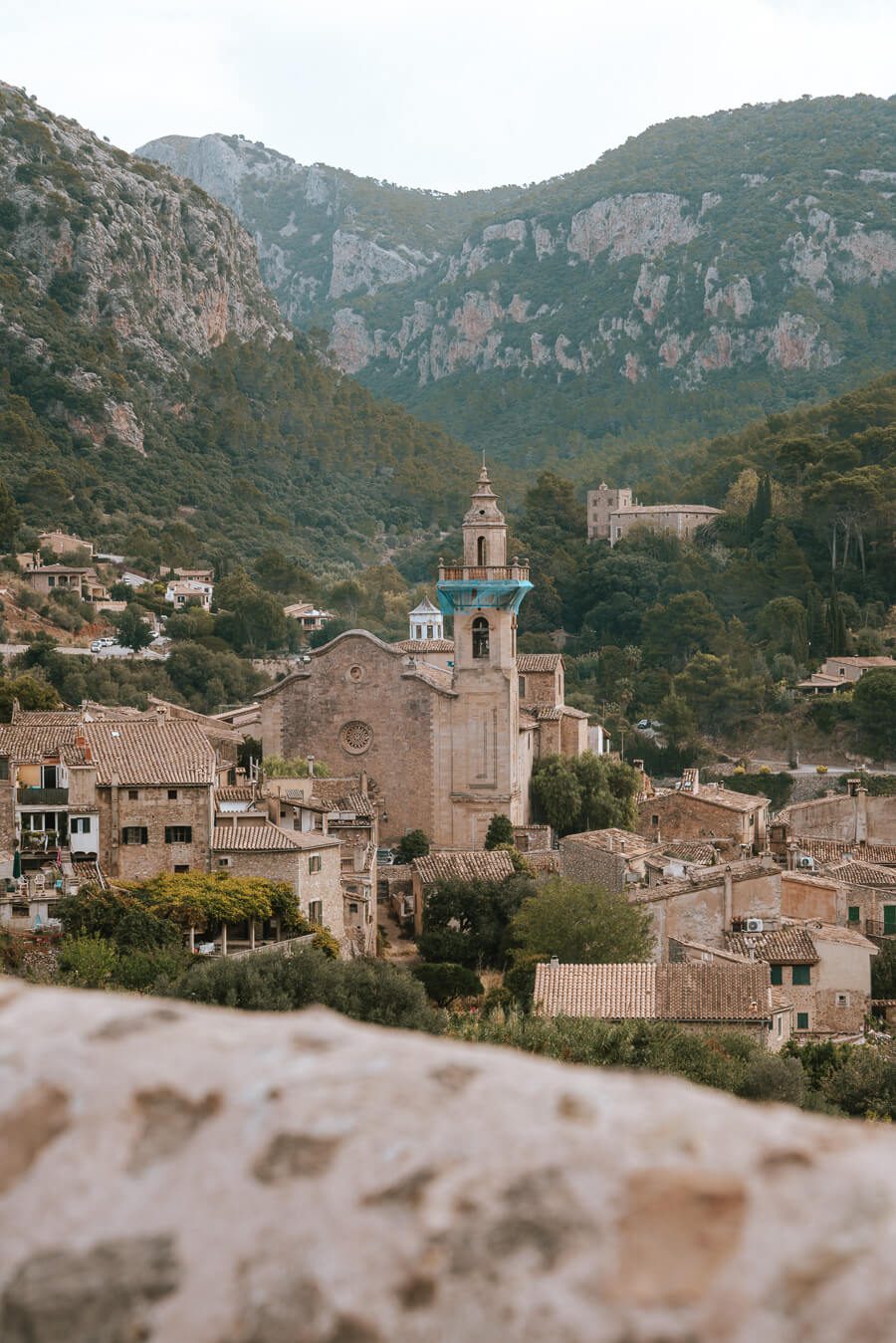 There are many things to do in Valdemossa, so it's worth staying here and using the town as your base or at least staying for the whole day. While there aren't that many attractions- it is a small place after all- you could spend hours just walking around its swoon-worthy stone streets and sipping coffee in the cute cafes.
Here are some of the highlights in Valldemossa not to miss:
↠Visit the Carthusian Monastery
↠Biblioteca de Valldemossa
↠Sant Bartomeu Church
↠Frederic Chopin and George Sand Museum
↠Jardins Rei Joan Carles
Visit Deia
Another absolutely stunning stone town in Mallorca, Deia truly is a mountain paradise village. Its orange-ochre color contrasts beautifully with the olive-green mountainsides and its main road weaves through it like a snake.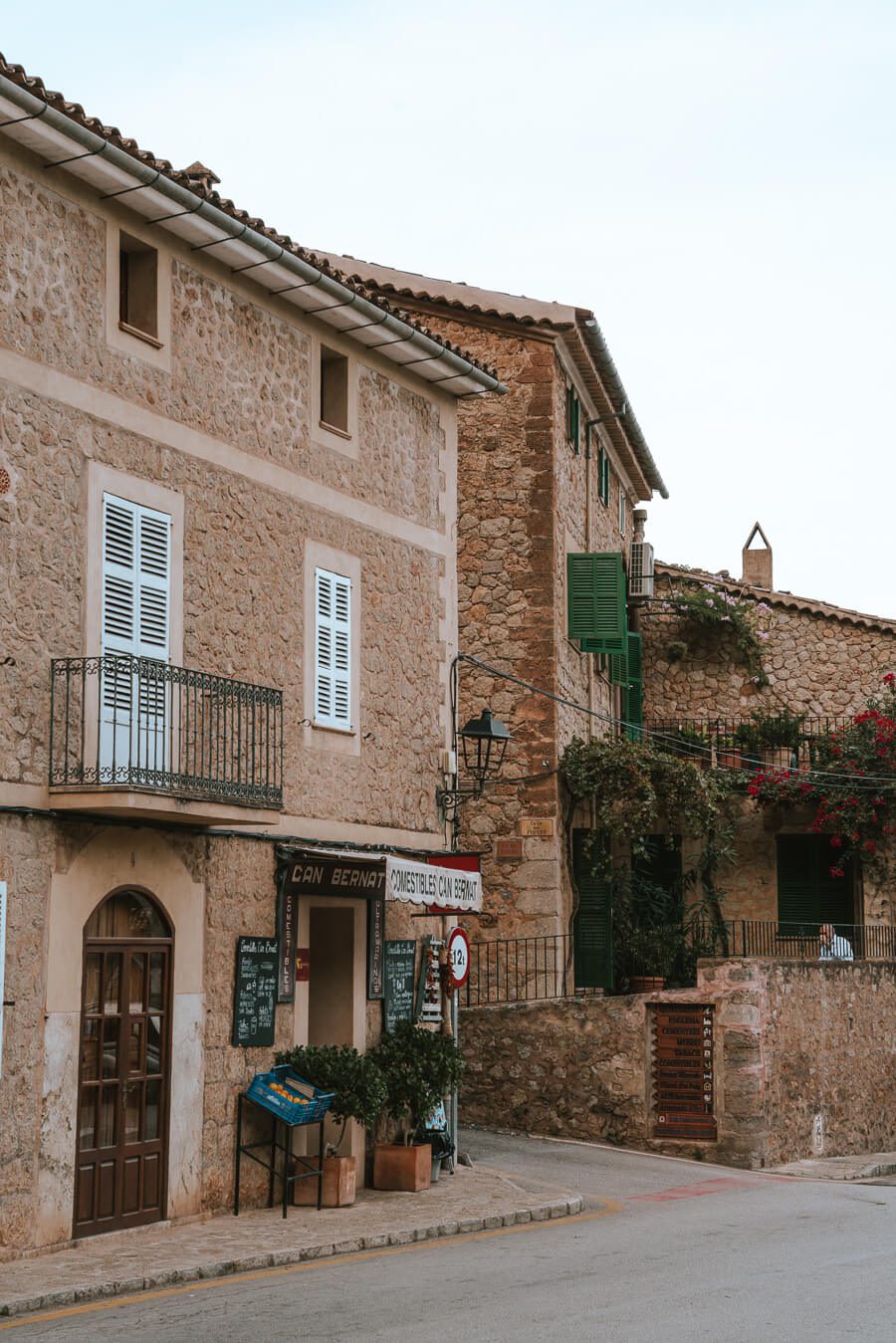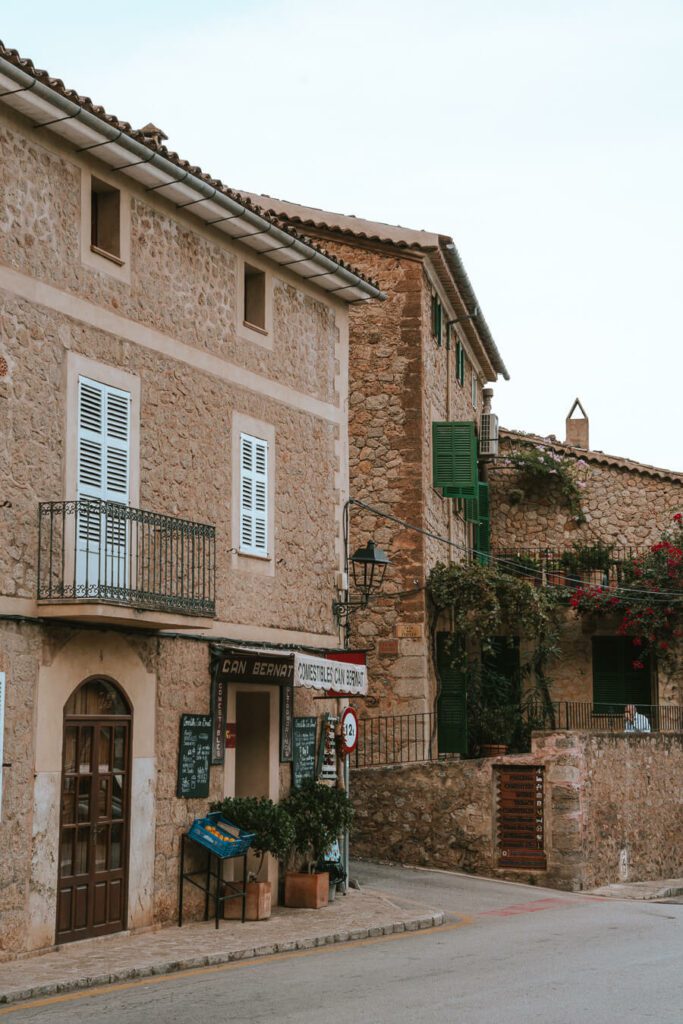 Deia it's a photographer's dream and its aesthetics mean putting down your camera is a serious challenge. Start your time in Deia with a lovely wander down its main street and all the adjacent alleyways that lead up and down the hills.
After that make sure to also check out the Robert Graves Museum where you can find out more about the life and works of the English novelist and poet who spent a large part of his life in Deia. Next hike down to Cala Deia for a dip in the pristine blue Mediterranean Sea and lunch at Ca's Patró March (make a reservation ahead).
If you're planning to stay in Deia make sure to do so at Belmond La Residencia, Deia's hottest stay.
Have Dinner at El Olivo
What to do in Mallorca Spain? Eat. Well. One of the most romantic dining experiences in Mallorca is a sunset dinner at El Olivo at Belmond La Residencia in Deia.
Set outdoors on a beautiful stone terrace overlooking the whole of Deia and its surrounding mountain ranges, El Olivo will take you on a culinary journey through the Mediterranean. Their creative menu is veggie and vegan-friendly and dinner here will be an experience you probably won't forget in a while.
Make sure to book your table at El Olivo, well in advance of your trip to Mallorca. Book your table right before sunset for the most romantic experience.
Drive along the MA-10 from Andratx to Sóller
If you're a fan of driving stunning mountain roads with hairpin bends, then you can't miss this spectacular drive in Mallorca.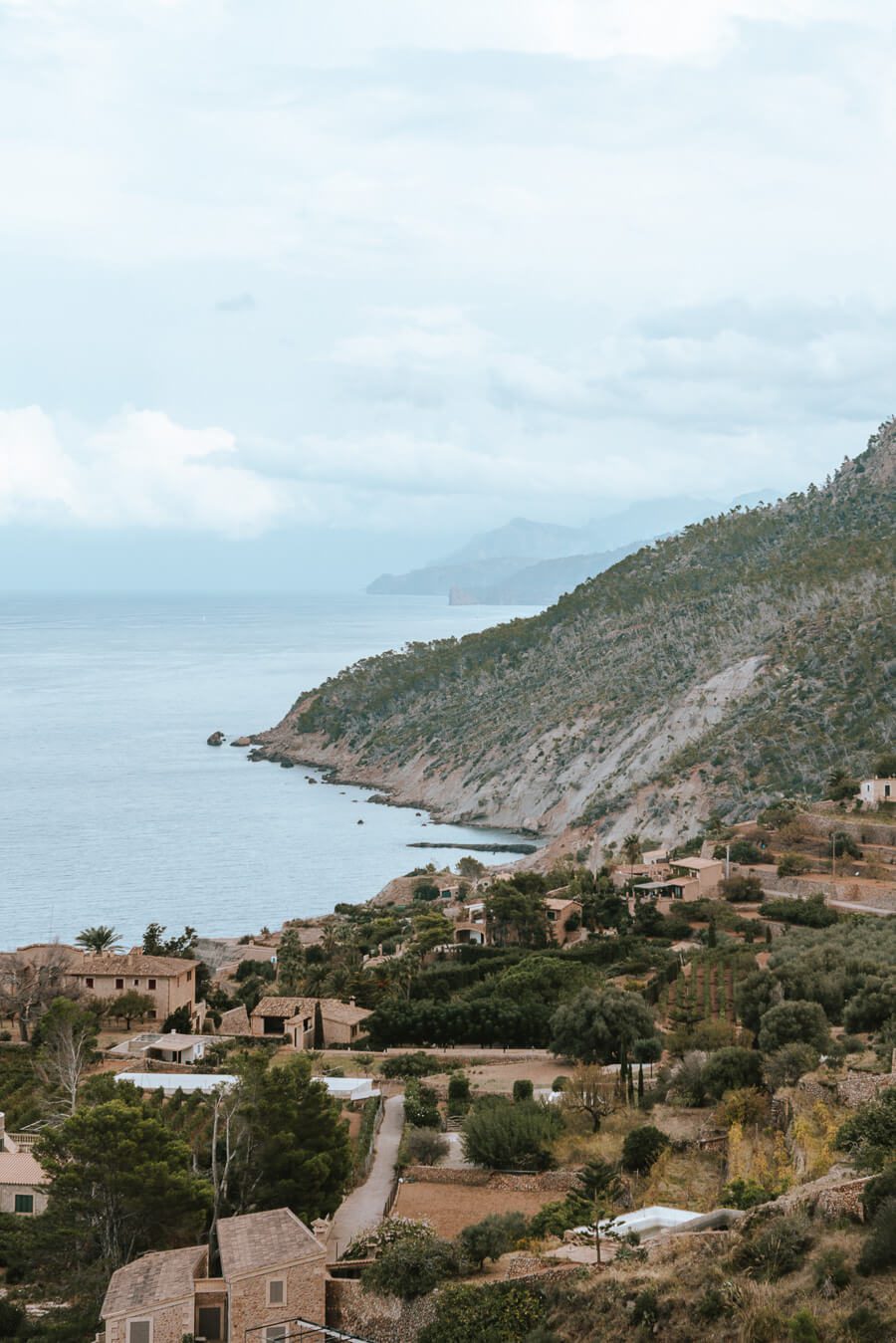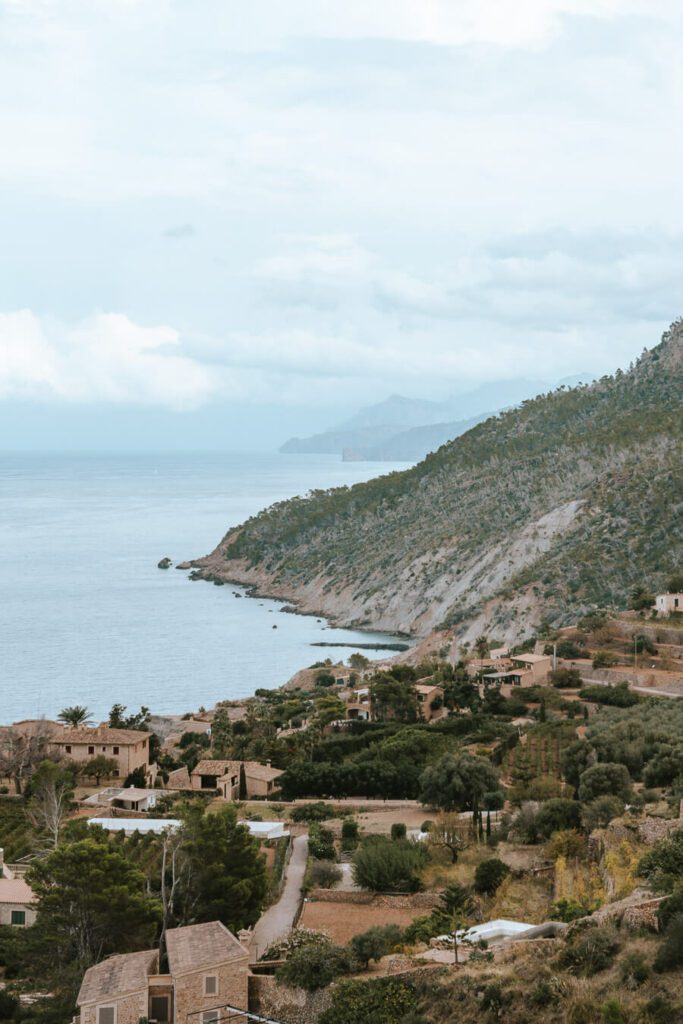 Start your trip in Andratx and follow the MA-10 road through the mountains to Estellencs, Banyalbufar, Valldemossa, Deia, and finally Sóller. You can also do it going east to west. The road will take you through mountains and pine forests, around cliff edges, and through gorgeous villages.
While you can do the drive all in one go, you will want to stop (many times) for photos and to explore. I highly recommend driving it across two days while also stopping and exploring all the pretty villages along the way.
What to Do in Mallorca Spain: Visit Soller
Sóller is a small town just north of Palma with a delightful cathedral, an atmospheric main square, and many lovely boutiques, and restaurants.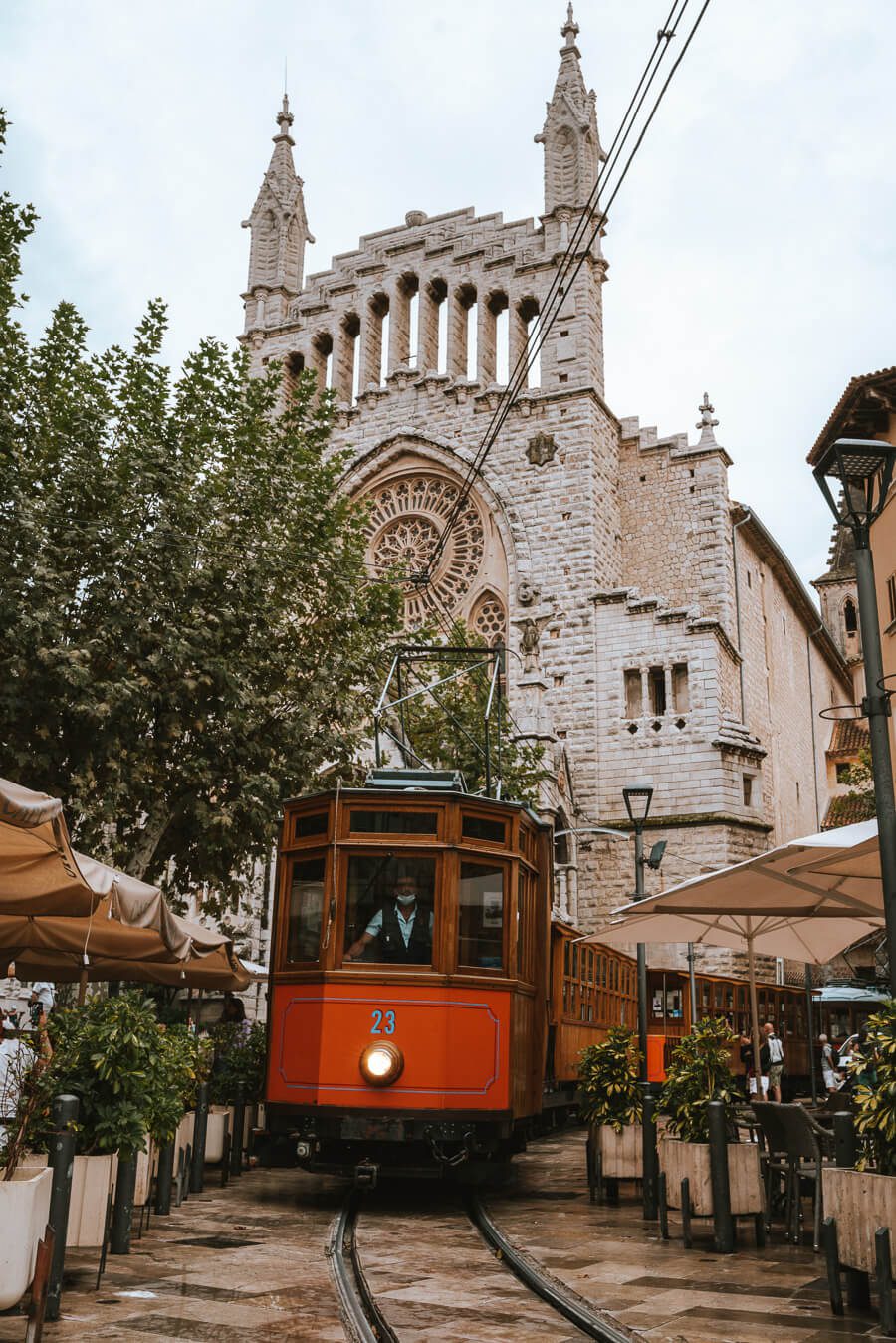 Sóller is the perfect place to stroll around in and explore its main sights for a day or even half a day. Some of Sóller's main sights you can miss are:
↠Sóller's beautiful town square
↠Sant Bartomeu de Sóller Cathedral
↠Can Prunera Museum for Modern Art
Sóller is easily reachable from Palma and most places in Mallorca by rental car.
From the center of Palma, you can also reach Sóller on the Ferrocarril de Sóller, a historic train that has been running since 1912. This is a great option for those visiting Mallorca on a short trip, staying mostly in Palma, and don't want to rent a car. There are four services daily from Palma to Sóller and the ride takes one hour.
…And Port de Soller
Nearby Sóller, towards the coast, you'll also find Port de Sóller, a good place for an afternoon at the beach. There aren't any real sights here but it is the perfect spot for dining.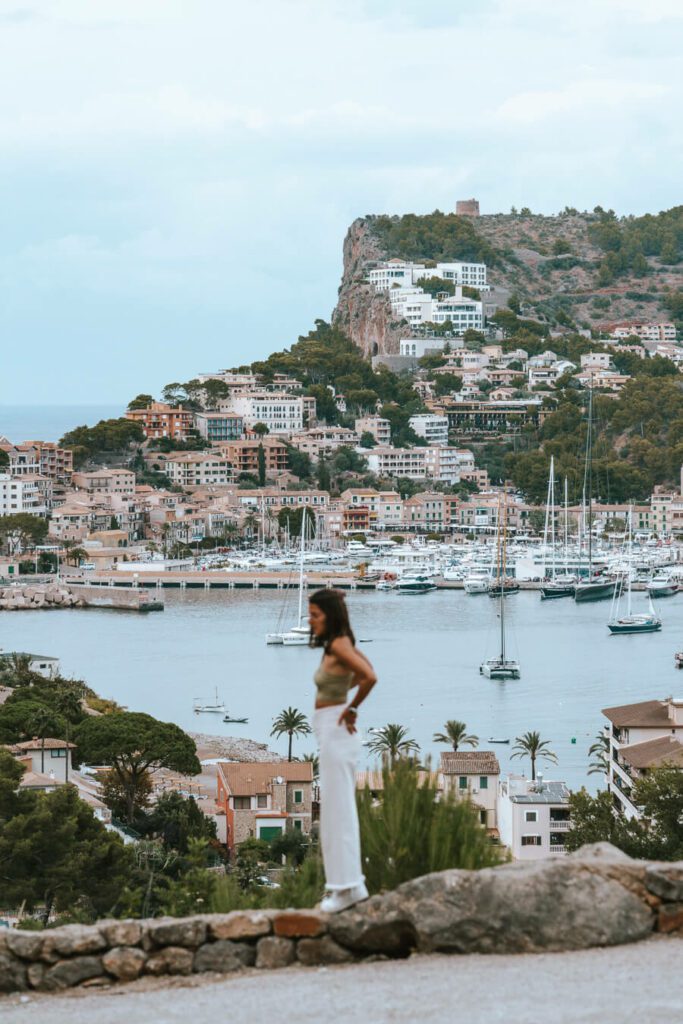 Port de S's a lovely place for a walk around the promenade, a sun-downer, or a sunset dinner to end the day.
You can visit Port de Sóller on the traditional Port Soller tram which leaves from the center of Sóller. It's also possible yet less fun, to drive.
Spend the Day at Cala Pi
Cala Pi is one of those sublime beaches you've probably already seen before, on Instagram that is. Known for the concrete slab that juts out from the clip over the water, Cala Pi is a lovely spot to spend the day.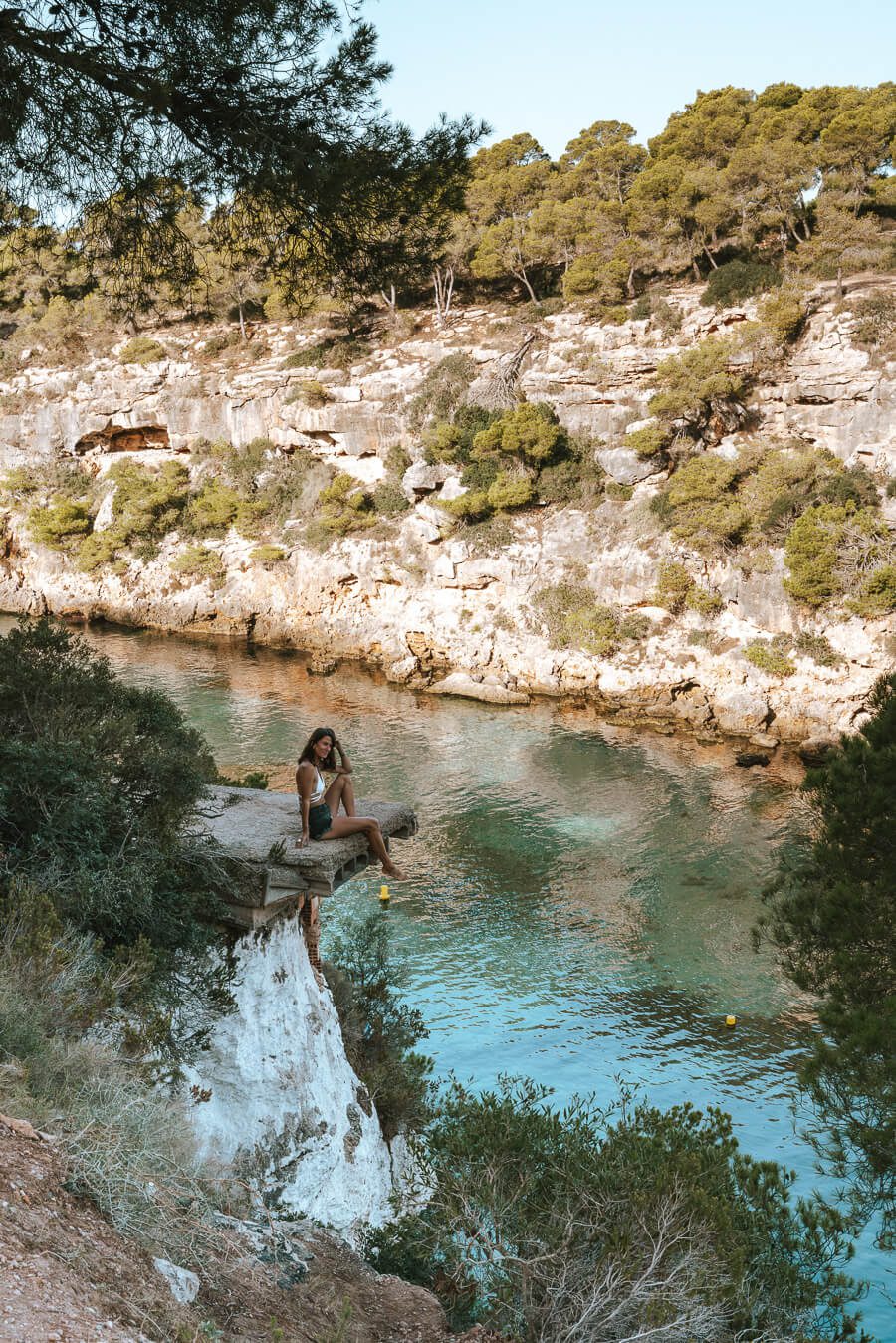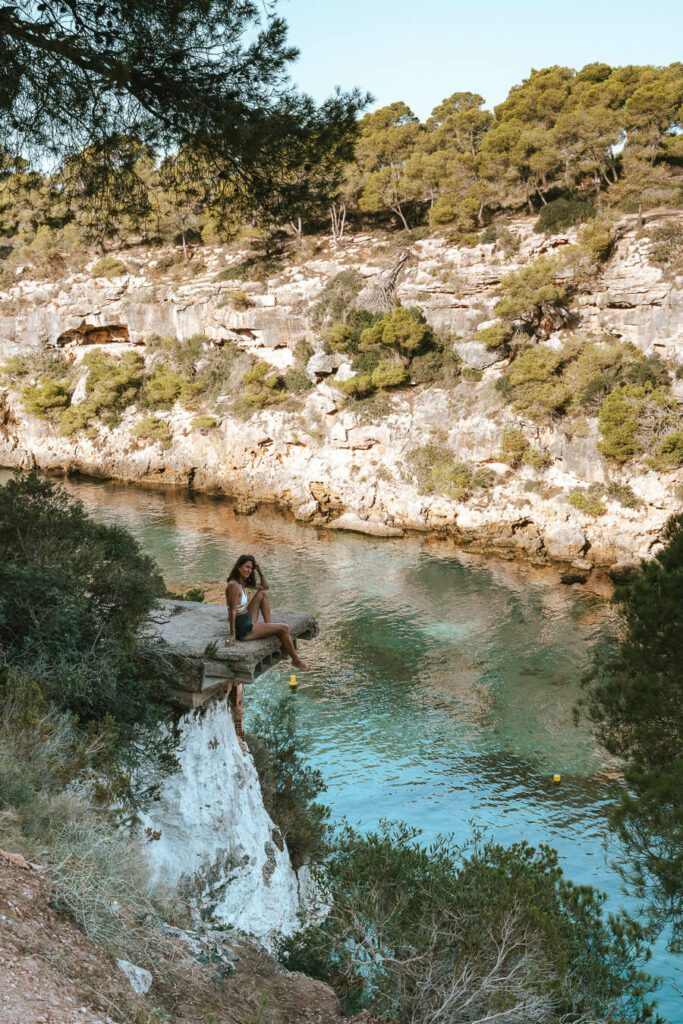 The beach is small but it's an atmospheric spot to bring a picnic and relax on during the day, just make sure to visit out of season otherwise, it would be really busy! The lovely boathouses also give a rustic touch to this little bay.
You can also hike around the top of the rocky inlet for better views.
Hike the Mondrago Natural Park & Visit Its Beaches
On Mallorca's southeastern coast sits Mondrago Natural Park, a beautiful protected area filled with pristine pine forest, delightful rocky coves, and stunning beaches. Most visitors come to Mondrago Park and head straight to the beach but there are also some great walking paths and biking trails.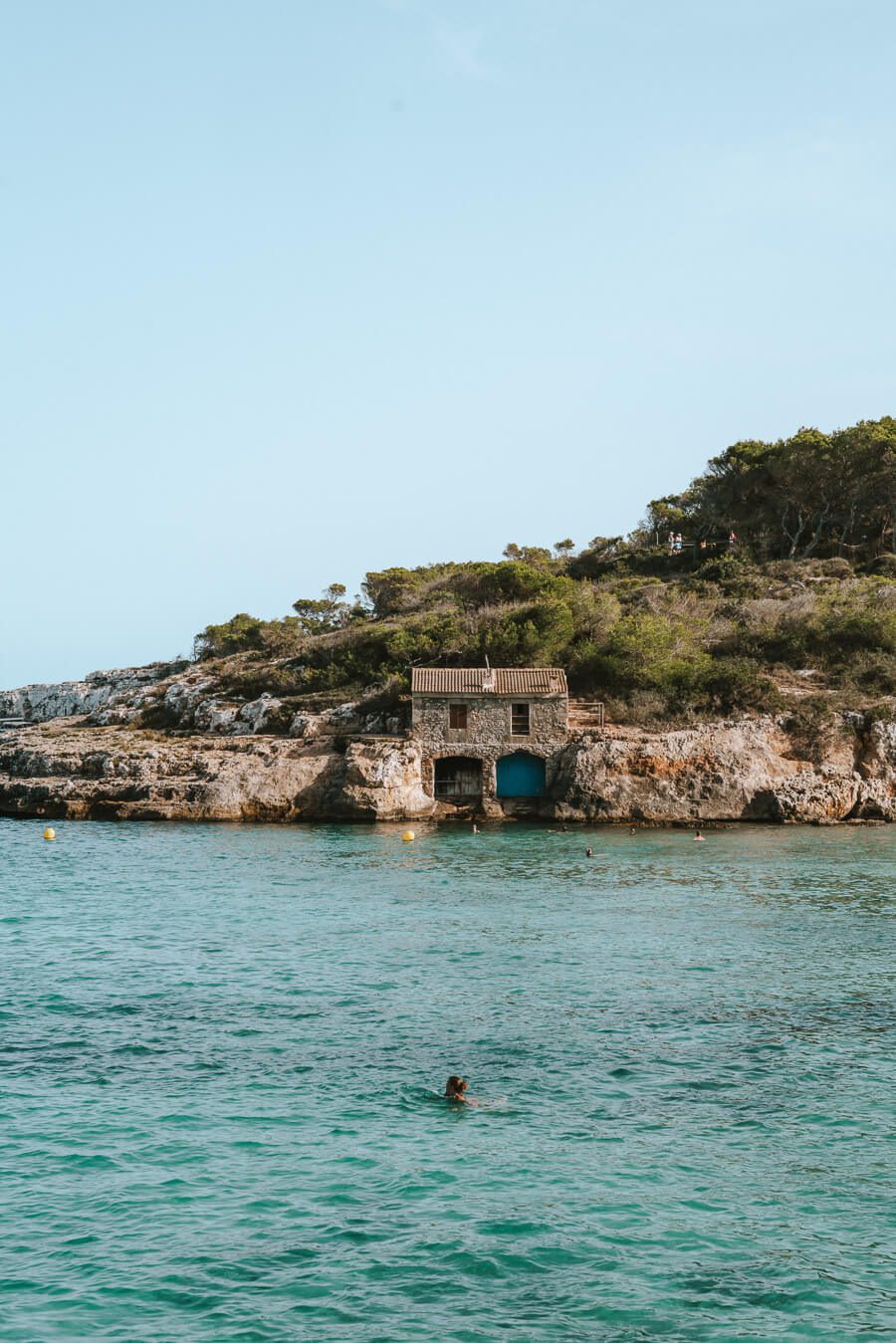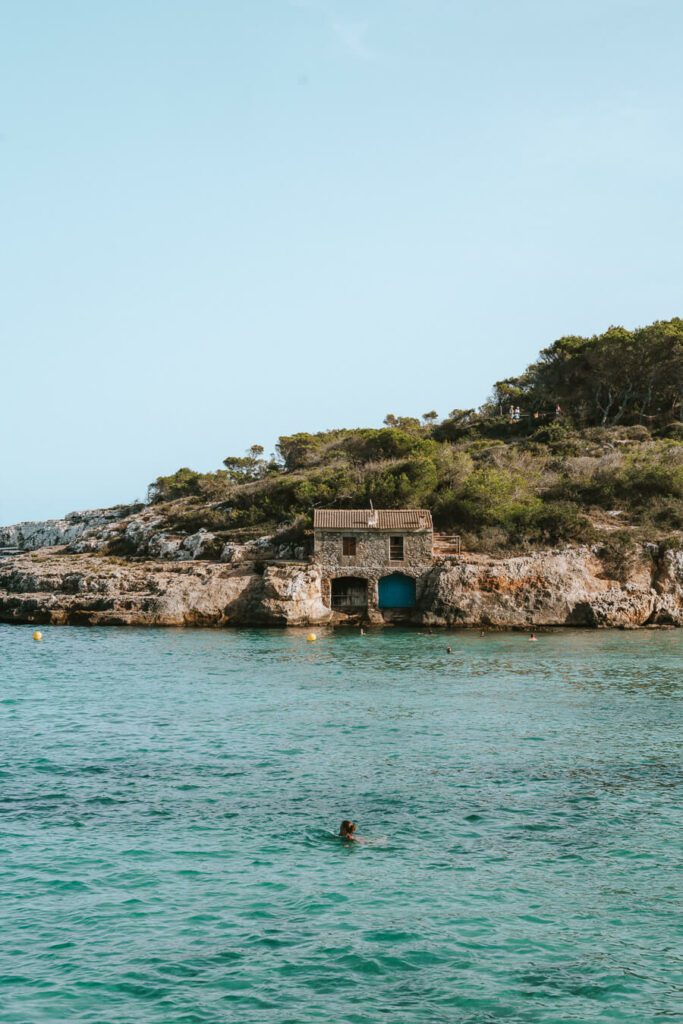 The highlights of Mondrago include Cala Mondragó and S'Amarador, two gorgeous beaches linked together by a stone walkway. They are the perfect spot to relax for the day.
If you have time you can also check out the beautiful Calo d'en Perdiu and Caló des Borgit for some less crowded options. Just be aware that there is no beach access from these two, you'll need to jump off the rocks to get into the water.
The water here is amazingly blue and clear and you'll want to jump straight in.
Spend the Day at Cala Figuera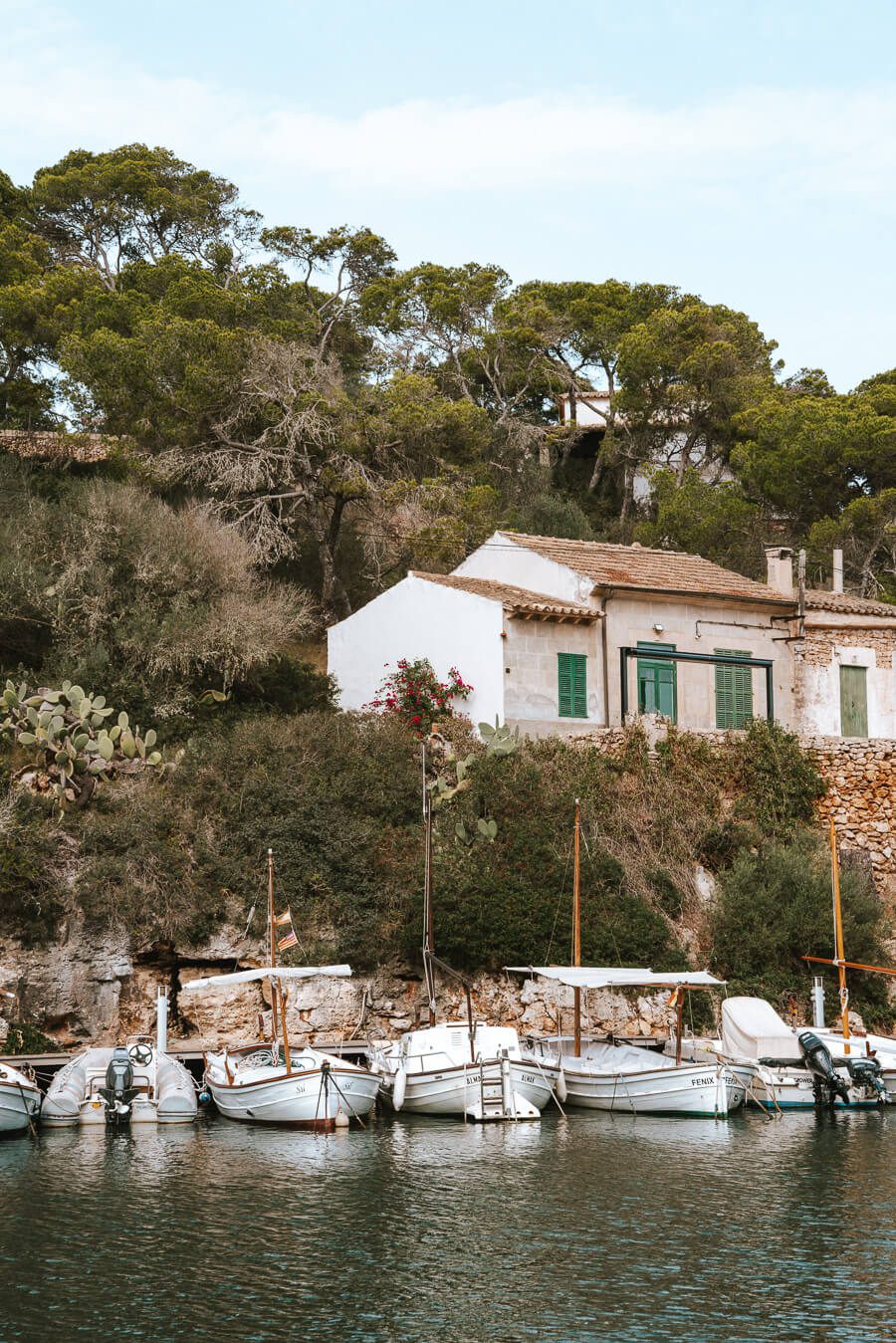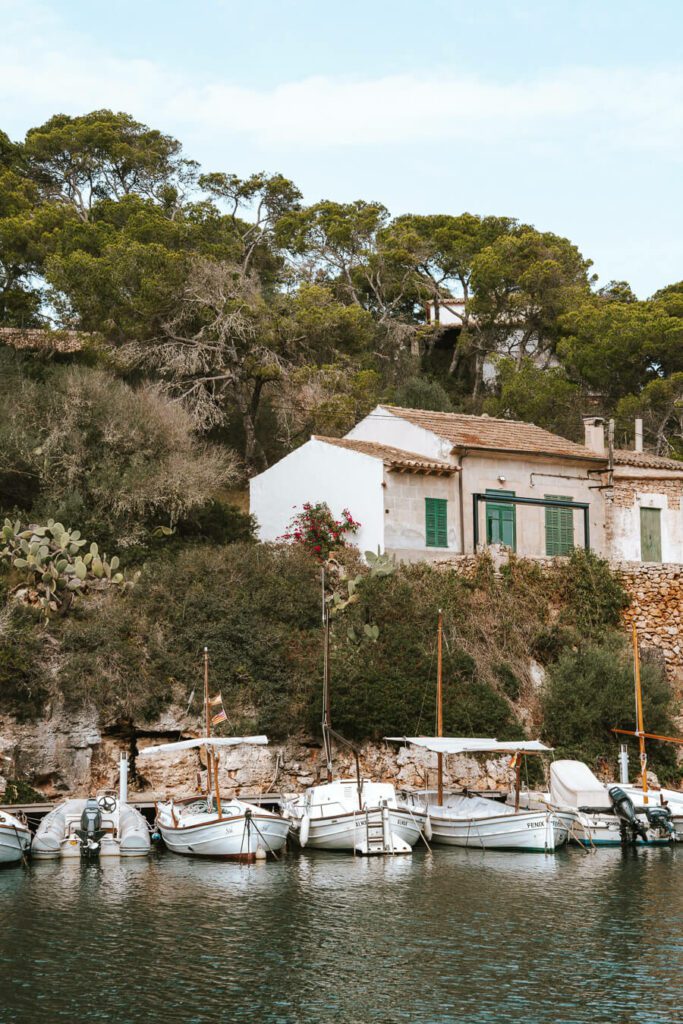 Cala Figuera is one of my favorite places in Mallorca. It's a small village right on a bay with pristine sea views and the cutest boathouses that line the perimeter of the bay.
It's a working fishing village and you'll find many lovely houses and holiday homes, fishing boats bringing in their catch early in the morning as well as promenades lined with restaurants.
The is no real beach in Cala Figuera, however. There are small sandy coves and rocky points which are great for relaxing in the summer but you won't find a large beach here. The best things to do in Cala Figuera are just to take a walk around the bay, have lunch, admire the sea views, and go for a dip.
The village is incredibly atmospheric and picturesque so make sure not to miss it off your Mallorca itinerary.
READ MORE: Best Boutique & Luxury Hotels Mallorca Has to Offer 
Visit Calo des Moro and Cala S'Almunia
Two of the best coves in Mallorca, Calo des Moro and Cala S'Almunia are located right next to one another on a stunning part of the island.
There's nothing else here but paradisical beaches and coves with water so clear you'll need to remind yourself you're still in Europe. Pack yourself a picnic for the day and spend the afternoon at these beautiful coves.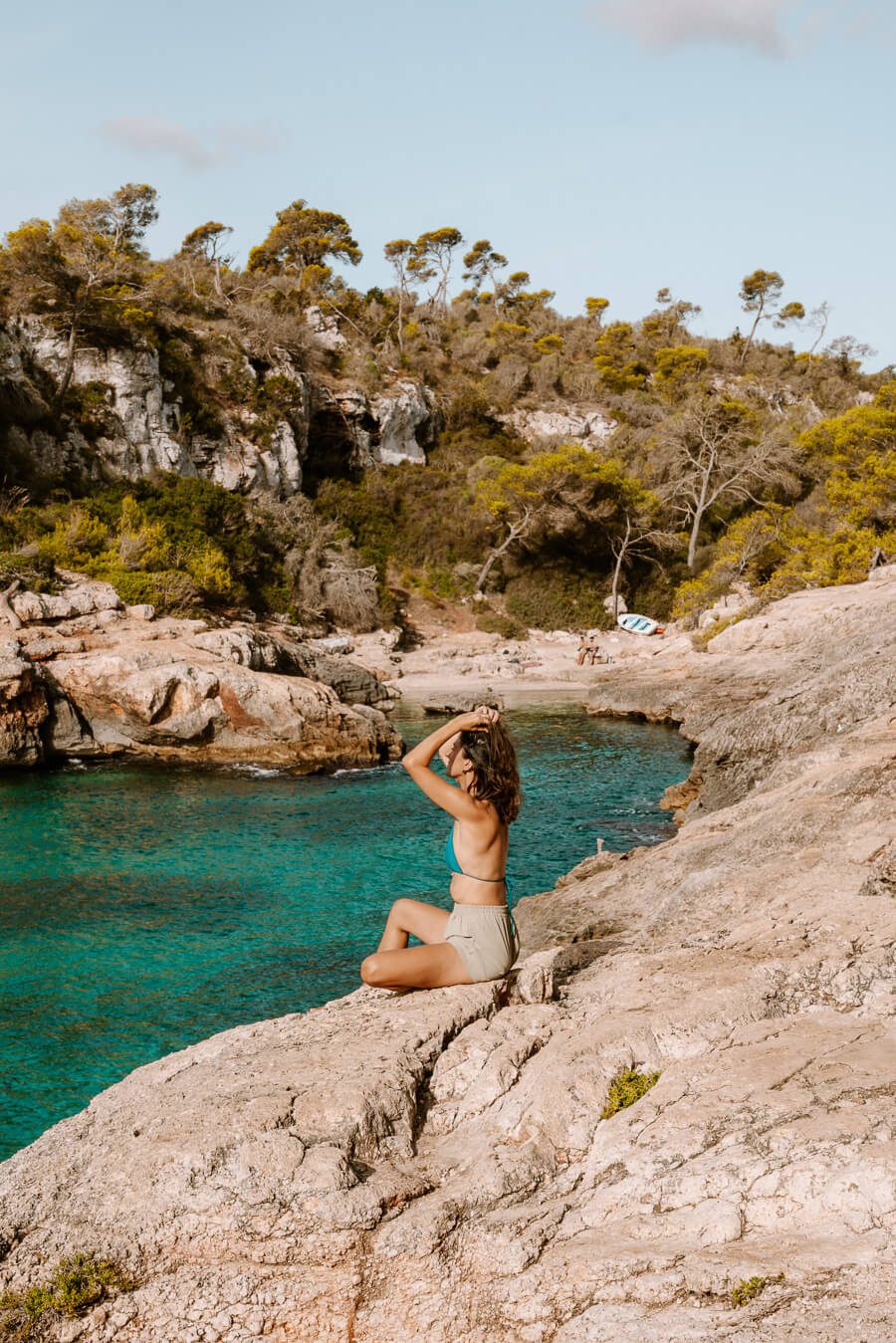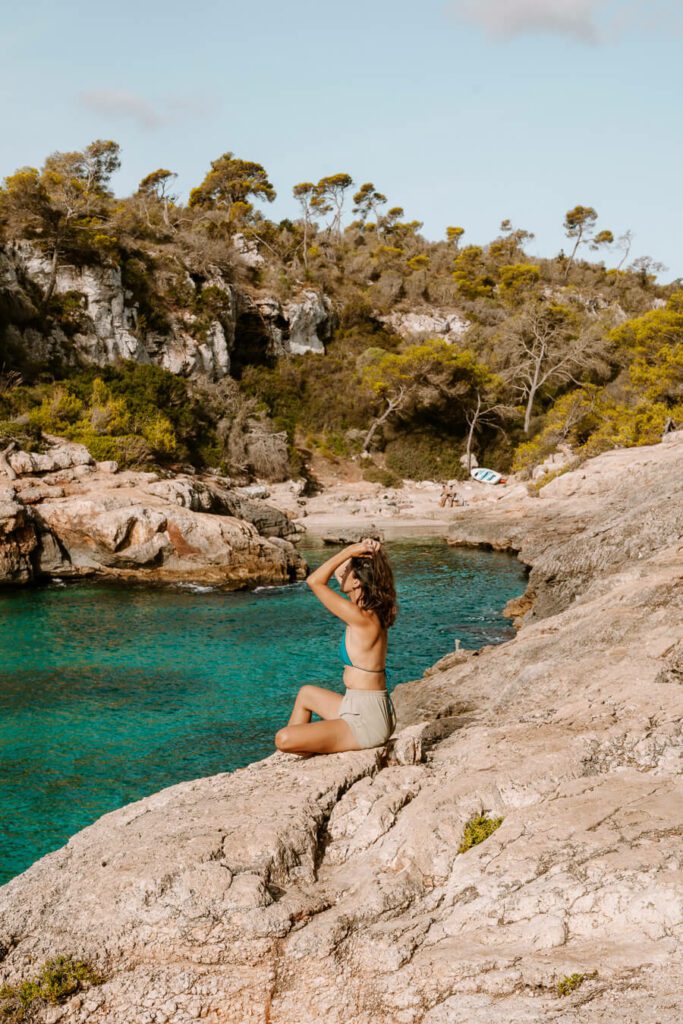 You'll need to descend down a hiking path to get down to the beach so this probably isn't the best beach for the mobility impaired or those with young children. Otherwise, you can easily check out the views from the top.
Top Tip: The car park is quite a bit of a walk from the beach- about 10 minutes, so make sure you bring in everything you need for a day at the beach.
Experience Bellver Castle
Outside Palma, you'll find Castell de Bellver, a round hilltop castle. The Gothic-style castle dates back to the 14th Century. It was the residence of King James II and many other Majorca kings after that.
Today visitors can visit the City History Museum that's housed inside the castle as well as the exterior of the castle and its gardens.
Visiting Bellver Castle is also a great excuse to grab the best views over the city of Palma. From the top, you can see the city, Palma Cathedral, the marina, and of course the expanse of blue Mediterranean.
Try to make your way up to the castle just before it closes or as close to sunset as you can for the best golden views of the city. It's one of the best things to do in Palma, Spain at sunset.
Spend the Day in Pollença
Pollença is another splendid town, located in Mallorca's northwest corner. It's full of history, gloriously, winding, narrow streets, lovely stores, restaurants, and a few landmarks. The town is small so you only need a few hours to see everything but I highly recommend spending a morning or afternoon here or even using it as your base to see the surrounding area.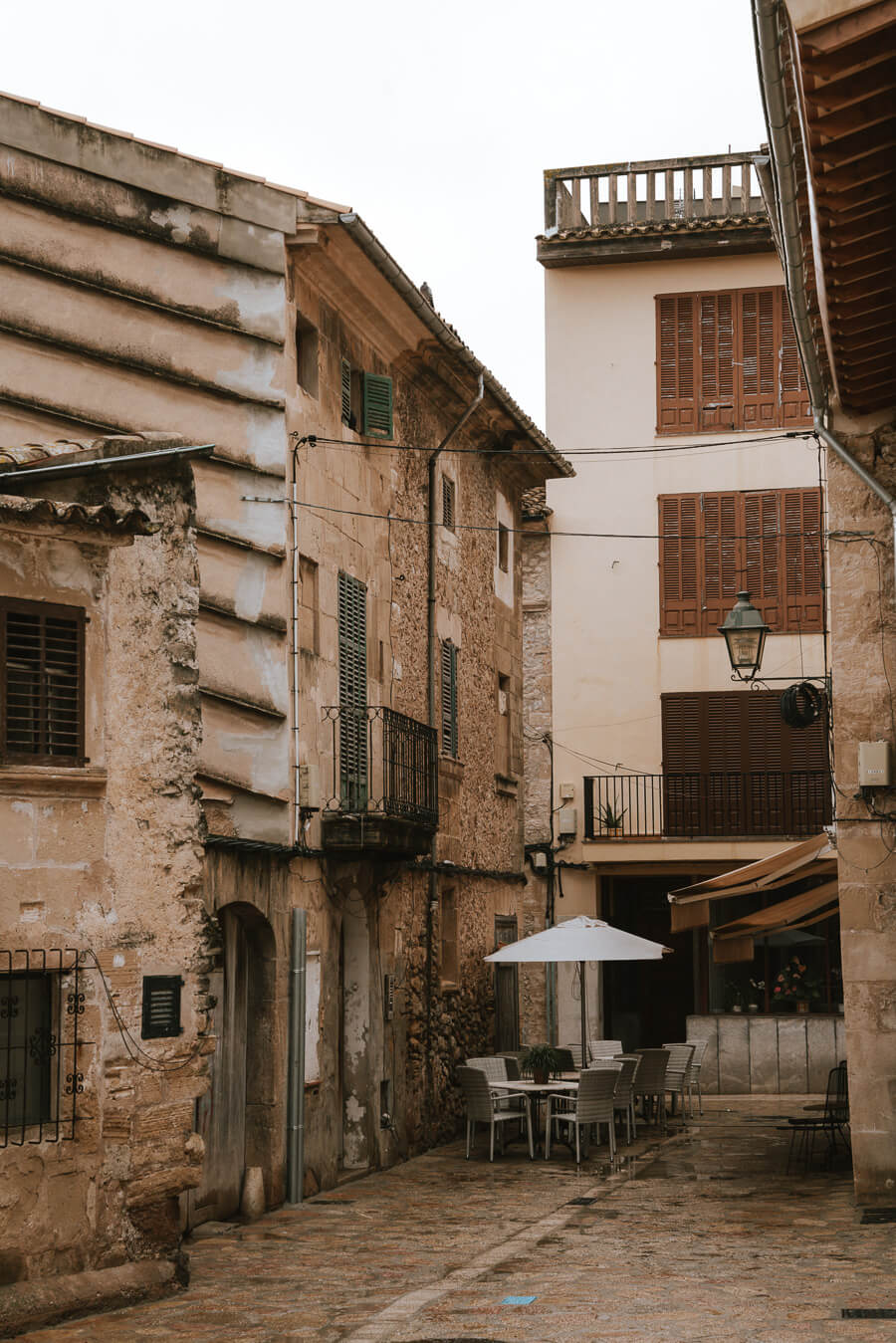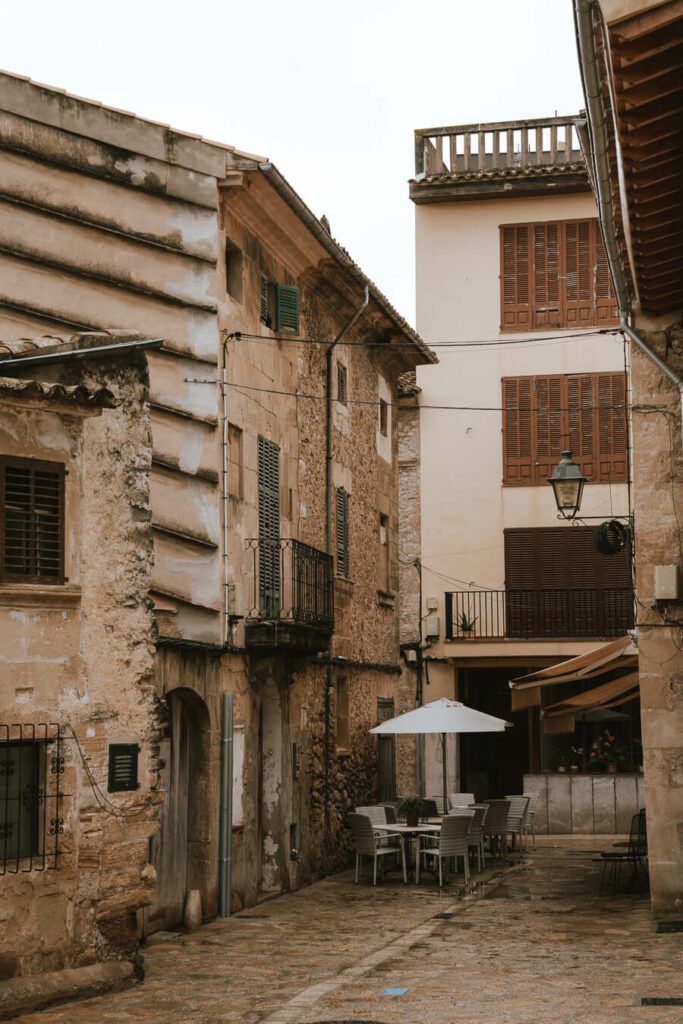 In Pollença make sure not to miss the large Plaça Major or main square, Claustre de Sant Domingo, the climb to the Calvary Chapel and just going for a wander to explore all the small streets. If you have more time, the Museu de Pollença is also worth a visit.
Climb the Stairs to the Calvary Chapel
One of the best things to do in Pollença, which probably needs its own heading, is the climb to the Calvary Chapel. The Calvary Chapel is a small little chapel located on a hill on Pollença's highest point. Several hundred steps lead up to the chapel.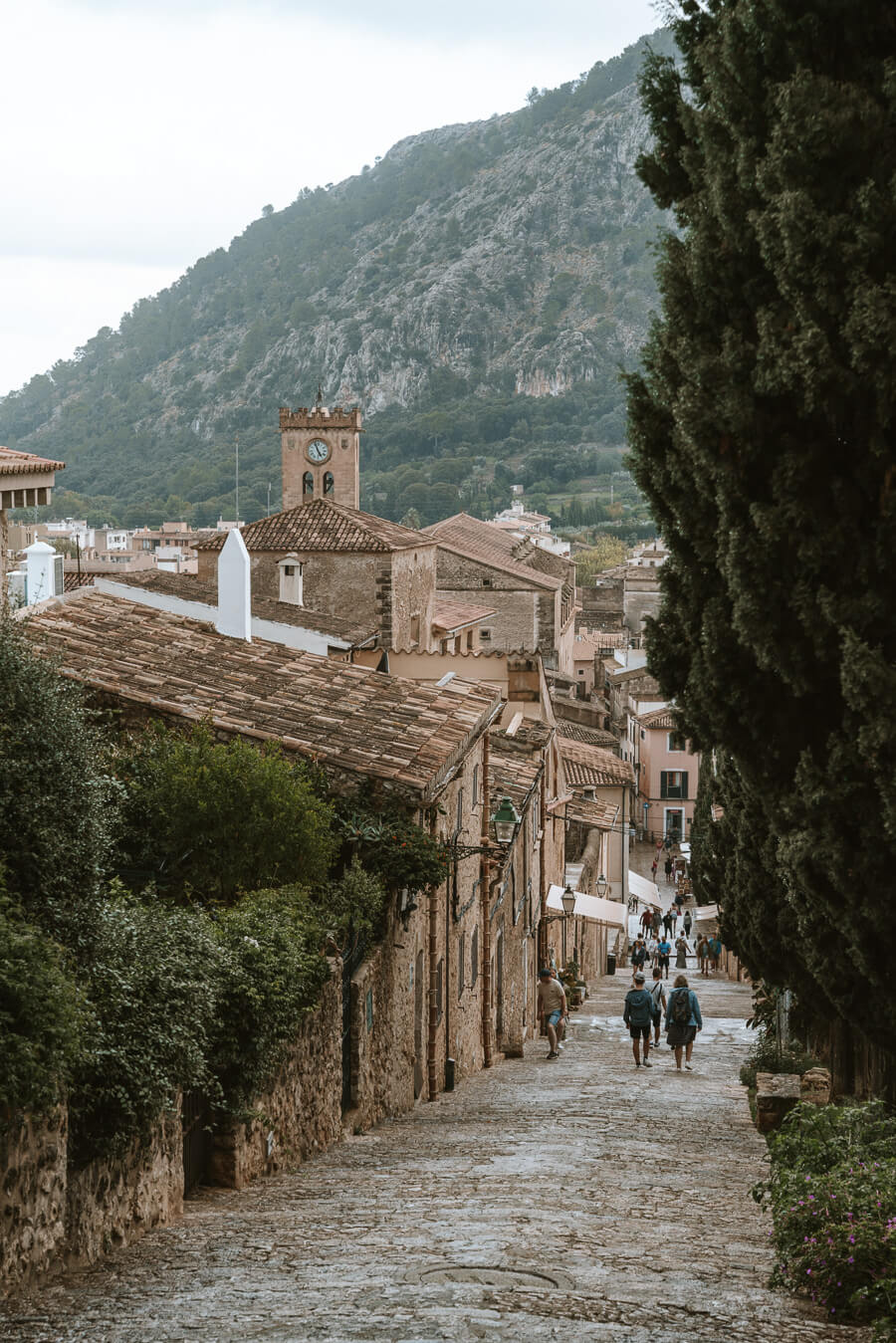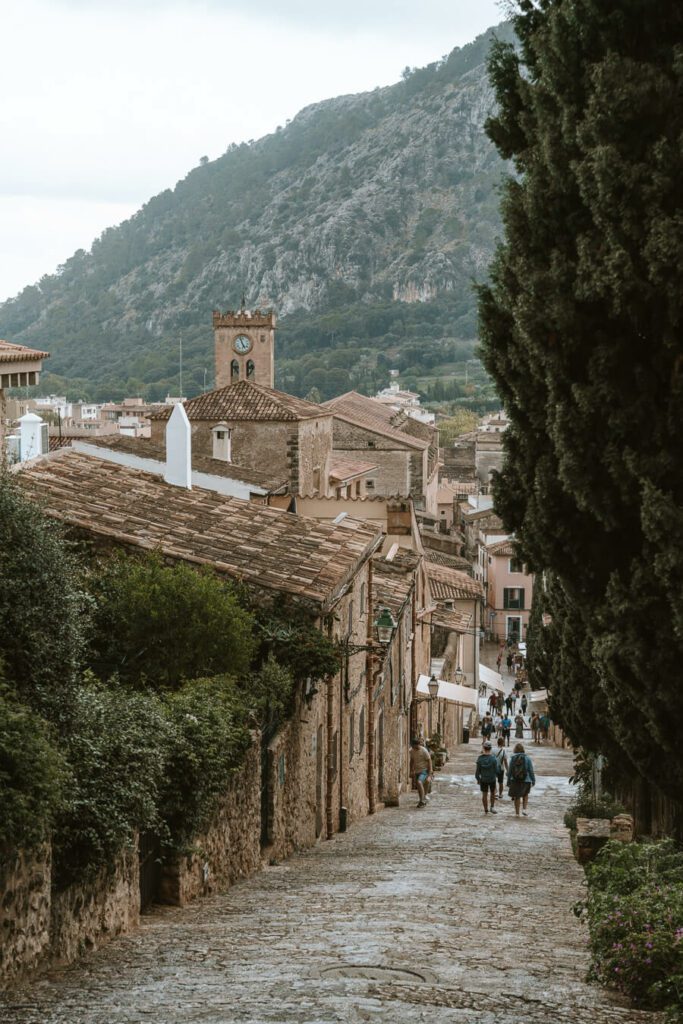 The chapel isn't much of an attraction in itself. Instead, it's the surrounding views that leave travelers breathless- probably the stairs too, in part. From the top, you'll be able to see Port de Pollença and the entire town.
There are also some beautiful views of the town towards the bottom of the steps which you can check out even if you don't have time to climb to the top.
While there are a lot of stairs, it's a very gradual climb and suitable for all.
Take in the Views at Cap de Formentor
Continue further north from Port de Pollença and you'll get to Cap de Formentor- Mallorca's northernmost point. This cape is one of the most stunning and dramatic places you can visit on the island. Large, jagged mountains descend right into the sea here creating some of the most jaw-dropping scenery around.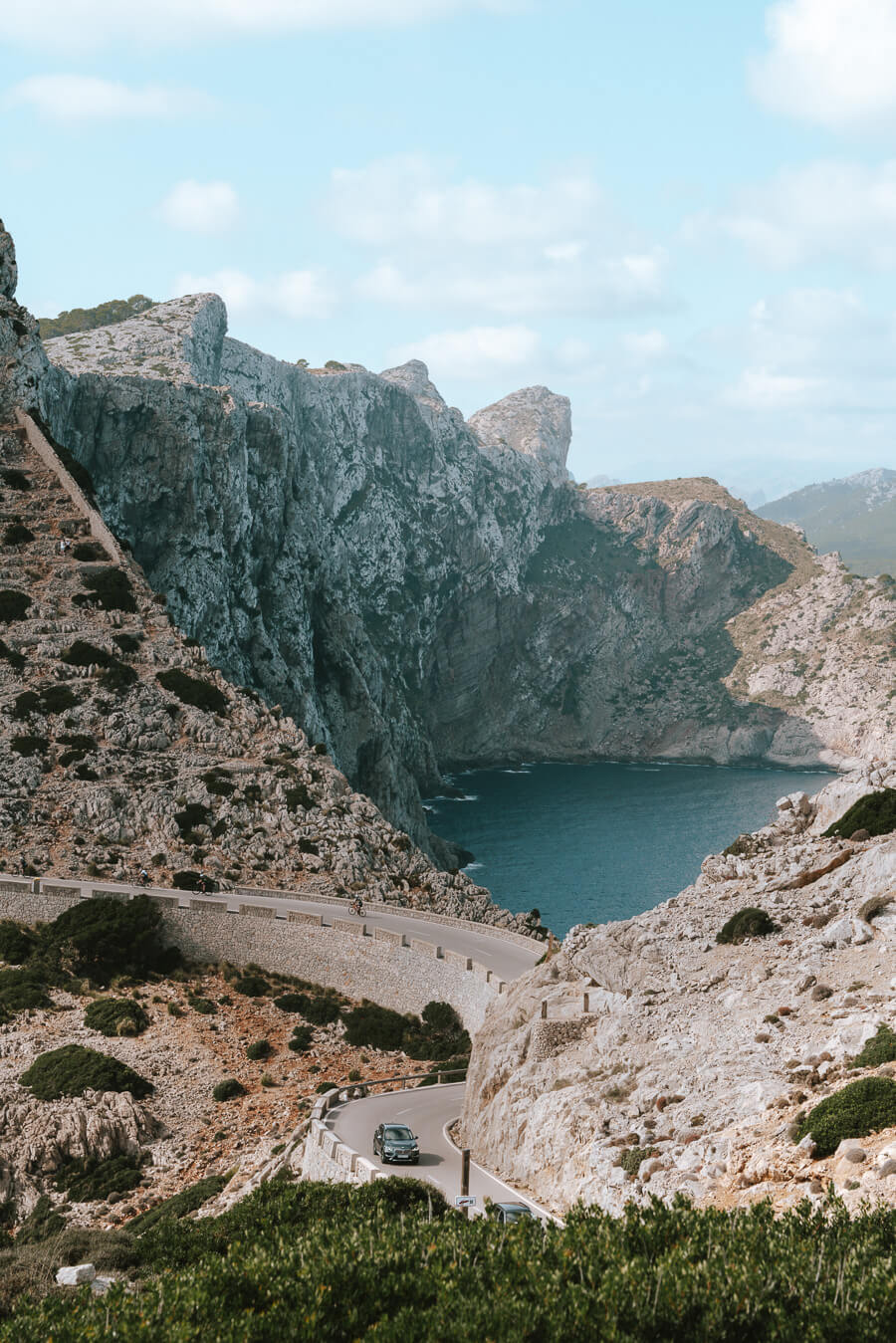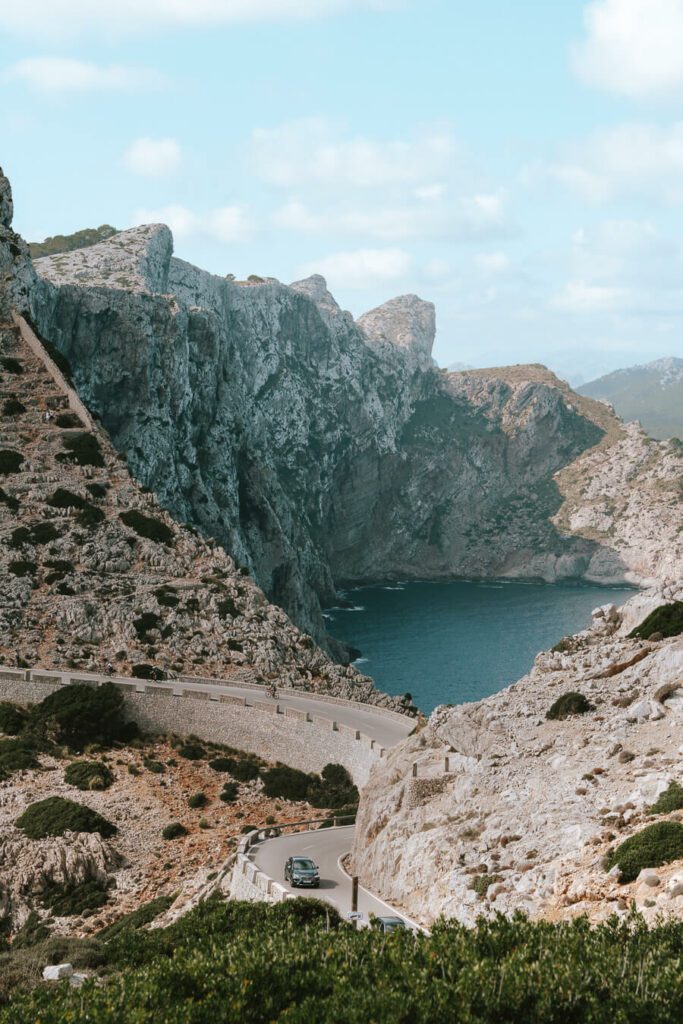 The drive to Cap de Formentor is a fun ride too. After Platja de Formentor, the road continues up and down through the landscape around dramatic bends and around cliffs until you reach the end of the road and the Cap Formentor Lighthouse.
The views here are second to none and you'll want to stop pretty much all the time. Make sure to drive all the way to the lighthouse and also stop at the Panoramic Viewpoint of Cap Formentor along the way too, where you can walk along the mountain's edge of brilliant views of the coastline.
What to Do in Mallorca Spain: Drive to Sa Calobra
For those that enjoy driving on tiny, winding, back country roads, you'll also want to put Sa Calobra on your Mallorca bucket list.
This mountain road snakes through the landscape and finally arrives at Sa Calobra or Cala Tuent- some of the most beautiful coves on the north side of Mallorca. The small bays of pebble beaches are flanked by gigantic cliffs and water that's crystal clear.
There's not much else to do but walk around and explore, throw down a towel, go for a dip, and admire the views.
Escape to Cala Tuent
If you're someone who loves off-the-beaten path travel then make sure to head up to Cala Tuent when you decide to drive to Sa Calobra. The adjacent bay is surrounded by green hillsides, a small pebble strip, and lovely blue water.
It's a gorgeous spot to spend a few hours just relaxing and swimming. There's nothing else here apart from a few hillside houses.
Enjoy Lunch in Cala Deia
One of the best things to do in Deia is to head to Cala Deia for lunch and for an afternoon of beach time. Cala Deia is one of the best and most popular bays on the north side of Mallorca. It's a small rocky beach with stunningly clear water and a couple of restaurants both offering a superb local lunch on the water.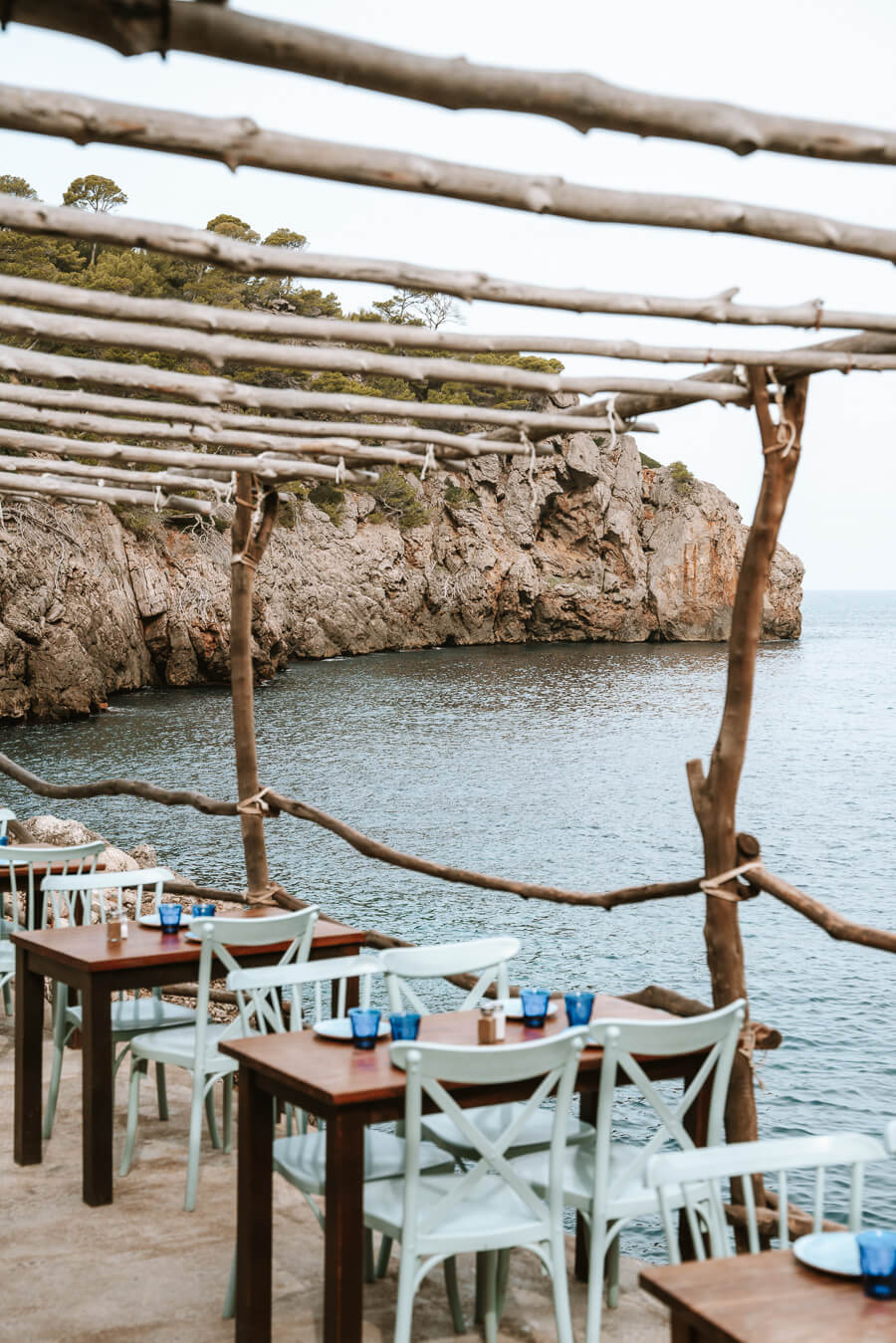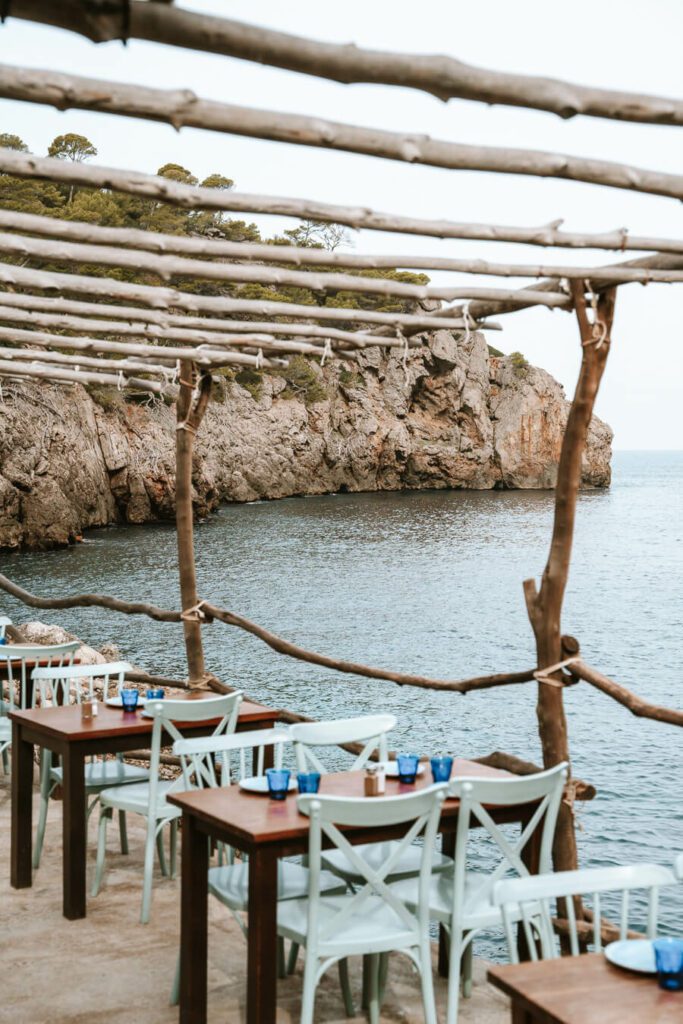 The best restaurant to have lunch at is Ca's Patró March and you'll find it on the left as you descend down to the beach. They serve an array of locally inspired seafood dishes right over the water. The setting is truly beautiful and one of the best meals in Mallorca. Just make sure to book a table in advance as it's very popular.
Go on Retreat at Es Raco
Es Raco is probably one of the most aesthetically stunning properties in Mallorca. Not only that, it's a wellness retreat that aims to connect you with nature and the simple, traditional Mallorcan life.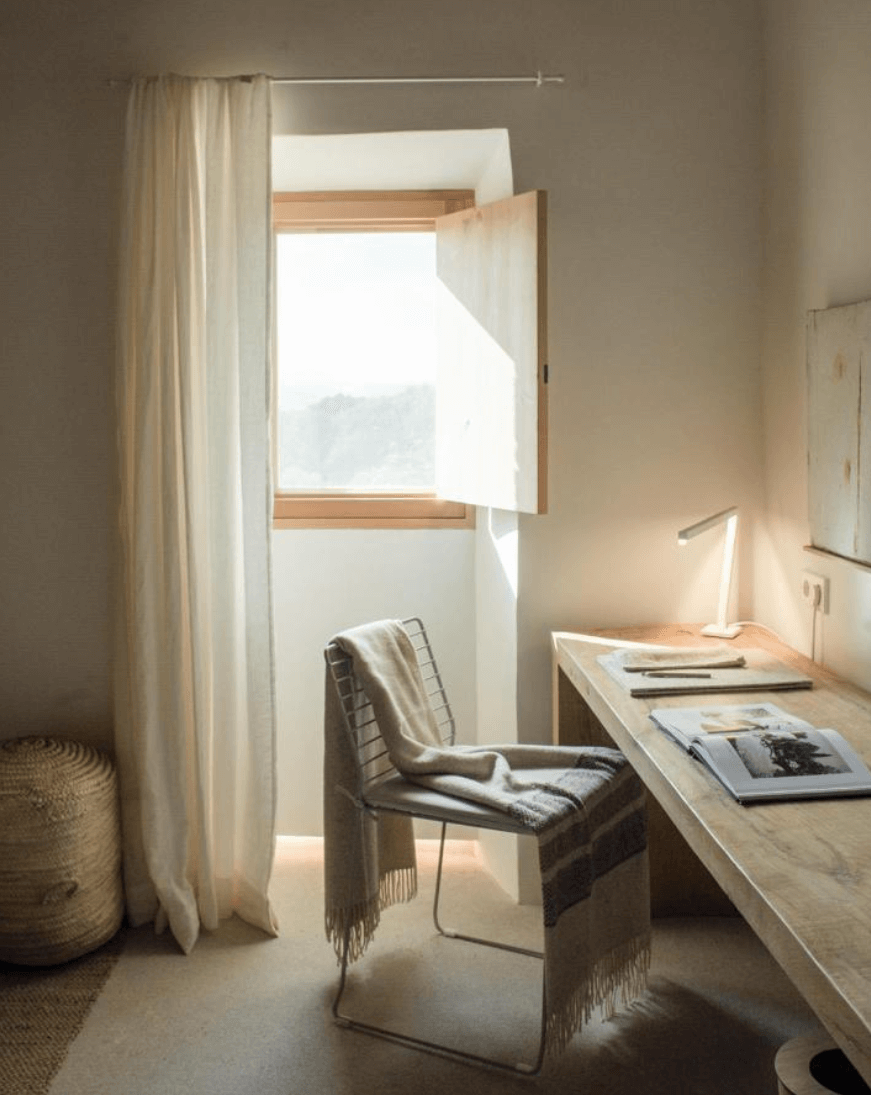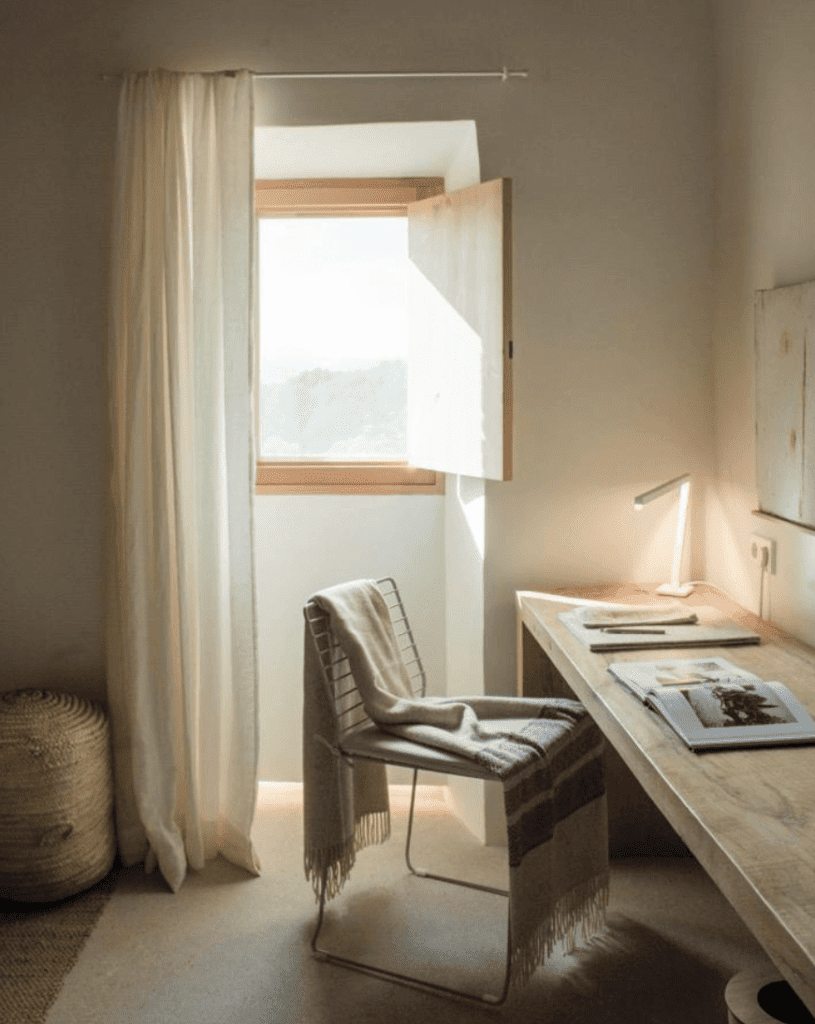 With calming and airy interiors, going on a retreat here really excites the senses. You'll be encouraged to switch off and live a life of connection and peace. There are many places to relax, find space and really retreat.
Their restaurant also provides the most vibrant farm-to-table, local cuisine using seasonal ingredients that are fresh, healthy, and delicious. The on-site spa is something to write home about too.
For anyone looking for the perfect retreat or to take their wellness to the next level don't miss this stunning property and retreat.
Visit Capdepera and Explore the Underrated North East
The North East corner of Mallorca is one of the least visited parts of the island as visitors flock to the cute mountain towns in the north or the beaches in the south.
This eastern side of the island does have some wonderful towns, beautiful beaches, and lovely landmarks to discover. It rewards visitors that make the effort to explore this region.
Some of the best things to do are:
↠Explore Artà, a wonderful little stone town.
↠Explore Capdepera and its majestic castle
↠Visit Capdepera Lighthouse
↠Discover the beaches such as Cala Ratjada, Platja de Ses Cavasses, Cala Mesquida, and Cala Torta
Spend the Day at Platja de Formentor
One of the best beaches in Mallorca's north is the stunning Platja de Formentor. If you're staying in Pollença and you fancy an afternoon at the beach, this is the place to go. With a large expanse of sand and rock, this beautiful bay is perfect for relaxing and a good swim too. The water here is just beautiful.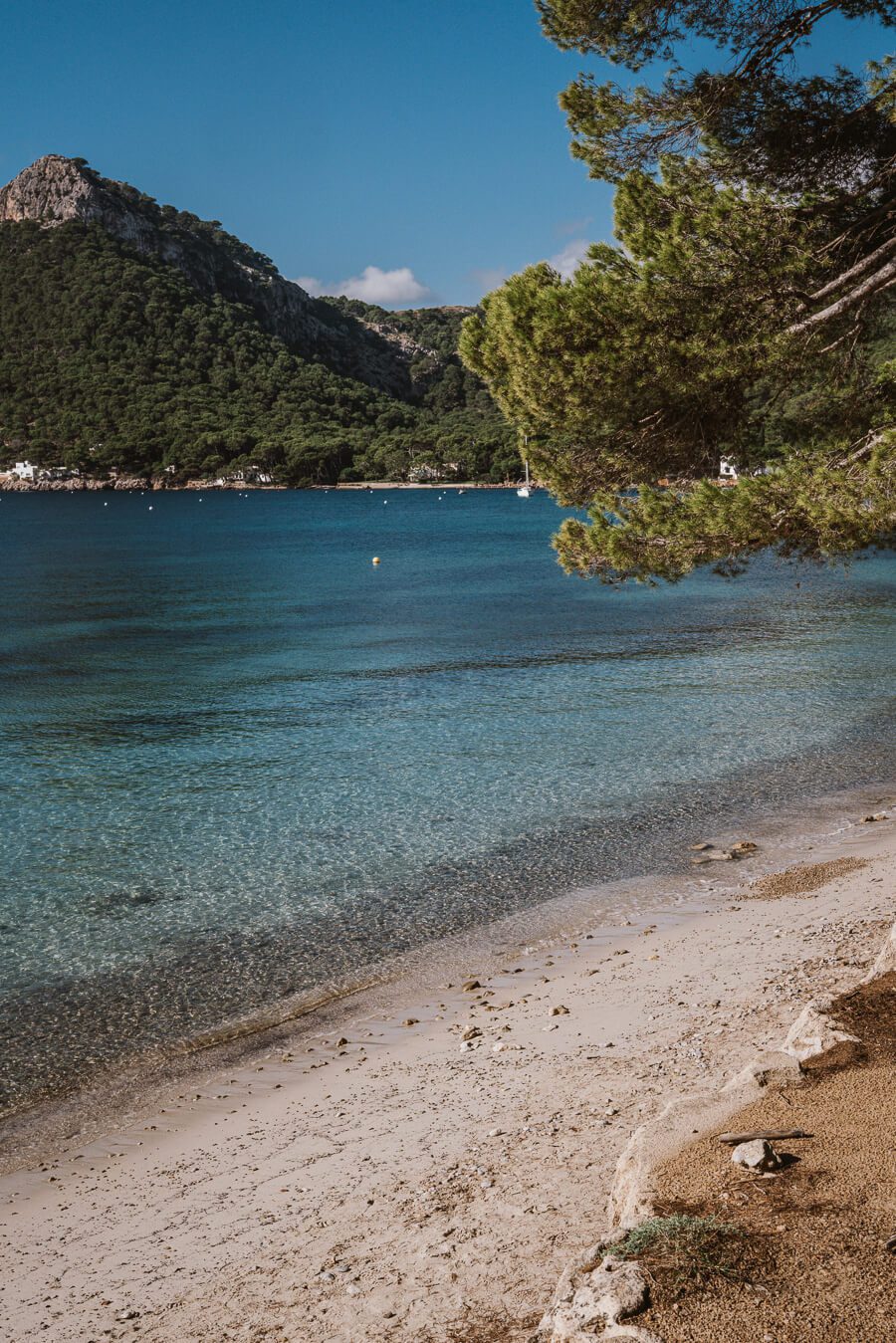 As the beach is very large it's easy here to find a more secluded spot, especially if you're visiting in the high season.
Spend the Morning in Fornalutx
Often voted as the most beautiful town in Spain, Fornalutx really is a treat for the eyes. Located just outside Soller, this stunning mountain town is surrounded by the Tramuntana mountains, verdant olive trees, and blue skies.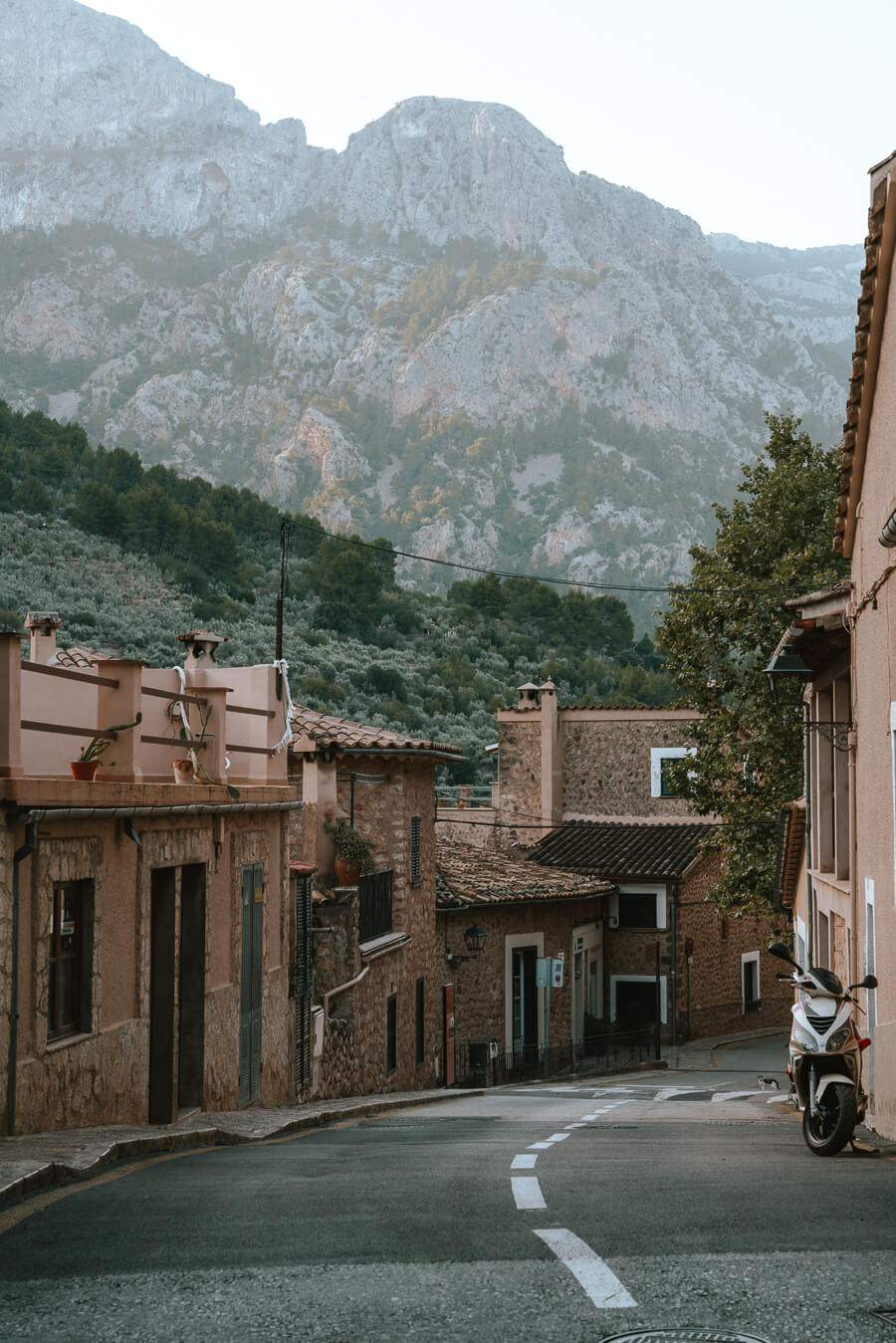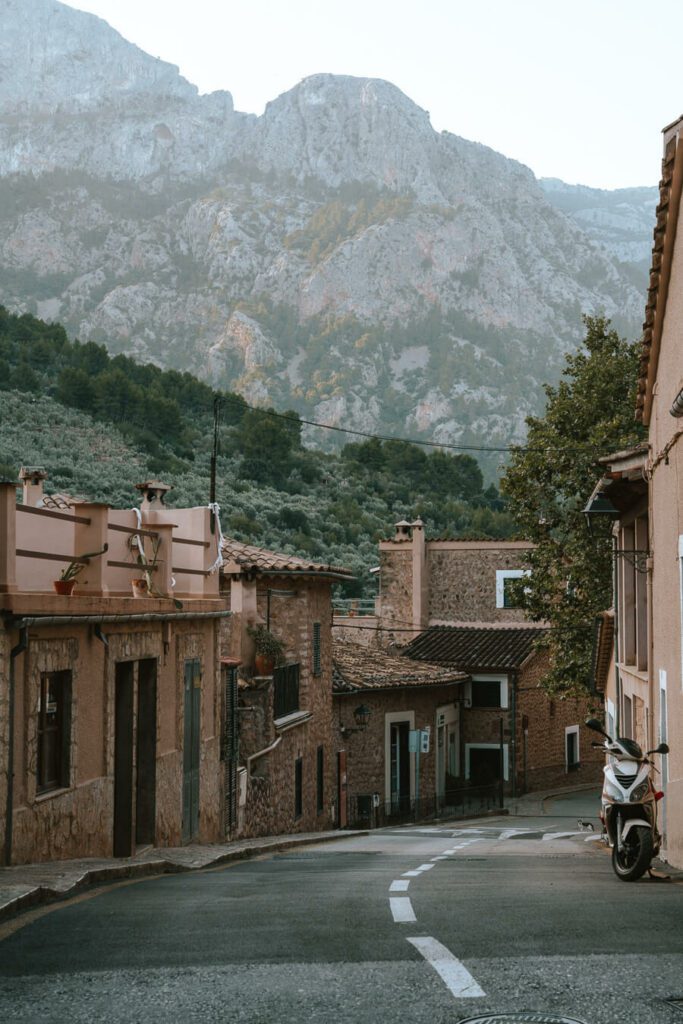 Its buildings, all made with the same local, ochre stone you'll see in Deia and Valdemossa are some of the prettiest on the island.
Fornalutx is tiny and there isn't too much to do here but stroll around, take photos of every corner, and have a coffee or two in the local cafes. Even still, with its lack of things to do, it's simply unmissable- it really is a fairytale village.
For those wanting to make their trip a little more active, it's possible to hike from Soller to Fornalutx on a fairly easy hike that takes just a couple of hours.
Jardins d'Alfàbia
One of the best things to do in Mallorca Spain for nature lovers is to take a detour to the Alfàbia Gardens, a stunning garden located on the road between Palma and Soller.
Visitors to the gardens will be able to experience this former estate and tour the historic Gothic-style mansion as well as its majestic gardens. You'll see rows upon rows of palms, 18th-century water fountains, and old stables.
It's a lovely stop on your way from Palma to Soller and the north of Mallorca.
Make sure to purchase your entrance ticket in advance as queues can be long in high season. Buy your skip-the-line tickets here.
What to Do in Mallorca Spain: Explore Estellencs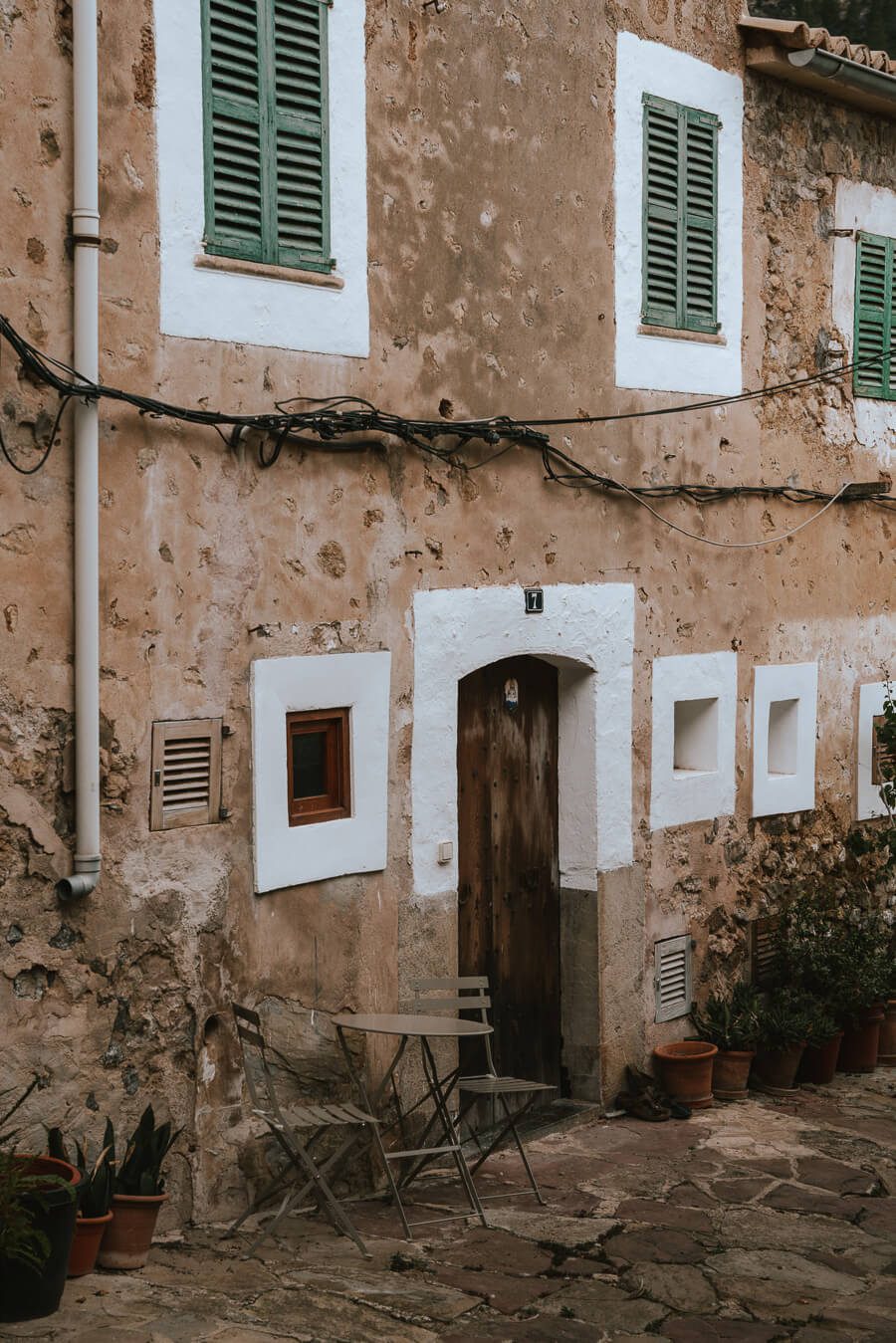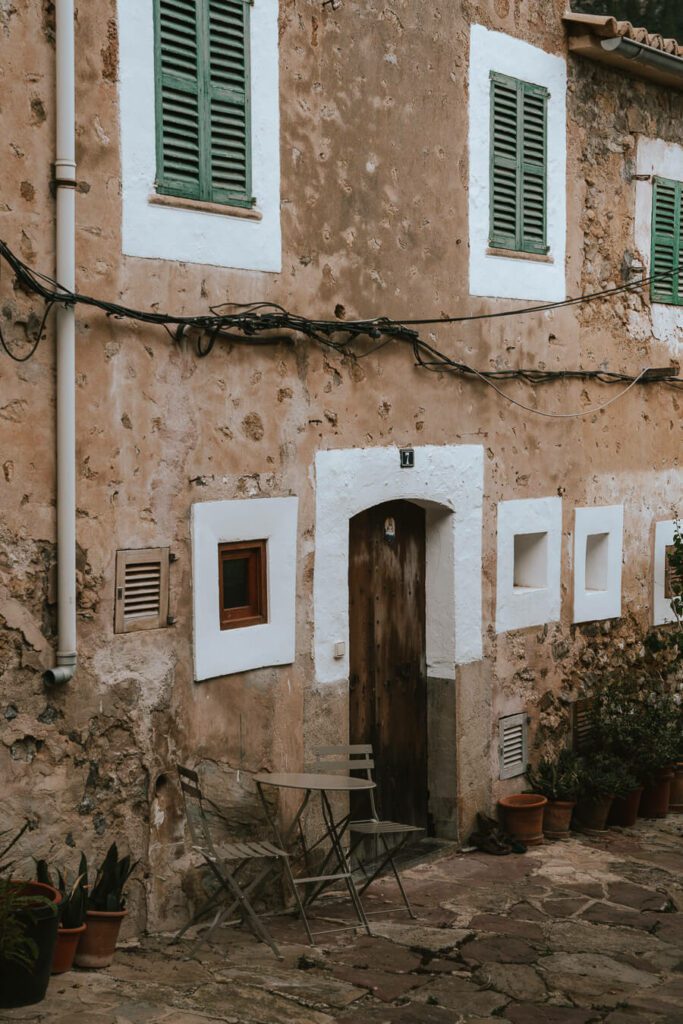 Another beautiful ochre, stone mountain town, Estellencs makes a lovely stop when driving the MA-10- one of Mallorca's most scenic mountain roads.
The tiny town is the start of a couple of different hikes, one of the most popular is down to Cala Estellencs. Otherwise, there's not much to do but hang out in a cafe, check out the town church, Sant Joan d'Estellencs, have a light lunch, and walk around.
Get off the Beaten Path in Felanitx
For some reason, not many people talk about visiting Felanitx and I can't understand why. If you're after a lovely, working, local town in Mallorca, then make sure to visit this little gem.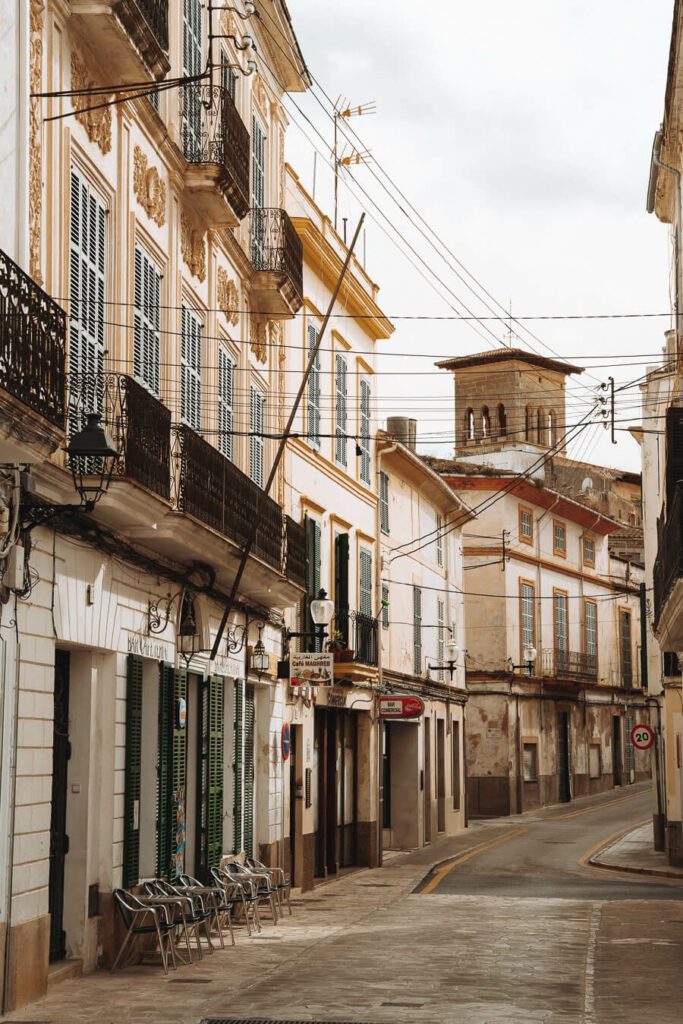 The center of Felanitx is filled with winding stone streets, local businesses, and shops, locals sitting around in cafes, and generally a whole lot of local life. The best thing to do in town is to walk around and explore but make sure to not miss:
↠Carrer Major, the main shopping strip
↠Church of Felanitx
↠Mercat Municipal for all the local products and produce
↠Calvari, a small chapel above town on a hill with lovely views. Find it here.
Have a Beach Day at Cala Llombards
Cala Llombards must be in my top three beaches in Mallorca as, quite honestly, beaches don't get much better than this. Part white sand beach, part rocky cove, there are plenty of spots to throw down a towel and relax.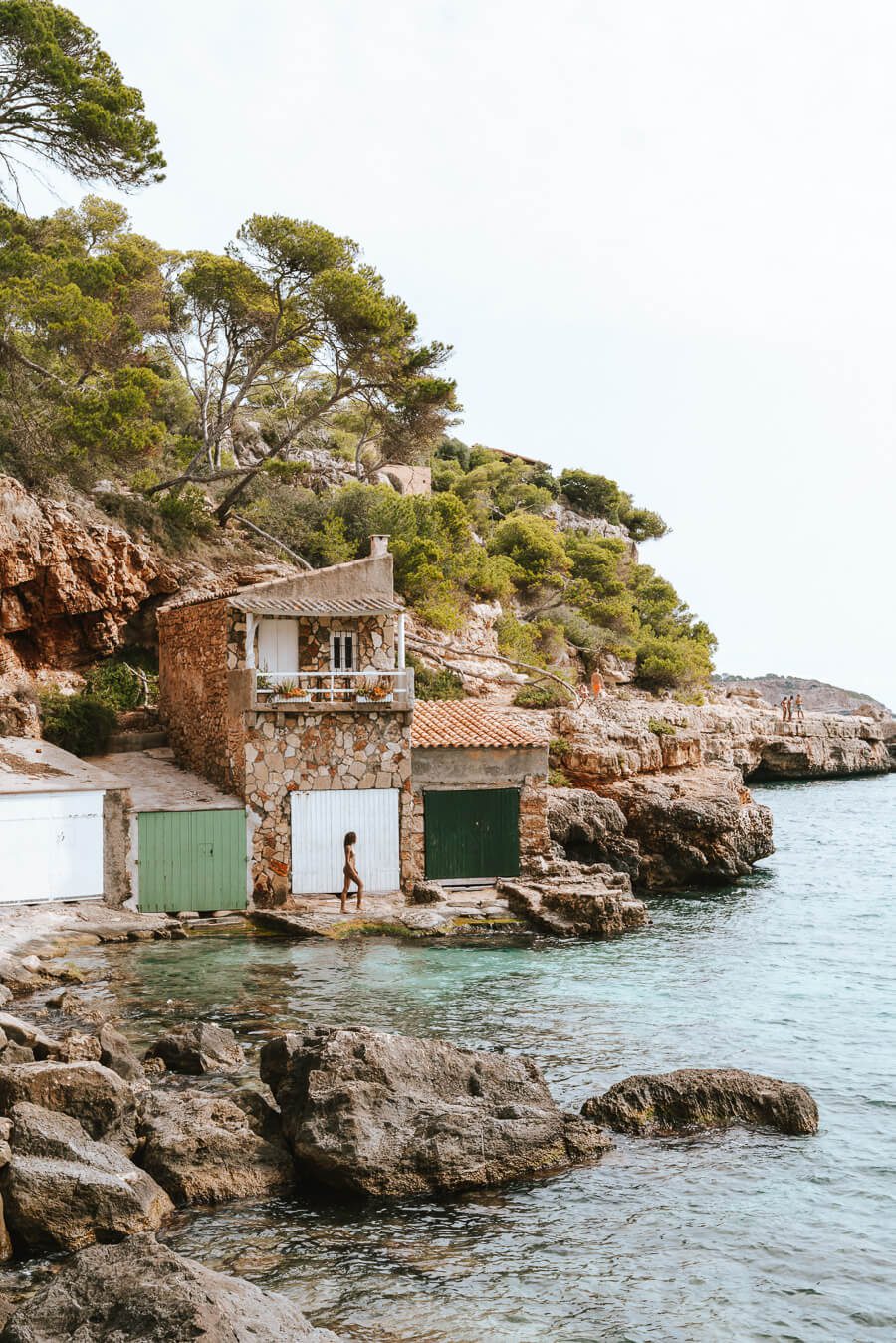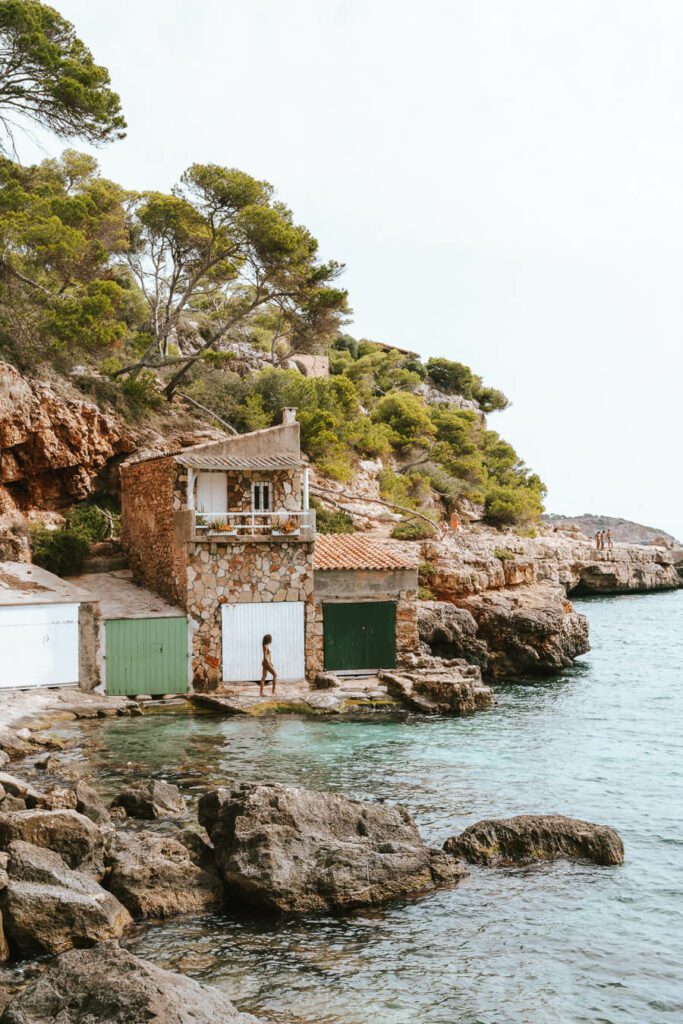 The rocky inlets are great for jumping off into the cool, blue water and the fisherman's houses provide the most aesthetic backdrop. The water here is unimaginably blue and clear. There's also a beach cafe for food and drinks.
Top Tip: Cala Llombards is amazing and it's no secret. This beach gets really busy, especially throughout summer. If you want to make the most of it before the crowds roll in you need to get here early. There's parking right by the beach but it's limited- another reason to come early.
Stay at a Traditional Finca
Fincas or country farmhouses are a very traditional style of a manor house in Mallorca. Traditionally they were used by noble families and their staff and today many of them have been bought and converted into hotels and farm stays or agriturismo.
The best fincas offer a mix of traditional architecture and modern amenities to make stays comfortable and magical. When planning what to do in Mallorca Spain you might want to consider staying at Mirabó de Valldemossa and Finca Hotel Rural Es Turó– two of my favorite fincas.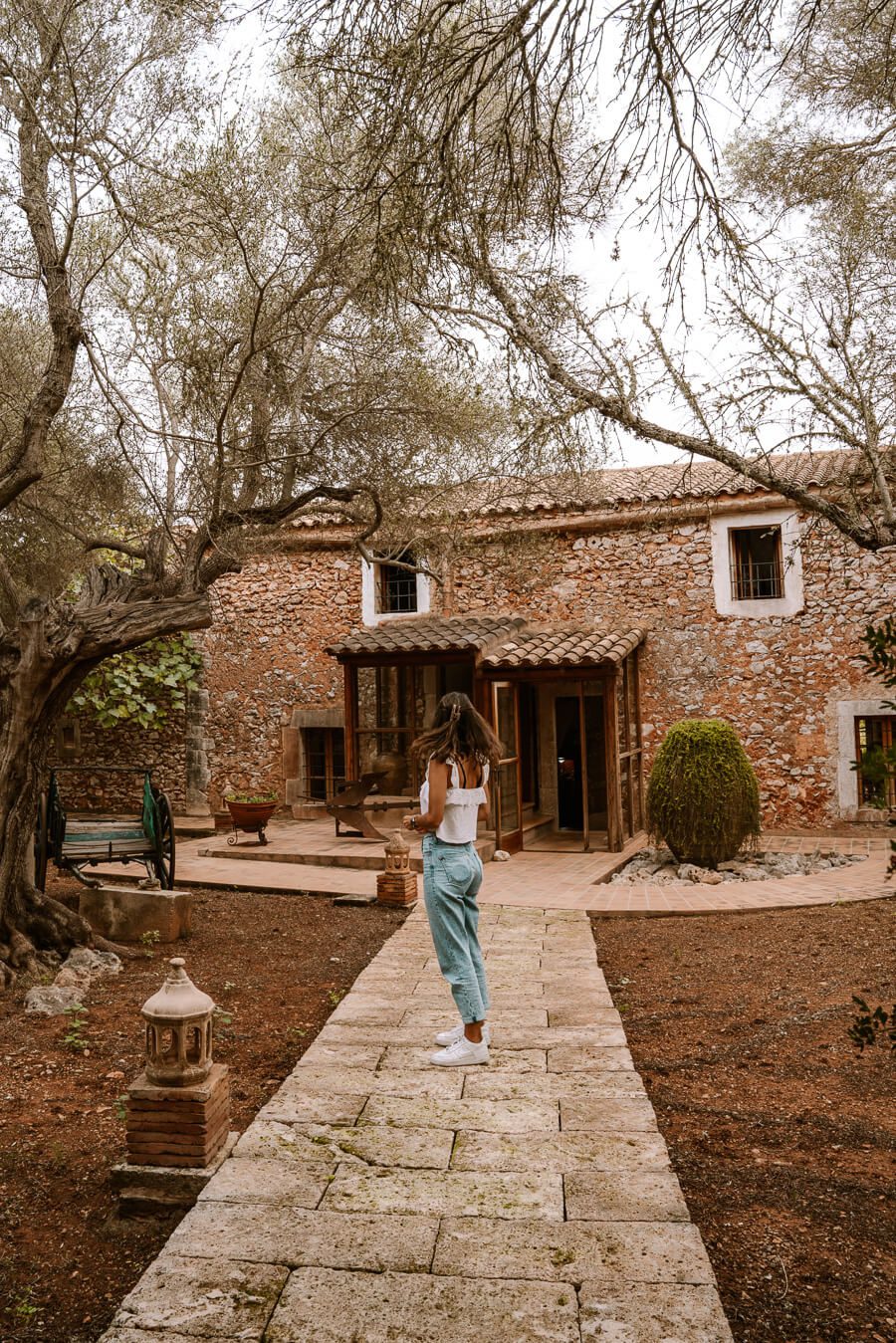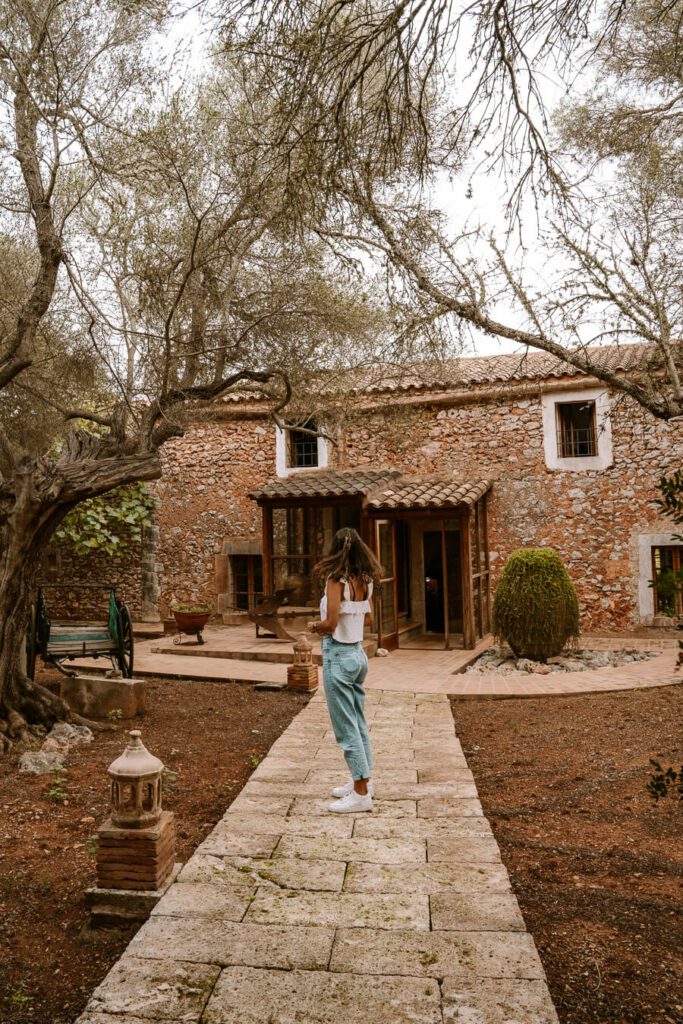 What to do in Mallorca Spain: Take a Hike
Mallorca is a hiker's paradise. With so many great trails located throughout the island, you could easily spend a month here and not hike them all. From short half-day walks to multi-day treks, there's a hiking path for everyone in Mallorca.
The most epic trail on the island is the GR221 or 'Dry Stone route'. It's a well-maintained 90-mile trail that starts in Port D'Andratx and runs to Pollença. It takes about 8 days to fully trek it but if that doesn't sound like your cup of tea you can choose sections of it to hike instead.
Visit Sineu and its Street Market
The inland town of Sineu is one of Mallorca's best-kept secrets. With picturesque streets, a beautiful main church, and a lovely central square, Sineu is a lovely place to visit at any time.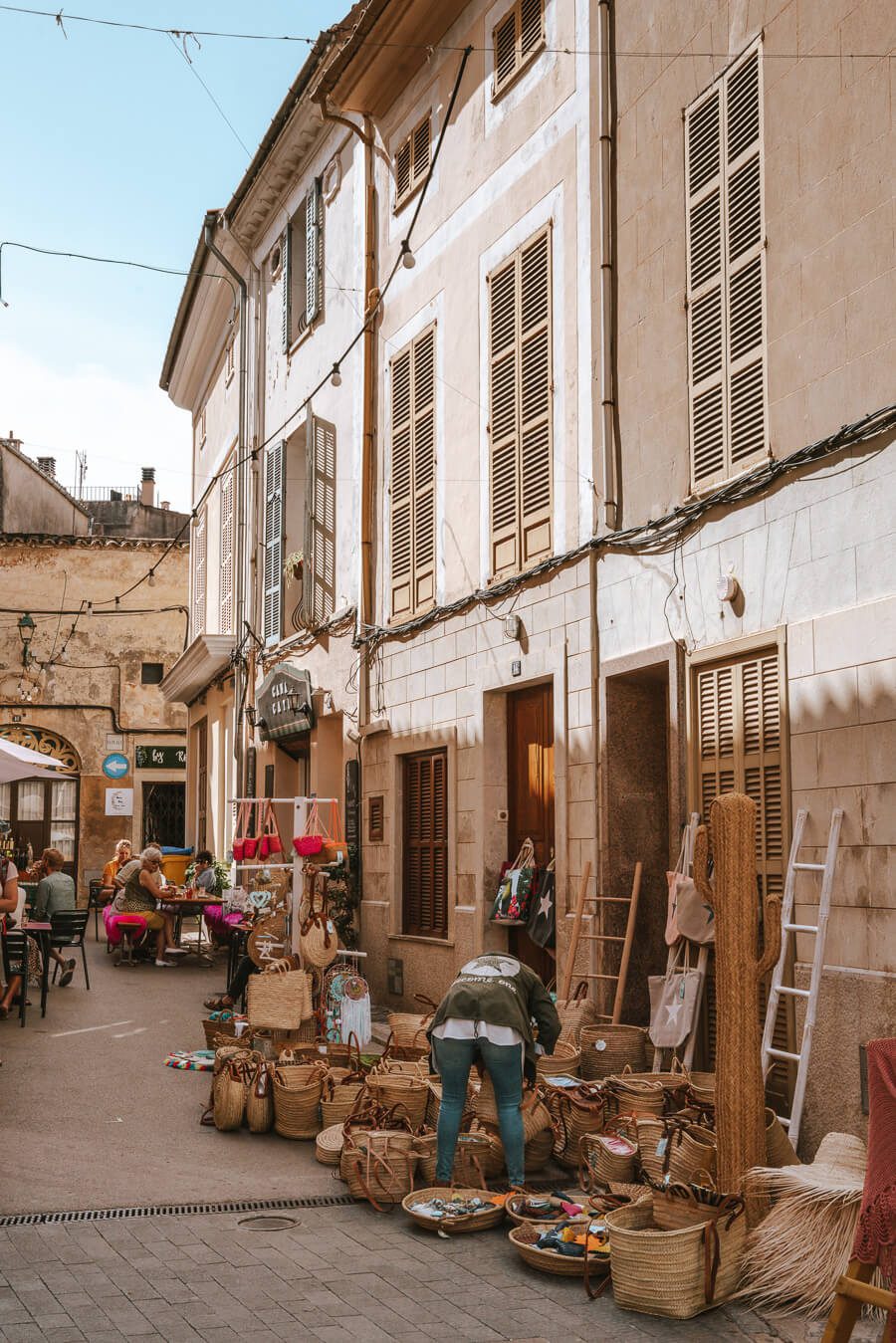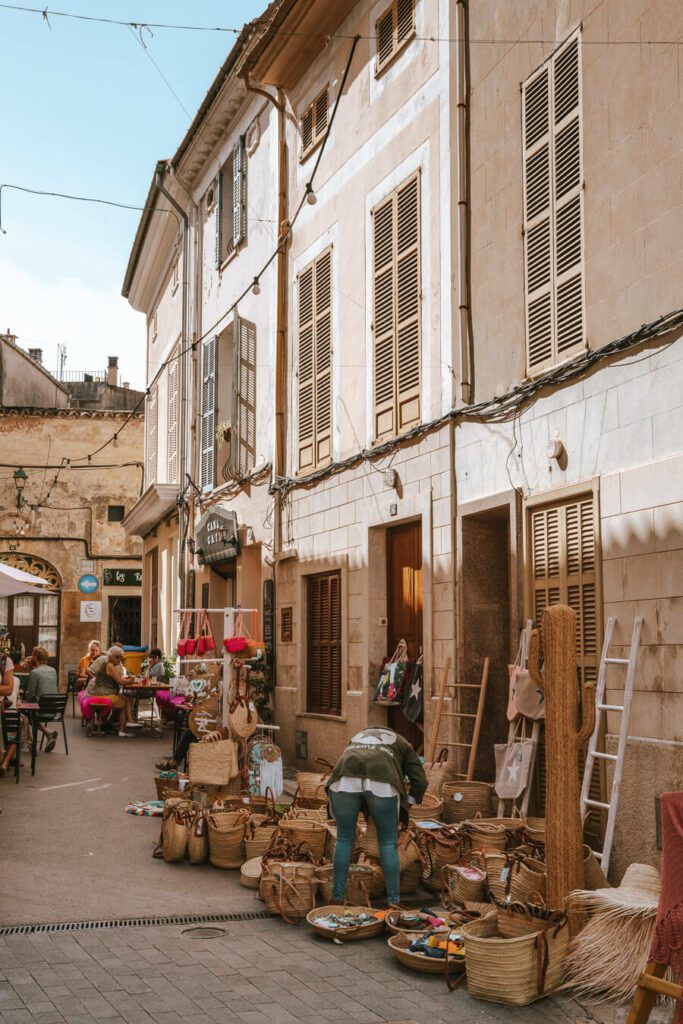 It's on Wednesdays that the town really comes to life however with its weekly market. Trades people come into town from all parts of Mallorca to sell their produce to local residents and tourists alike. Expect a lot of fresh produce and local snacks, farm animals, souvenirs, jewelry, clothes, and many more items.
When planning what to do in Mallorca Spain on a Wednesday, make sure to visit Sineu for a few hours.
Top Tips for Visiting Mallorca
Here are some essential tips to know before exploring Mallorca for the first time. When planning what to do in Mallorca Spain make sure to take these top tips into account.
Car Rental
If you're planning on exploring the island, or at least heading outside of Palma, you'll need a car. While there are some public transportation options that'll take you to places like Soller or Pollença it is overall limited. A car really is essential if you want to go to the beaches.
Luckily car hire in Mallorca is very easy. All the major car rental companies you'll find at the airport making it easy to pick up your ride as you land. You can then head straight to your first destination.
Prices vary between companies. I found that AutoEurope and Discover Cars had the best car rental rates for Mallorca. Check rates with AutoEurope here. Check rates with Discover Cars here.
Other Tips
Siesta Time is a Thing in Mallorca– If you visit a fairly non-touristy town in the afternoon, you'll find almost everything to be shut between 2-6 pm. The siesta is widely observed in some places on the island so try not to go shopping or look for an open restaurant at this time.
It helps to know a little Spanish but it's not essential. English is widely spoken throughout Mallorca.