(Last Updated On: February 17, 2020)
Santiago is Chile's biggest and most bustling city and you'll most probably arrive here at some point while in Chile. Most people stay just a night before continuing onto the Atacama Desert or Patagonia but Santiago deserves a little more time. Whilst it's not London or New York in terms of its sights, eating options and things to do, it definitely has some worthwhile places to visit and is a great place to stay for at least 36 hours.  I've called Santiago home for almost 5 years now and I love its chilled out vibes, the friendly locals, mild weather and delicious wine. If you decide to spend 36 hours in this city and you're stuck with what to do in Santiago, keep reading for the perfect Santiago itinerary.
Here are my recommendations on what to do in Santiago in just 36 hours. I outline things to do, places to see and where to stay and eat delicious plant-based food. 
Just a quick side note before we get to the juicy stuff, I would recommend you stay in the areas of Santiago Centro, Bellavista or Providencia. This way you're right in the heart of the city and closer to the main sights. You'll spend less time on public transport which, in all honesty, is crowded and uncomfortable. Like the rest of South America, things tend to get started quite late here. On the weekends, people don't tend to go out for dinner until 9 or 10pm and the clubs will be empty until about 1am. Lunch is normally around 2pm. On Sundays many restaurants, bars and boutiques are closed.

DAY 1- WHAT TO DO IN SANTIAGO
The historical centre: Plaza de Armas and around
The best way to start in Santiago is by seeing the historical centre. Plaza de Armas is the main historical square of Santiago, founded by Pedro de Valdivia back in 1541. It was here where the first Spanish settlers of Santiago lived. Around it you can find several historical buildings such as the Metropolitan Cathedral of Santiago, the Central Post Office and the Palacio de la Real Audiencia de Santiago. All these buildings are definitely worth a look from the outside and if you fancy, take a look inside the main Cathedral. It's gold and glorious!

From here it's just a stone's throw away to the Museo Pre-Colombino, a brilliant museum, where you can learn about the culture and arts of Pre-Colombian America and Chile before Spanish rule. They have a splendid collection and the artefacts are well-curated and beautifully displayed. This, hands down is my favourite museum in Santiago. 

LUNCH
Head to El Naturisa (Huérfanos 1046). This casual restaurant is completely vegetarian and serves a variety of local Chilean dishes that make your mouth water. It's budget-friendly and every lunchtime they have a daily menu where for a set price you'll get a starter, main, side salad, dessert and drink. 
In the area, there's also New Horizon (Merced 565), if you need an Indian Food fix. It's about 4 blocks to the east from Plaza de Armas but here you can find some great Indian food at a brilliant price. Don't expect European or Indian standards of Indian food but for what's on offer in Santiago, this one is great. A main curry will set you back about $4,000CLP.
AFTERNOON
With energy renewed head over to La Moneda, the seat of the president of the Republic of Chile. It was built in 1784 by Joaquin Toesca and houses the offices of three cabinet ministers: Interior, General Secretariat of the Presidency and General Secretariat of the Government. The palace isn't normally open to the public but you can admire it from the outside. It's huge and takes up one whole block of downtown Santiago. If you're lucky enough you can see the changing of the guard, however that only happens once every two days. You'll have to be really patient.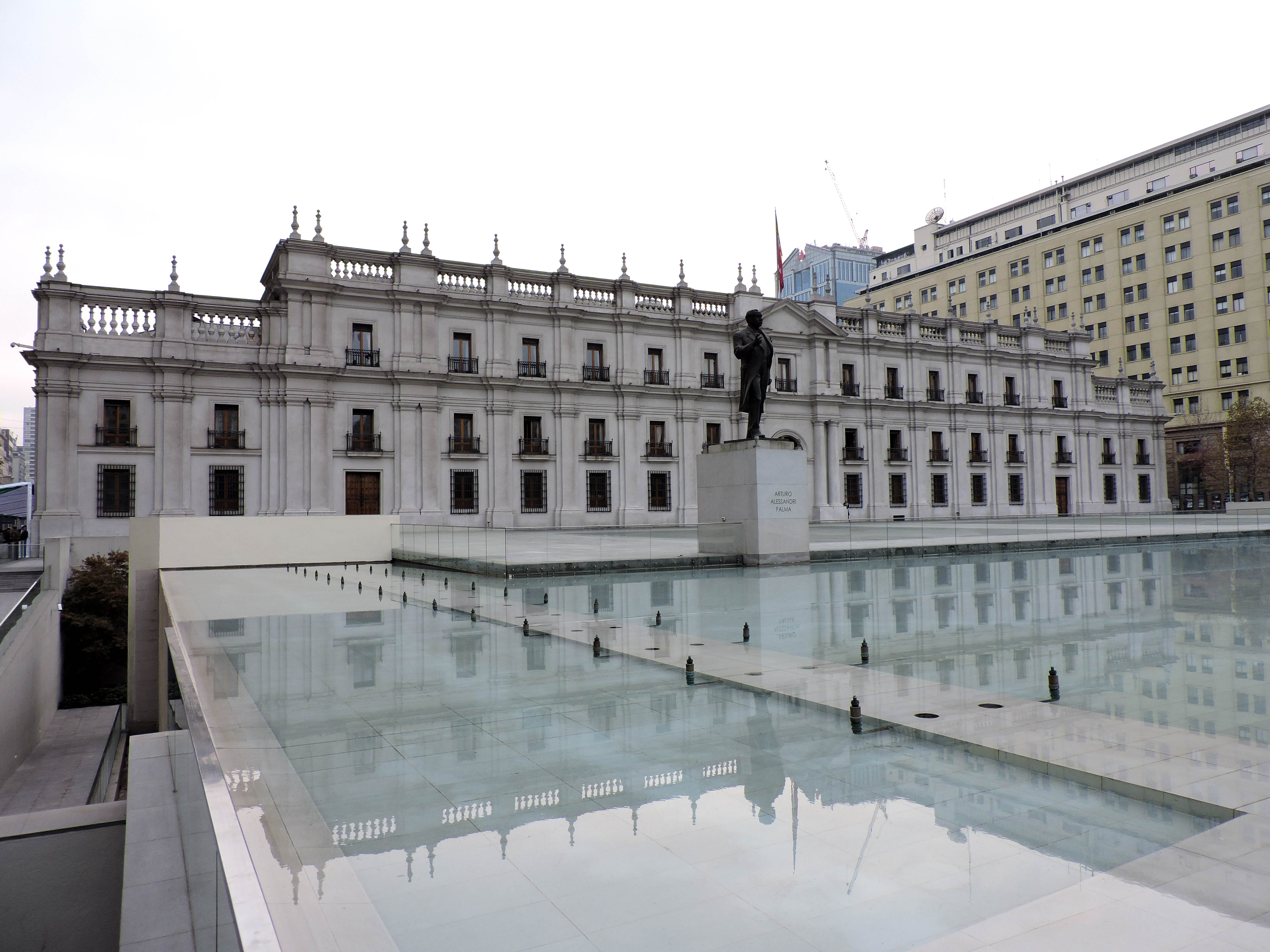 If you're feeling like another museum, then underneath the front square of the palace there's the Centro Cultural La Moneda. This is a modern museum that shows many interesting exhibitions that change every few months. You'll have to check their website to see what's on. (http://www.ccplm.cl/sitio/)

From La Moneda, it's a short metro ride to Santa Lucia, where you can take a gorgeous afternoon stroll on the grounds of Santa Lucia Hill. The hill measures 69m over the surrounding area, meaning that once you reach the top you're rewarded with great views over the city. At the top, you'll also find two forts built-in 1816 to house cannons. Now, with little risk of being blown up, they are pretty structures to walk through while enjoying the views.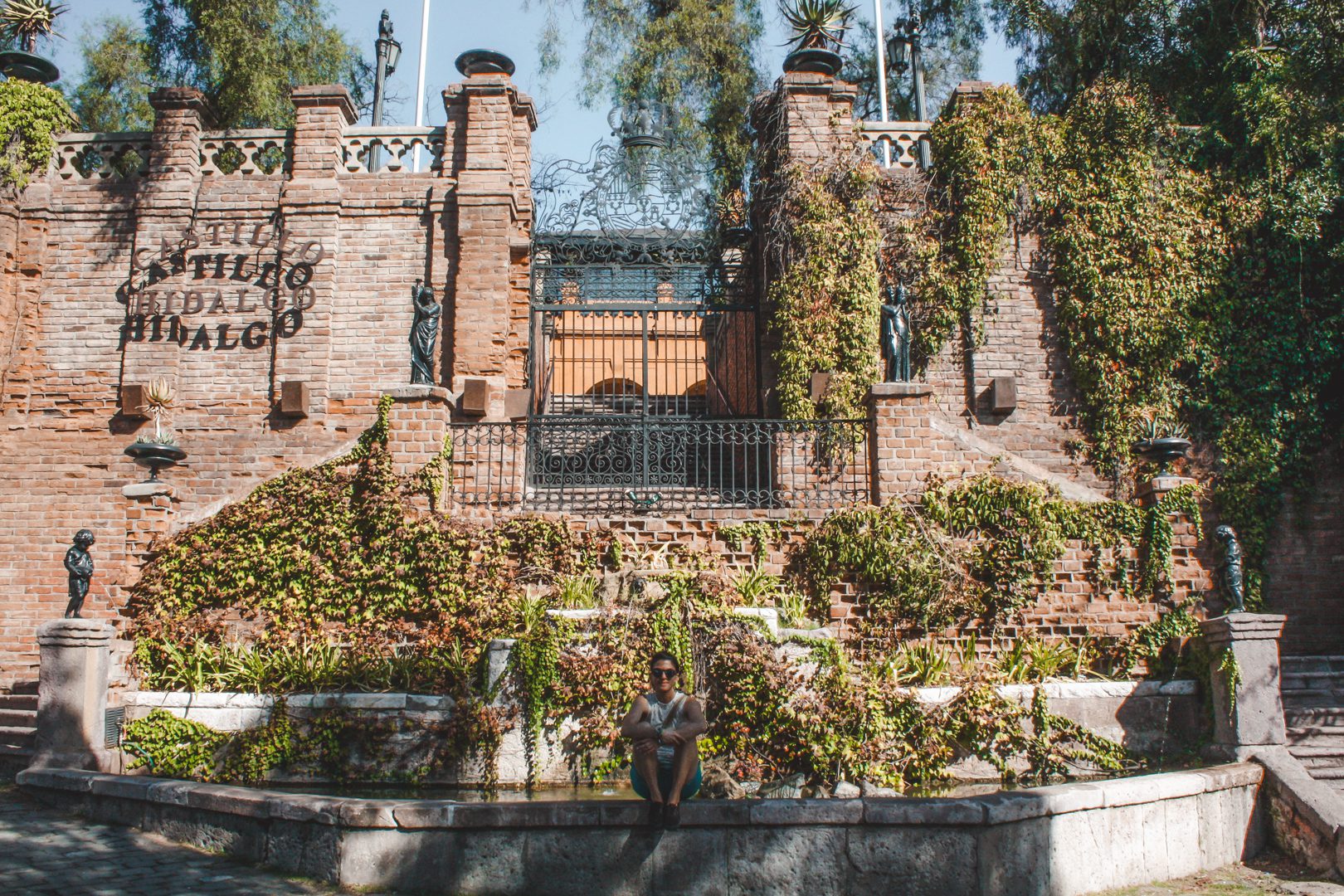 DINNER
For dinner, I'd recommend El Huerto (Orrego Luco 054). This is one of the best plant-based restaurants in Santiago. They have a variety of different dishes from around the world as well as local Chilean ones. Ingredients are fresh, local and staff speak English. I'd recommend the Ceviche de Algas which gives you an opportunity to try Cochayuyo, a Chilean seaweed, I think the English name is Bull weed. They serve kombucha too.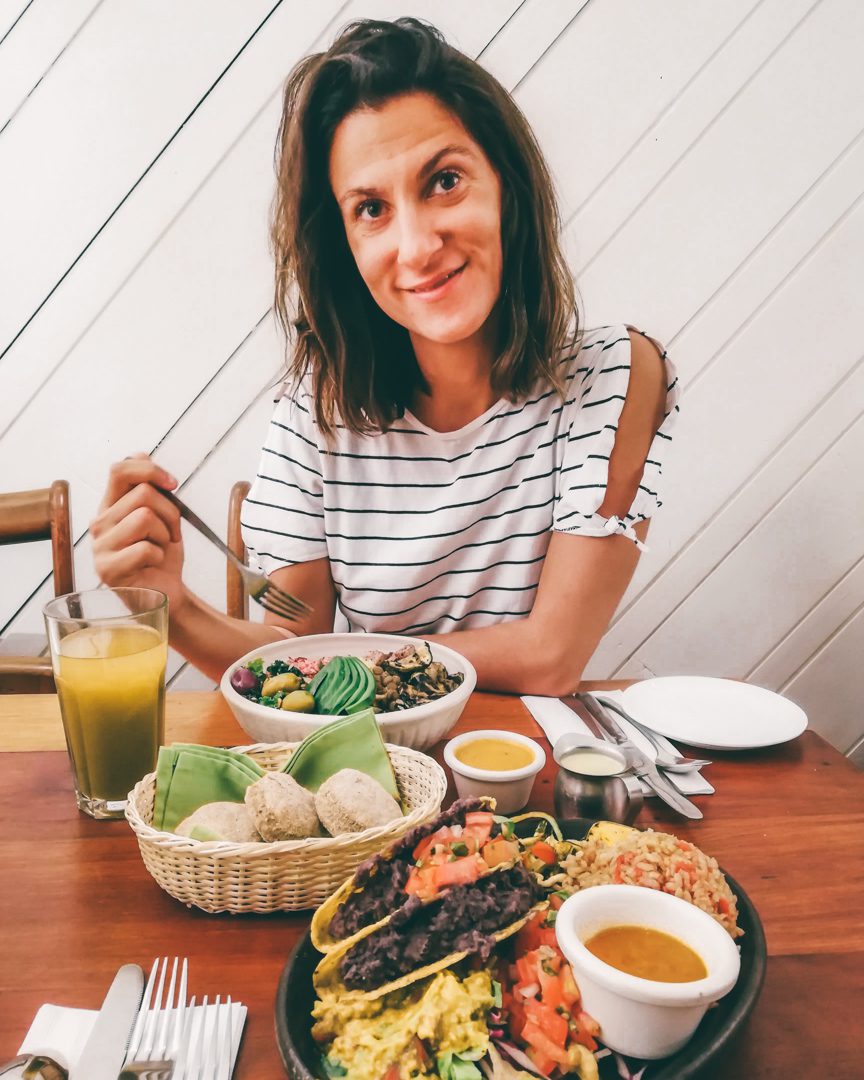 Verde Sazon – (Av. Italia 857, Barrio Italia) is another great plant-based option located in the heart of Barrio Italia, one of Santiago trendiest neighbourhoods. This recently renovated restaurant has a superb and creative menu that beckons to be tried. After dinner, you can explore the neighbourhood for some well-deserved cocktails/drinks.
Planning a trip to the vineyards of the Casablanca Valley? Check out Top Vineyards in the Casablanca Valley, Chile
DAY 2
MORNING
The centre of Santiago can be quite suffocating- all those people, the traffic and high-rises and I often need a little bit of a break from it. Where better to go than Cerro San Cristobal. Now, you may have already noticed a white Virgin Mary sitting on top of a tall hill from the centre of the city. This hill is the home of the Metropolitan Park and it's absolutely huge. It's perfect for strolling, running and even mild hiking. Its two open-air pools are open in summer and are worth a visit if you don't mind crowds.
Walk up to the Virgin or take the 'ascensor', the funicular on the Bellavista side or the cable car from the Pedro de Valdivia side. Religious or not, the walk up here is a great way to get the heart-pounding and the quads burning and at the top, you'll find some seriously Instagramable views over the whole city. If you can get hold of some bikes from your hostel or hotel the ride to the top makes an awesome workout.
(If you are going to walk to the top, try not to stray from the main paths. Unfortunately, I have heard of countless incidences of travellers being robbed on this hill. Avoid taking any valuables with you, stick to the main paths and you'll be fine.)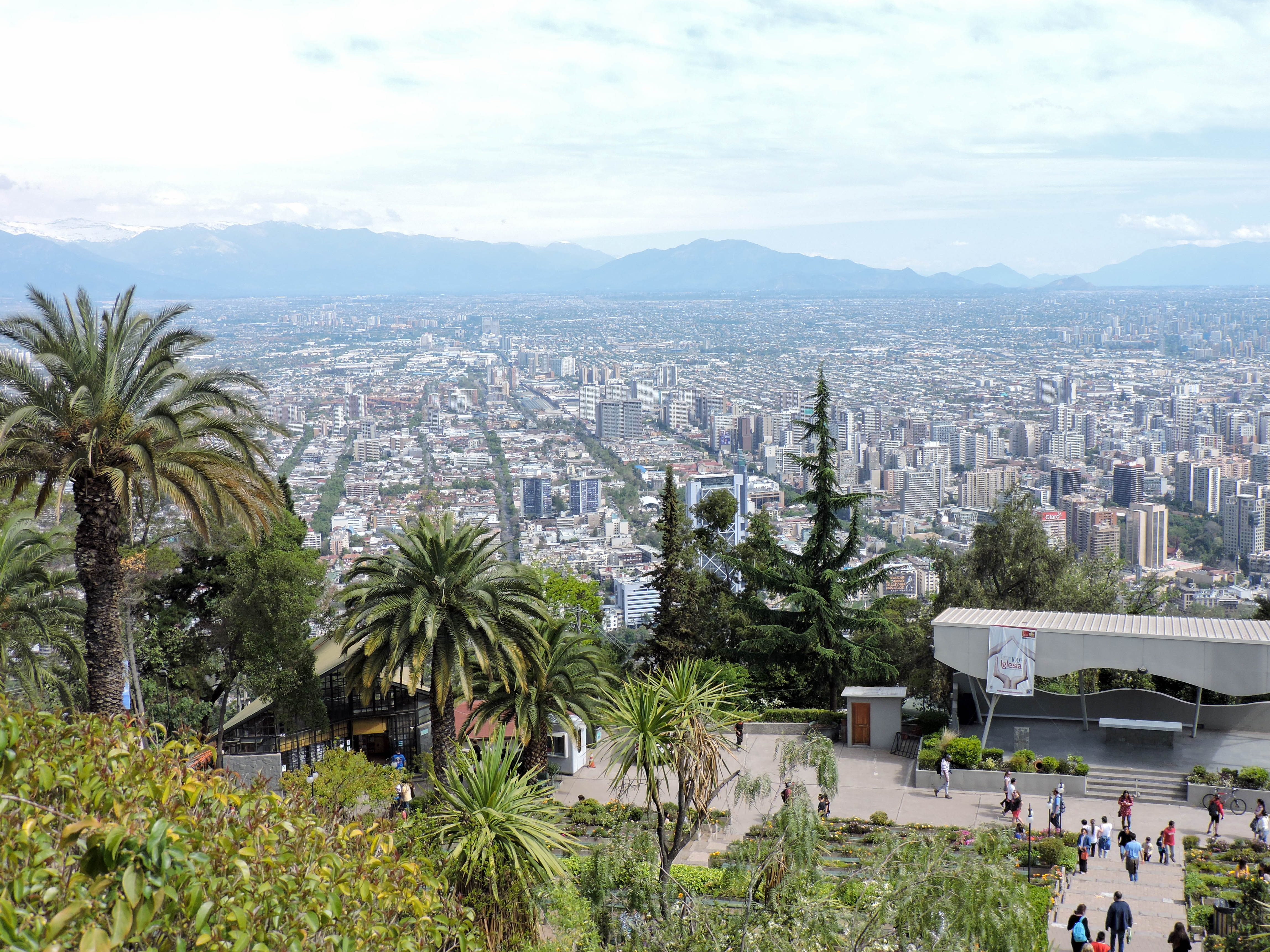 Coming down the hill on the Bellavista side, you're right around the corner from La Chascona, Pablo Neruda's house in Santiago. This was the house he built for his secret lover at the time and you can walk through the rooms where Neruda once worked and lived. A fascinating dive into some Chilean culture and more recent history.
LUNCH
The Bellavista neighbourhood is full of some really great restaurants for all budgets however many aren't really that vegan-friendly. If you're not plant-based then definitely head to Barrica 94. It's not overly cheap but they have amazing meat dishes and wines.
For lunch or actually for brunch I'd head up to Holm ( Padre Mariano 125, Providencia). At the weekends Holm specializes in brunch, served until 4pm. They offer platters of vegan, veggie or meat brunches which include fruit, vegan muffins, their homemade bread, spreads such as lentil hummus and proteins of choice. It's big enough to share and it's incredibly delicious.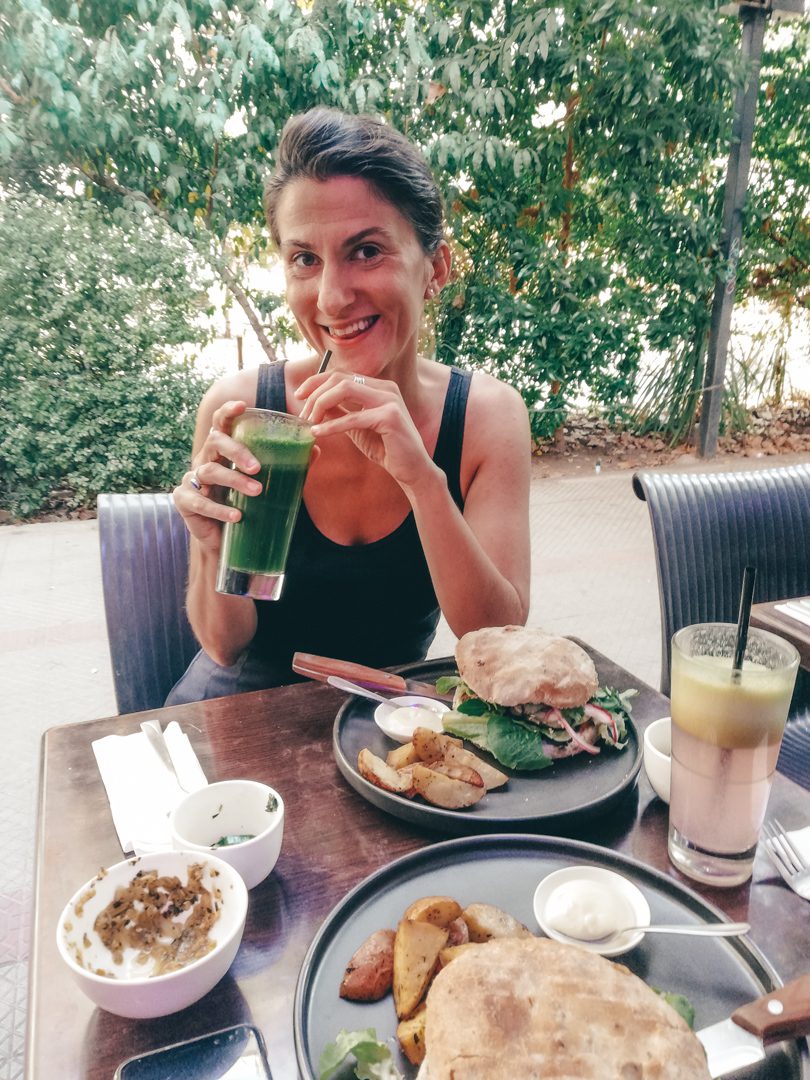 AFTERNOON
In the afternoon, take an Uber to the Baha'i Temple (Diagonal Las Torres 2000). This striking shell-shaped temple is one of a kind in South America and sits right in the base of the Andes. Even though you probably don't follow the Baha'i faith it's a beautiful spot to relax, enjoy the amazing view and see the sun go down. It's got some beautiful gardens and picnic areas surrounding it so bring some snacks and just watch the sun go down.
EVENING
After returning back to the city, I'd say it's definitely time for a Pisco Sour, Chile and well, Peru's famous cocktail. Head to the Lastarria neighbourhood and seek out Chipe Libre – Republica Independiente del Pisco (José Victorino Lastarria 282). This bar/restaurant is probably the best place to have one and they are very cool with you ordering one without the egg white. The food is good too. Done with the pisco and want to check out some great Chilean wine? Hop next door to Bocanariz. This famous wine bar will have you tasting the best Chilean wines in no time.
GETTING AROUND
Getting around Santiago is quite easy once you've got your head around the transport system. The metro system and buses all offer good connections and you can connect from the metro to a bus without paying an additional fare. First, though, you'll need to buy a Bip! card from the kiosk at a metro station for which you'll pay $1,300CLP with a minimum top-up of $1,000CLP. Each ride on the metro or bus costs a maximum of 700CLP, less during off-peak hours. While you can still buy a ticket to get on the metro, buses only work with a Bip! card.
If you do find yourself spending more than just a weekend in Santiago I would also recommend the following:
Museo de Bellas Artes– another good museum full of work by local artists as well as others from around South America, including Diego Rivera, Frida Khalo's husband.
Climb some mountains– why not get some great views while exercising? Head to the foothills of the Andes into the Parque Cordillera. These can be reached by public transport from San Carlos de Apoquindo or La Reina and offer a variety of different treks around the park. Any trek offers stunning views of the city. My personal favourite is the Alto las Vizcachas trek.
See a vineyard – Chilean wine is world-famous not to mention delicious and there are many vineyards very close to the city centre. If you have a whole day to spare I'd recommend a wine tour of the Casablanca or a Central Valley Tour with Travelan Tours, or if you're pushed for time, Santa Rita, Concha y Toro and Cousiño Macul are located at just a stone's throw away from the city and can even be reached by public transport.
Santiago is a one of a kind, beautiful city with so much to offer. The Andes backdrop for the city is always striking and the pink light radiating onto those mountains during sunset is simply stunning. I really hope you enjoy your stay in Santiago and find this guide useful.
---
I would love to hear your thoughts on what to do in Santiago. If you've spent 36 hours in Santiago recently let me know! Please comment below, and let me know if you have any questions.
Related posts you might like:
Chile Tours | The Perfect Tour of Chile's Central Valley
A Short Guide to Valparaiso Chile
Top Vineyards in the Casablanca Valley
Is it Safe to Travel to Chile in 2020?
LIKE IT? PIN IT FOR LATER