(Last Updated On: March 19, 2020)
The immune system is your body's defence against, viruses, disease and infections. The stronger your immune system the easier it will be for you to get over colds, flu and various other viruses or infections. A strong immune system keeps you healthy, out of the hospital and keeps allowing you to live your days to the maximum. This is nothing new though, you already knew this.
What we eat has a drastic effect on our bodies as our immune systems are built and strengthened through essential vitamins and nutrients we consume from food. In short, the healthier you eat, the stronger your immune system will be. So, what does healthy mean exactly? It means a diet based around fresh and natural foods, fruits, vegetables, legumes, grains, nuts, seeds, a diet rich in minerals, nutrients and vitamins and rich in colour.
One of the most delicious ways to boost your immune system is by consuming smoothies. They pack in many portions of fruit and vegetables in just one serving and they are full of essential nutrients that support the body's functions.
So why is this smoothie so special in boosting the immune system? Well, it's all about the ingredients.
↠ Kale/Spinach – Kale is high in Vitamin C, A and K which boosts the immune system, dietary fibre for a strong, speedy digestive tract and protein and folate to keep the body strong and in good repair.
↠ Cucumber – Composed of mostly water, cucumbers are great for hydration, filling the body with important electrolytes. They are also full of antioxidants, helping to repair and rejuvenate the body.
↠ Pineapple – Pineapple has some of the highest Vitamin C content of all fruit, making it perfect for anyone who wants to boost their immune system. It also contains manganese, a mineral that helps to maintain a healthy metabolism. They are also full of disease-fighting antioxidants that help the body cope with stress and inflammation.
↠ Banana– High in potassium, fibre, Vitamin C and B6. They are also great for adding a creamy texture to any smoothie. 
↠ Ginger– Immune boosting gold. Since ancient times ginger has been used to settle the stomach, relieve flu, easing pain and reducing inflammation. Ginger is also thought to have antiviral, anti-inflammatory and antibacterial properties. It's definitely something you want to be consuming during today's COVID-19 crisis.
↠ Turmeric – The power of turmeric is still a mystery for many scientists but it's thought to be one of the best foods on the planet for fighting disease and strengthening the immune system. Turmeric shares many health benefits with ginger but it also contains Curcumin, which has powerful anti-inflammatory and antioxidant effects. Curcumin isn't easily absorbed into the bloodstream though, so we have to add black pepper, which contains piperine, a substance with aids the absorption of curcumin.
↠ Honey – local raw or manuka honey contains antibacterial properties that, before the invention of antibiotics were used to treat a variety of bacterial problems. If vegan, substitute the honey for maple syrup or agave or simply leave it out.
Looking to upgrade your high-speed blender? Check out mine on Amazon.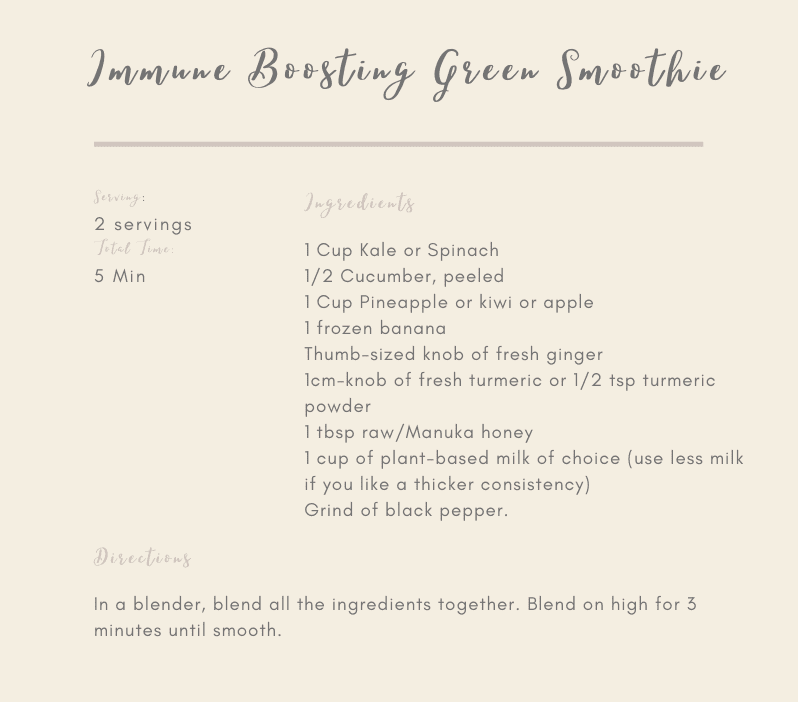 Let me know how you liked this immune system green smoothie in the comments below, I'd love to hear from you.
Related posts you might like:
Everyday Healthy Nut & Seed Granola
Plant-based travel: Top Tips for Getting Enough Protein
Quick and Easy Baked Sweet Potato Recipe
LIKE IT? PIN IT AND SHARE