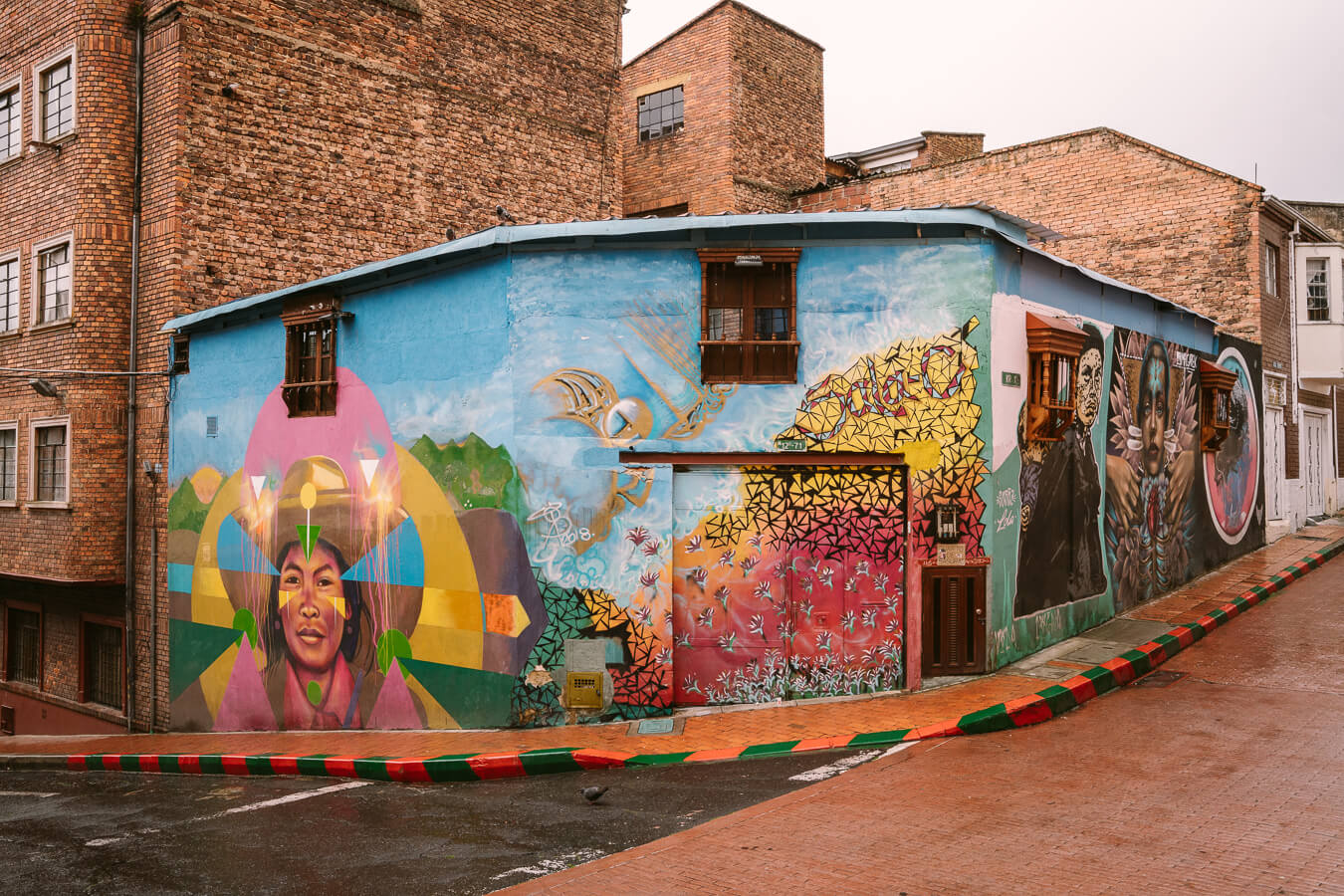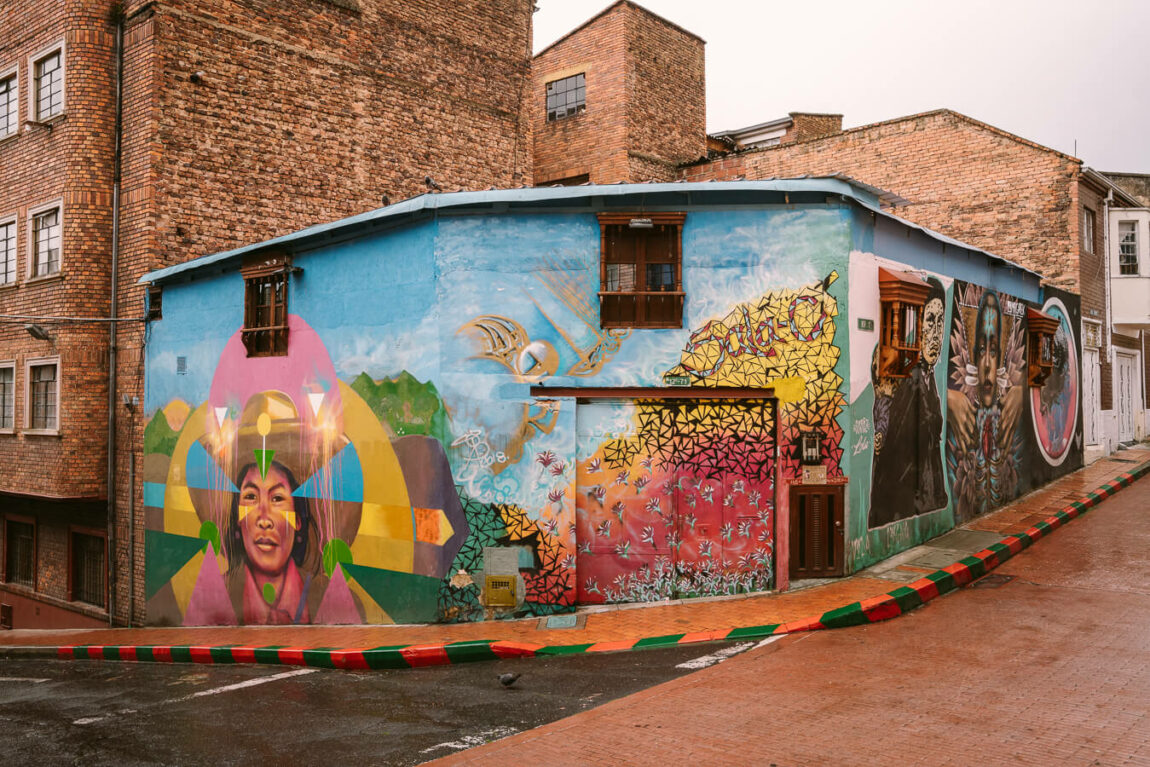 The Very Best Things to Do in Bogota Colombia
(Last Updated On: May 2, 2022)
Discover the best things to do in Bogota Colombia from top sights to great restaurants and cafes for the perfect stay in the city.
Bogota, the capital of Colombia boasts interesting and unique things to see and you'll always be able to find tons of things to do in Bogota. From marvelling at Latin America's largest gold collection to observing the city from above, Bogota is rich in culture, restaurants, bars and of course cafes serving Colombia's best coffee.
Bogota is a pivotal city to visit to learn about Colombia's history and culture before continuing on with your itinerary to see the rest of the country. Here you can sample some of the best coffee in the country, eat at the best restaurants for only a fraction of the price you'd pay in the US/Europe and shop for some of the best souvenirs and crafts in South America.
While the city itself is big, you probably only need 2-3 days to see and experience the best things to do in Bogota Colombia well but I would highly recommend including it on your Colombia itinerary.
*This 'things to do in Bogota Colombia' post contains affiliate links meaning I might make a small profit if you choose to book at no extra cost to you. This helps me to keep providing you with top quality content for free.
GET IN
Plane: When arriving in Colombia you'll most probably arrive at Bogota's El Dorado International Airport. From here it's about an hour's ride to the center of the city. From the airport, it's best to take an official taxi or organise an airport transfer ahead of time through your hotel. A taxi to the center from the airport will cost about 50,000 COP. A taxi from the center to the airport costs about 30k
Bus: If you're arriving in Bogota from other parts of Colombia then there are quite a few bus stations you could arrive at depending on your origin. Generally speaking, bus stations in Colombia are located quite far away from the city center. The best way to continue to your hotel is by taxi or Uber.
GETTING AROUND
Uber: Uber works well in Bogota just be mindful of the fact that it's still illegal there and for this reason, drivers might ask you to sit upfront or to explain you are so-and-so if pulled over by the police (there are many police checkpoints around the city). If you're going to the airport make sure to take a taxi and not an Uber as they are not authorized to go into the airport so they'll leave you on the side of the road near the airport- not ideal if you have lots of luggage.
Also, we found that Uber prices were quite elevated in Bogota compared to taxis, especially during some peak times so make sure to check the fare on the app as well as with a local taxi driver. On one trip Uber quoted us 12k, we went with a local taxi in the end and it ended up costing 6k.
Taxi: A great alternative to Uber in Bogota is local taxis which are inexpensive and available on every corner. They generally use a meter but it's always a good idea to ask about the estimated price you'll need to pay. A little basic Spanish does help when taking taxis, however as most of the drivers do not speak English.
Public Transport: In general we didn't use public transport when in Bogota as taxis and Ubers are very inexpensive. There is currently no metro in Bogota but the city does have an extensive bus system. Feel free to try to work it out.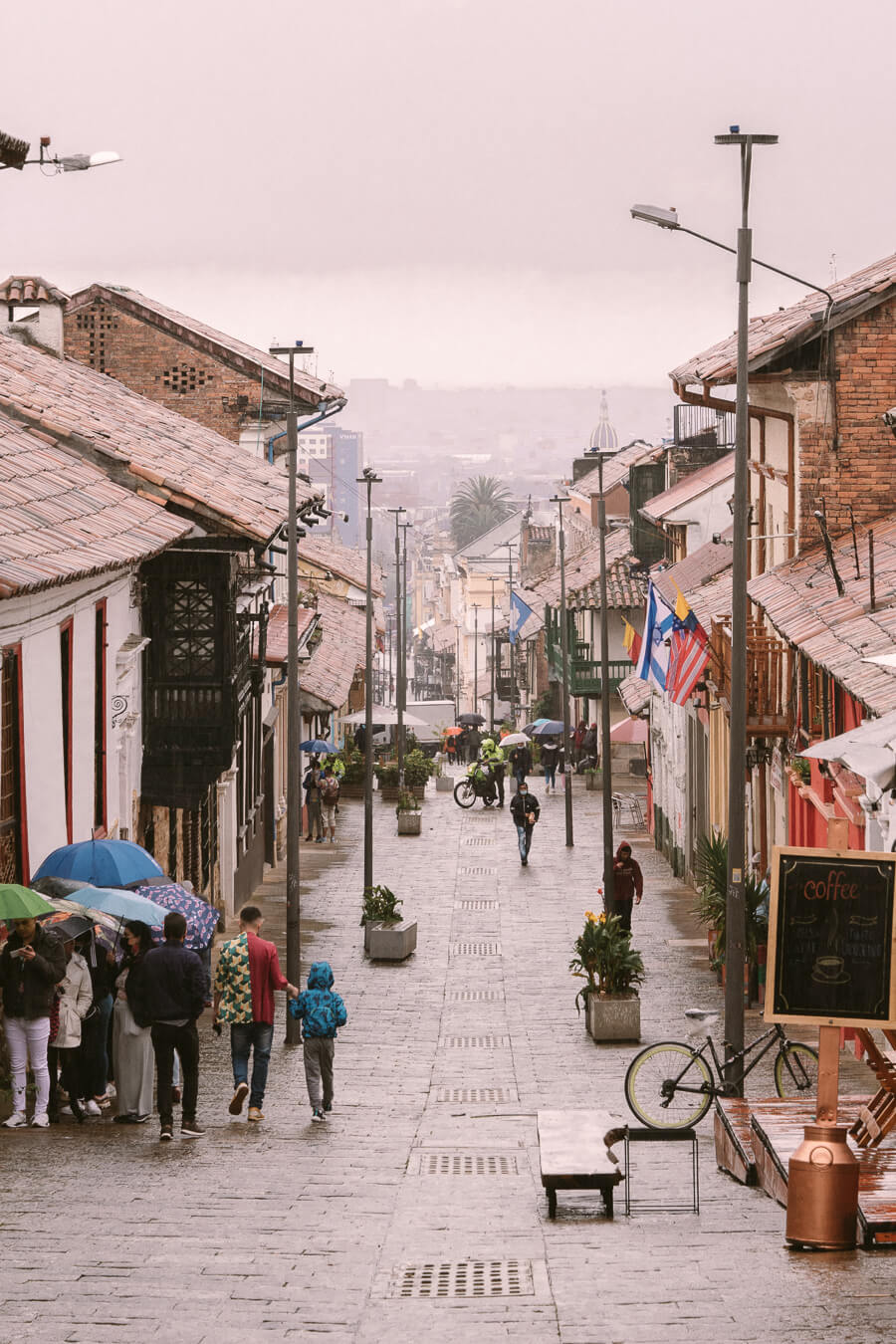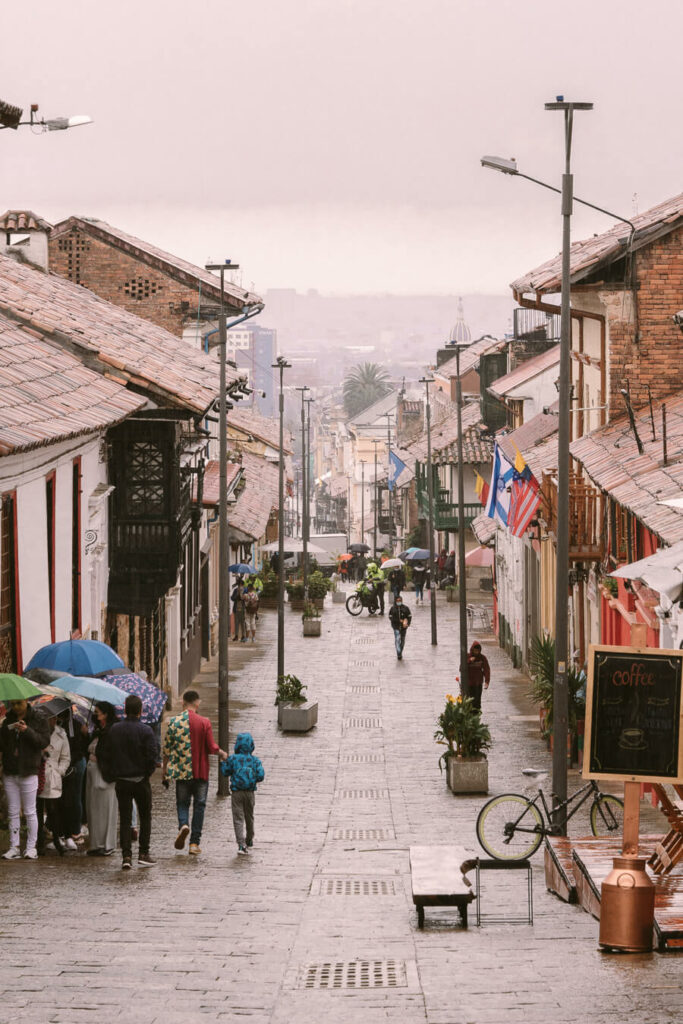 WHERE TO STAY
To experience all the very best things to do in Bogota Colombia you'll need somewhere to stay. Bogota has many different neighbourhoods that have different things to offer the modern traveller. Generally, most 'sights' and points of interest are in the center of the city, in and around the area of La Candelaria. This area is quite old and charismatic but it is shady at night.
Further north, you have the neighbourhood of Chapinero and then Chicó and Usaquen which also make great bases. Those neighbourhoods are generally pretty safe.
Chicó and Usaquen are great, upscale neighbourhoods of Bogota full of green spaces, luxury hotels and great restaurants and cafes to relax in. They are also the city's safest neighbourhoods. From here, however, it is quite a ride to the center to visit most of the 'sights' Bogota has to offer. An Uber will take you about 40 minutes to the center depending on traffic.
La Candelaria is probably the most popular place to stay for first-time travellers to Bogota. Here you're close to all the city's main sights as well as many cafes and restaurants and bars. Just be aware that this area isn't the safest at night so make sure to take an Uber when moving around here and don't walk around alone late at night. During the day the neighbourhood is fine and there are generally no issues.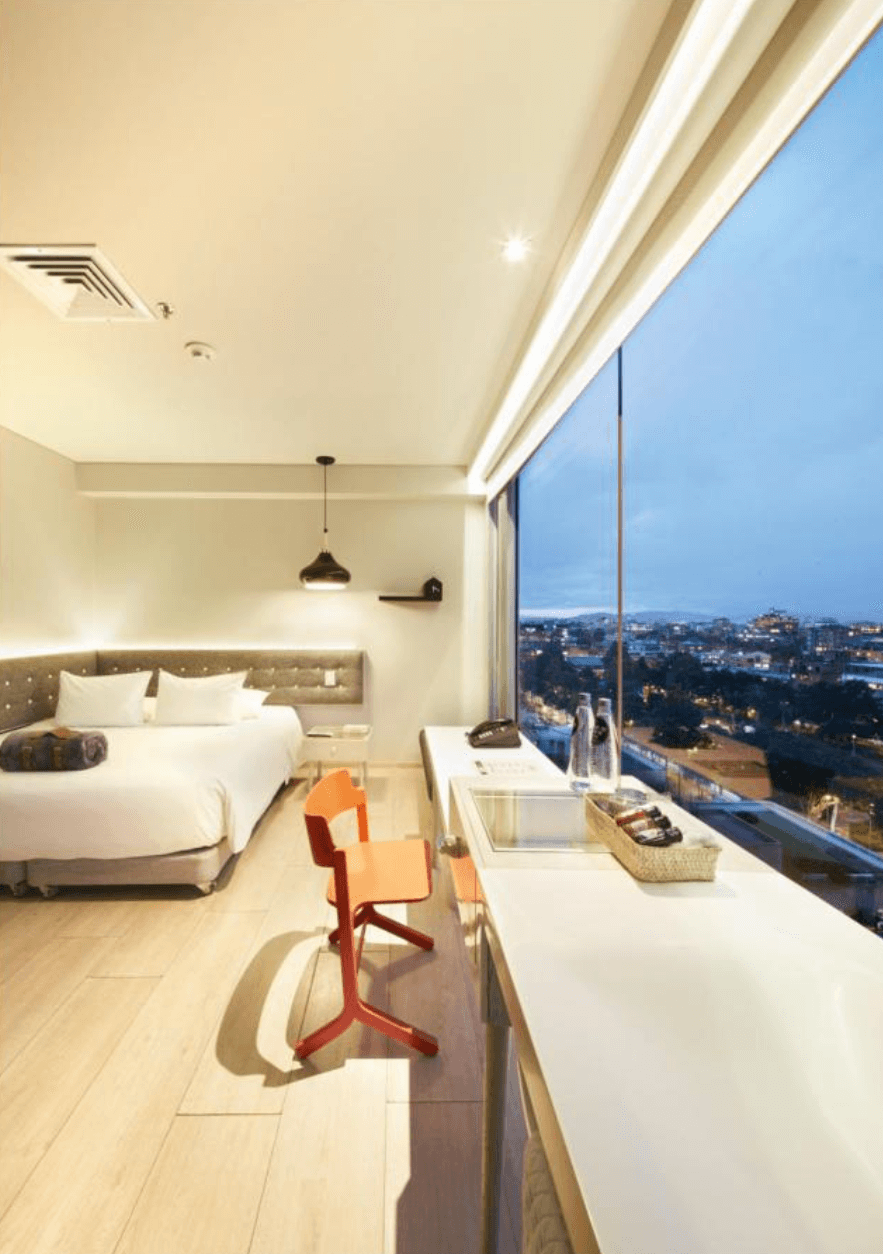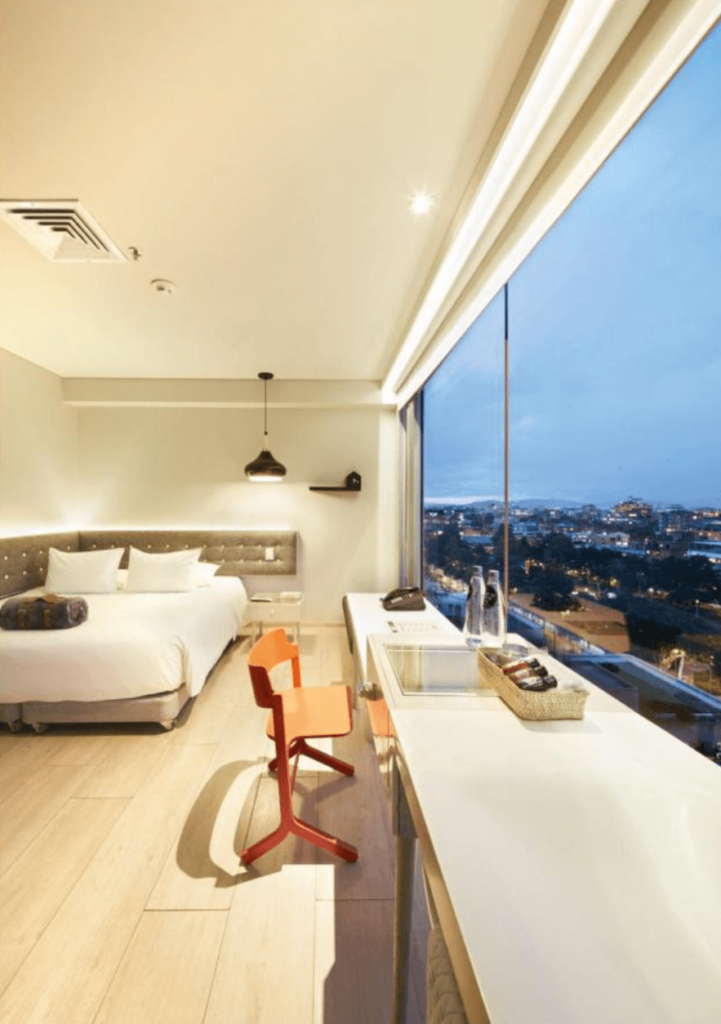 Easily one of Bogota's finest, trendiest hotels, the Click Clack has everything you need for a perfect stay in Bogota. Located just two blocks from Parque 93 in Bogota's Chicó neighbourhood, this hotel boasts trendy and beautifully decorated communal spaces and rooms.
Rooms are light, bright and airy and most of them have beautiful views of the city. Their cafe also focuses on serving delicious, healthy breakfasts each morning. Make sure not to miss the rooftop bar with even better views of the city.
Check rates and availability here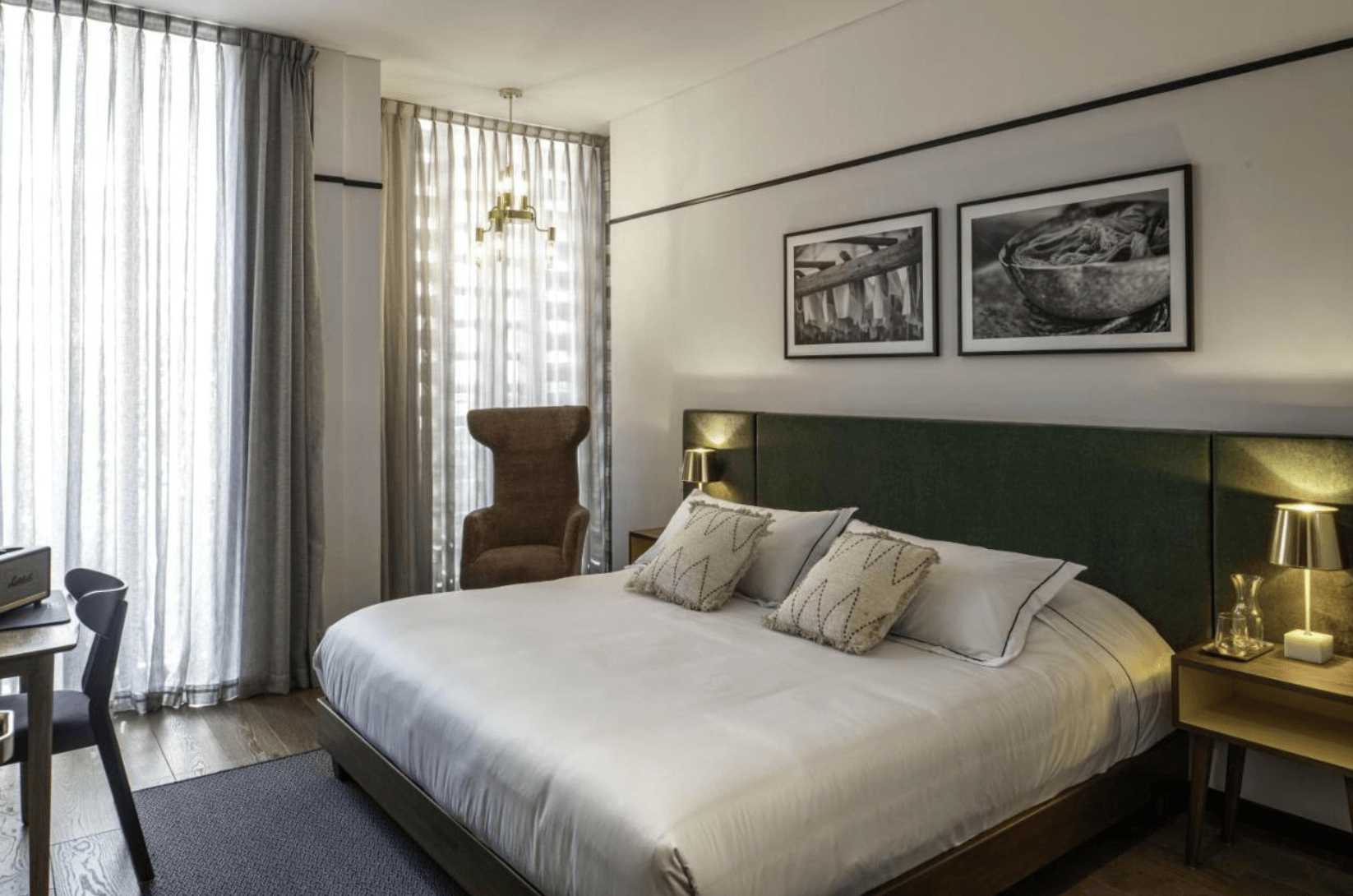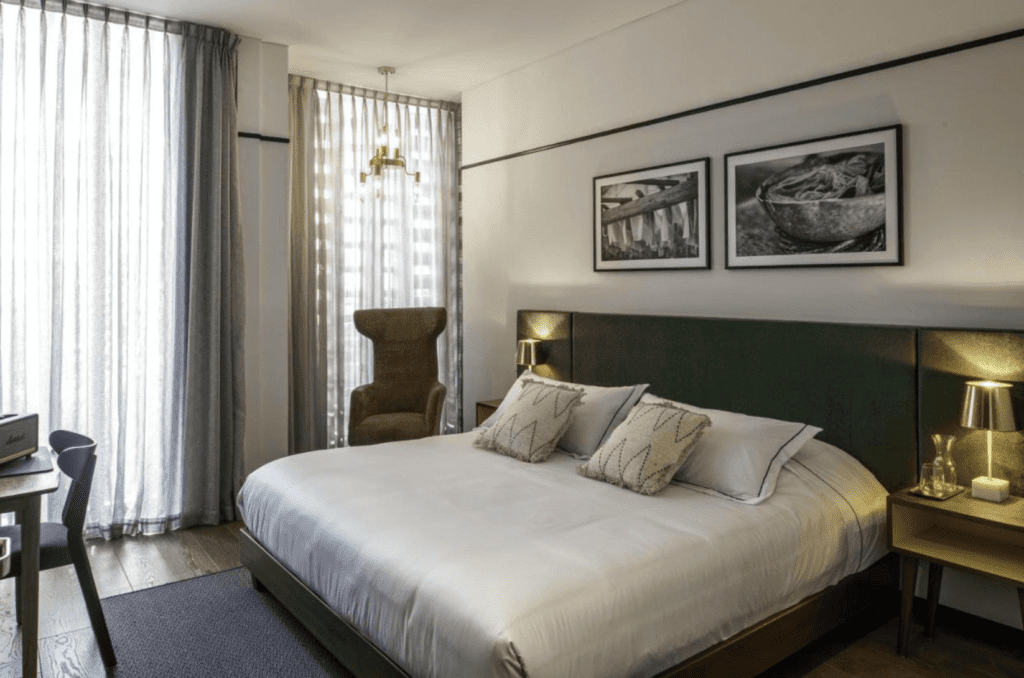 Another amazing, exclusive find, HAB Hotel goes above and beyond to make guests feel at home straight away with authentic and top-notch service. The hotel itself is in a converted boarding school giving it a truly unique feel.
The beds here are super comfortable, the rooms are simple yet trendy and modern, their on-site cafe is one of the best in Bogota and the location in the heart of Chapinero is in the middle of everywhere you want to be in Bogota.
Check rates and availability here
Ever wanted to stay in a museum? Here's your chance! Located very close to La Candelaria in the center of the city, this hotel feels like you're staying in a real-life museum with each room filled with unique paintings and sculptures. The decor transforms you back to what might have been sophisticated Bogota in the 1960s.
Rooms are large and clean and have all the mod-cons you'll need for your stay. The location is perfect and almost walking distance to most sights like the Gold Museum and Monserrate.
Check rates and availability here
If you're more inclined to stay at a boutique hostel where you can meet other travellers, this one in the heart of La Candelaria is my pick. Located in an old, colonial building, this hostel is full of plants and open spaces giving it a jungle retreat feel in the middle of the city. The location in La Candelaria is within walking distance of almost all the best things to do in Bogota Colombia.
They have a range of dorms, private rooms, and communal spaces to relax and make new friends and there are even rooftop yoga classes you can take during your stay.
Check rates and availability here
WHERE TO EAT
Restaurants & Cafes
Quinoa y Amaranto – One of the best veggie restaurants in La Candelaria, with a cute, rustic interior and limited seating. They specialise in their daily lunch set menus where for a very affordable price you get a starter, main and dessert.
Everything is delicious and homemade from natural, real ingredients. It's not fully plant-based so make sure to enquire what's on the menu that day if you're vegan.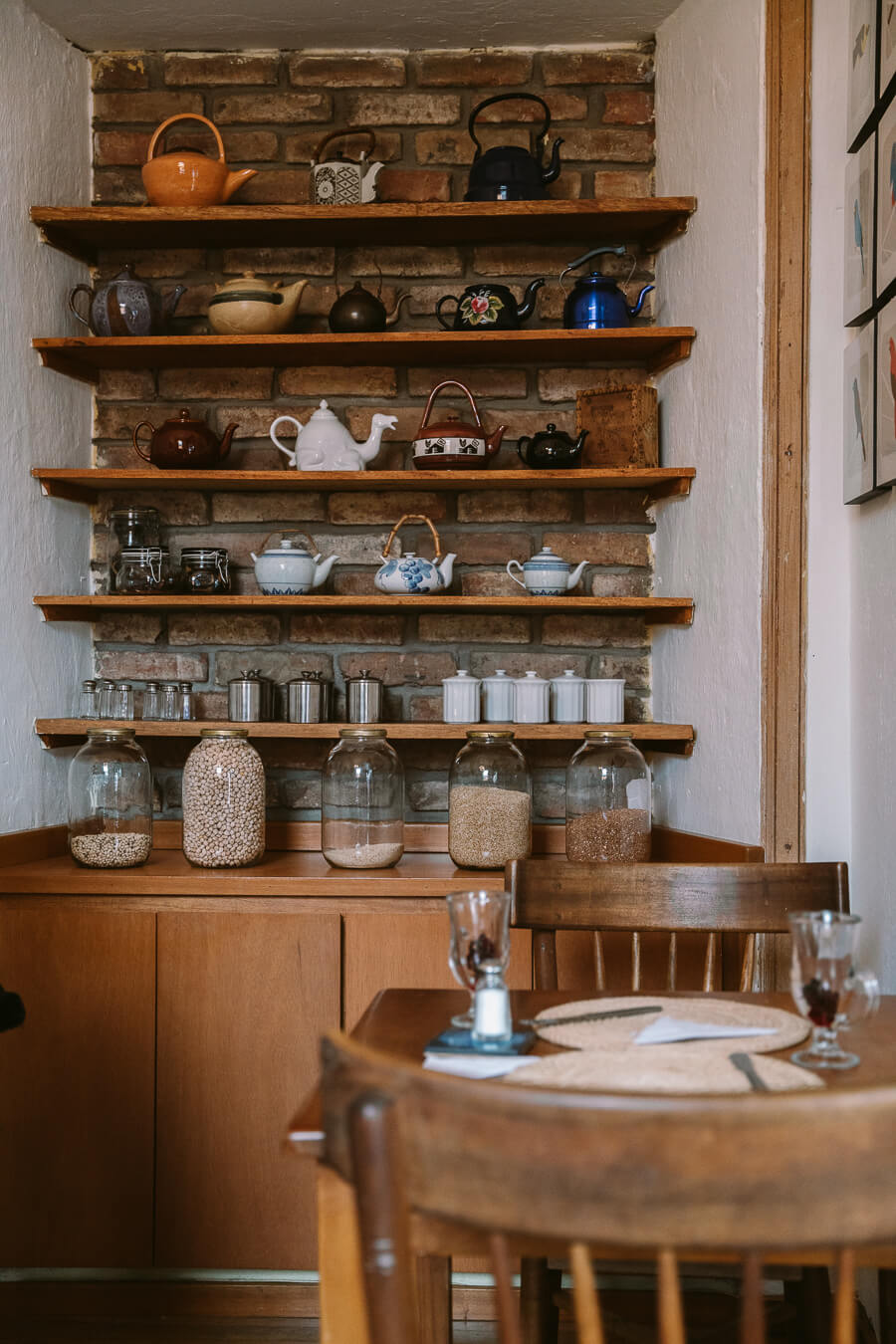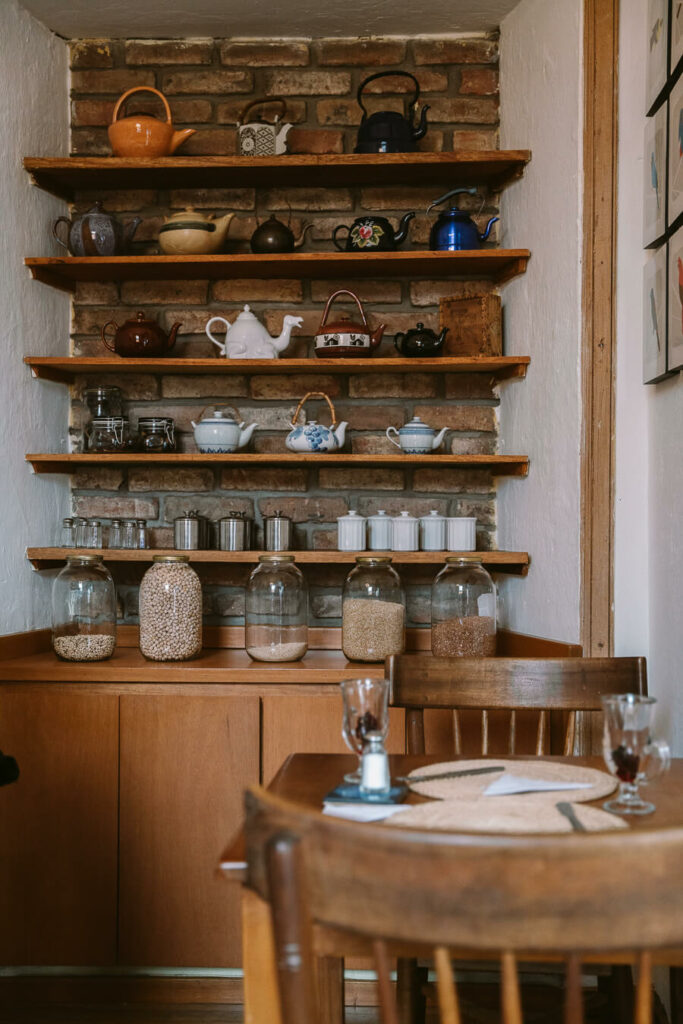 La Puerta Falsa – If you're looking for a historical and culinary gem to eat at in Centro then La Puerta Falsa has been feeding Bogota's hungry since 1816 making it one of the oldest restaurants in the city still functioning today.
Just one block from Plaza Bolivar it's famed for its Colombian fare such as Ajiaco, a local stew, tamales and bread with cheese and hot chocolate. The place barely sits 10 people so you'll most likely spot it from its queue outside. It's not the best option for vegetarians or vegans, unfortunately.
Nativa Arte y Comida Natural – A great fully plant-based restaurant in La Candelaria perfect for a quick lunch. Their lunch set menu is very good value for money and includes a hearty soup and main. The food here is healthy, organic, natural and made with love.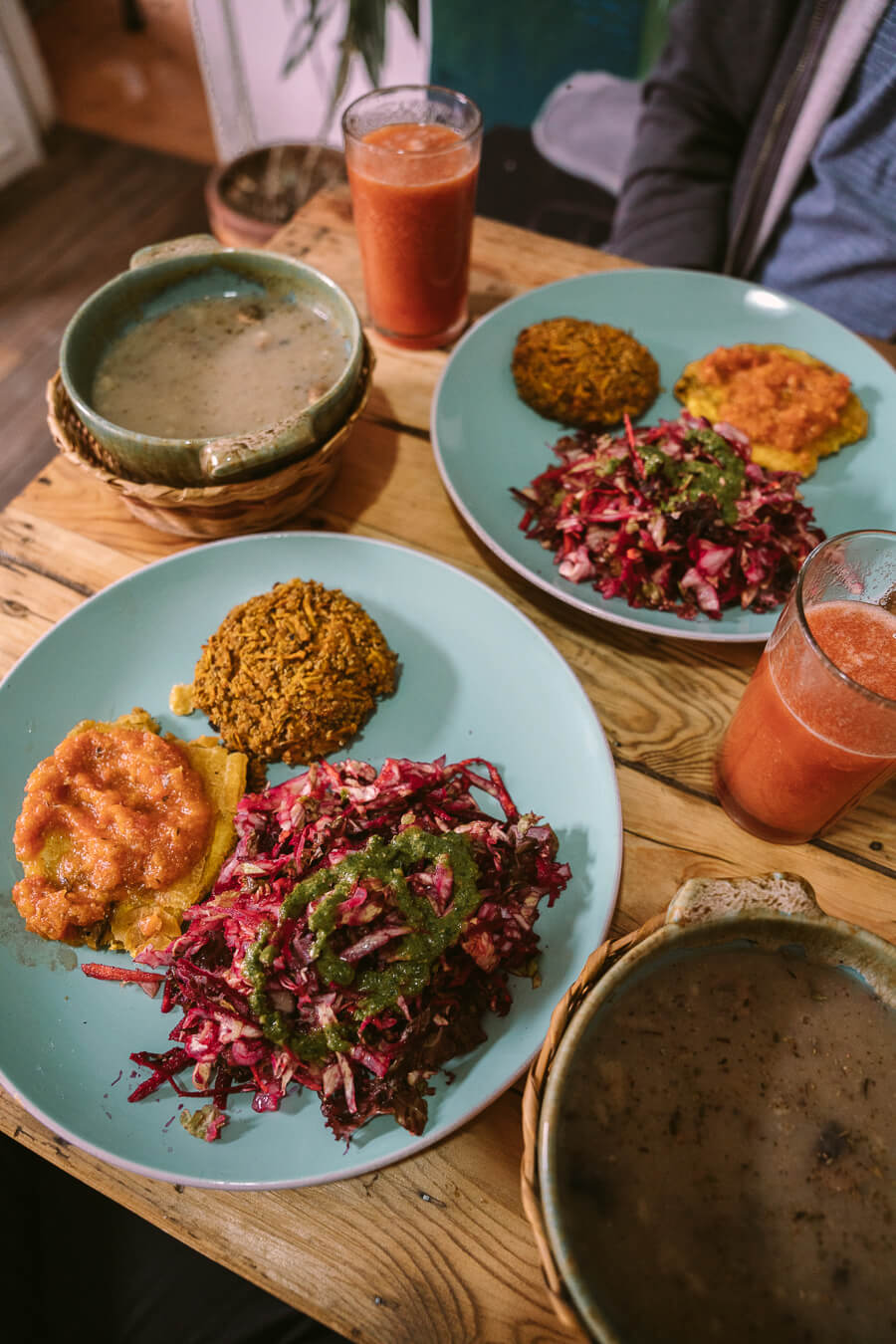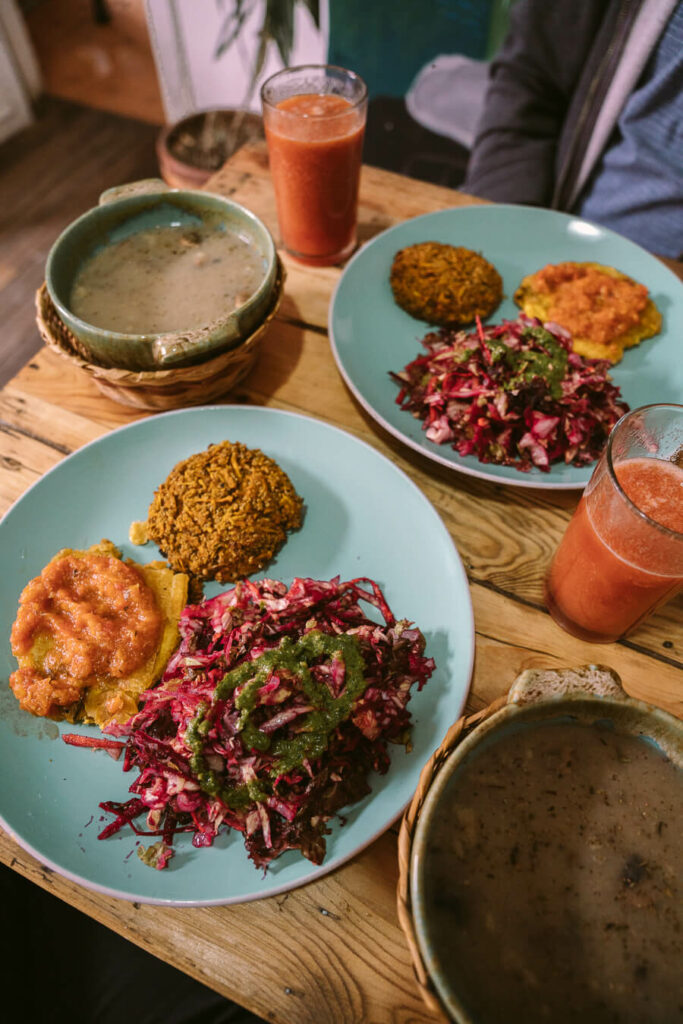 The Pot Asian – A 100% plant-based eatery offering make-your-own bowls in Bogota's Chicó neighbourhood. Choose your base, protein, vegetables, sides and dressing. The bowls are super fresh, tasty and really filling. I loved how you can completely adapt the bowls to what you're in the mood for. A perfect lunch or dinner when exploring Chicó and the Parque 93 area.
Prudencia – One of the best and highest rated restaurants in Bogota, Prudencia opens for lunch with a beautiful set menu that's inspired by local culture and ingredients. Unfortunately, this was never open when we wanted to go. Perhaps call ahead to make sure it's open before heading over?
The Best Coffee Shops
Colo Coffee Usaquen – There are five branches of Colo Coffee in Bogota but we loved the outdoor, jungle vibes in Usaquen. Colo Coffee actually source and roast their own beans on-site in Usaquen. They offer three main types of beans, diverse, ancestral and contemporary- all with different backgrounds and flavour profiles. Their ancestral beans, for example, pay homage to traditional Colombian farming and harvesting methods.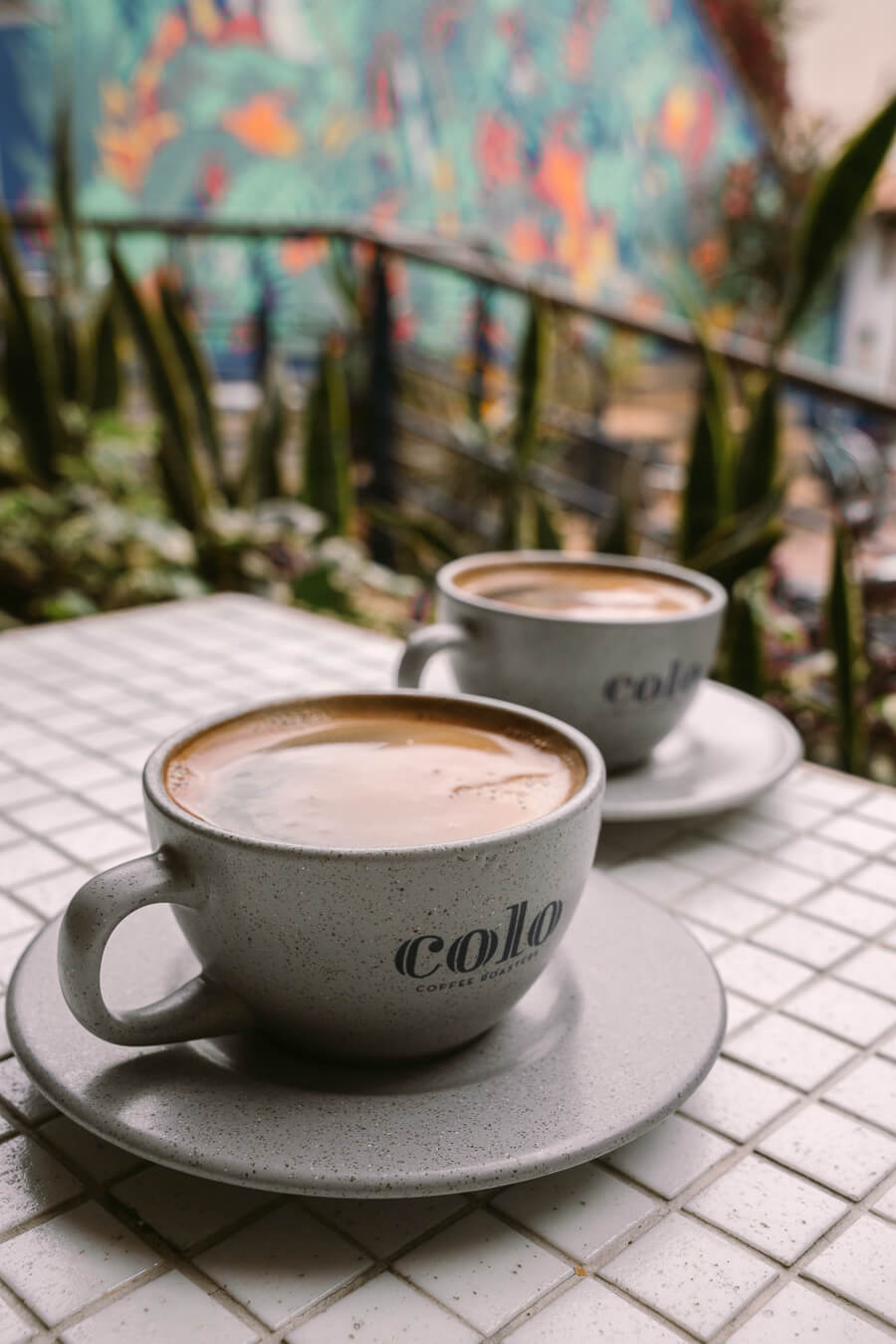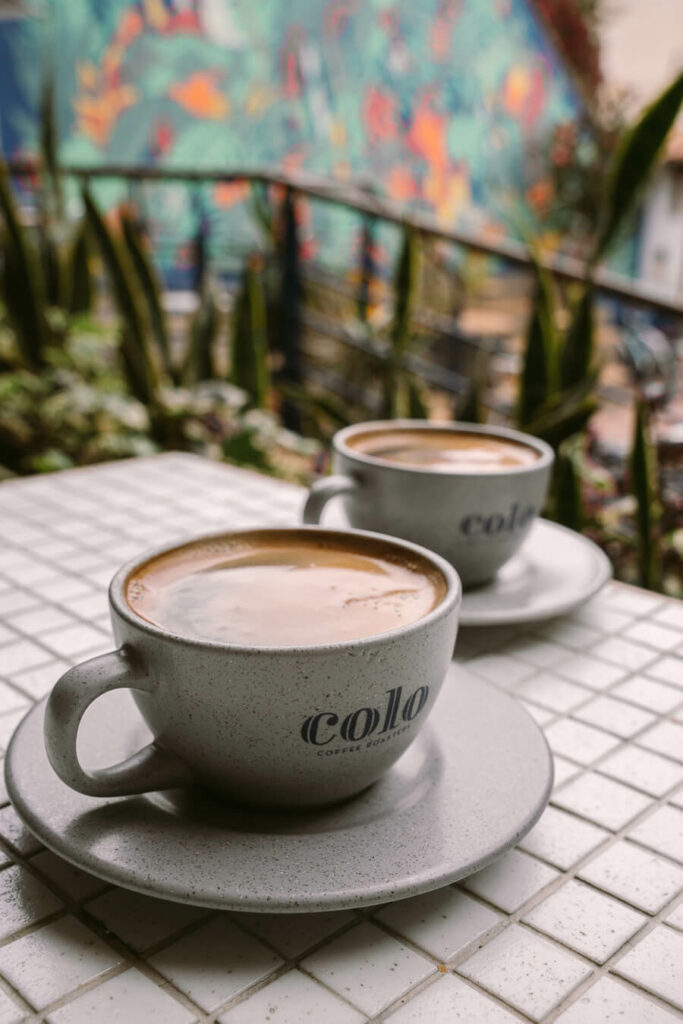 The staff here are super knowledgeable and are happy to explain all about their coffee and the best ways to make it. On their website, you can also buy their beans and they ship internationally!
Drinking coffee generally isn't on many travellers lists but in Colombia, it really is one of the best things to do in Bogota Colombia.
Azahar Cafe 93 – Azahar is a must-visit when in Parque 93. They have some of the best brews in Bogota and I just love their cosy interior too. It's a great place to bring a laptop and do some work for a while too.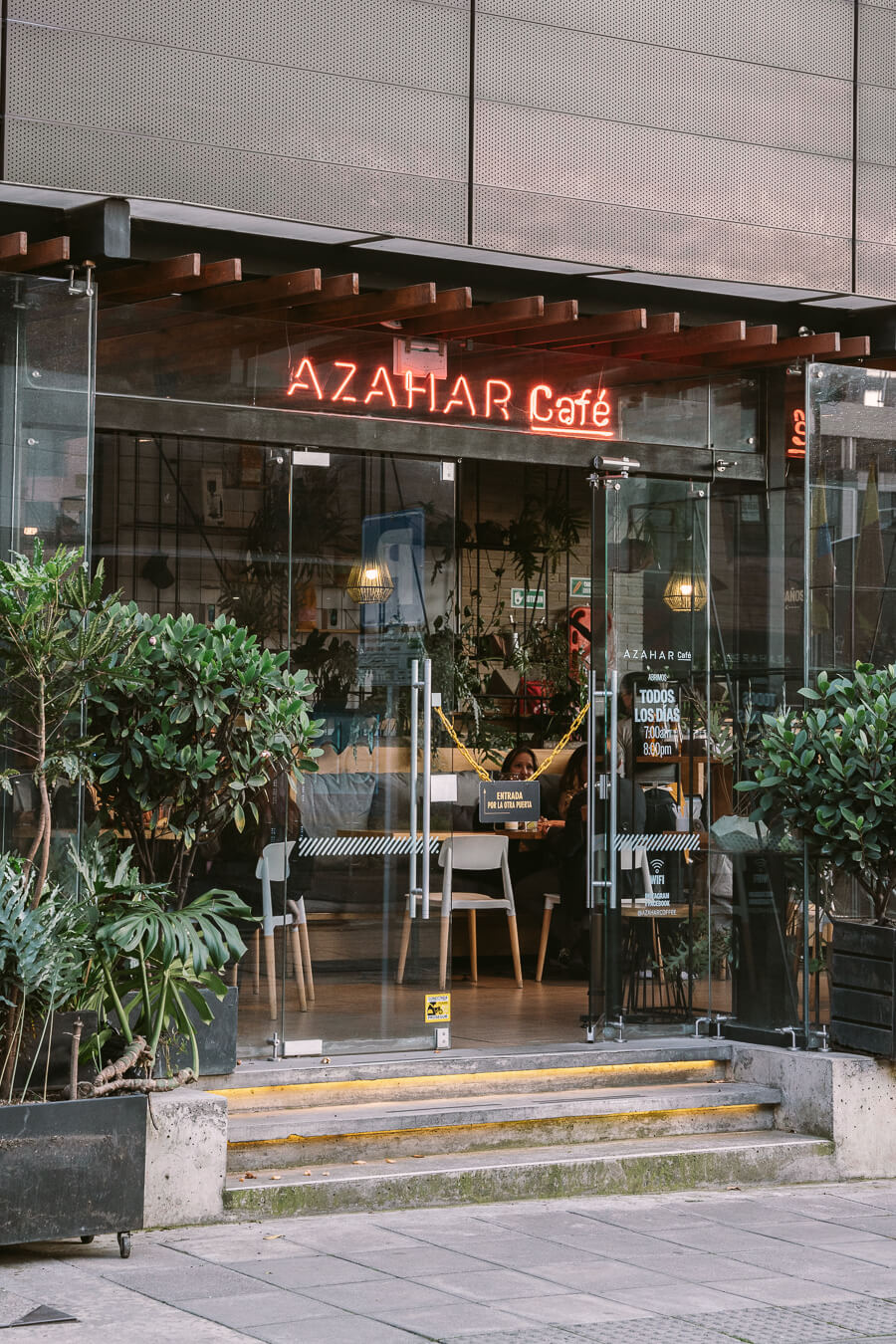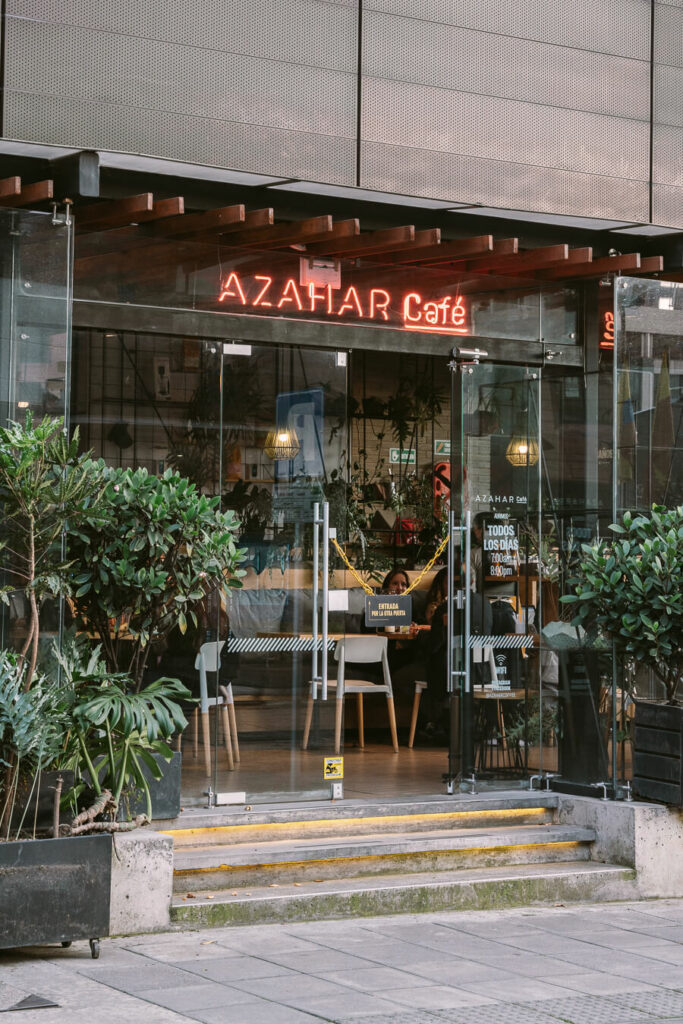 Arte y Pasion Cafe – Another great cafe where you can learn a lot about the coffee you're drinking. Arte y Pasion works as a cafe but also a barista school so the staff here know so much about the coffee and the best ways to make it.
I highly recommend choosing your own beans from the different Colombian regions listed in the menu and then choosing a filtration method. Staff will then bring everything to your table, make it in front of you and tell you how to make the best cup of coffee.
It's a great way to learn about Colombian coffee as well as how to make better coffee yourself.
Varietale – Another great coffee shop in Bogota, that sources beans from all over the country. Choose from a machine espresso or americano for a full punch of flavour or opt for a filter method like V60 or Chemex for a subtle and lighter taste of Colombian best beans.
Other
BBC– Bogota Brewing Company. It's one of the best bars in the city for beer to try out some of the city's local brews. They have a variety of different craft beers including a Pale Ale, Amber, Stout and Wheat Beer. You'll find BBCs located all over Bogota.
Merka Organico Enoteca – If you're self-catering in Bogota or if you want to buy some good quality chocolate, coffee or food products then make sure to check out this 'Whole Foods' style supermarket in Usaquen. Full of only organic produce and products it's a great place to buy Colombian products to take home as well as eat at.
They have a great selection of ready to eat meals as well as plenty of choices for vegans including plant-based yoghurt, tofu and hummus.
THINGS TO DO IN BOGOTA
Summit Monserate
For the best views over the entire city of Bogota, one of the best things to do in Bogota Colombia is to head up to Monserrate. Monserrate is a hill in Bogota marked by its white church at its top you'll no doubt see it from the city itself.
There are a couple of ways up to the summit of Cerro de Monserrate. Most people get the cable car or cable train that goes up the hill to the summit. The journey lasts a little more than 5 minutes. Alternatively, there is also a path to trek to the top if you feel super active.
To get up here find 'Taquilla Teleferico Monserrate' on Google Maps and either walk from La Candelaria or take an Uber/Taxi. Once you buy your ticket, which costs 23k return per person, head round to the train that'll take you all the way to the top.
From the top you'll have magnificent views of the city, the airport and planes taking off and the hills on the other side of Monserrate. There are also two restaurants at the top, a French bistro as well as a more downscale cafe where you can have a quick bite in between taking photos.
The best time to come up to Monserrate is for sunset. You can witness the city being covered in golden light then fading to blue and then watching the city's lights come on as darkness descends.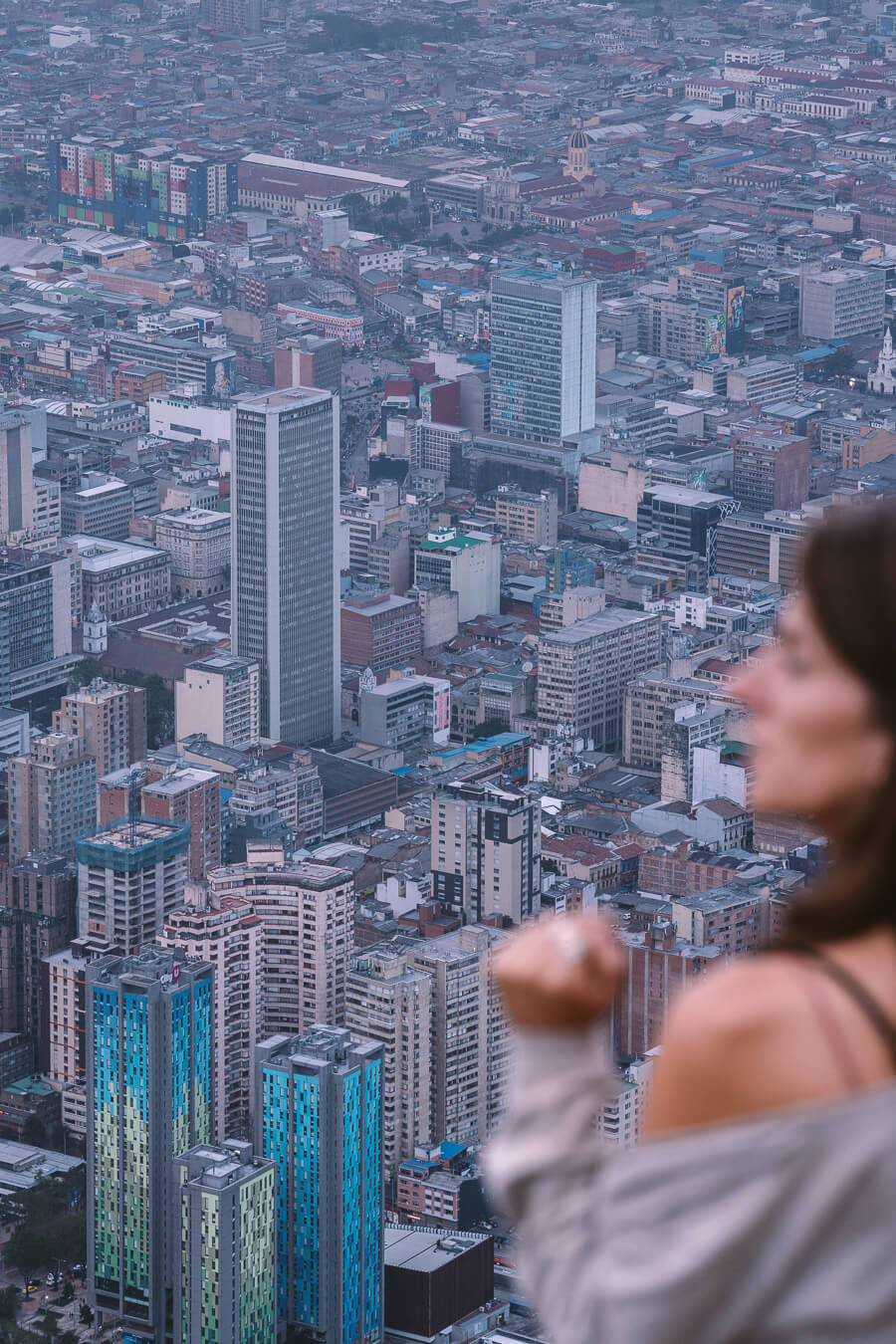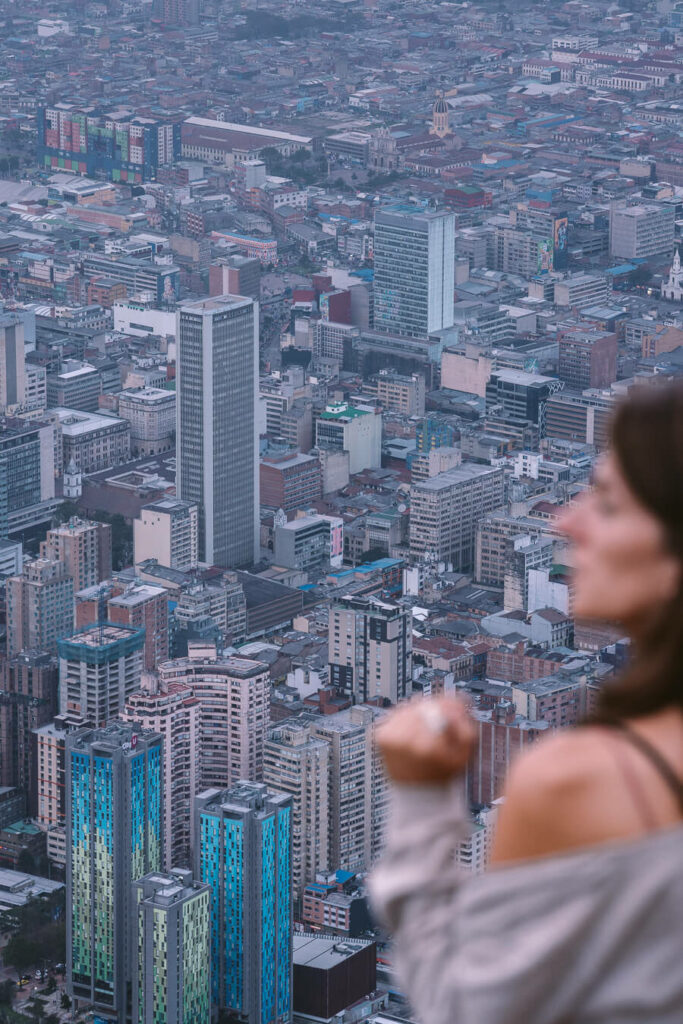 Just be aware that Bogota's weather is all over the place. My recommendation is to check the weather for your entire stay and come up for sunset on the best day. The last train down is at 10 pm. Don't forget a jacket too because after sunset it's freezing up there!
Visit the Gold Museum
Bogota's Museo del Oro or Gold Museum is one of the cultural highlights of the capital, if not the country. Colombia has one of the largest collections of gold in South America and you can learn more about the history of gold and the art and culture of gold represented in this multi-floor museum.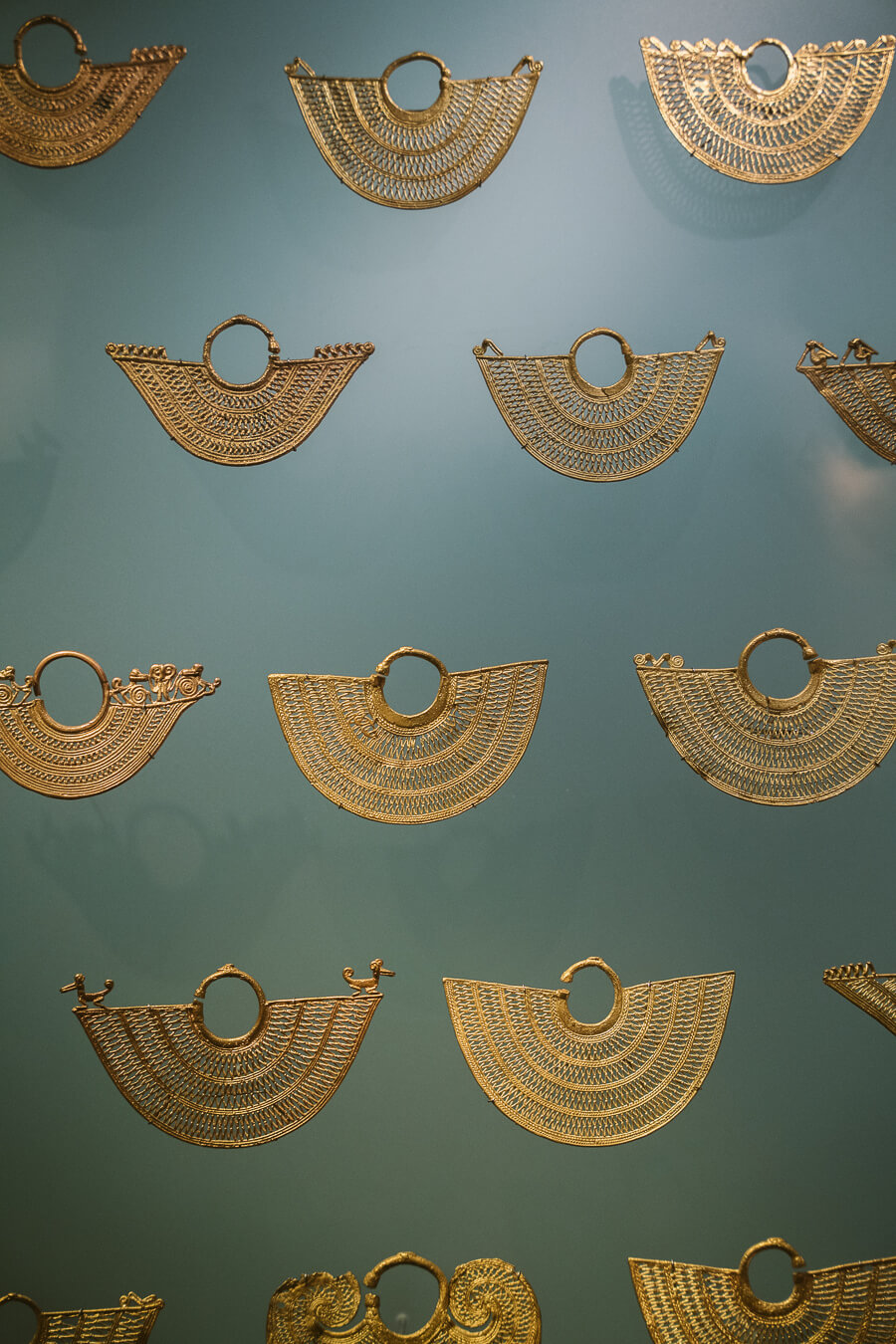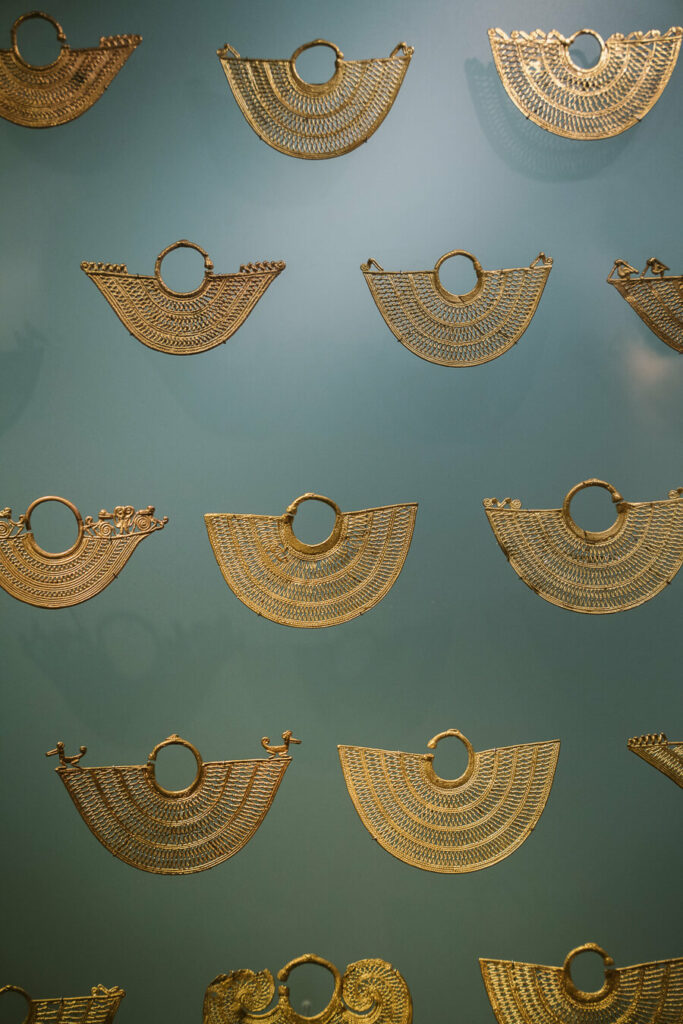 The exhibition starts with the history of gold, and the techniques used to extract gold and mould forms together. You'll learn about the different uses of gold throughout Colombian history and how it was used and valued in life and in death.
There are some really stunning pieces of gold in this museum and the level of skill to produce some of them is really unbelievable. The museum really is the perfect place to come on a rainy afternoon in Bogota.
Entry costs 4,000 COP per person (about $1) and you can hire an audio guide once inside.
Explore La Candelaria
There is no doubt that at some point you'll find yourself in the neighbourhood of La Candelaria even if you chose not to stay there. It's the heart of Bogota's historic centre and in La Candelaria, you'll find Plaza de Bolivar, the Gabriel Garcia Marquez Cultural Center, so much street art, restaurants, bars, markets and street stalls. There is so much going on in this buzzing neighbourhood.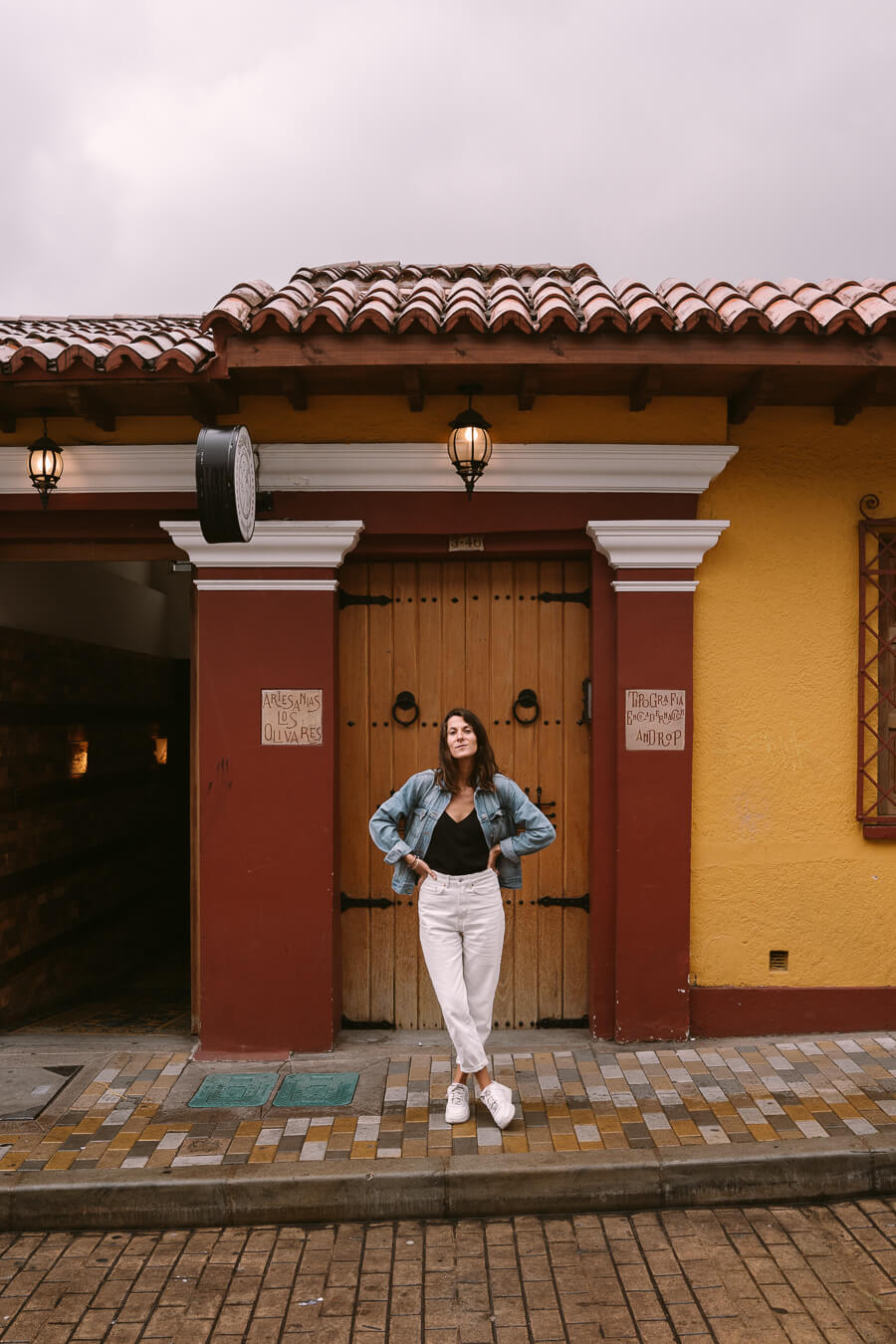 Luckily La Candelaria district isn't big and you can walk the whole neighbourhood in a few hours, exploring and paying most attention to what attracts your eye. Exploring La Candelaria is on my traveller's lists as one of the best things to do in Bogota Colombia.
Wander around Plaza de Bolivar
In the heart of the old, historical city is Plaza de Bolivar, Bogota's main political and cultural square. Here you'll find Bogota's Cathedral on the eastern block, the National Capitol, Colombia's Houses of Congress on the southern side as well as the Palacio Liévano, a colonial-era palace and Bogota's political headquarters on the western side.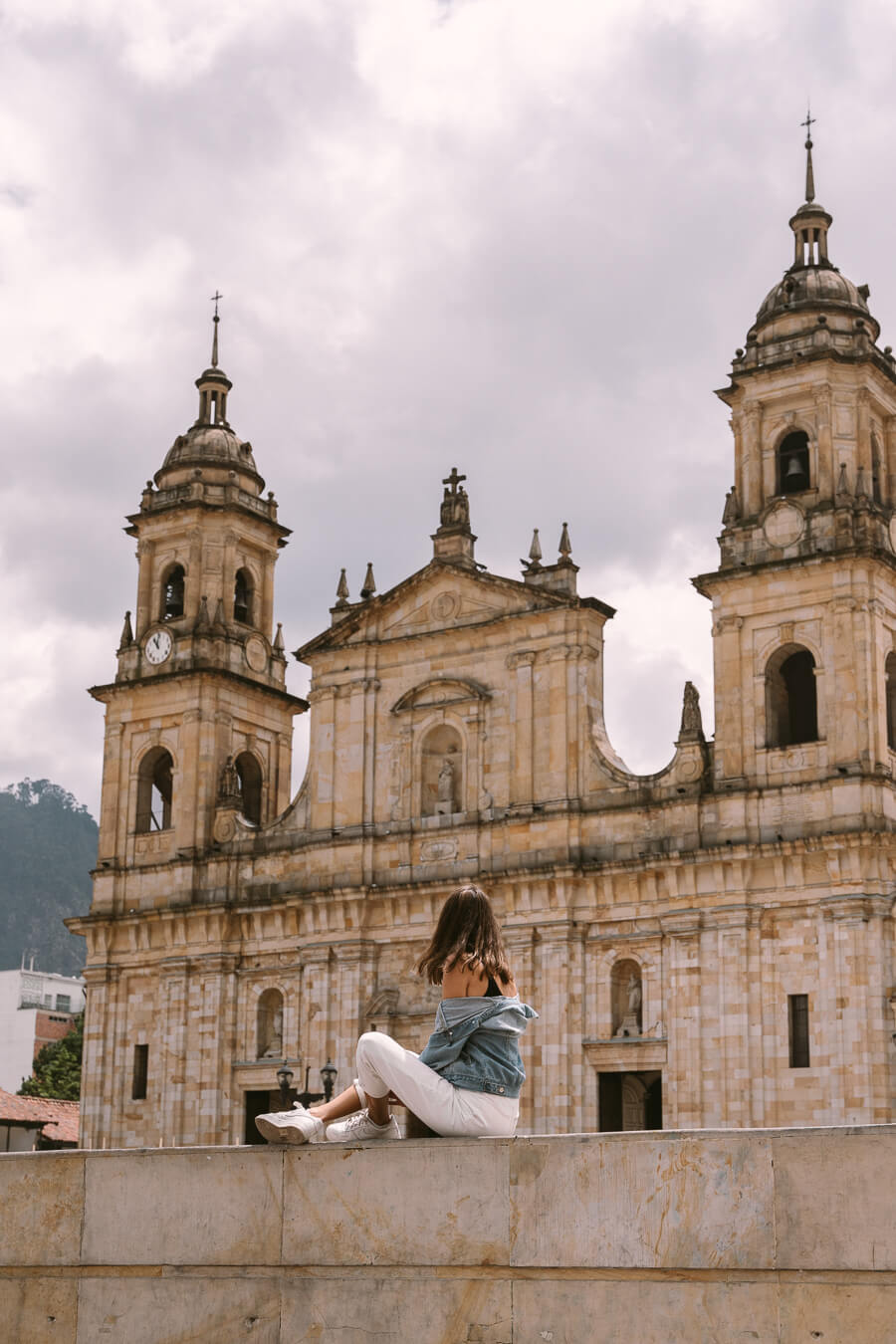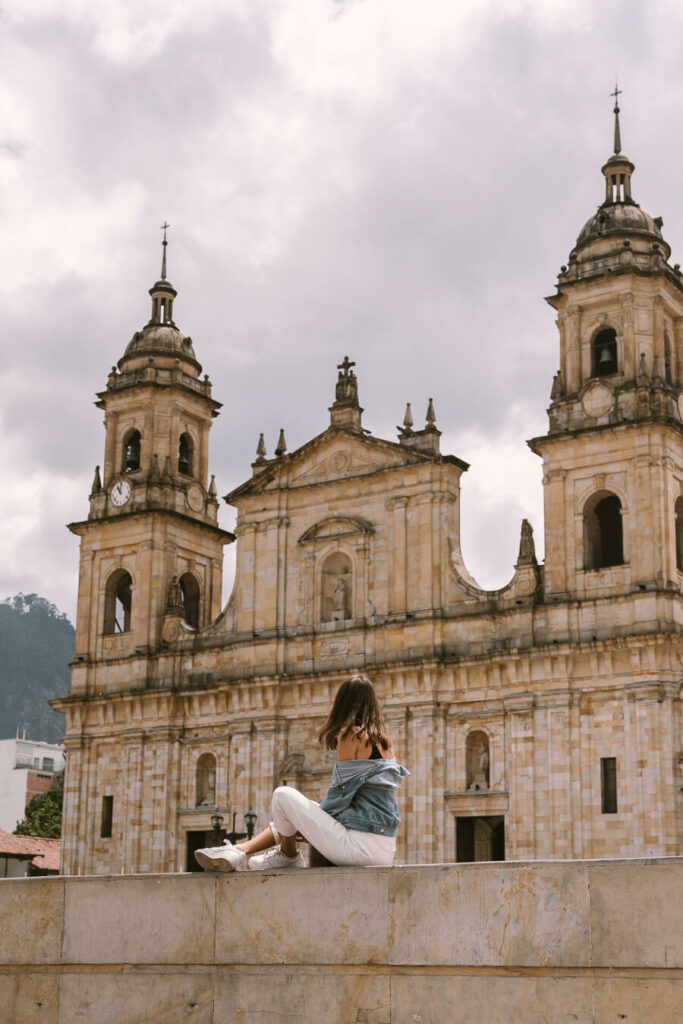 The square itself is full of life, with locals strolling around and kids feeding pigeons. There are plenty of stalls with sellers selling a range of Colombian products and souvenirs to take home. You'll also see a number of fruit stalls and street food sellers here selling anything from grilled corn on the cob to fruit punch.
We particularly loved the guy selling fresh sugarcane juice right by the cathedral- it's delicious mixed with some Colombian sour orange.
Visit the Centro Cultural Gabriel Garcia Marquez
Just a block east of Plaza de Bolivar you'll find the Garcia Marquez Cultural Centre, a space named after the famous Colombian writer that now works as a space for all types of exhibitions and cultural events. It's a lovely space to walk around in, take a look and see what's going on, wander around the bookstore and relax in one of the cafes inside the center.
The terrace of the cultural center is also a great place for taking photos of the vibrant street below.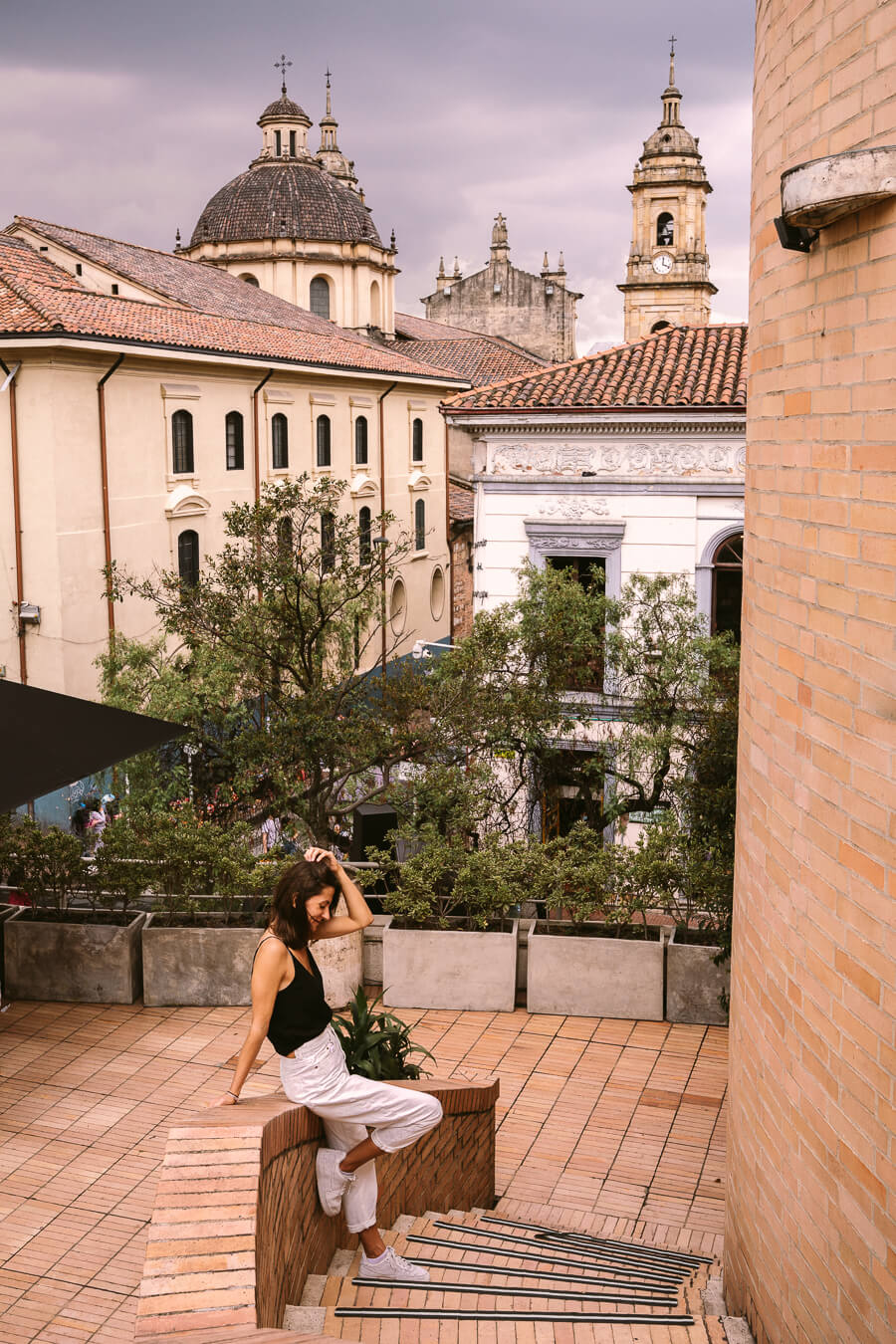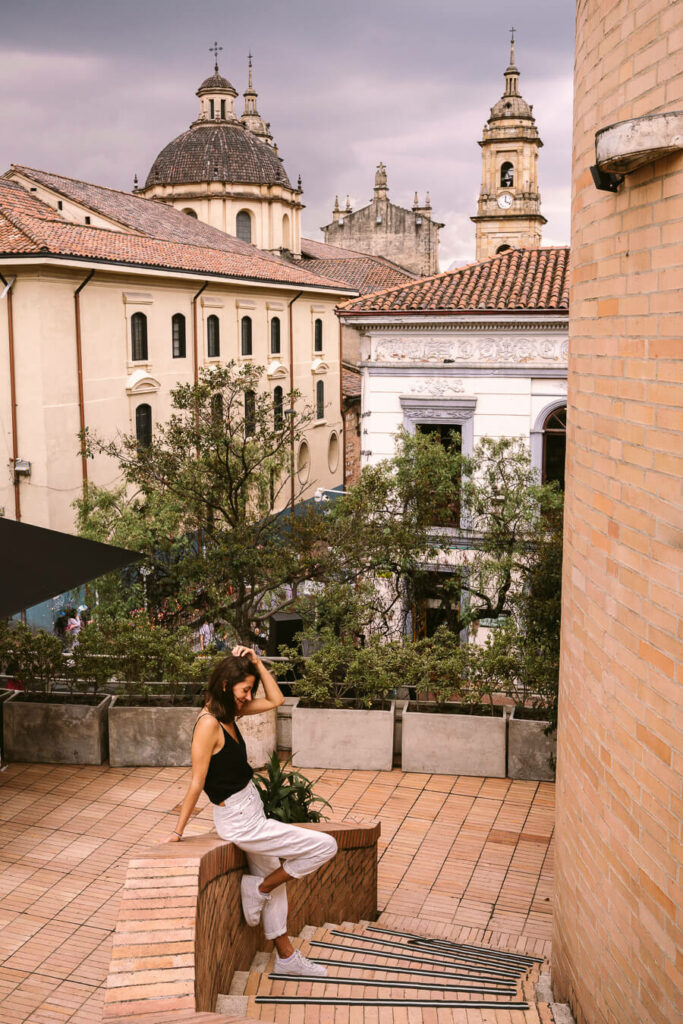 Go Shopping
Did you know that one of the best things to do in Bogota Colombia is actually crafts shopping? Colombia is a great place to shop for arts and crafts as well as all the best well-known brands in the world. If you're from the US or Europe however, global brands here are more expensive so I'd stick to the local Colombian brands and artisans.
Some great things to buy in Colombia apart from sustainable coffee and organic, sustainable chocolate are colourful, woven cotton or wool shoulder bags called 'mochilas', purses and jewellery. Colombia is also famous for emeralds, so you'll see a lot of emerald-focused jewellery stores where you can buy some for a good price.
Take the Free Walking Tour
The best way to get to know a new city is by walking around and Bogota is no different but why not go with a knowledgeable local guide that will tell you things you wouldn't have known otherwise? Bogota's free walking tour is one of the best and most popular ways to get to know the city, especially if you don't have too much time in the Colombian capital.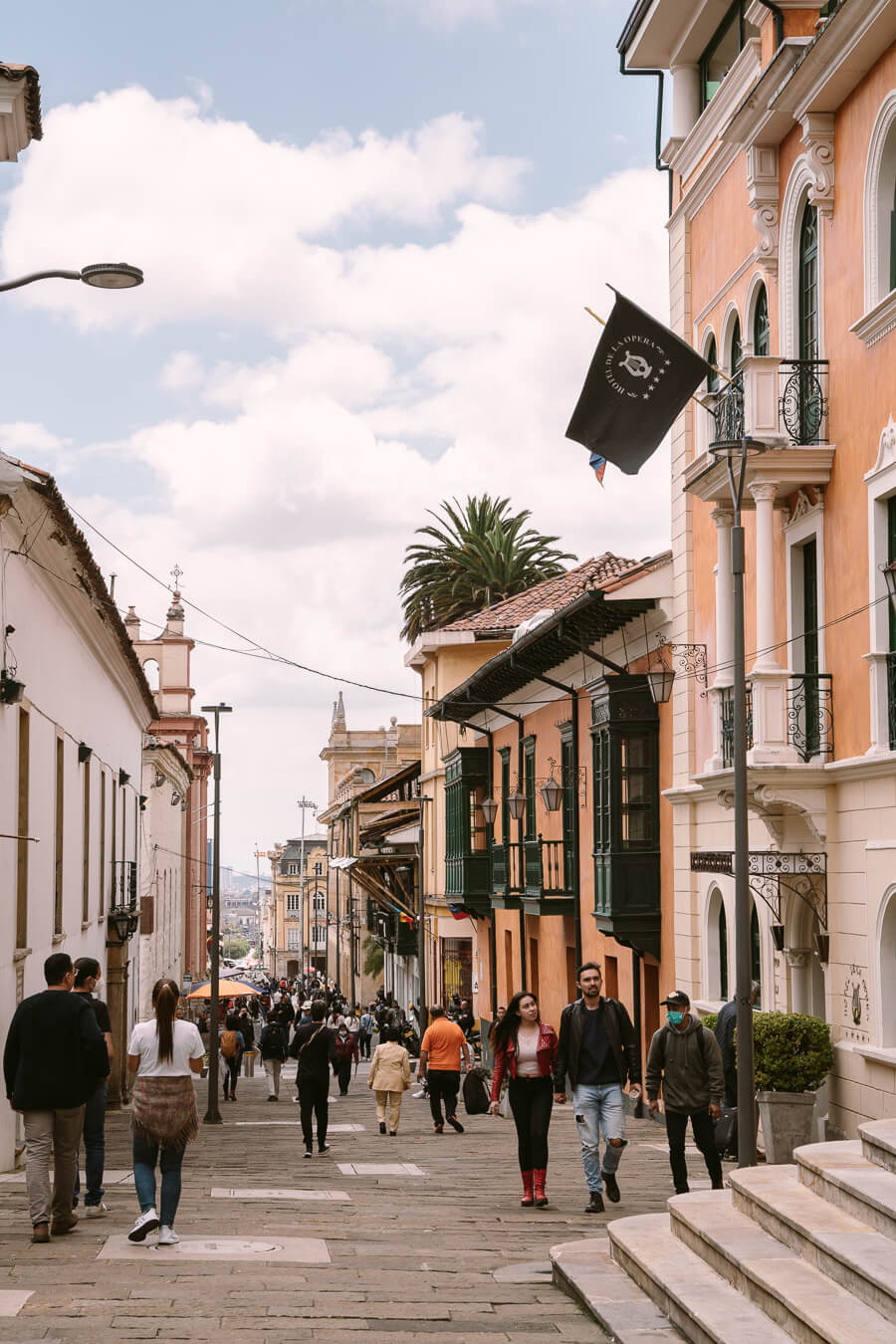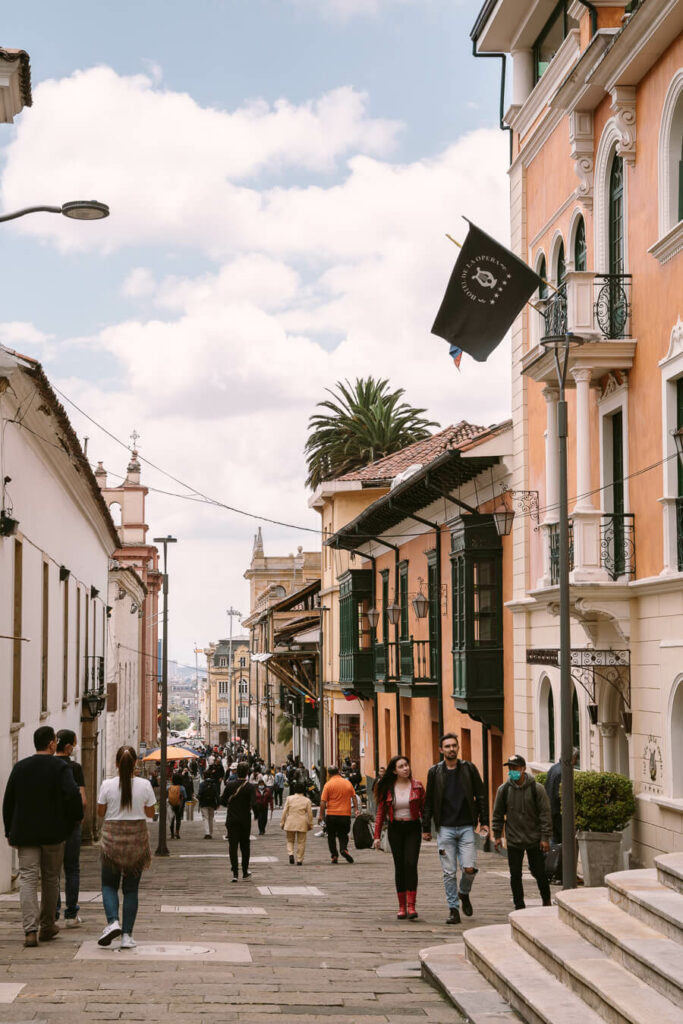 The free tour in Bogota is mainly based around La Candelaria and guides take you to be well-known spots in the city as well as some secret spaces too. You'll learn about the history of Colombia, Simon Bolivar and more recent history from Escobar to emeralds.
There are many different companies that do the walking tour in Bogota. You can book a free walking tour via Freetour.com or GuruWalk.com or through your hostel in Bogota.
Alternatively, if you don't like walking and much prefer to bike around Bogota, check out Bogota's bike tour here.
Explore Usaquen
One of the best things to do in Bogota Colombia is definitely to explore all its neighbourhoods. I highly encourage you to get out of La Candelaria and go north to explore further. The neighbourhoods of Chapinero, Chicó and Usaquen are really worth exploring if you have the time.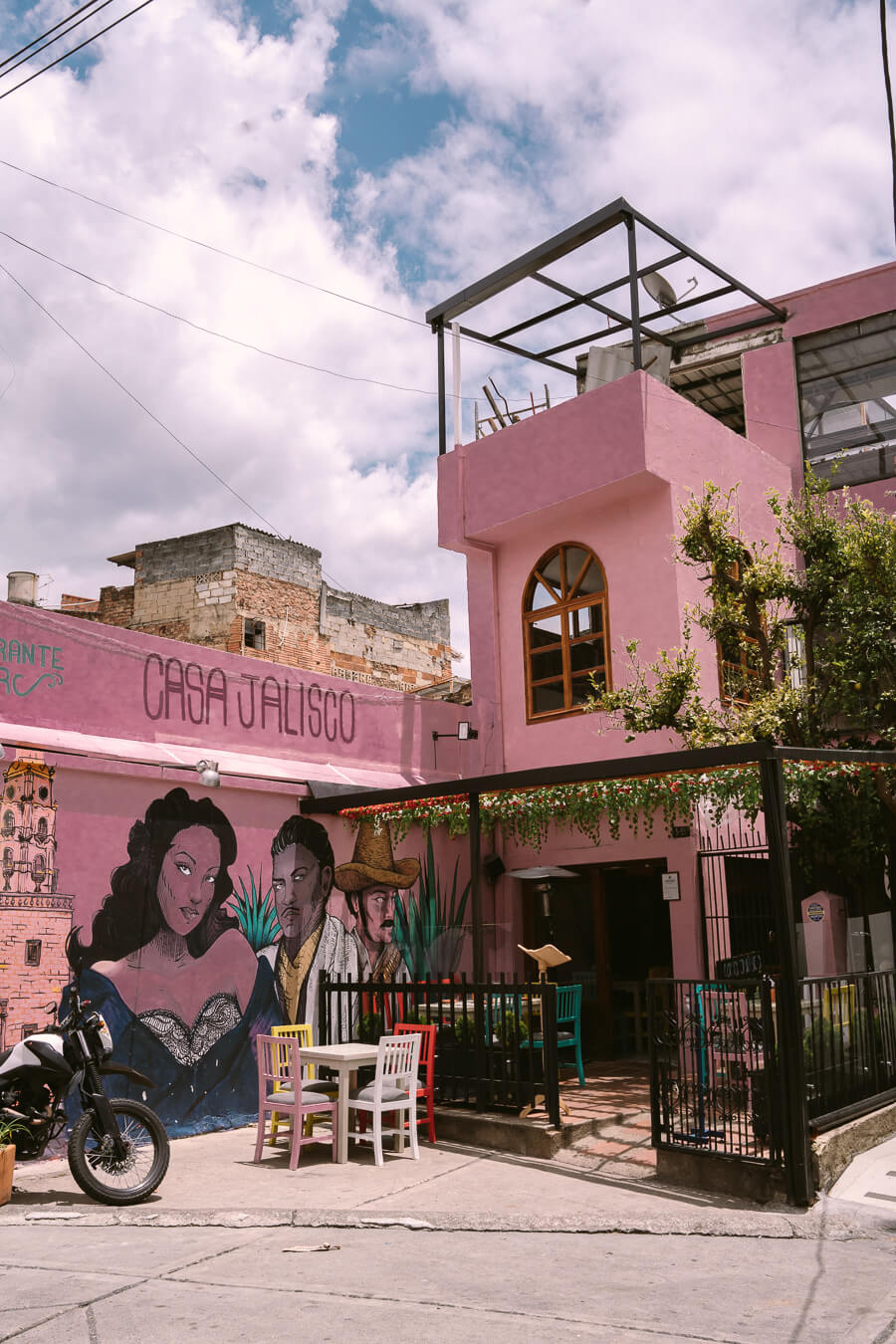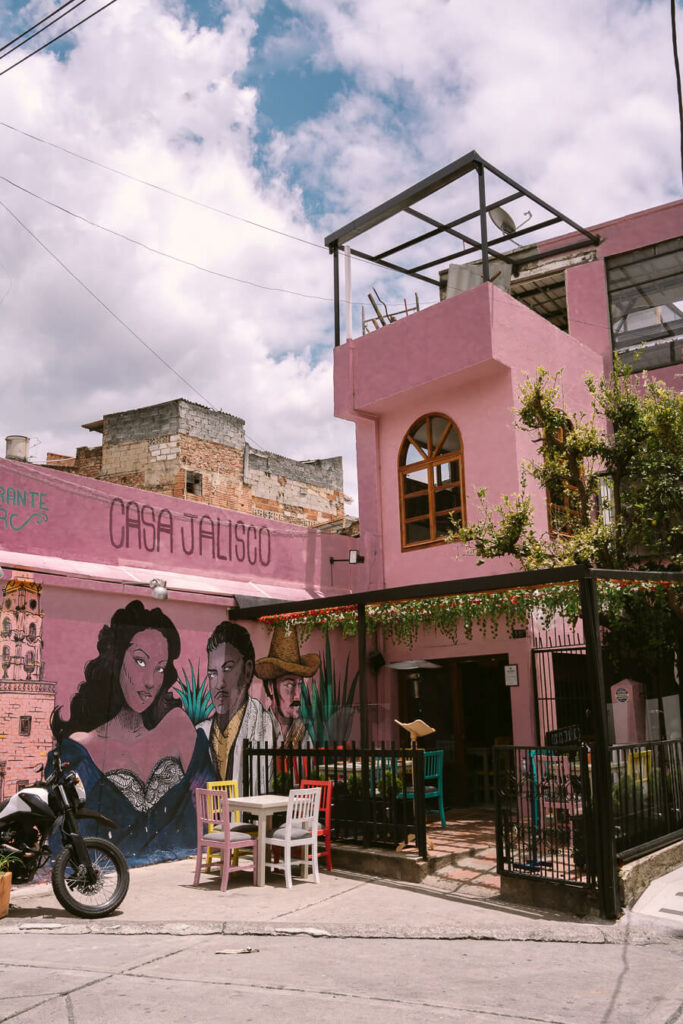 One of my favourite things to do in Bogota Colombia and neighbourhoods to explore is Usaquen, a small, quiet, upscale neighbourhood in Bogota that's full of amazing cafes, restaurants, funky modern boutiques, bookstores and even an independent cinema.
I'd personally start the day at Colo Coffee Usaquen and then make your way around Parque de Usaquen and then stroll along Calle 119, 119b and Calle 120a as well as the walking street of Carrera 6a. Don't miss the Zula Bogota shopping center which has a number of sustainable boutiques and restaurants inside as well as the very cool Cinema Paraiso. If you need to stock up on high-quality food products don't miss Merka Organico inside the Centro Comerical Hacienda Santa Barbara.
If you're in Usaquen on Sunday, don't miss the Flea Market just make sure to come early. It's one of the best local markets in the city.
Check out Bogota's Street Art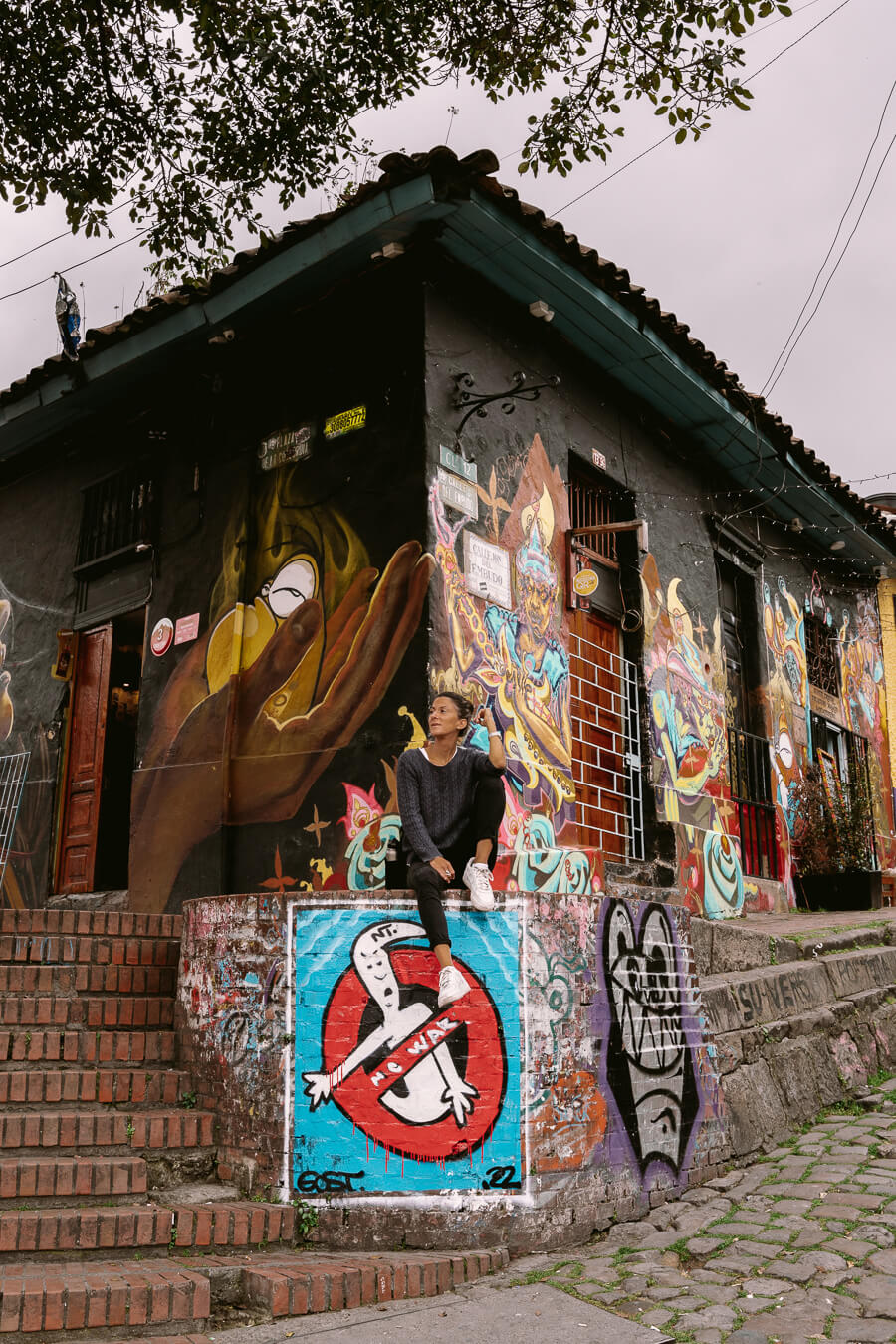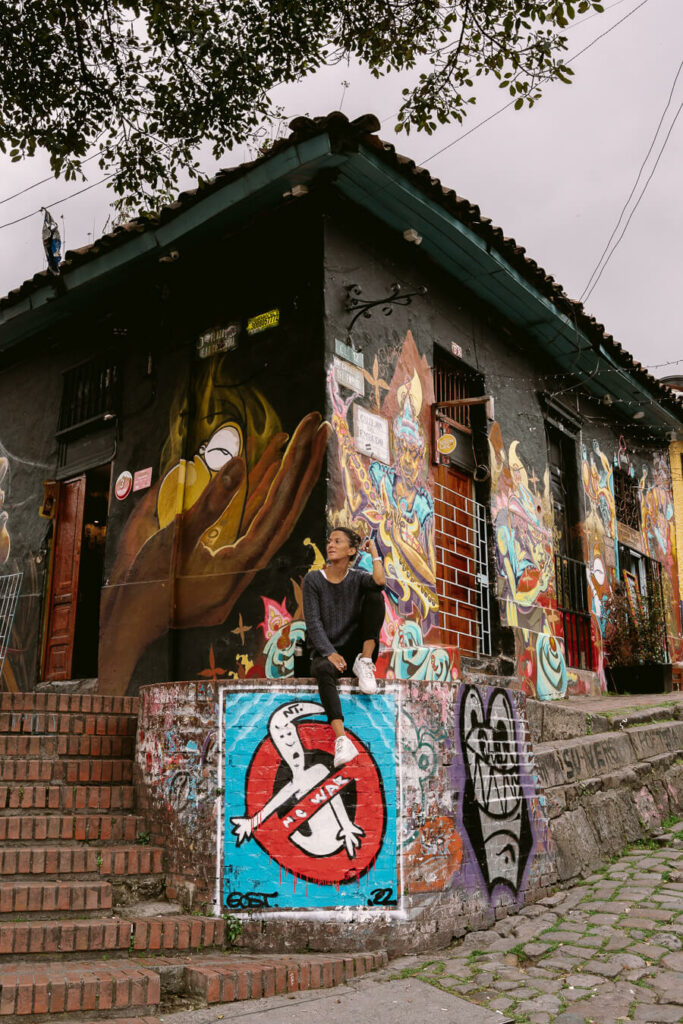 One of the top things to see in Bogota is its exceptional street art. La Candelaria is the neighbourhood for street art and you'll undoubtedly see it as you explore the neighbourhood during your stay. You can easily walk around and explore the street art alone, or if you want to know more about the history of street art in Bogota and the meaning behind some of the most famous pieces it's best to take a tour.
For the best tour of Bogota's Street art click here.
Alternatively, you can start at Plazolata Chorro de Quevedo and explore the alleys around it that are full of street art, check out Casa Candilejas on the corner of Calle 12d Bis and Carrera 1 Bis and walk down Calle 12 and 12b for some of the best street art in the city.
Shop for Handicrafts in Pasaje Rivas
As mentioned previously, Colombia is a great place for buying local souvenirs and one of the best places in Bogota for spending your cash on homeware-focused souvenirs is Pasaje Rivas, an alley full of locals selling colourful crafts.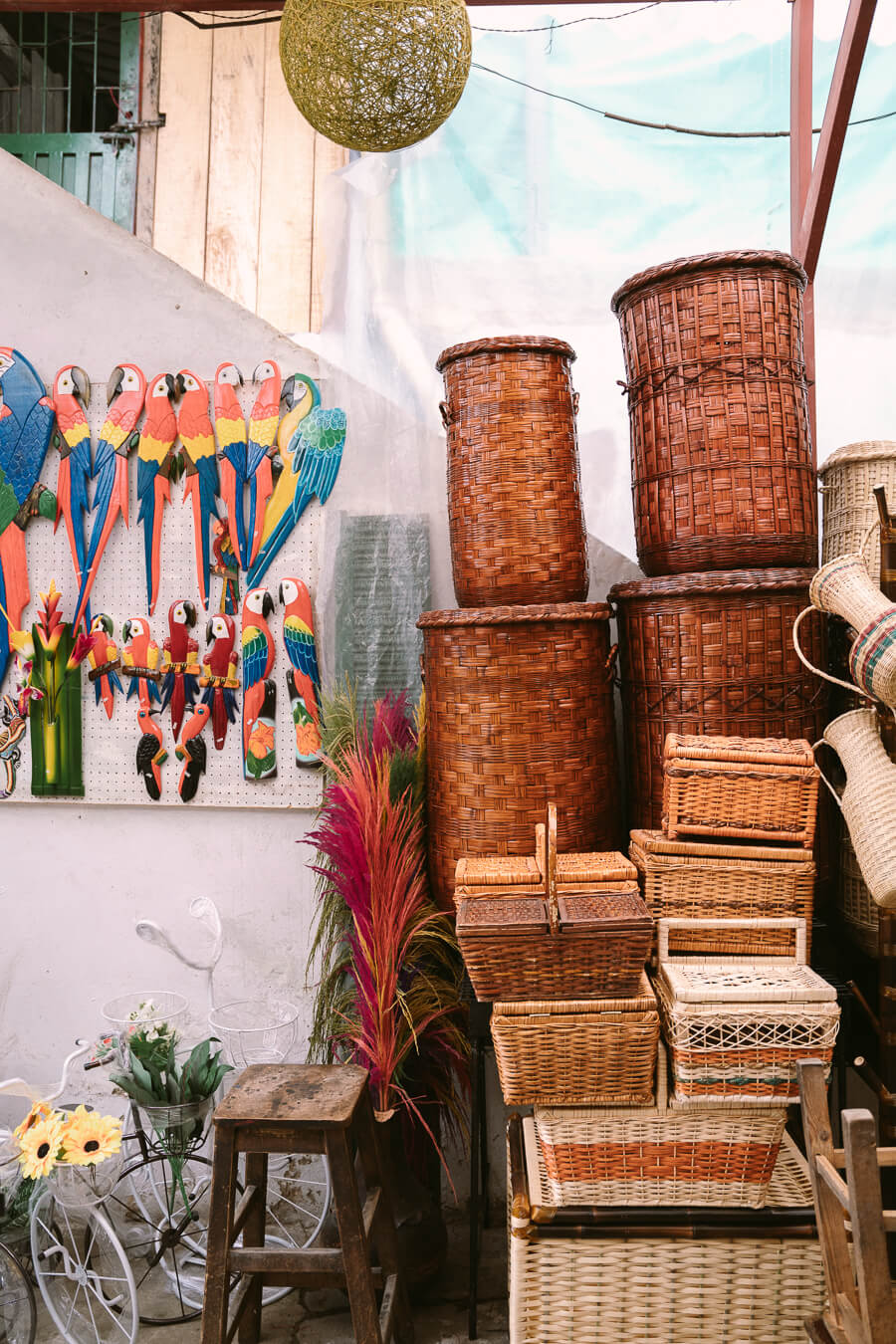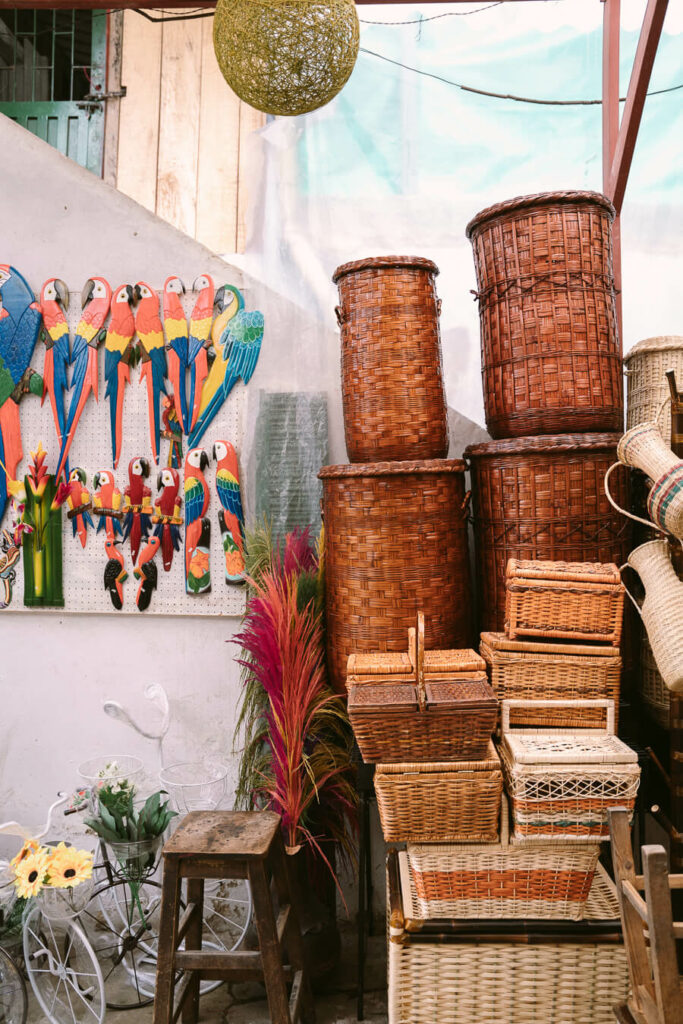 To get there, search 'Pasaje Rivas' on Google Maps. You'll want to enter via the side entrance on Calle 10. (We got warned a few times by locals not to walk past Carrera 10 to Carrera 11+ as this area can be quite dodgy). Here you'll find woven Colombian bags, ponchos, hats as well as a lot of natural woven baskets, lampshades and even some smaller furniture items like cots and stools.
I found the woven baskets and lampshades to be really beautiful and the quality is great too.
Visit Zipaquirá
If you're wanting to get out of the city for a little while, Zipaquirá is one of the best day trips from Bogota. It's a town located 2 hours north of Bogota, famous for its salt mine and underground Salt Cathedral. It's one of only a handful of underground salt Cathedrals in the world and it's definitely worth visiting, especially if you've never visited one before.
Salt mining has existed in Zipaquirá since 1600 and is the essence of the Colombian town. In a mine, just outside of Zipaquira you can visit the Salt Cathedral, 80m/260ft below ground. The cathedral originally started as a little church, the result of salt mine workers building a space for them to pray and to ask patron saints for safety. In the 1950s builders expanded this little church into the cathedral we see today, a huge space with pews, crosses and altars, entirely built from salt.
On a guided tour from Bogota, you can also visit the astonishing Nemocon Salt Mine where you can walk through the 1600m/5,250ft of tunnels 80m below ground. From 1816, in the period of just 150 years some 8 million tones of salt were extracted for Nemocon.
Click here for the best group tour to Zipaquira Salt Cathedral and click here for my private tour recommendation.
Click here for the best private tour that combines the Zipaquirá Salt Cathedral and the Nemocon Salt Mine.
Visit the Botero Museum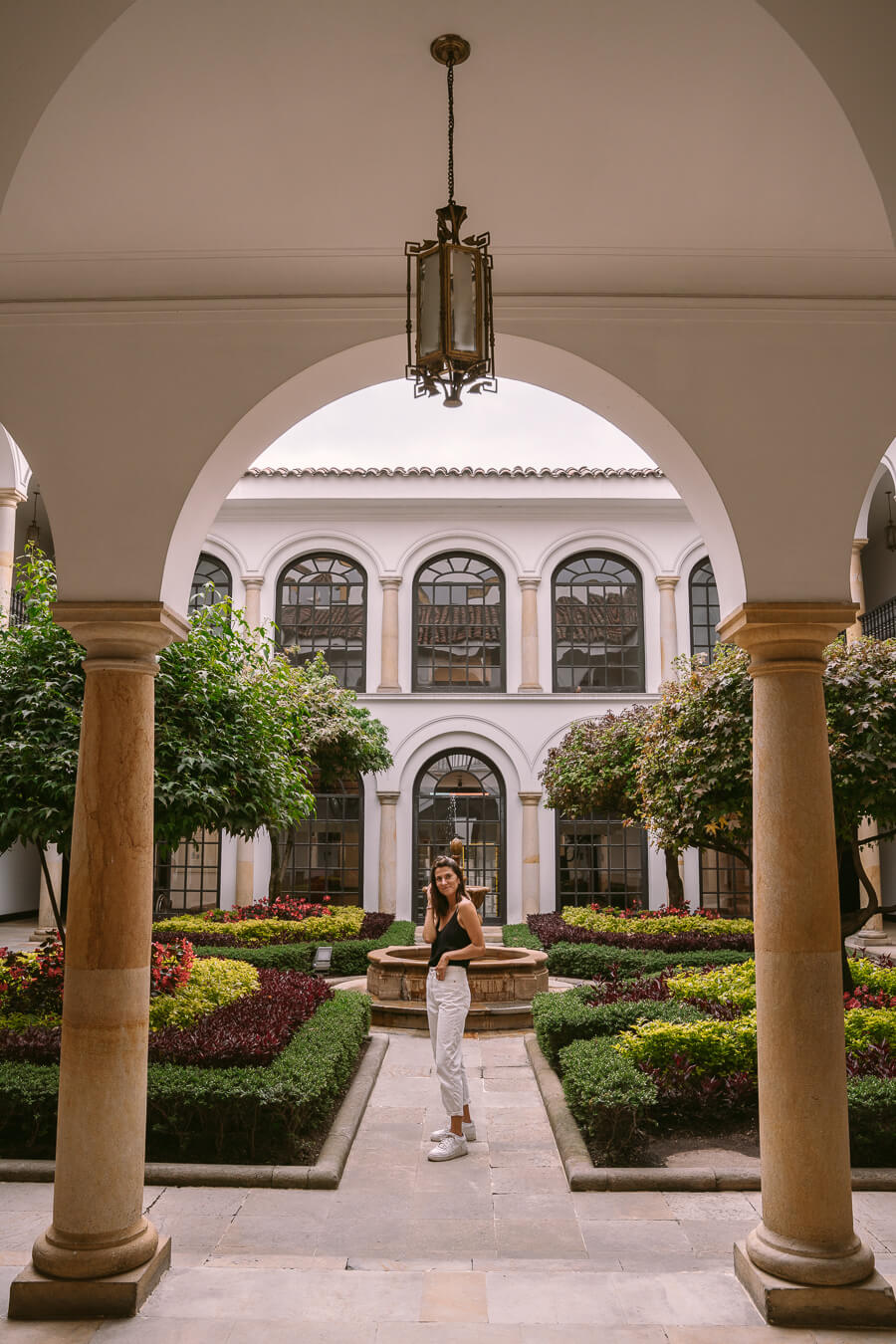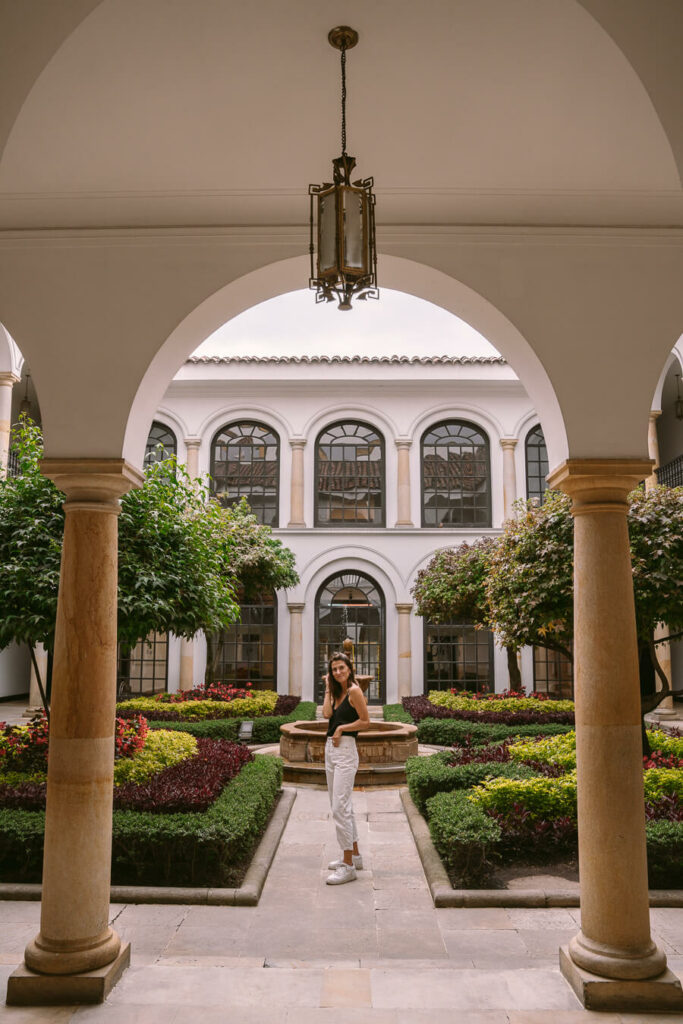 Fernando Botero was and probably still is Colombia's most famous artist and sculptor. Uniquely characterised by his overly round and plump figures, the artist spent a lot of his career in Europe yet Bogota and Medellin (his hometown) are still the best places to see his work.
To learn more about his life, his work and his role in shaping and developing art in Colombia, make sure to give the Museo Botero a visit. For me, this is one of the best things to do in Bogota Colombia in terms of museums. Here you'll be able to look at most of his most iconic paintings and smaller sculptures (that fit indoors). The old colonial building the museum is housed is also worth noting, especially the verdant courtyard.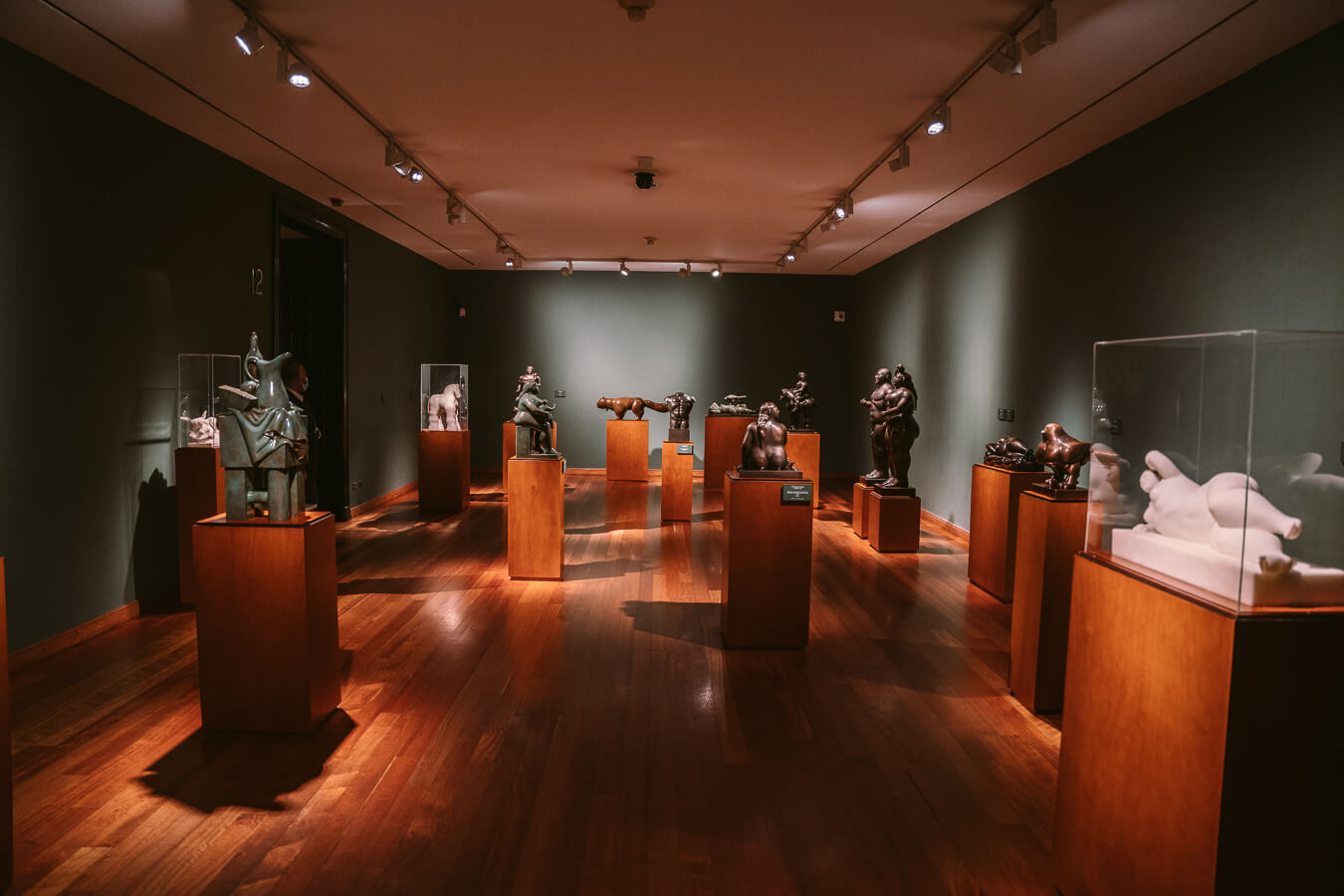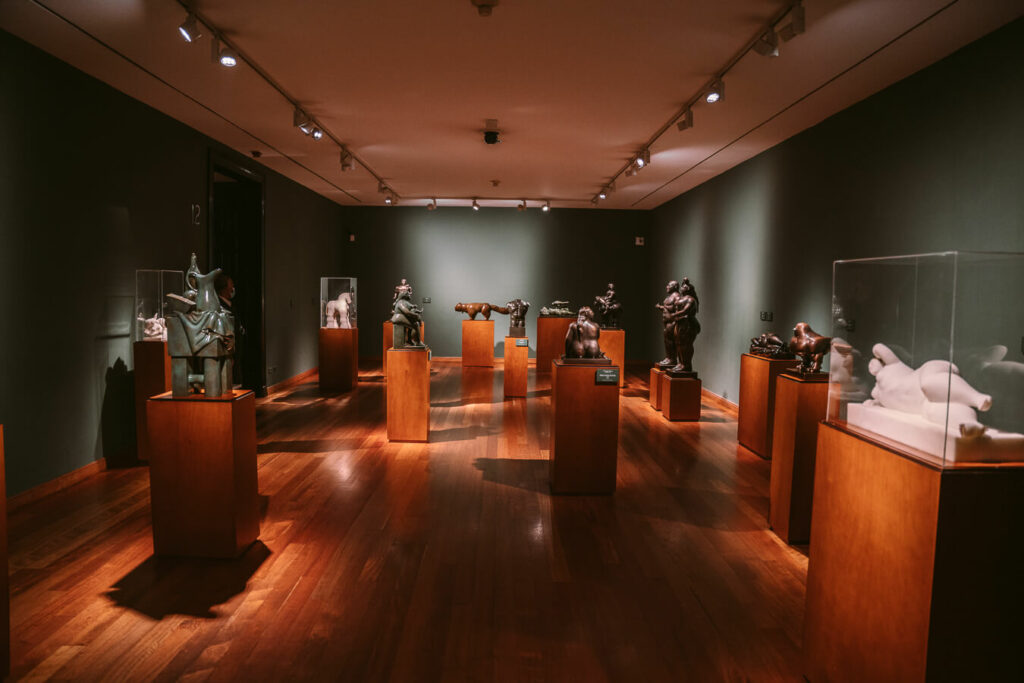 Admission to the Botero Museum is free but you'll need to bring your ID- a photo of your passport on your phone is fine.
Learn Spanish
Spanish really does come in handy when travelling in Colombia and in most of South America so why not polish your skills if you have a little more time in Bogota? It really is one of the best things you can do in Bogota Colombia and for yourself in terms of language knowledge.
You can opt for a basic group course to get you familiar with how to ask for things you need when in Bogota or even a private class to help you refresh what you already know ready for your travels.
There are many options for Spanish learning in Bogota. Click here for the chance to learn Spanish and get involved in some cultural activities too.
Alternatively, some highly recommended Spanish schools in Bogota are Don Quijote and Vamos Spanish Academy which also has centers in Bogota and other Colombian cities.
Visit the Bogota Museum
If you'd like to know a little more about the history of the city of Bogota from construction to culture then make sure not to miss this little museum in La Candelaria.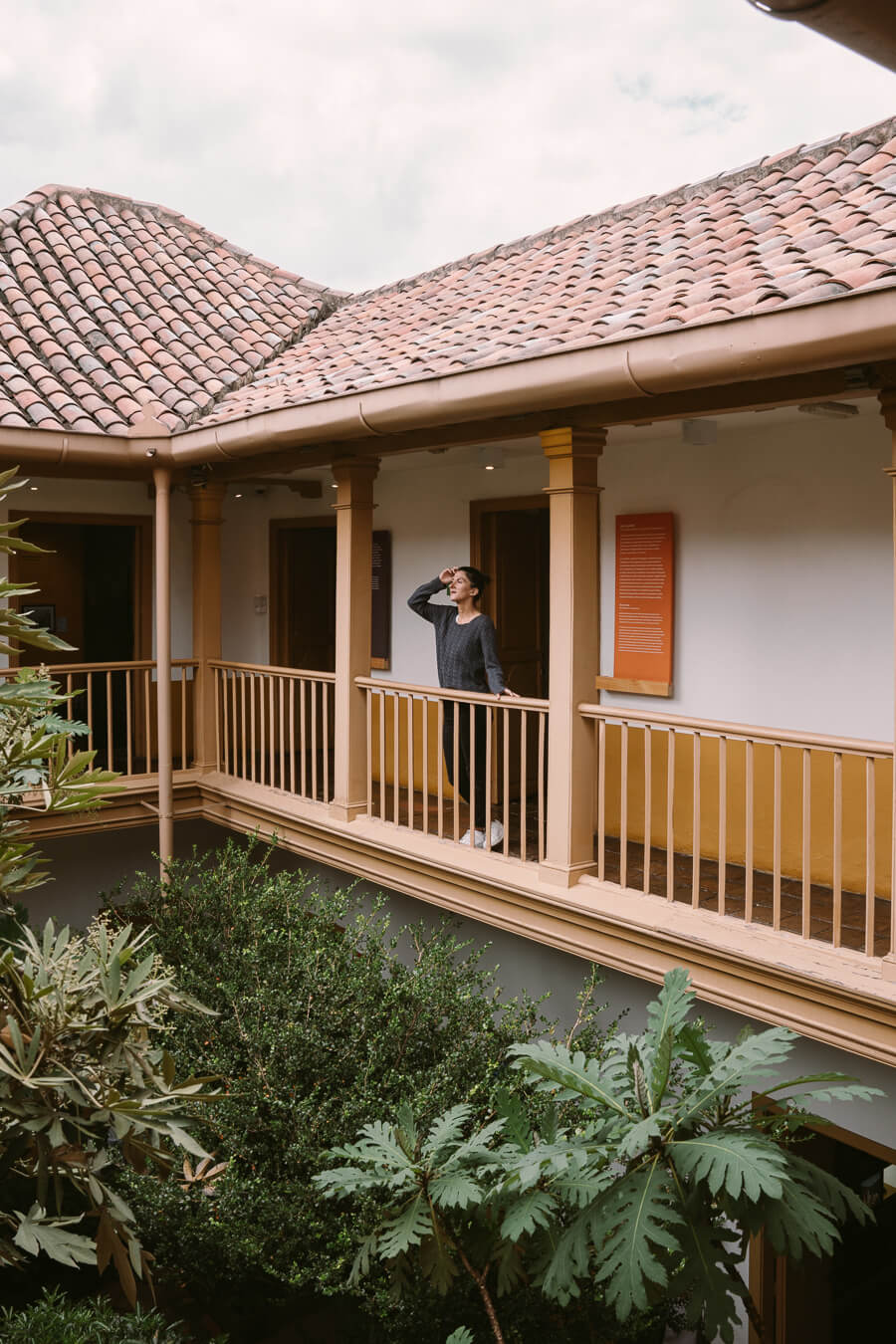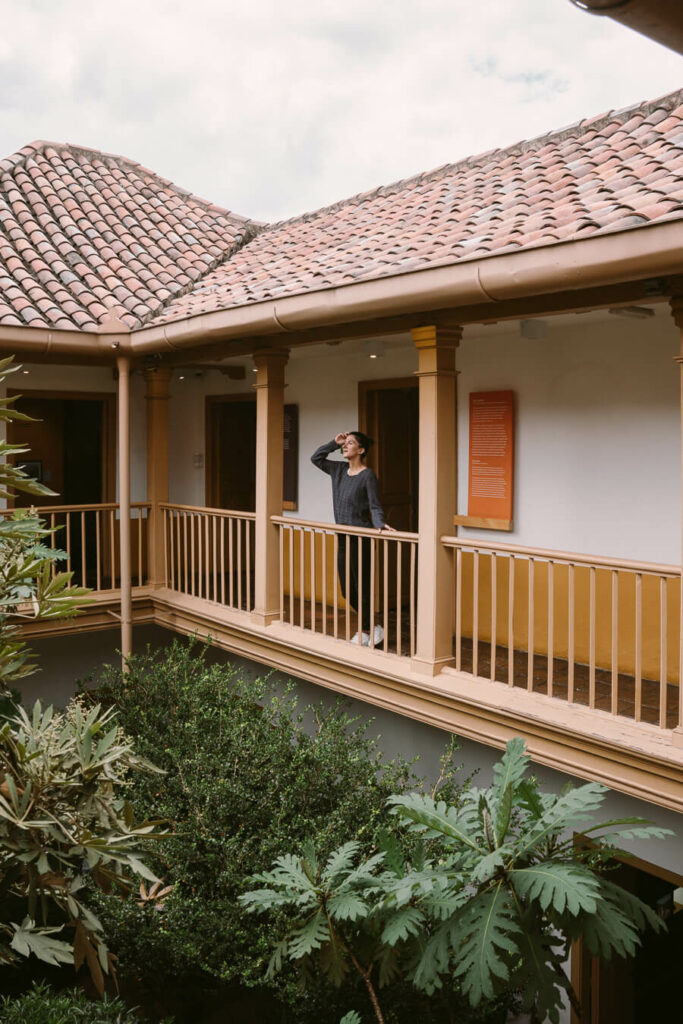 You'll be able to learn how the city came about, how it changed during the period of Spanish colonisation and how modern technology had an impact on developing the city you see today. While the museum is quite history and engineering heavy the building is still worth visiting for its gorgeous courtyard and colonial-style architecture.
Admission is free.
TOP TIPS FOR VISITING BOGOTA
↠ There is a lot of traffic in Bogota so try not to cross the city during rush hour as it will take forever. I highly recommend exploring by area rather than hopping around the city as you'll waste a lot of time sitting in a taxi/Uber.
↠ Take an Uber at night. There are many parts of Bogota that just aren't safe at night and that includes the historical center and La Candelaria. If you are going out at night make sure to take a taxi or Uber. In general, however, Bogota is perfectly safe to wander around during the day.
↠ Bring layers. Due to the altitude, (Bogota is located at 2,640m above sea level) it is a fairly chilly city. You'll definitely need long pants and a jacket when going out in the evening. During the day temperatures can rise into the early or mid-20s/low 70s.
↠ Safety. I generally get a lot of questions over on my Instagram about safety in Colombia. In general, Colombia is a safe place to travel, more so in recent years, providing you stay on the tourist trail. Bogota is a city like any other where petty crime and robbery do happen occasionally just like it might in New York or LA.
Always make sure to be aware of your surroundings, use common sense, don't walk around La Candelaria or the historic center at night, and leave valuables in your hotel room when possible and when going out at night.
You'll also want to make sure not to walk around with your cell phone in your hand all the time in the center of the city and keep any expensive cameras out of sight most of the time (it's perfectly ok to take it out to take photos, however).
In Bogota, there is a lot of police presence on the streets which has made the city safer and safer over the years. I've now been to Colombia four times and I've had nothing happen to me. I personally find areas of LA much scarier and more intimidating than the center of Bogota.
↠ Museums are easily one of the best things to do in Bogota Colombia due to the wet climate. To enter most museums in Colombia you'll need to show ID- any type of photo ID is fine and so is a picture on your phone of your ID. At the time of writing, you also needed to show proof of vaccination to get into most museums, public spaces, events and bars so make sure you have a picture of it on your phone.
---
Which things to do in Bogota are you excited about? Let me know your questions and comments below, I'd love to hear from you.
Planning a trip right now? These are just some of my favourite websites I use to book everything from hotels to rental cars!
Rentalcars.com for quick and easy car rentals worldwide
Booking.com for great deals on hotels
Agoda also for great deals on hotels
Get Your Guide and Viator for tours and adventures around the world
Related posts you might like:
12 Best Places To Visit in Colombia You Don't Want To Miss
Magical Things To Do in San Andres, Colombia
Unmissable Things To Do In Cartagena Colombia
Barichara Colombia: A Guide to Colombia's Prettiest Town
FOUND THIS GUIDE USEFUL? PIN IT AND SHARE