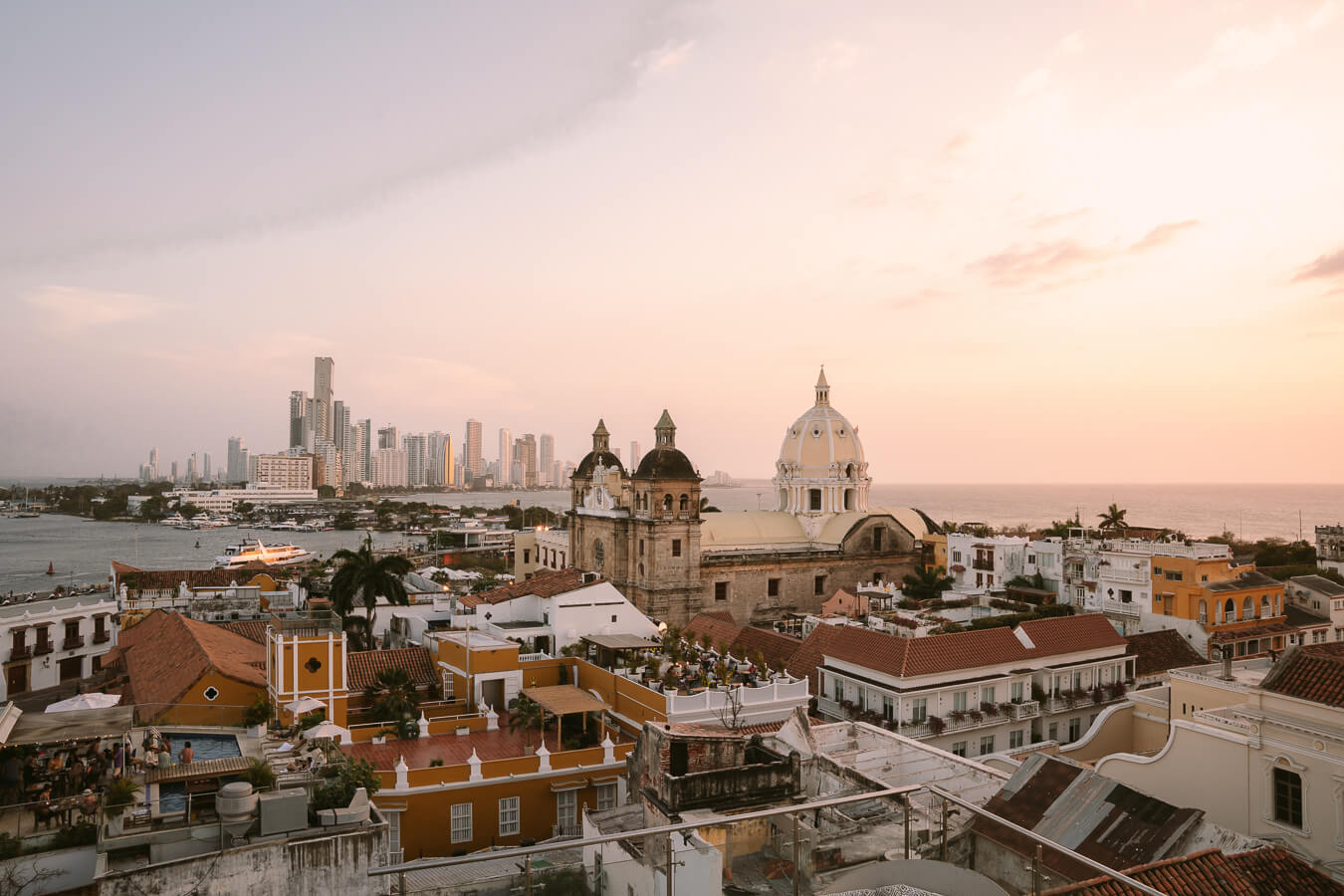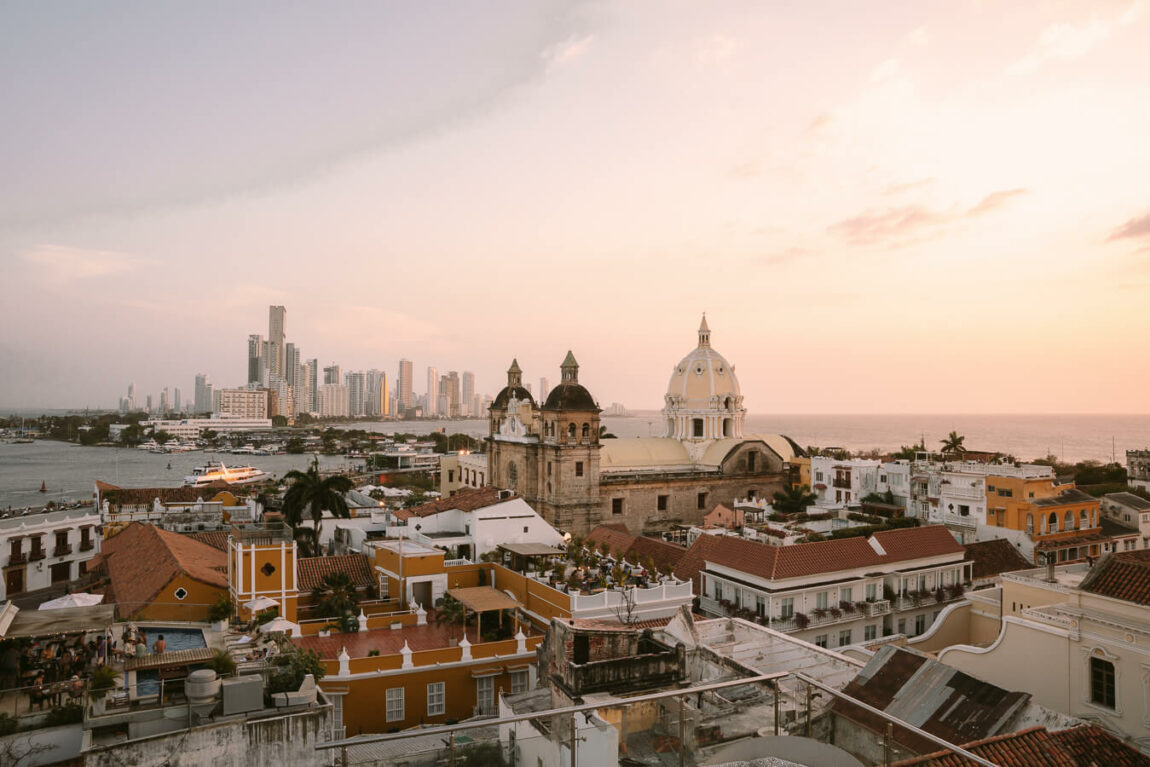 Unmissable Things To Do In Cartagena Colombia
(Last Updated On: August 18, 2023)
There are so many amazing things to do in Cartagena, Colombia's most colonial city. Find out what they are and make your itinerary the most memorable it can be.
"What matters in life is not what happens to you but what you remember and how you remember it." ― Gabriel García Márquez
Cartagena de Indias is Colombia's most visited city and for good reason. With vividly coloured colonial buildings, cobblestone streets and horse-drawn carriages this city is something out of a fairytale.
There isn't a shortage of things to do in Cartagena, Colombia and you'll easily be able to fill up a couple of days in this colonial paradise- and I highly recommend that you do.
It is rife with life and you spend your days walking its picturesque streets, enjoying the colonial architecture and sipping cocktails on its white-sand beaches and soaking up all of the things to do in Cartagena Colombia.
The City of Cartagena is a large place but as a traveller, you'll probably be interested in just the central, walled city and Getsemani.
If you arrive by taxi from the airport or bus station then you'll notice how large and loud the city really is. Don't be concerned- the most beautiful parts of the city are small, walkable and self-contained.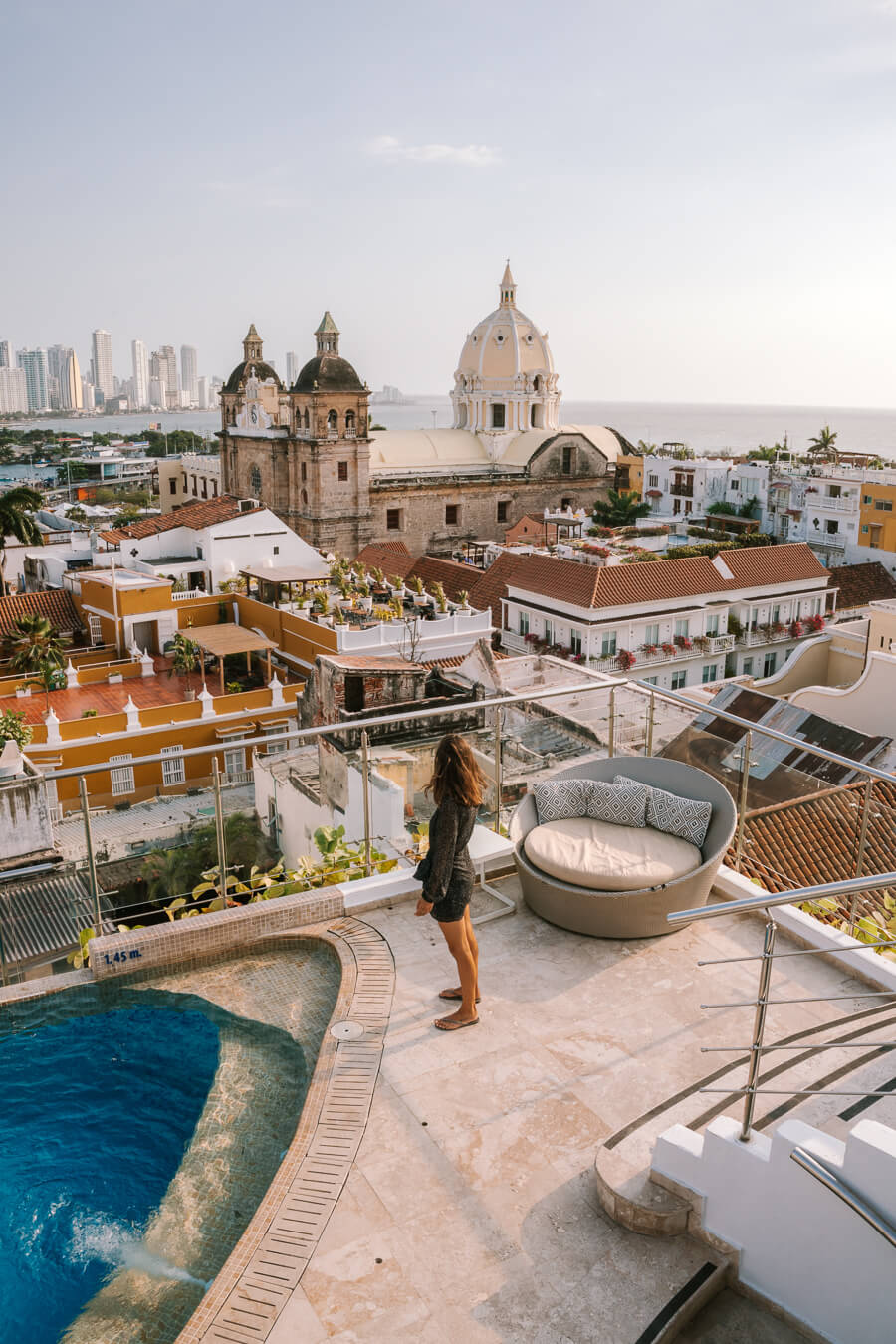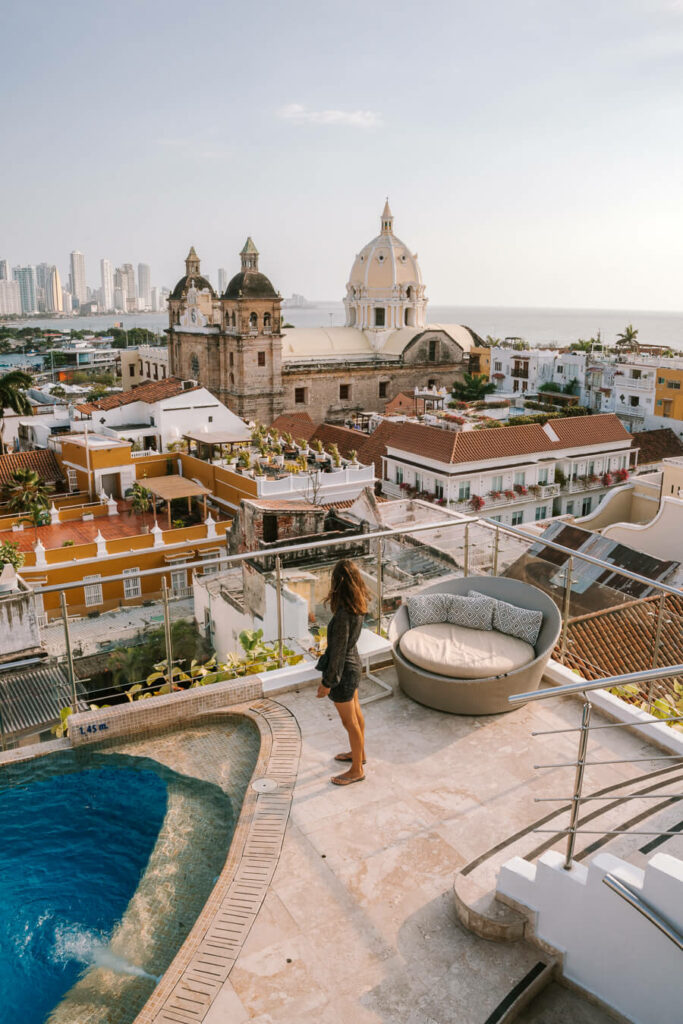 *This things to do in Cartagena Colombia post contains affiliate links meaning I might make a small profit if you choose to book at no extra cost to you.
WHEN TO VISIT CARTAGENA COLOMBIA
Cartagena is hot and humid throughout the year and generally, temperatures stay within the mid-80s (Fahrenheit) or high 20s (celsius) all year round.
What does vary, however, is the amount of rainfall from month to month. While it probably won't rain all day for days on end, you can expect to see short bursts of heavy rain during the afternoons.
The wettest months in Cartagena are October and November. May and July are quite rainy too.
If a bit of rain doesn't bother you then this also coincides with the low season where there will be fewer people around and you'll be able to pick up some great discounts on hotels.
The best time to visit Cartagena is between December and April when the weather is hot, but not at its most hot and humid and with guaranteed sunny days.
It's the best time to visit if you're planning to spend some time on the beaches around the city and on the Rosario Islands. This is high season in Cartagena so expect more people at this time.
If you can try to avoid the Christmas holiday and January and this is when most Colombians take their vacation making Cartagena extremely busy at this time.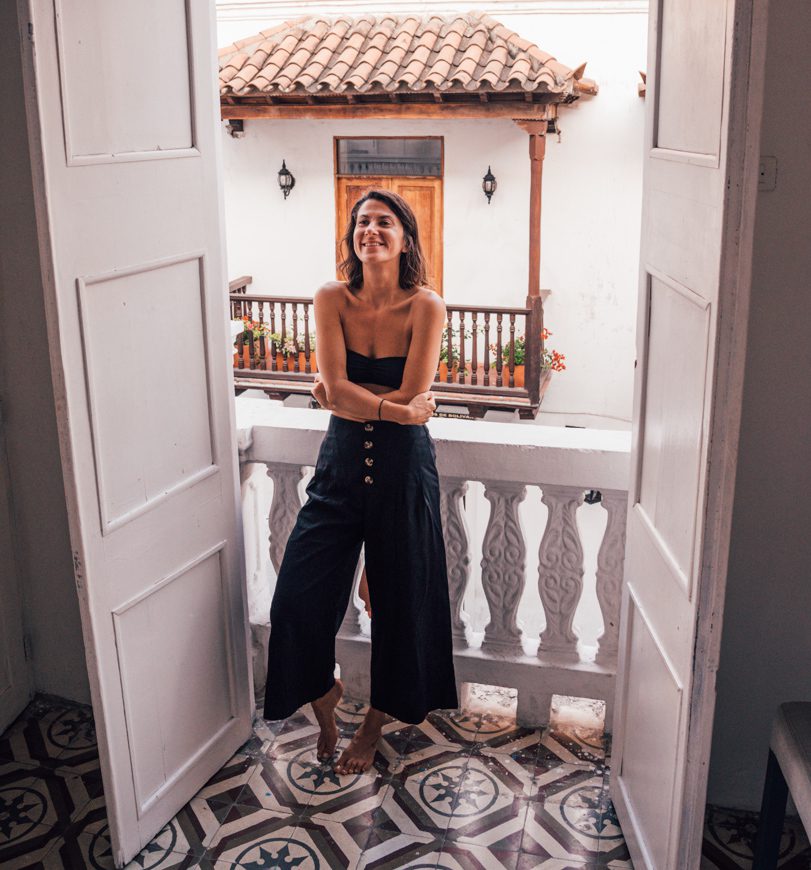 Due to the heat, it's always a good idea to book accommodation with a pool (many hotels and even budget hostels have them) and then sightseeing in the early morning and late afternoon while passing the hottest time of day having a leisurely lunch or in the pool.
Where to Stay in Cartagena, Colombia
Many travellers stay within the Old Walled City or in neighbouring Getsemani.
Outside of these places you'll find an ordinary hustling and bustling Colombian city like any other.
I highly recommend that you stay in the Old Walled City or Getsemani which have plenty of boutique-style accommodation options for all budgets.
Another option is to stay in the Bocagrande neighbourhood of Cartagena- this is the beach strip part of Cartagena that reminds me a little of Miami beach.
Here you'll find all the 5-star resorts from all the top brands from around the world. While you're a little further away from the Old Walled City staying here, you do have the beach right in front of you- it really depends on what you're priorities are.
Here are our favourite places to stay in Cartagena:
What are the best places to stay in Cartagena I hear you ask? This is one of them. Ananda Hotel Boutique is what dreams are made of.
Set in an old, colonial mansion right in the centre of the Old Walled City, this boutique hotel is the kind of place that will have you dreaming of it long after you've checked out.
Among thick concrete, walls and staircases and original wooden, beam ceilings, this property really evokes the feeling of the past; their attention to detail is incredible. Suites are beautifully decorated and spacious with TV, wifi and air-con.
There are two gorgeous pools on the property, a rooftop plunge pool and a larger one in the centre courtyard.
They also have an onsite restaurant serving delicious local food and a spa where you can cool off from the midday heat and get a message. You won't be disappointed here.
Check rates and availability here booking.com | Agoda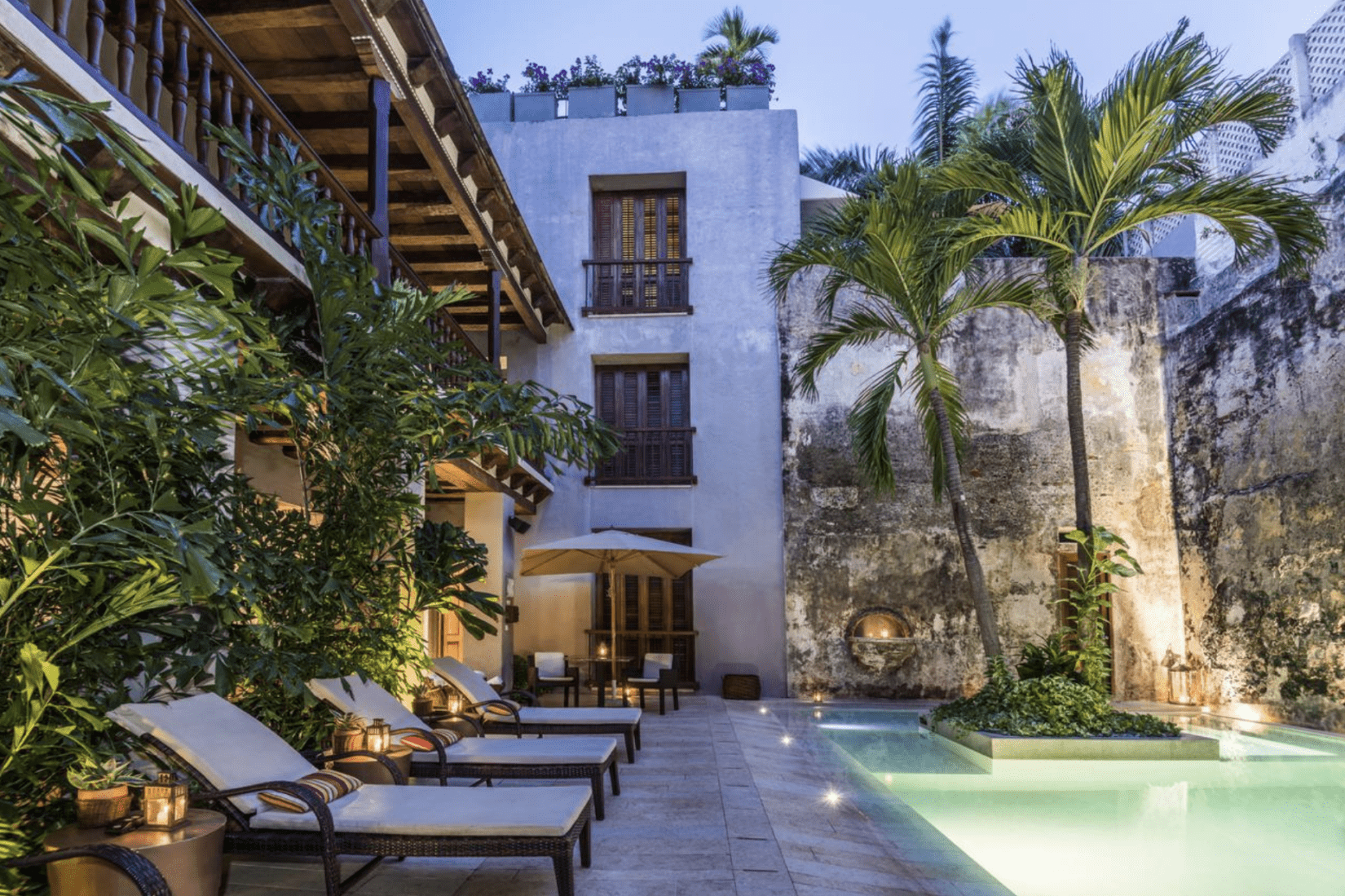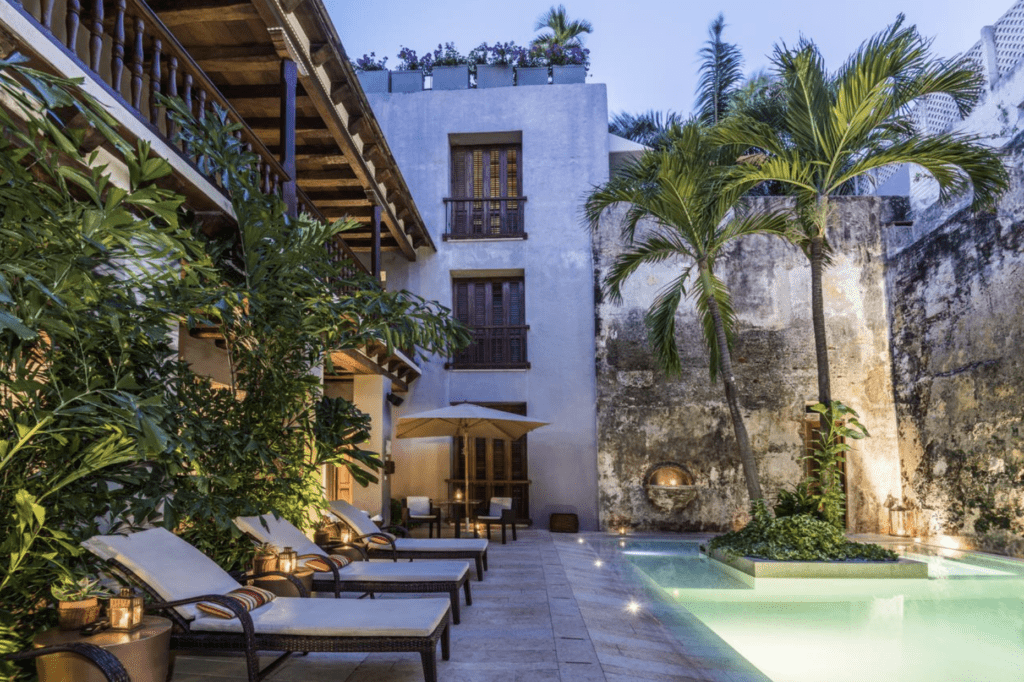 Another stunning option right in the middle of the city centre, this boutique hotel is full of old world-style touches, light and dark contrasts and earth tones. Among its thick concrete walls, you'll find traditional window shutters, wisteria-filled courtyards and antique furniture.
The rooms here are gorgeously decorated and have everything you need for a comfortable stay; closet space, en-suite bathroom and plenty of space.
There's also a spa on-site that offers a number of different treatments as well as a courtyard pool to relax in during the day. This `property also offers bicycle rental, allowing you to explore the city on your terms.
Don't forget to check out their cafe/restaurant Epoca just downstairs for some of the best coffee in Cartagena.
Check rates and availability here booking.com | Agoda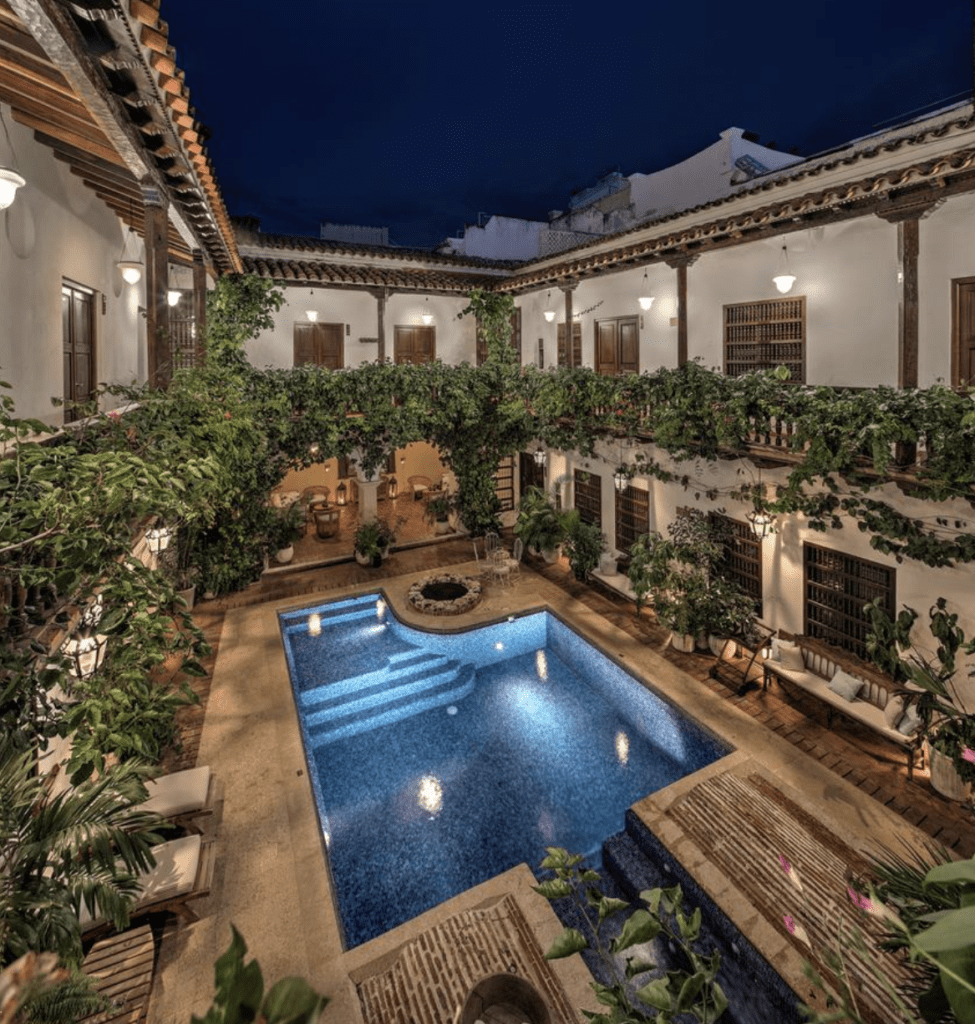 For a chance to experience old-world style on a budget, Casa India is a great option.
It's another property housed in an old colonial building with an internal courtyard full of plants, a chillout area and of course a pool.
Rooms here are cosy and simple with everything you need for a pleasant stay in Cartagena. They also have a great breakfast to take advantage of before starting your day exploring.
Check rates and availability here booking.com | Agoda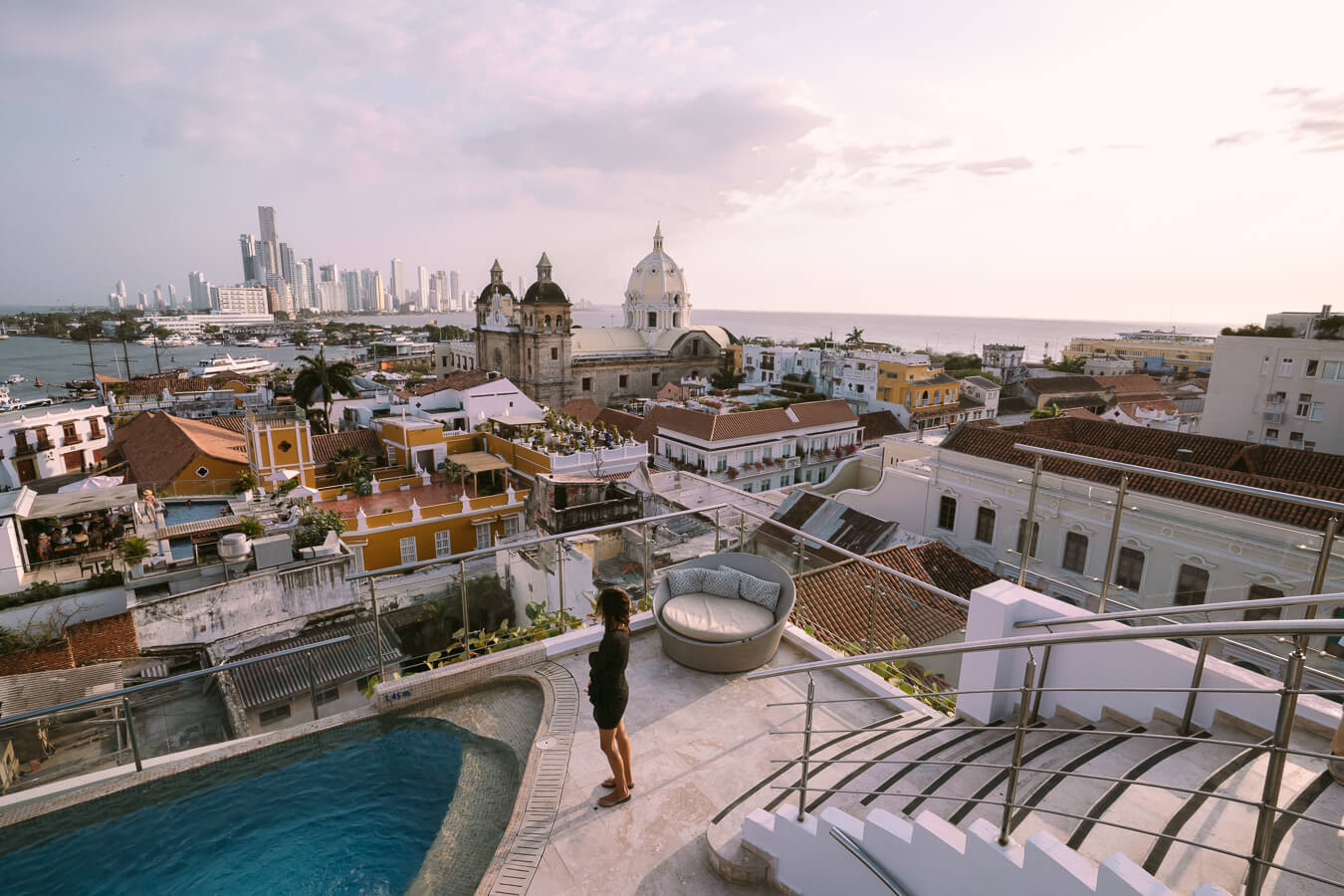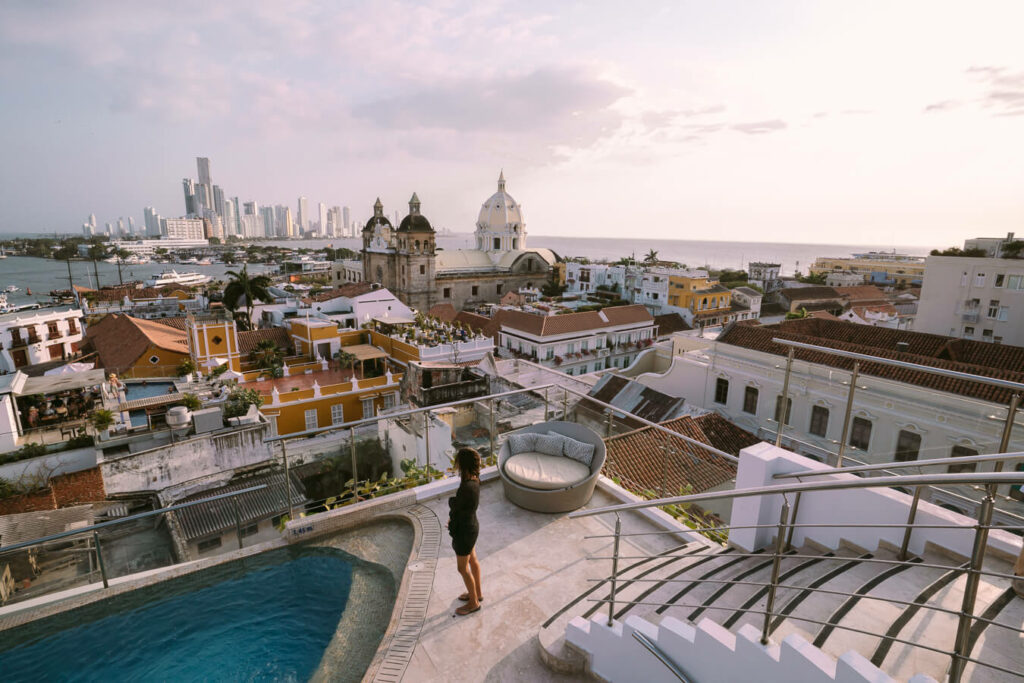 For an excellent location, world-class dining and one of the best rooftop views in Cartagena, make sure to stay at the Movich Hotel Cartagena.
This stunning, Moroccan themed hotel offers a modern touch to your stay. With exposed stone walls and clean lines in each suite, the rooms are comfortable and luxurious and all the mod-cons.
On the roof terrace, you'll find a restaurant pool and bar with the best views of Cartagena. Even if you're not planning on staying here, I highly recommend you come here for a sunset drink.
Check rates and availability here booking.com | Agoda
If you'd like to prioritize luxury, rest and beach over exploring the centre stay in Bocagrande at our top choice, the Hyatt Regency.
This beautiful, world-class hotel offers a similar service you'd expect from this name around the world. With clean, modern and functional suites, large restaurants, chill-out areas, multiple pools including a rooftop infinity pool and some of the best sea views around, this is a great choice.
On the wellness front, their large spa offers a variety of different treatments to enjoy throughout your stay from massages to facials. It's the perfect place to relax and get some 'me' time and 'beach' time.
Check rates and availability here booking.com | Agoda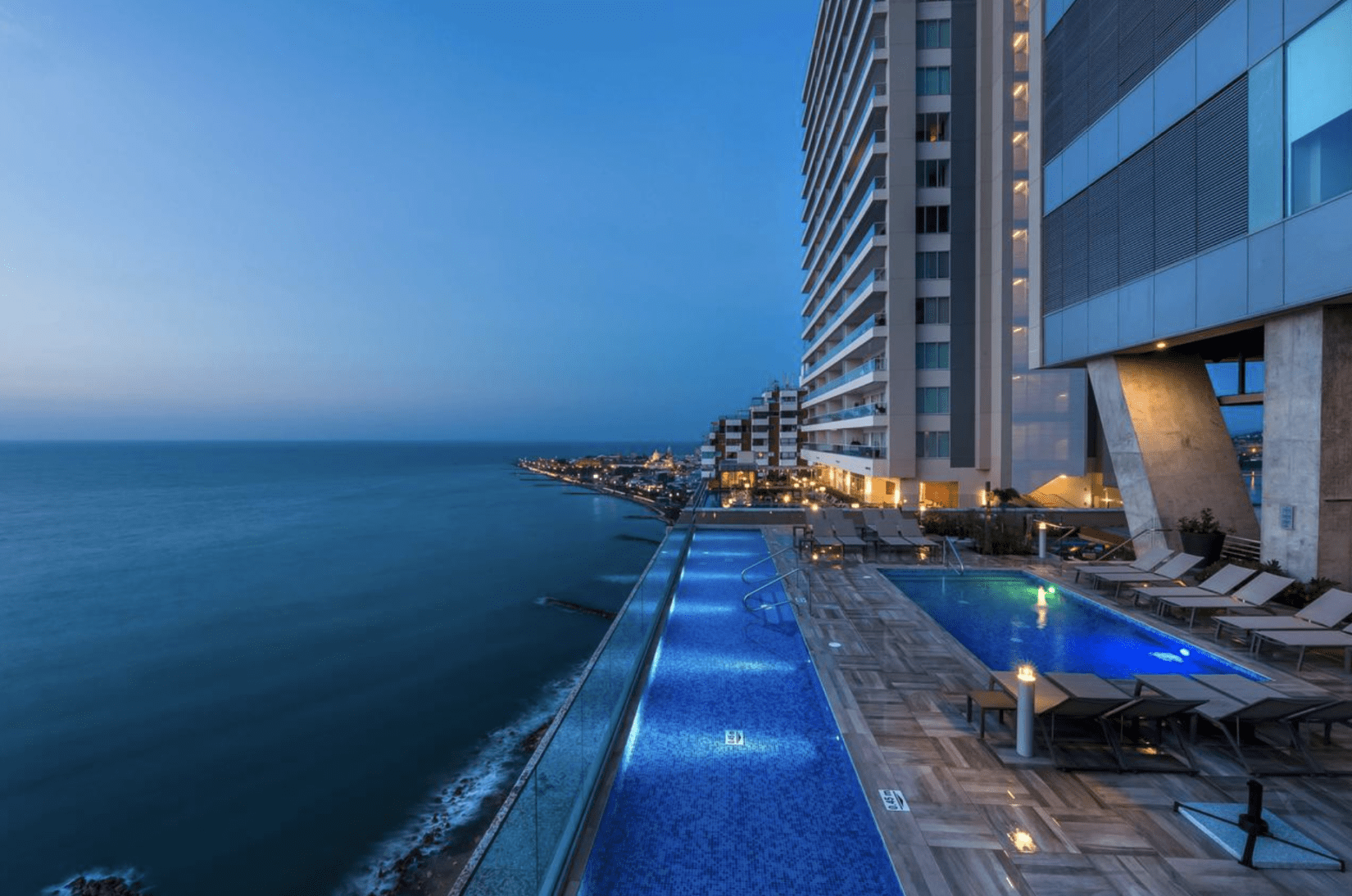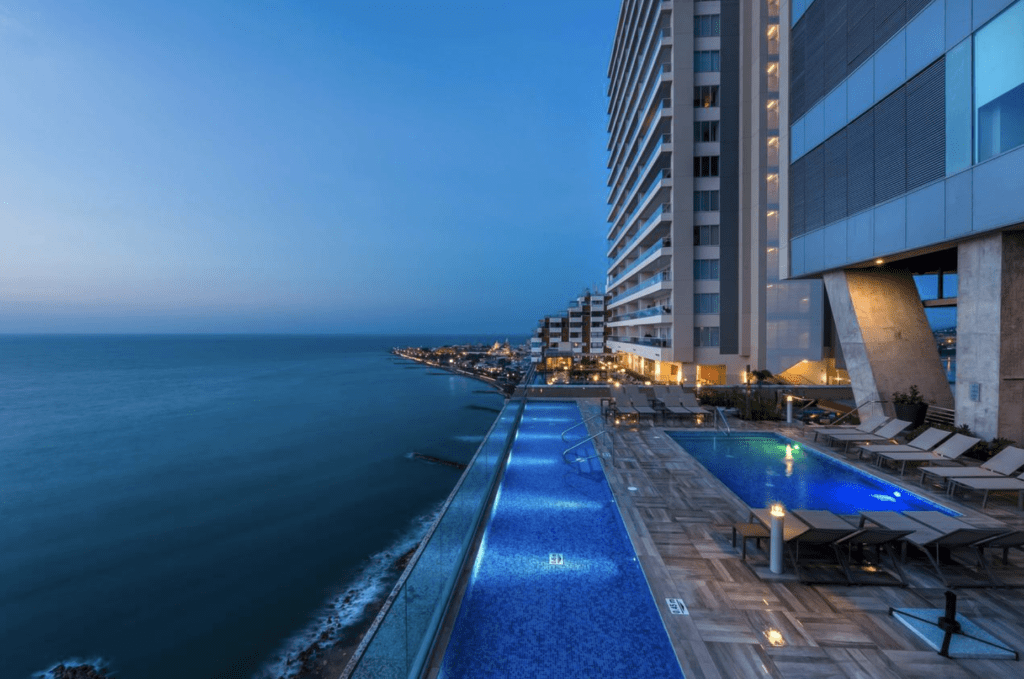 Where to Eat in Cartagena, Colombia
Pezetarian – one of the best options for fresh, healthy and plant-based food in Cartagena, Pezetarian offers delicious, Asian- focused food.
Their colourful menu contains only fish, seafood and vegan dishes. Come here for a range of vibrant rice bowls, salads, noodle dishes, sushi and more.
This place is perfect for both lunch and dinner and for those looking for a vibrant, healthy meal for all diets.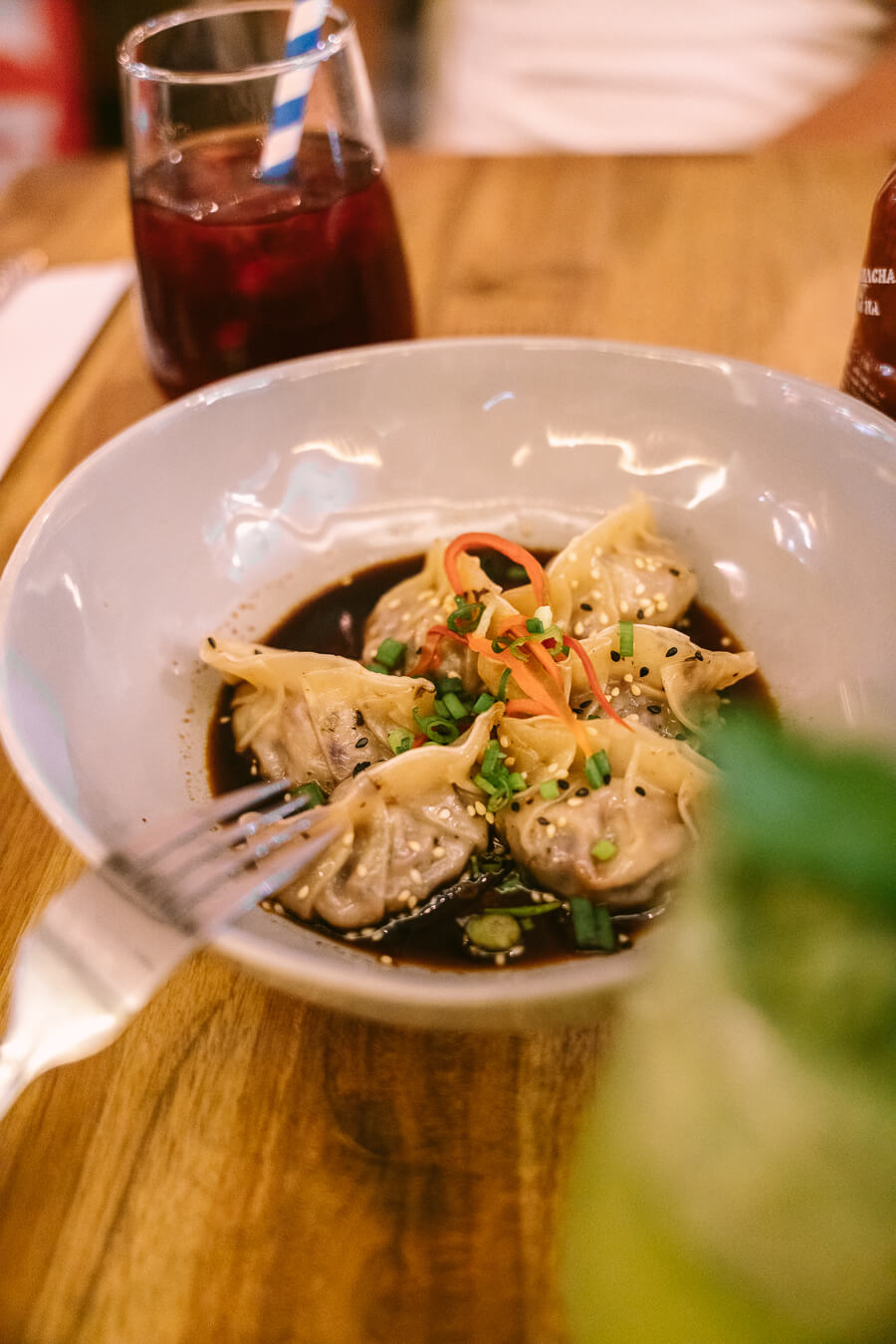 Epoca Arzobispado – For those looking for an excellent place for breakfast or brunch, head straight to Epoca.
Attached to the luxurious Hotel Casa del Arzobispado mentioned above, Epoca serves some of the best coffee in Cartagena.
You can choose from machine-espresso coffee or speciality coffee which includes preparation in options like Chemex, French Press, Aeropress and siphon among others. The decor is pretty swoon-worthy too.
Cancha Restaurnate – For plant-based friendly Peruvian flavours head straight here to this great sushi and ceviche restaurant.
There are many healthy options here such as a vegan avocado and fruit ceviche, vegan sushi and tacu-tacu- a stir-fried vegetable dish. This is a great option for healthy vegan options and it's a great spot for dinner.
El Bololó – For a simple meal packed full of Caribbean flavour, head to El Bololó, a simple eatery right next to Plaza de la Trinidad in Getsemani.
Here there are just two options: a Caribbean bowl with an animal choice of protein and a veggie bowl that contains legume cakes, rice, beans, grilled veggies, fried plantain and fresh salad.
It's all simple, packed with local flavour and color.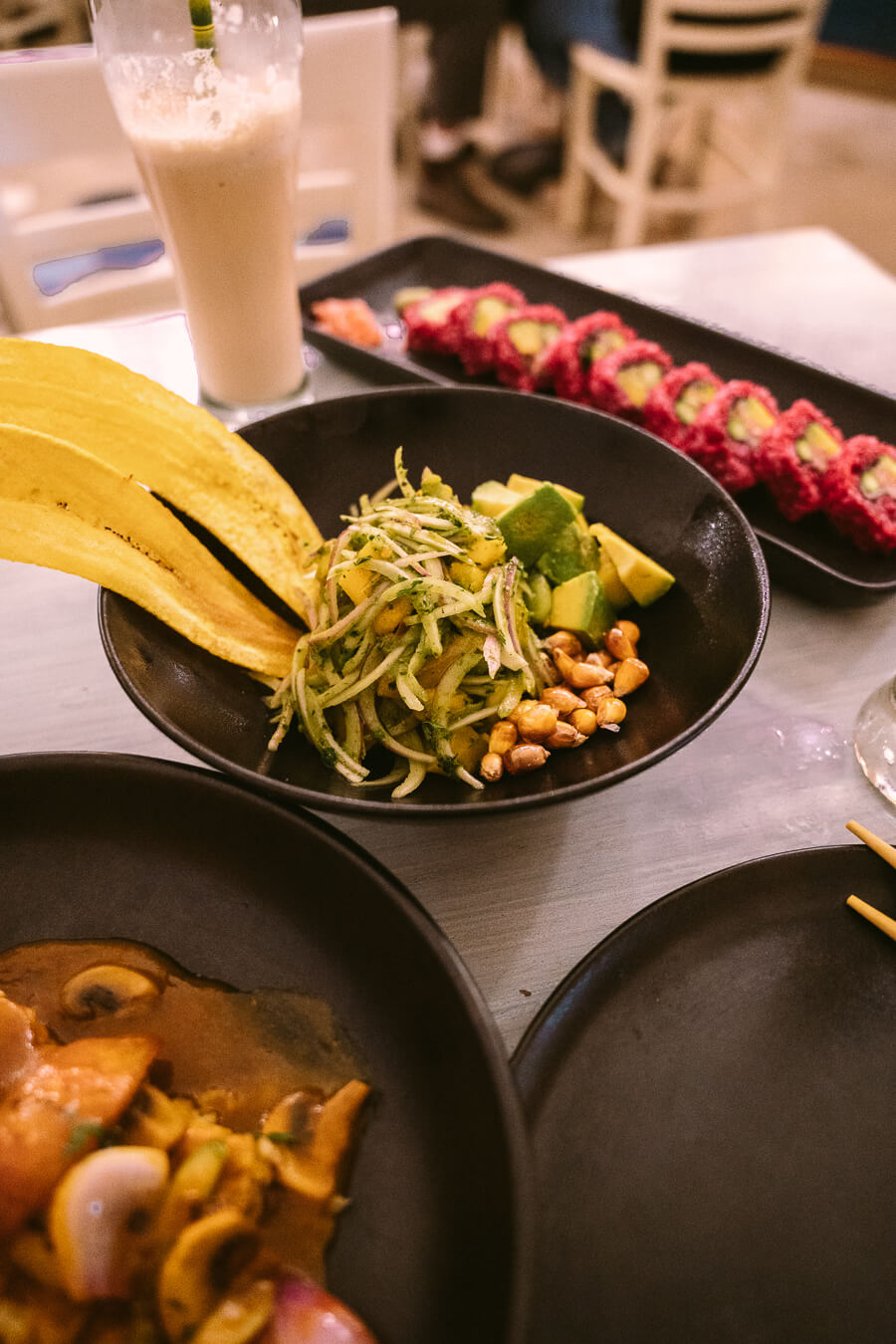 You'll also find all the street food in Cartagena. There's an abundance of sellers on the cobbled streets selling fresh fruit, fresh coconuts, bottled and canned drinks, fresh orange juice
Read more: The Best Restaurants in Cartagena, Colombia
Best Things to Do in Cartagena, Colombia
Explore the Old Walled City
Walking through the Old Walled City is like being transported back in time, straight into the Spanish colonial beauty of a Gabriel Garcia Marquez novel. Cobbled streets, quaint colonial churches, horse-drawn carriages in the evenings and balconies covered in bougainvillaea.
This is the best way to experience this city's magic than just walking around and getting lost. 
There are a number of popular places to visit within the Old Walled City such as the Sanctuary of Saint Peter Claver, the clock tower, the gold museum and the palace of the inquisition.
Don't miss the two most prominent cathedrals in the centre too.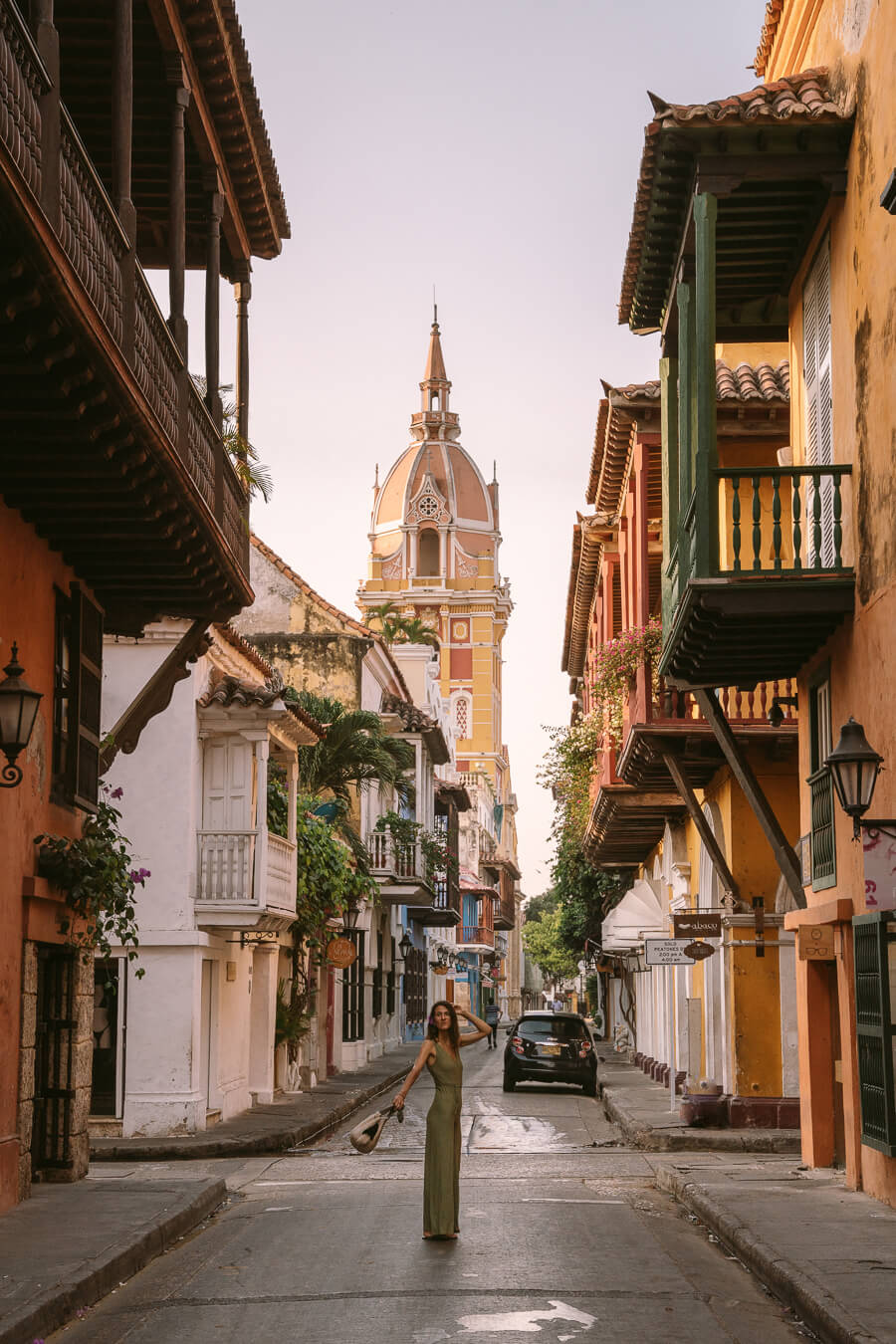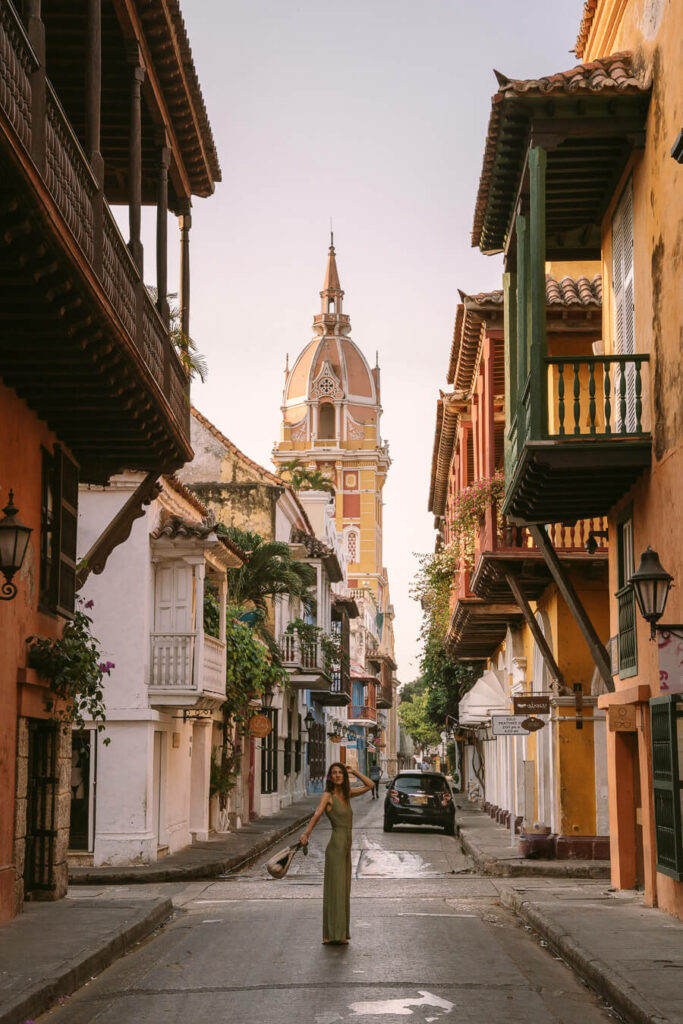 Watch the Sunset from the Wall
If you're in the city then there is no better place to watch the sunset than from the old walled city of Cartagena.
Head to Cafe del Mar, right on top of the wall itself, order some cocktails and watch the sun go down in style.
Be warned though, it is a very popular place that gets very busy and you'll have to get there pretty early to get the best tables.
Otherwise, grab a beverage of choice from a vendor or local store, take a seat on the wall itself and enjoy the sunset and the number of street performers you'll see here at this time. 
If you don't get to Café del Mar early enough or you don't fancy wasting your time queueing then head down the wall to another bar that's also got brilliant sunset views without the crowds.
El Baluarte San Francisco Javier is another bar on the wall just by Parque de la Marina. Here you can enjoy a sunset drink in style and watch the sunset.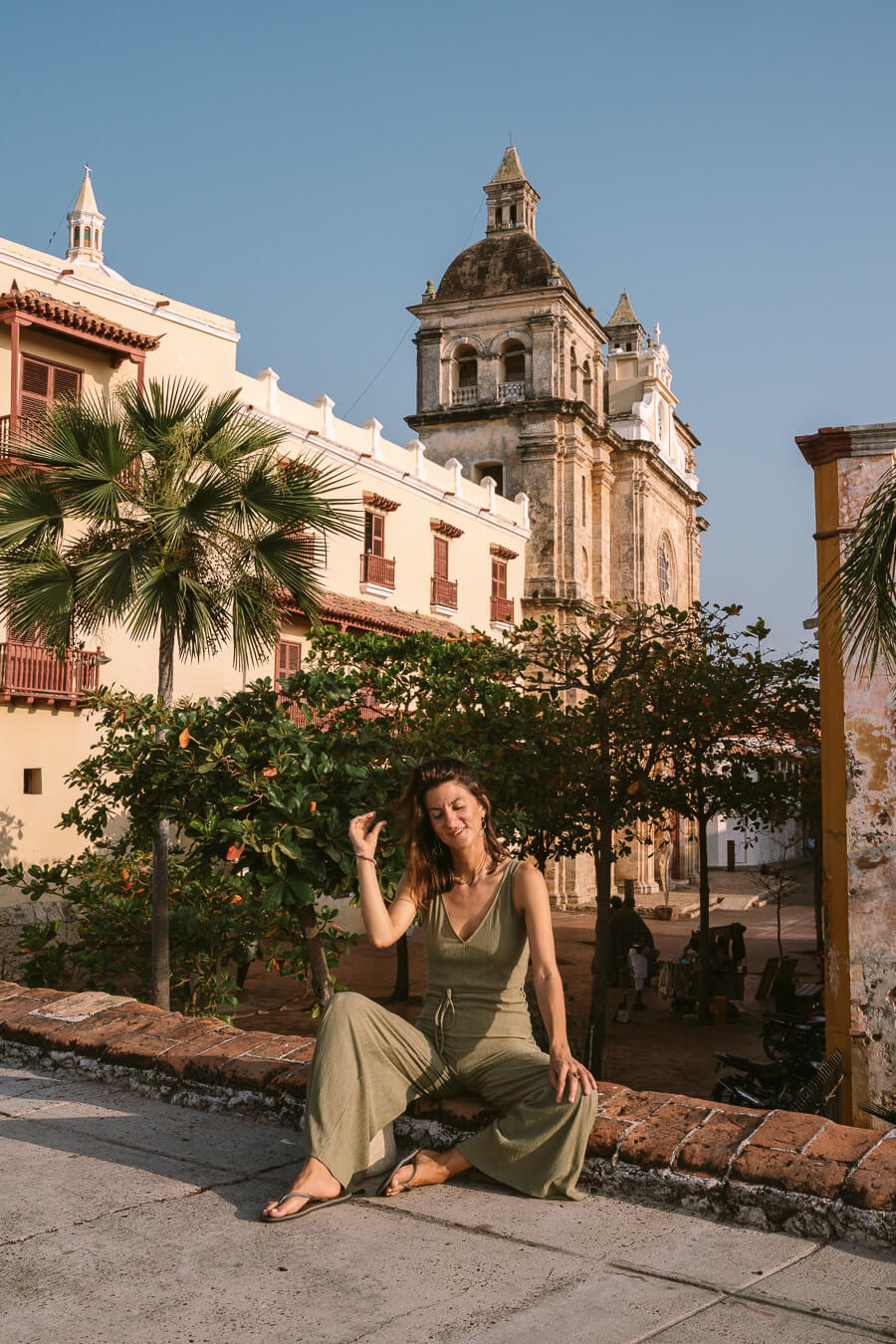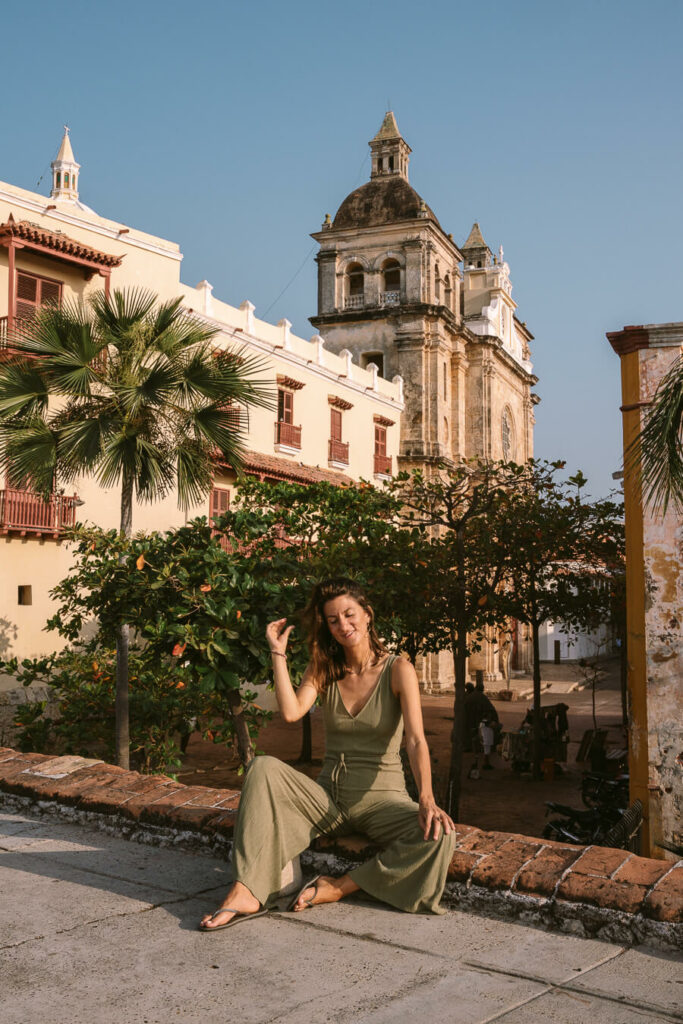 Do the Free Walking Tour
One of the best things to do in Cartagena to learn about the history of the city is to take a free walking tour.
A knowledgeable guide will take you around and explain the city's history, the Spanish's influence on the city as well as its more recent history.
You'll also learn some interesting facts and details about the lives of people that live here and some local secrets you won't find on Google.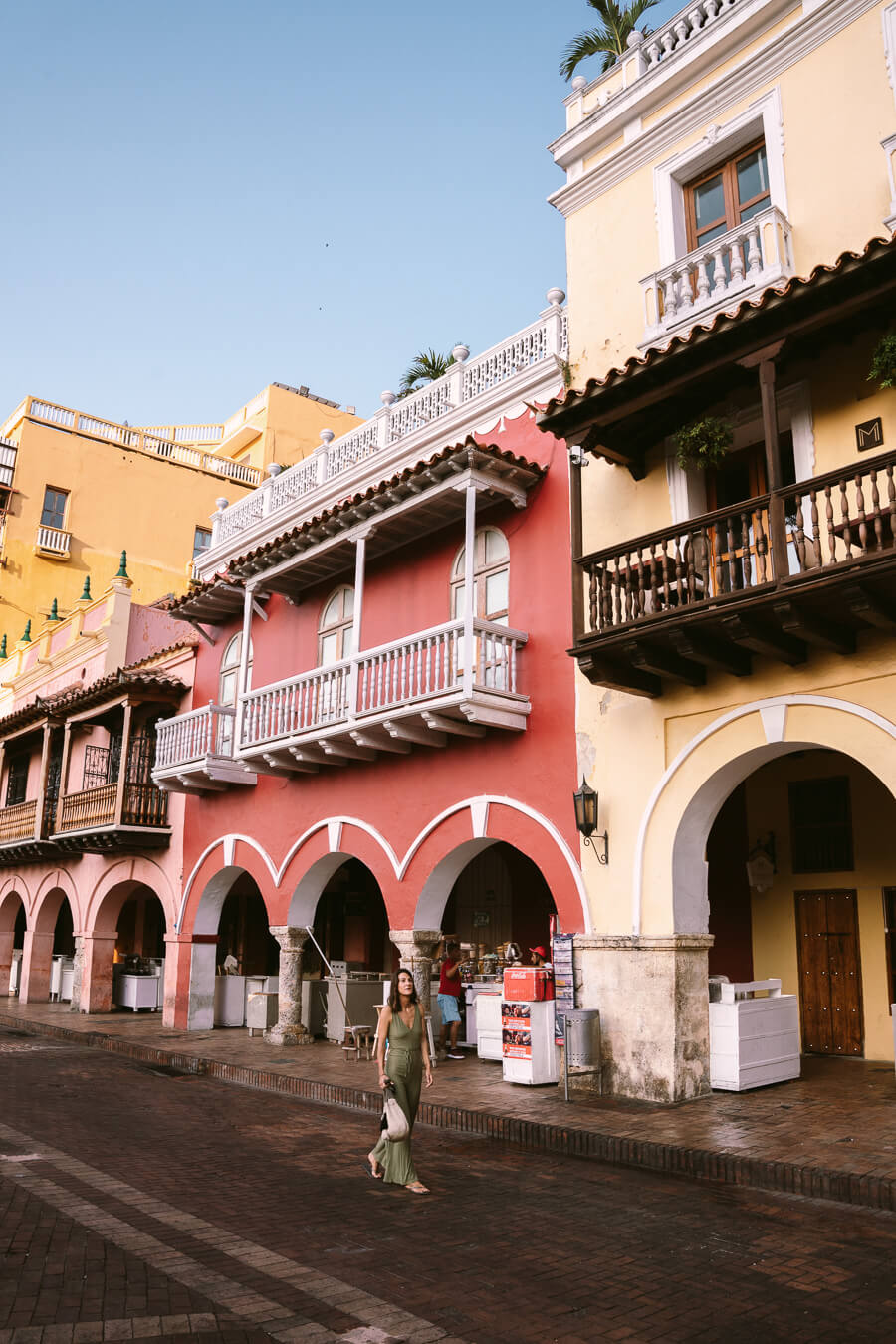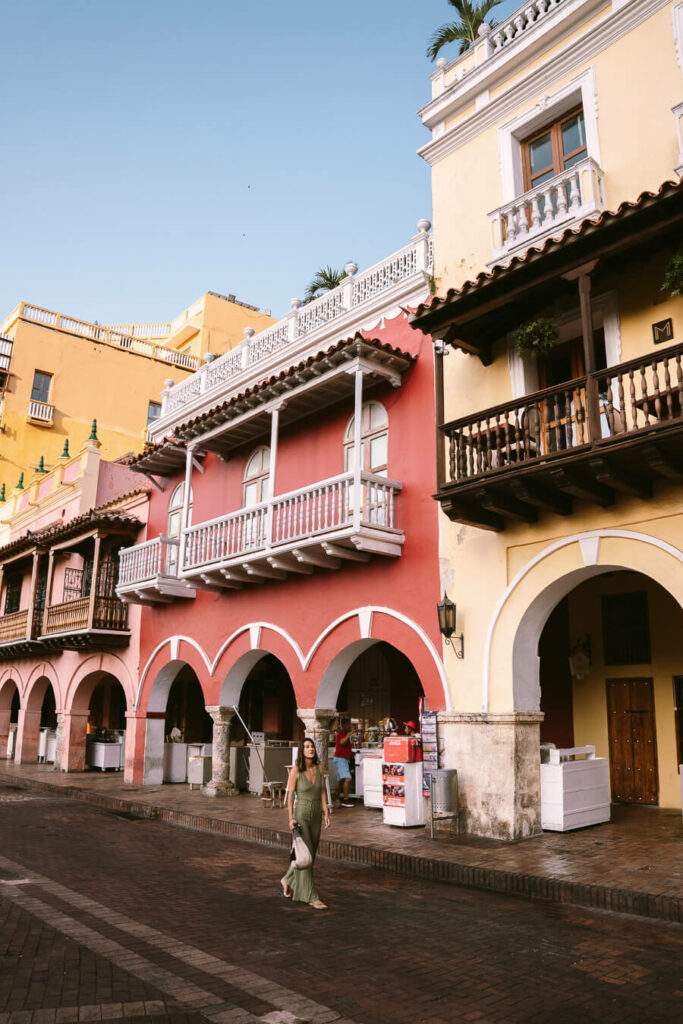 While there are many different free walking tour operators in the city, we went with the 'yellow umbrella guys'- always distinguishable as the guides carry a yellow umbrella.
Guided tours are available at 10 am and at 4 pm in both English and Spanish. Sometimes tours also go at 8 am which I would recommend for beating the heat.
To find out more about Free Walking Tour Cartagena click here.
Watch the City Wake Up at Sunrise
If you like to take photos and you're keen on getting some great shots with no one in them you'll have to be on the street at 6 am.
Cartagena's old town is extremely busy, all day and every day (apart from holiday mornings) and it's impossible to photograph its streets without anyone getting into your shot.
The harsh light contrasts are also difficult to work with. 6- 8 am was my favourite time in Cartagena- the sun had just risen, it was still cool and I had the streets to myself.
You also get to see the city waking up, cafes opening, breakfast and coffee vendors arriving on the street and university students heading to class.
The city has a completely different feel to it that is well worth experiencing, not to mention you can easily photograph places without crowds getting in the way.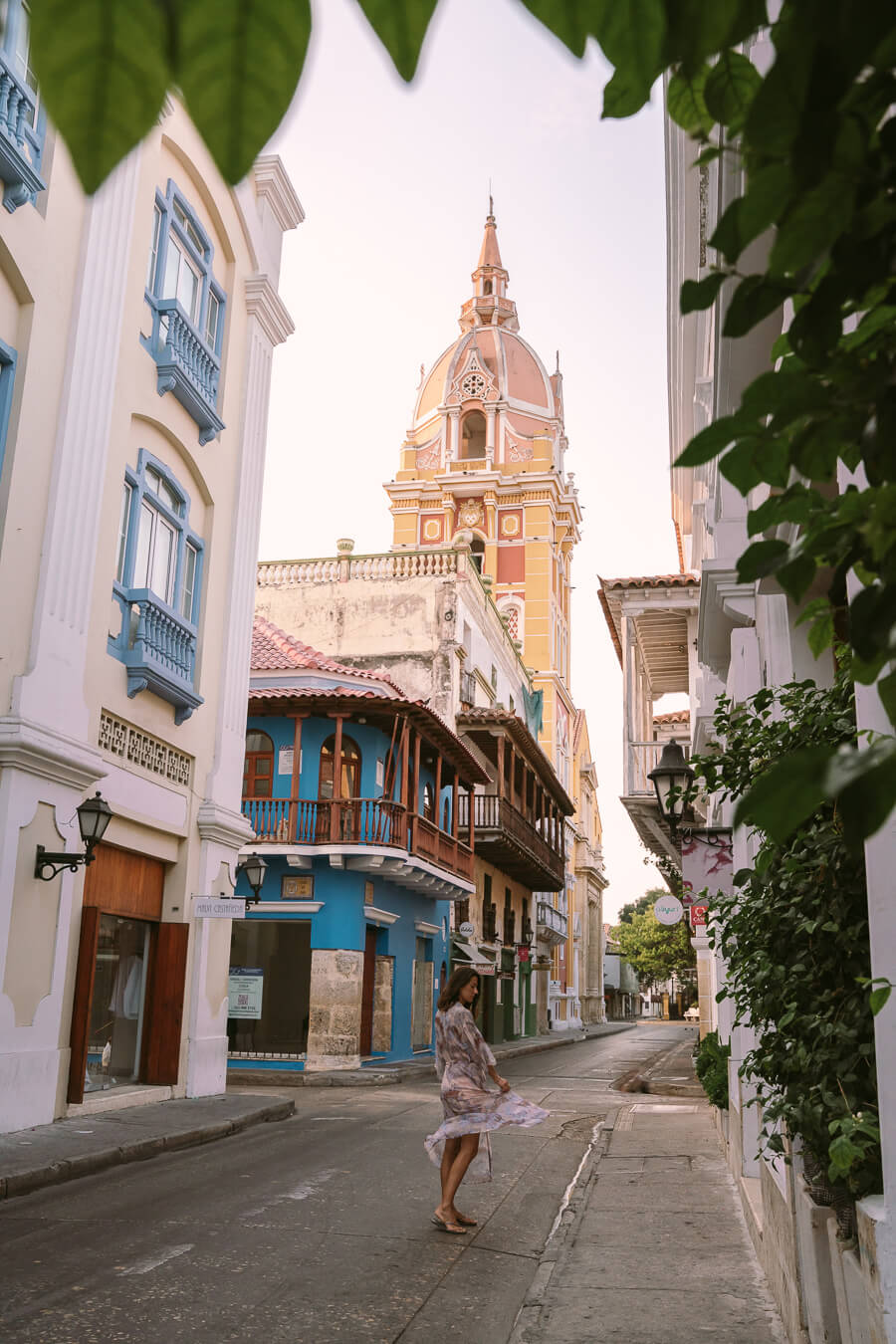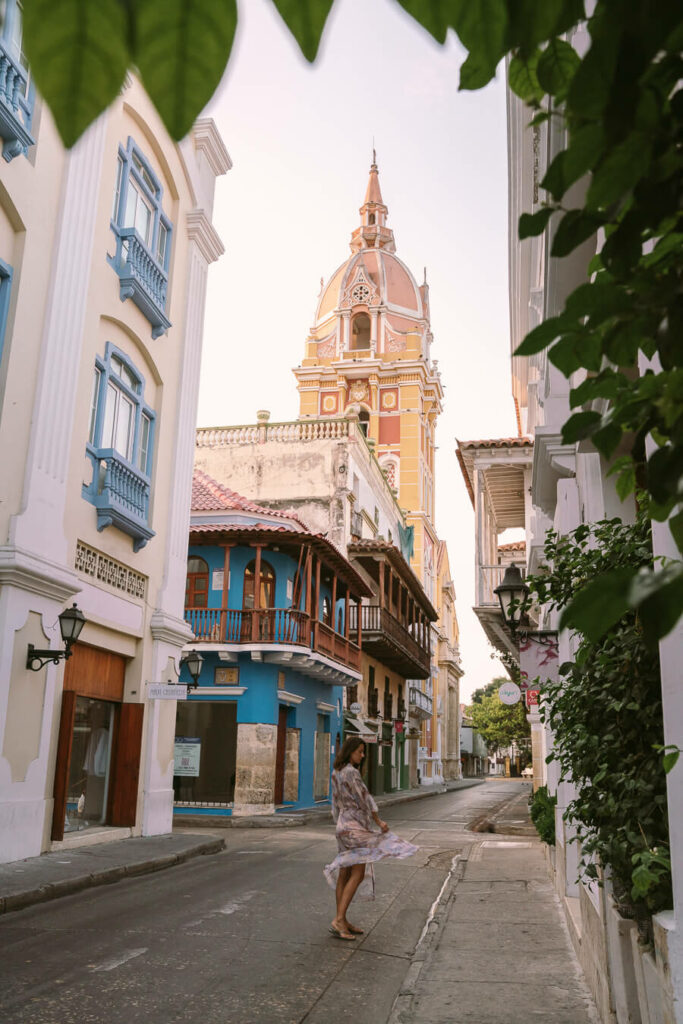 Take a Trip to Playa Blanca
If you're a little tired of city life and all the things to do in Cartagena and you crave some beach time you need to take a trip to the Rosario Islands.
In Cartagena, you'll see many street vendors trying to sell you trips to Playa Blanca and the surrounding islands. It's well worth your time, just book your day trip with a reputable company.
A simple 45-minute boat ride from Cartagena lies Playa Blanca, a gorgeous white sand beach, fringed by coconut palms and clear, turquoise water. It's the beach you'd see on a postcard back when they existed.
While it is one of the most beautiful beaches in Colombia on the Caribbean Coast, Playa Blanca can get extremely busy with travellers and locals alike.
Try to avoid it during weekends, Colombian National holidays and holidays like Christmas and Easter. Prepare for it to be more hectic during the summer holidays too (January and February).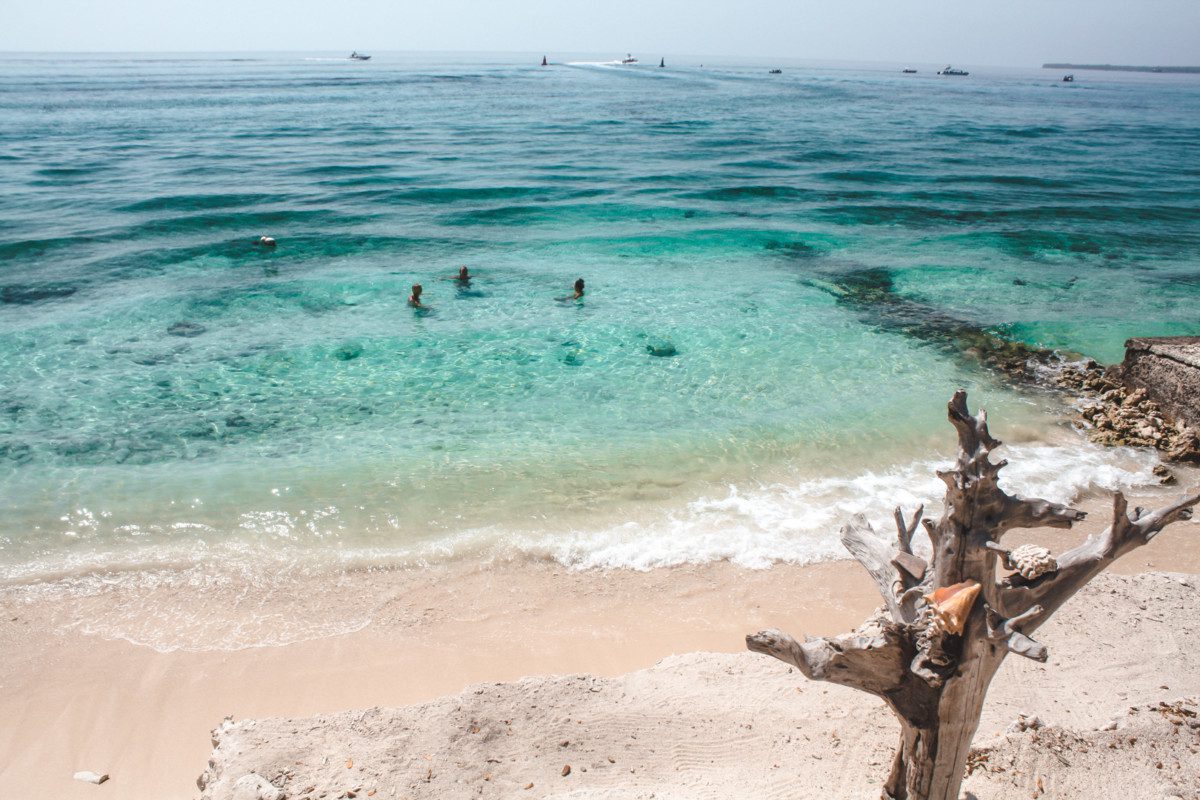 Alternatively, if you fancy getting away for a little longer why not visit Isla Grande for a night or two?
The largest of the Rosario Islands, you can book a lovely hotel here and spend the days swimming in the crystal clear waters and relaxing in a hammock.
As Isla Grande is further from Cartagena than Playa Blanca it doesn't see the same crowds.
Check out this highly-rated tour to get to Playa Blanca.
Alternatively, check out this amazing tour for a full day around the Rosario Islands including Playa Blanca and Isla Grande.
Things to Do in Cartagena: Go Shopping
Cartagena has some of the best independent boutiques in Colombia and it is one of the best places for shopping in the country.
You'll find some of the best boutiques on Calle de San Juan de Dios, however, there are beautiful stores selling everything you might need all over the old walled city.
From eyewear to emeralds and swimwear to sandals, these stores have you covered for all your vacation needs.
Some of my favourite stores in Cartagena are Loto del Sur, a Colombian skincare brand selling lovely, natural skincare, Ba Hue and Territorio for clothing, accessories and jewellery. If you wear leather, Velez is the place to go.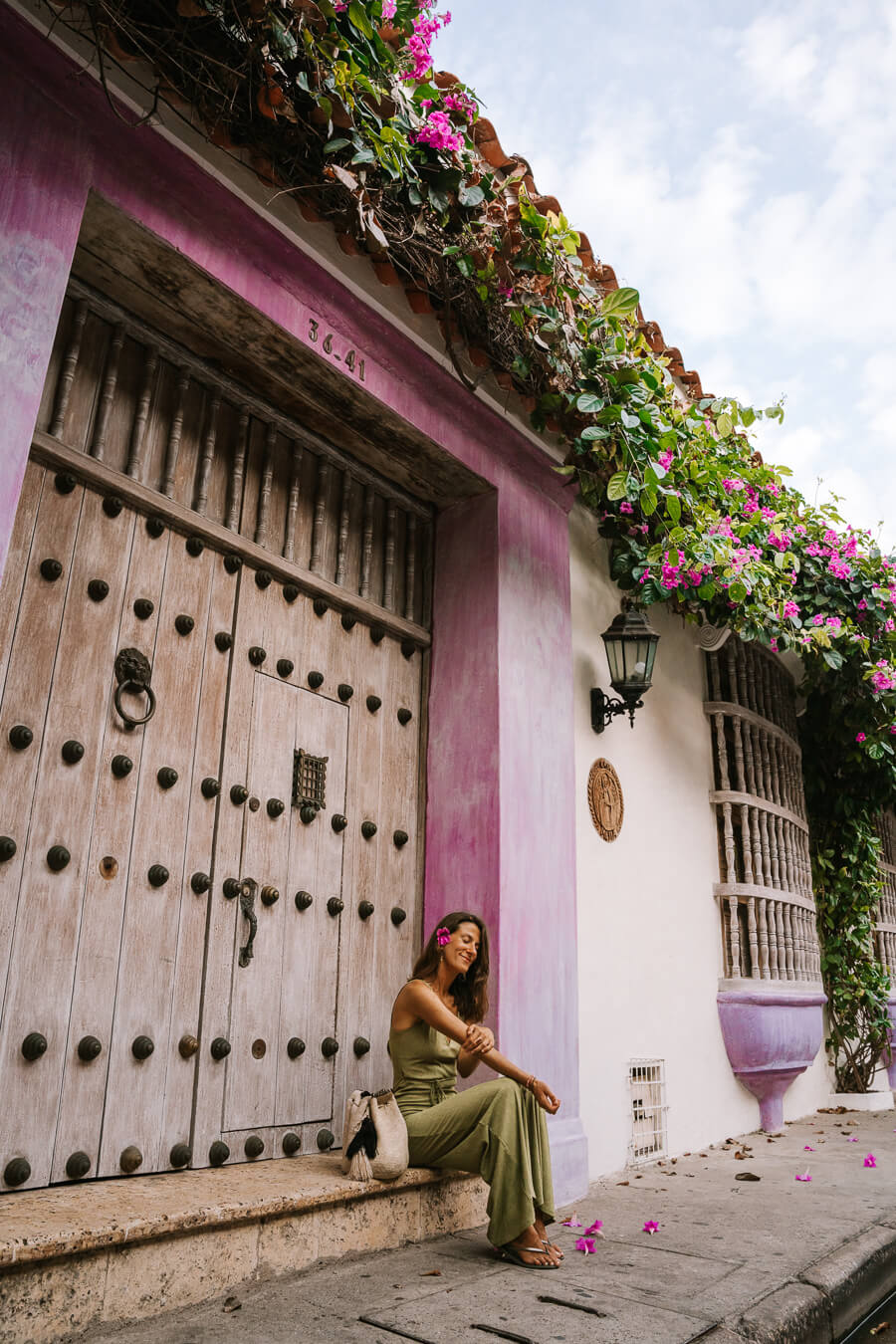 Have a Coffee in a Bookstore
One of the most epic places to come to relax in Cartagena and have a coffee is the Ábaco Libros y Cafe bookstore.
This is a tiny bookstore with a cafe attached to it. It really has so much character to it. There are a few tables and chairs running down the middle of the bookstore where you can sit relax, read, work or play games.
While most books are in Spanish, they do sell Gabriel Garcia Marquez in English. There really is no better place to pick up 100 Years of Solitude while sipping on Colombian coffee.
Is there a better start to the day?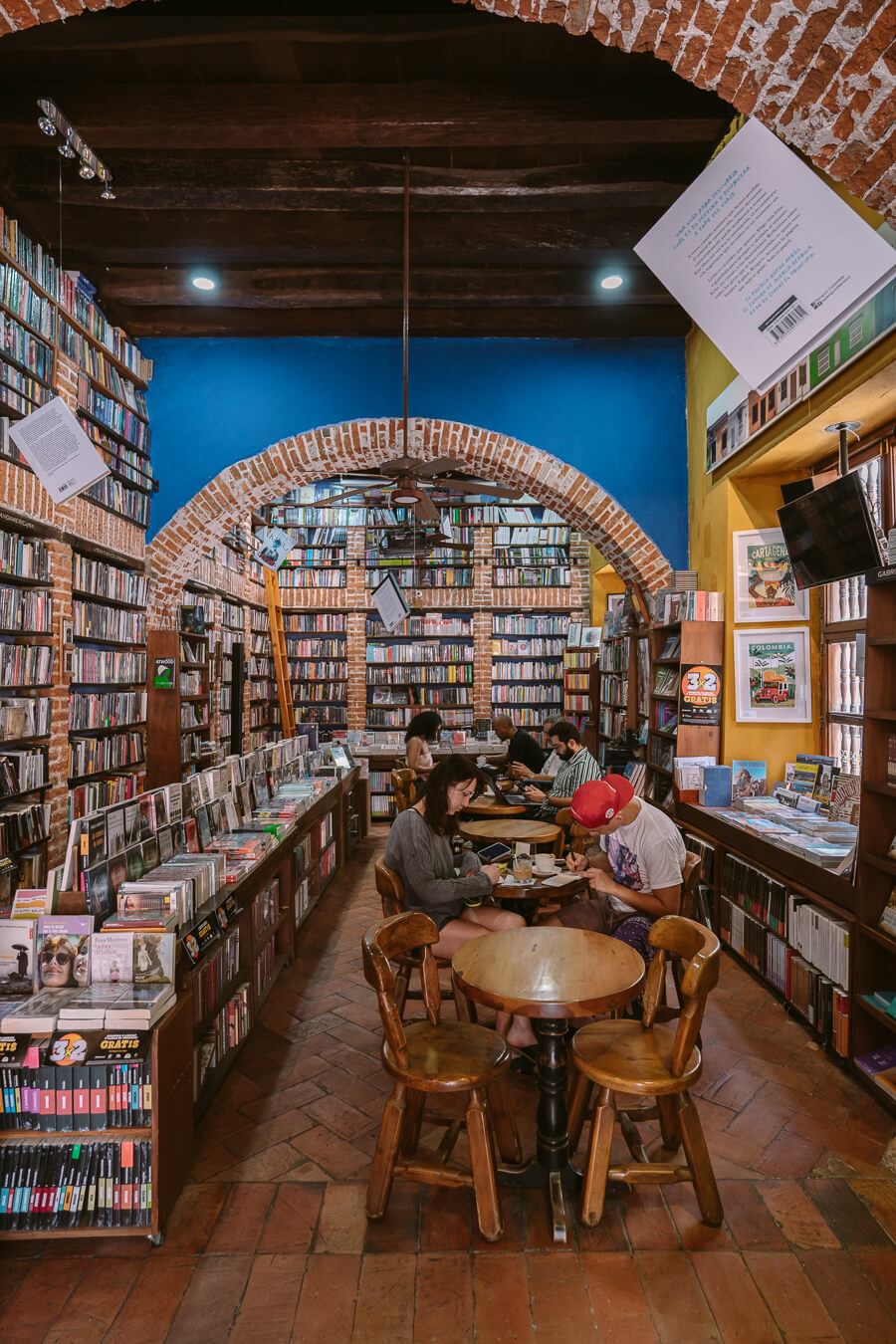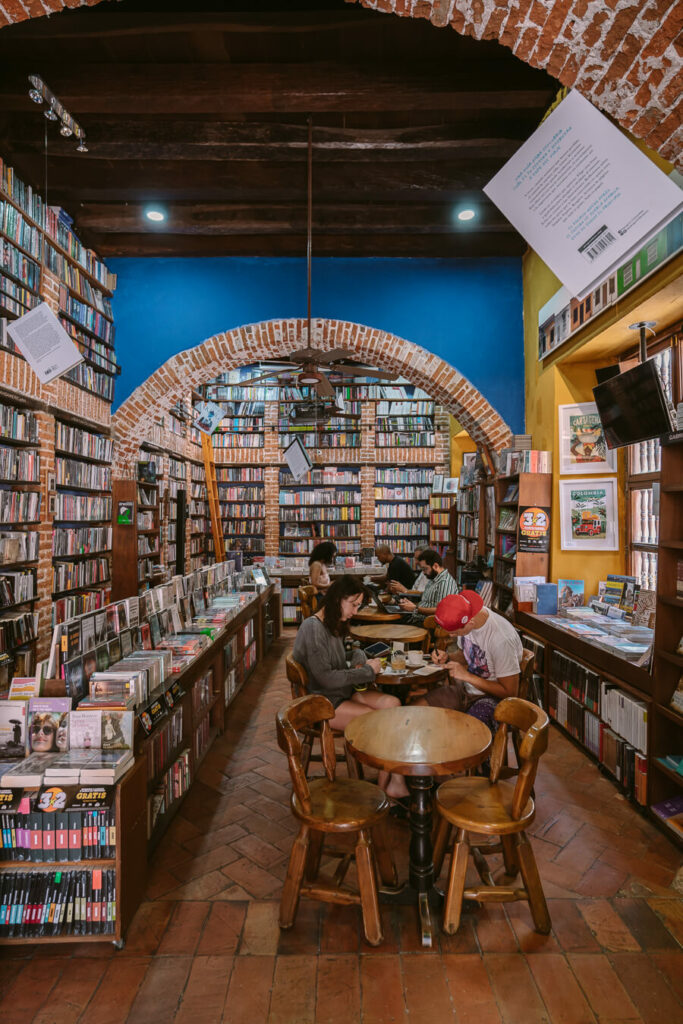 Visit Castillo de San Felipe
This fortress (Castillo San Felipe de Barajas) was built by the Spanish in 1536 and later expanded to how it appears today. The fortress protected the Spanish from enemies, disease and floods for centuries and is now a UNESCO World Heritage Site.
Pay the entrance fee to get in or walk around the outside to get an idea of the space. When walking around it keep your eyes peeled for iguanas.
Iguanas live in the little holes in the fortress walls and they often come out in the early morning to hunt and sunbathe. Castillo San Felipe is easily reached on foot from Getsemani. 
Visit Cartagena's Gold Museum
While the country's main collection of gold artefacts is in Bogota, Cartagena's Museo del Oro Zenu has a lovely little collection of gold artefacts mainly from the northern part of the country.
It also has some fabulous examples of pottery created by the indigenous Zenu people who inhabited this area before the Spanish inquisition.
Gold was key is the prosperity of Cartagena and you can learn about the history of the city and the role of gold in this lovely little museum.
Admission is free, so it's totally worth a stroll and a quick look. Just note that it's closed on Sundays and holidays.
Marvel at the Palace of the Inquisition
If you're looking for more things to do in Cartagena, make sure to stop by this architecturally stunning building.
Right across the Plaza de Bolivar, you'll find one of Cartagena's best examples of civil and colonial architecture.
The Palace of the Inquisition was used as the Holy Office of the Inquisition of Cartagena back in the 18th Century and now it houses the History Museum of Cartagena.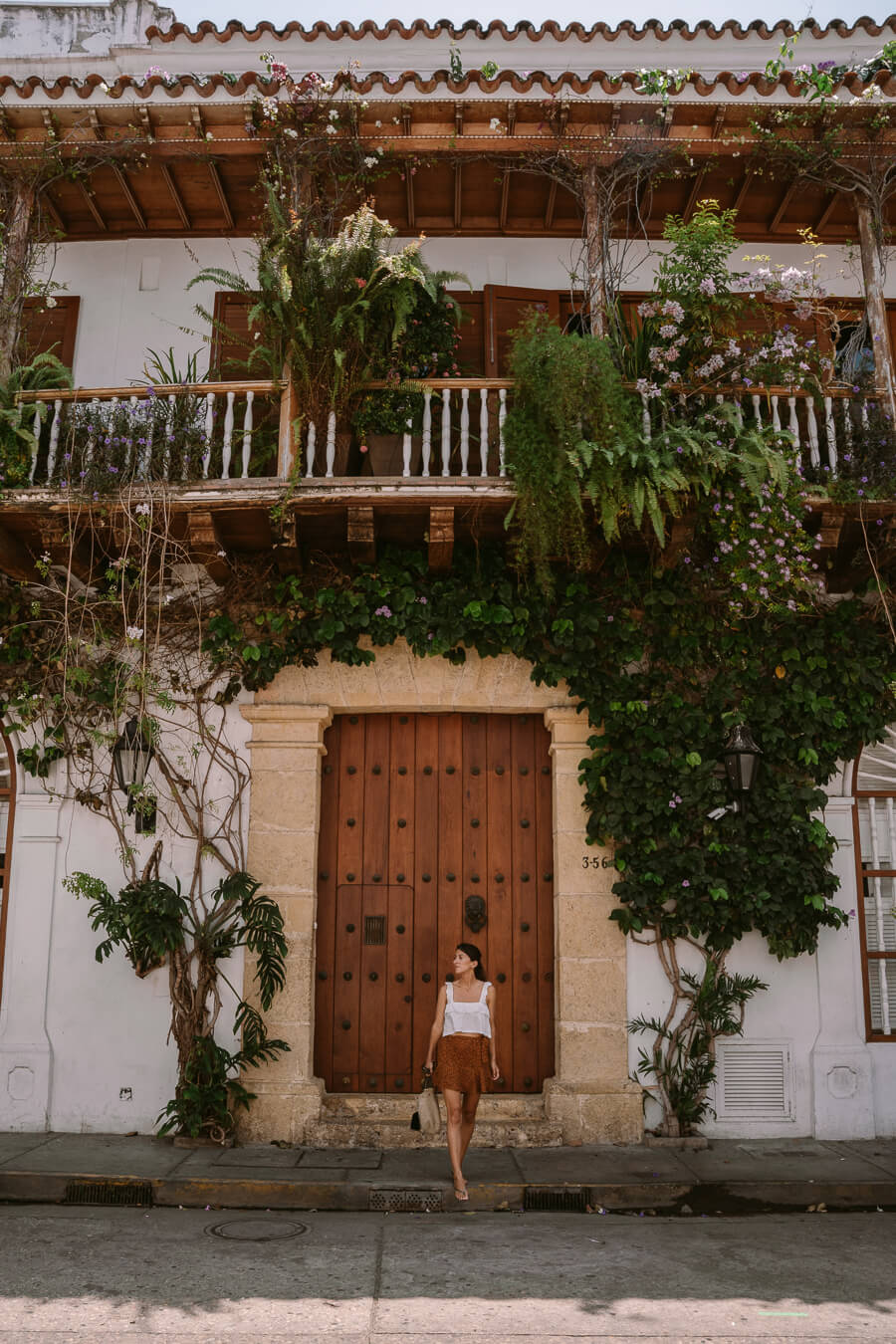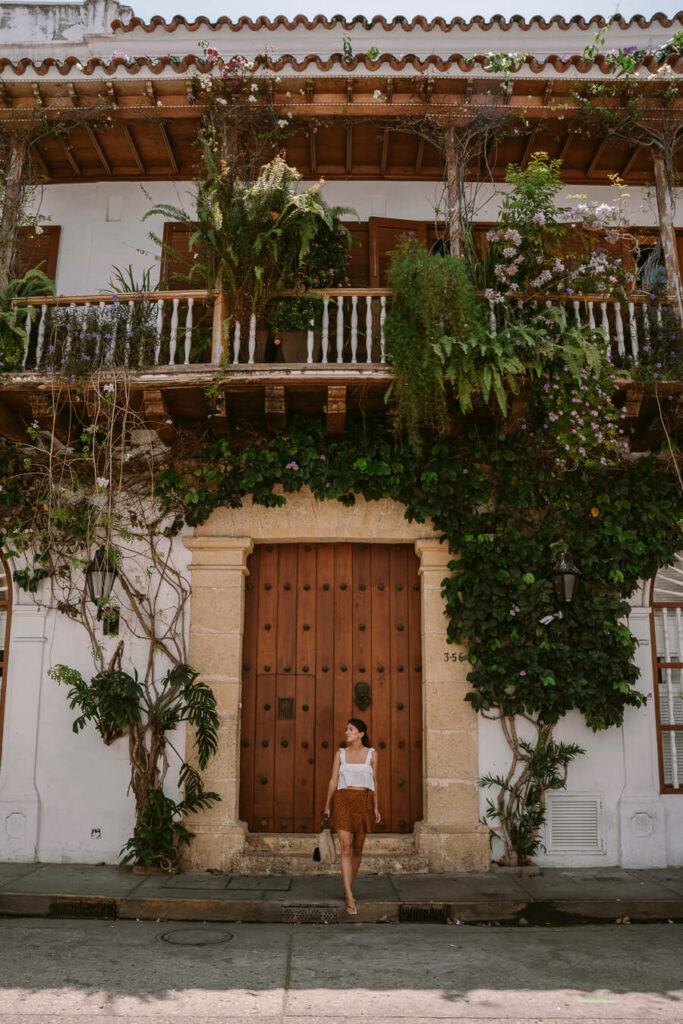 While the building is pretty impressive from the outside, buy a ticket and head inside the museum to discover the grand courtyards inside as well as to learn more about the history of the city of Cartagena.
You'll learn all about the Spanish Inquisition, how Cartagena grew to become one of the most prosperous cities in this region as well as the more gruesome side of life during this time.
Relax on a Rooftop Bar
Cartagena is all about glamour and splendour and the wall isn't the only place to go to see the sunset.
If you're looking to spend the afternoon or evening in style, you'll really want to head to some of the best rooftop bars in the city for more-than-impressive views of the city.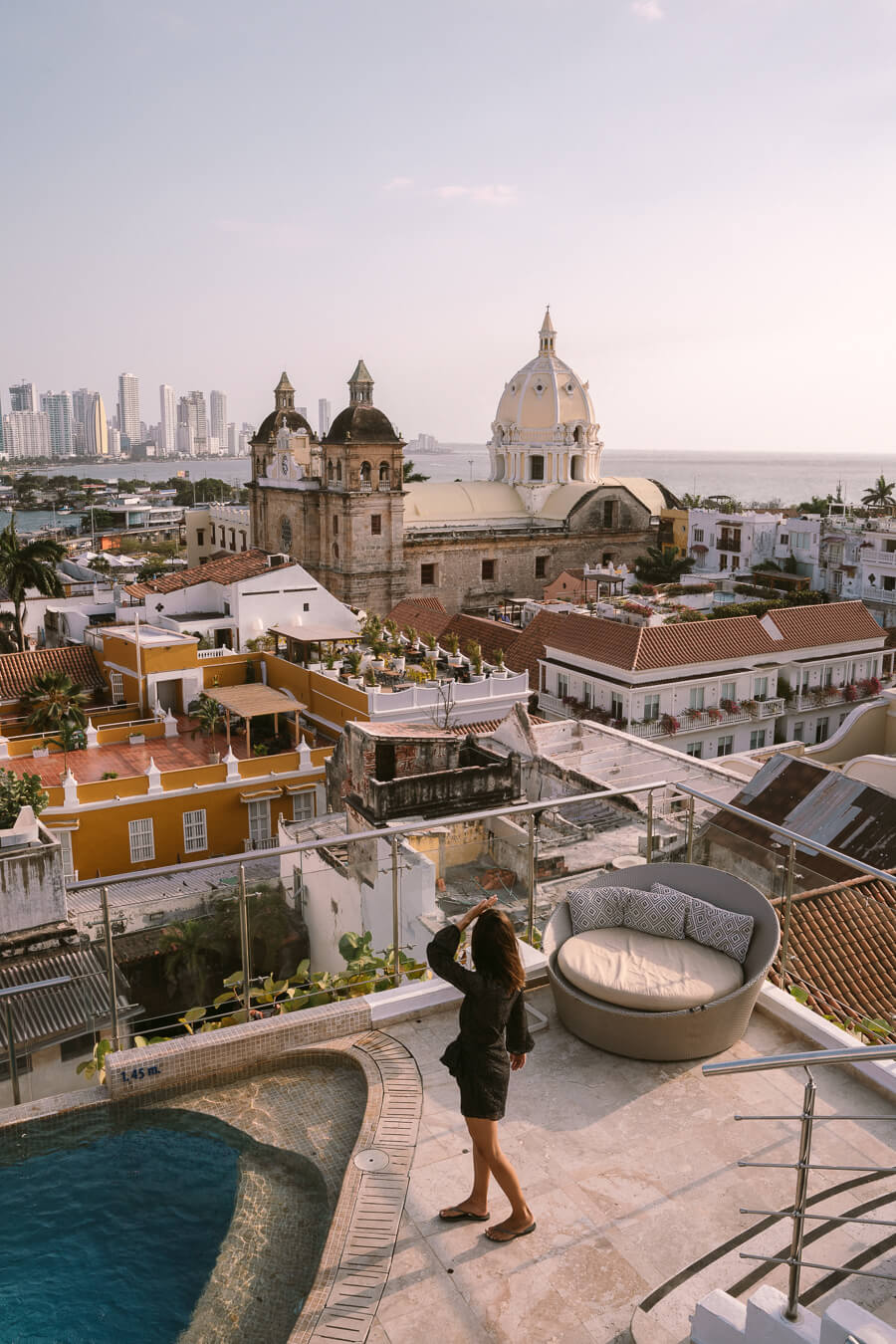 Hands down the best place to come for a drink, a fabulous sunset and gorgeous views is the Movich Hotel Cartagena.
You don't need to be a guest to come in and head up to the top floor for a drink. Have a seat and enjoy their great drinks menu with classic cocktails and more.
If you're plant-based make sure to eat before or after because sadly their food menu isn't vegetarian-friendly.
When heading to the Movich, make sure to get there with plenty of time as it can get quite full, especially if you want to get a great table with a view.
When the sun goes down make sure to check out Alquimico, probably the best cocktail bar in Cartagena.
While they have a rooftop, it doesn't have great views of the city so I don't recommend it for sunset, but when the sun goes down this is the place you want to be.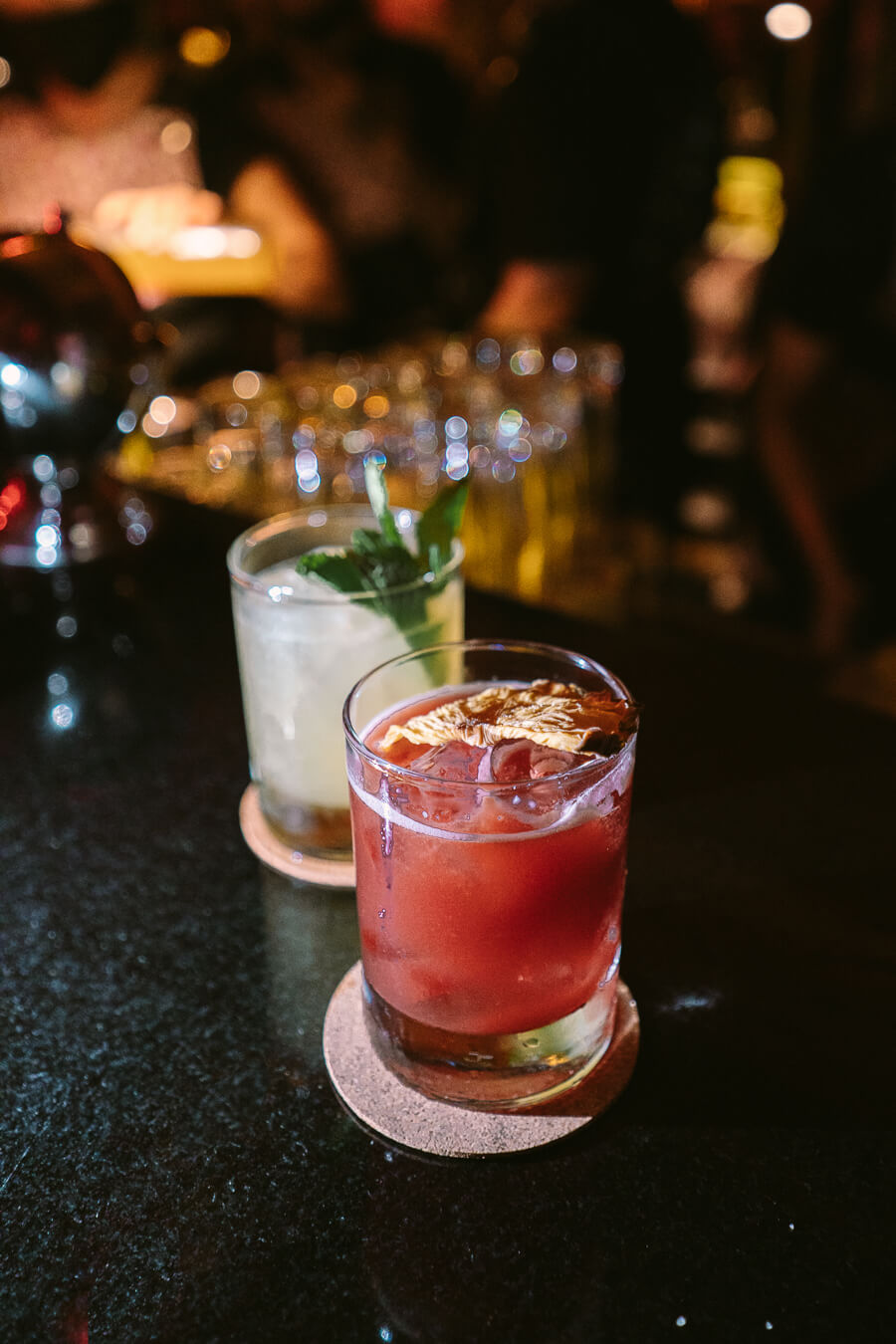 Combining unique house liquors and creative recipes to make the best cocktails you'll have in Colombia and maybe even South America, Alquimico is a must when in Cartagena.
Just make sure you come early as past 8 pm, this place has queues that go out the door.
Read more: 12 Best Places To Visit in Colombia You Don't Want To Miss
Dance Salsa at Cafe Havana
Cafe Havana is arguably the best salsa club in town and is an institution in its own right. Feel like your skills are up for it? Head to the dance floor and join right in.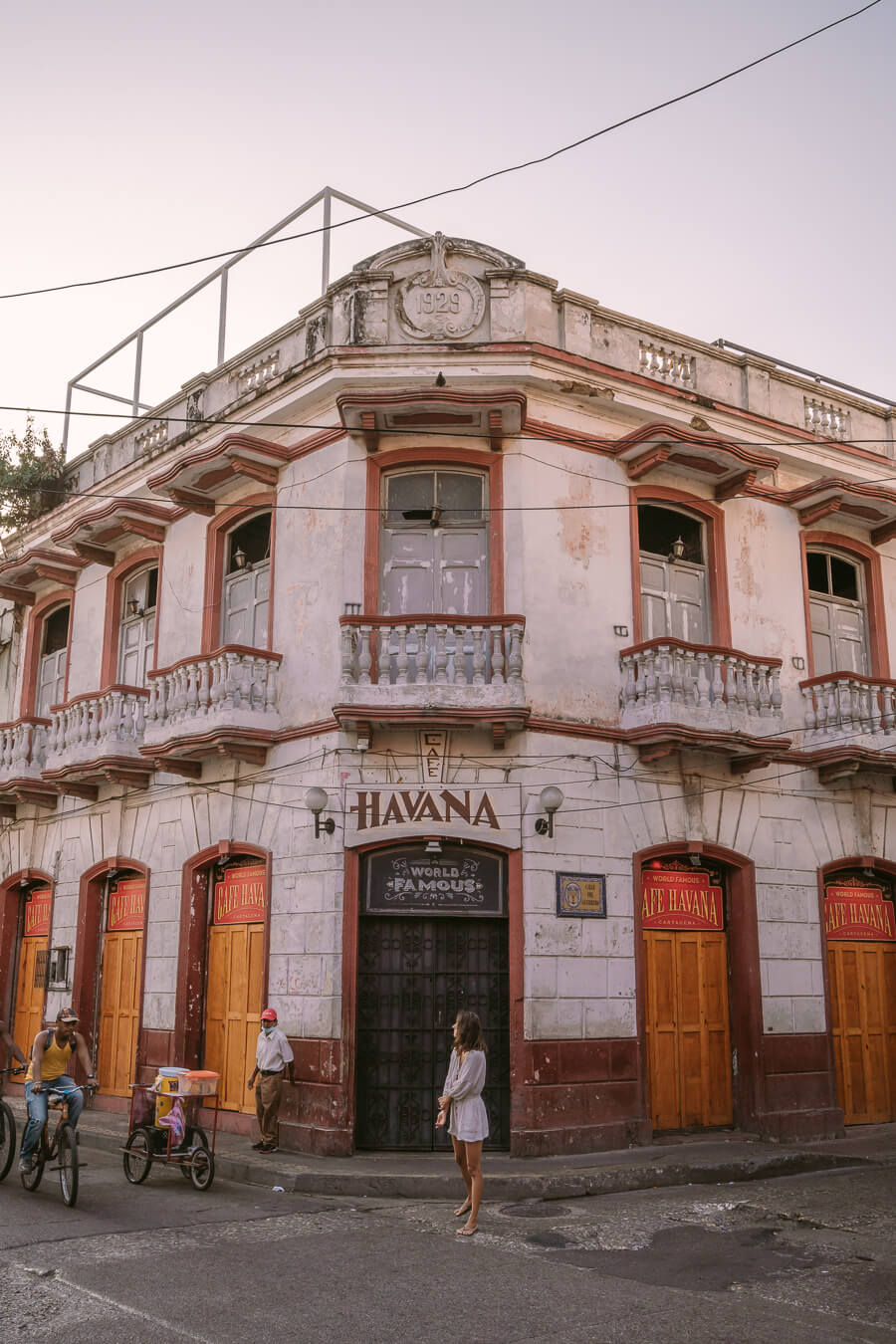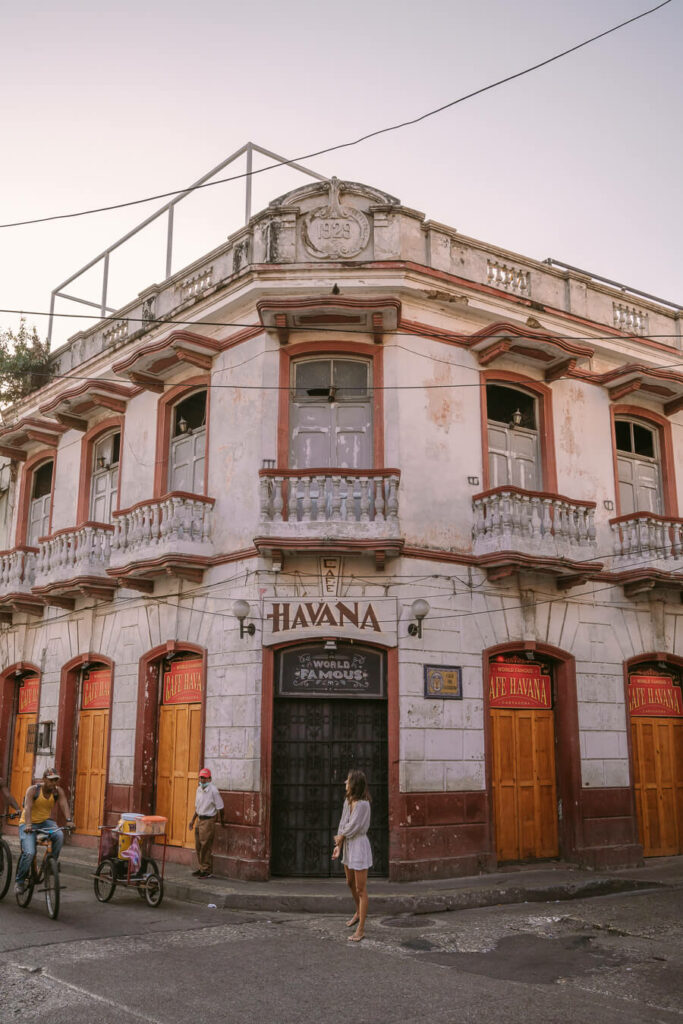 If not, it's also a great place to just enjoy the music, sip a great Cuban cocktail and watch the locals strut their stuff. If you're a nightlife person this is a really fun night out.
Go on a Sunset Cruise
While still not as popular as they could be sunset cruises in Cartagena are another way to fully enjoy the beautiful sunsets this city has to offer just on the water.
Boats normally leave from the docks right by the old walled city, then do a loop of Cartagena's internal bay before finding a lovely spot to stop for sunset.
Most tour operators use really nice, large catamarans giving you plenty of space to move around, take photos and make yourself comfortable.
Often the tours will include at least one drink, some snacks and even an open bar so make sure to read the fine print to choose the right tour for you.
Check out this tour that's one of the best catamarans in the city and includes a sunset drink and snack or this one on a luxury yacht with an open bar.
People Watch at Plaza Santo Domingo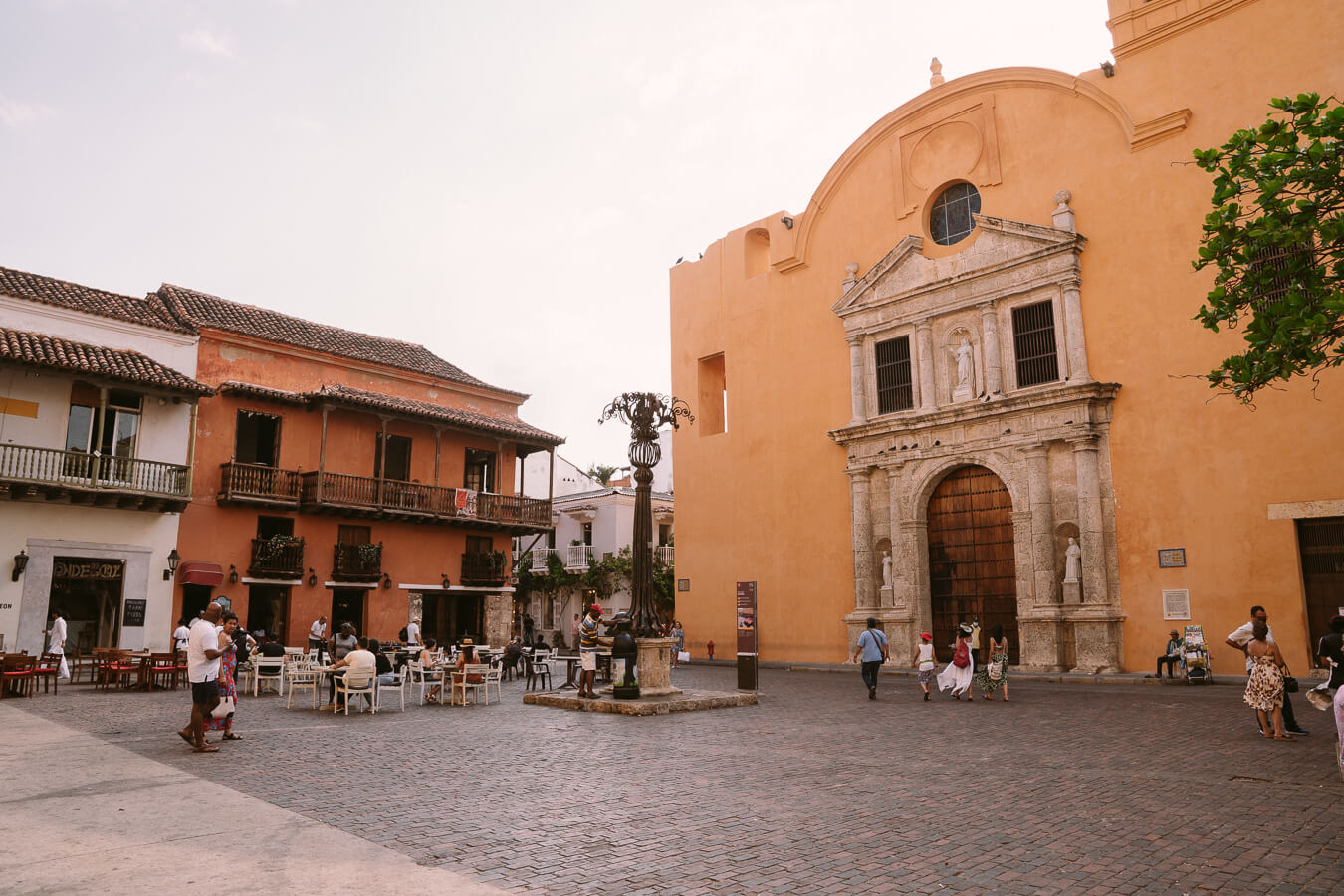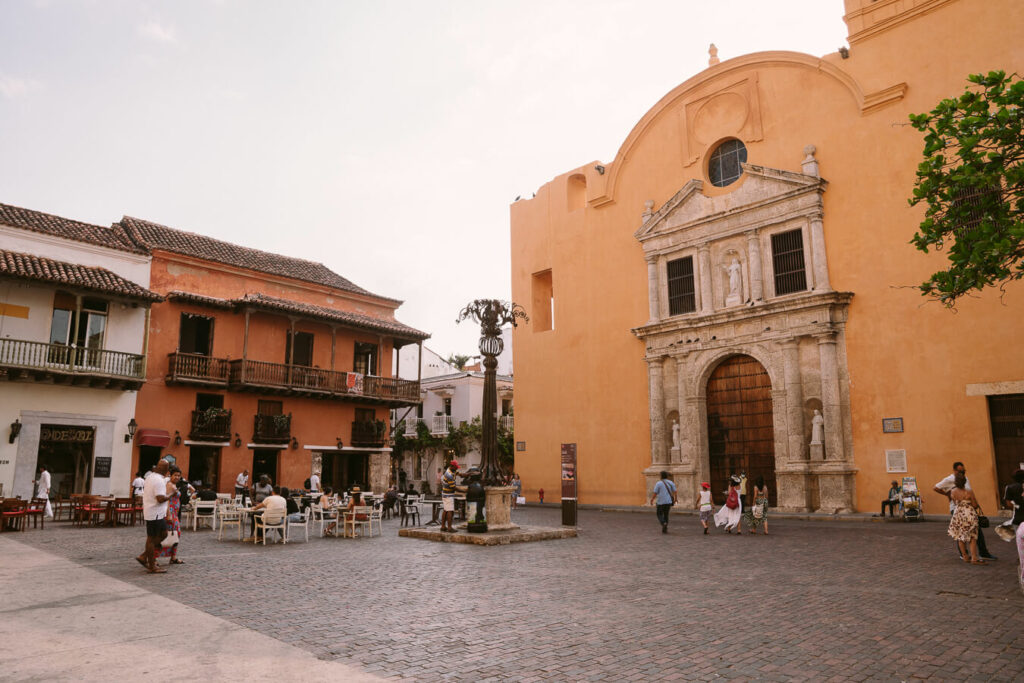 Santo Domingo is one of Cartagena's nicest squares and it's also one of the quietest. With cobblestone pathways, and a fountain in the centre it's surrounded by a beautiful ochre church, hip cafes and stores and it even has a Botero sculpture in it too.
As it's not as busy as some of the other squares in the old city of Cartagena, it makes for a nice place to relax.
Take a seat in one of the outdoor spaces of a cafe, order a Colombian coffee or old drink and watch the world go by.
You'll see everyone from local fruits and crafts sellers to tourists strolling by. It's a great place to just be and transported me right back to Italy.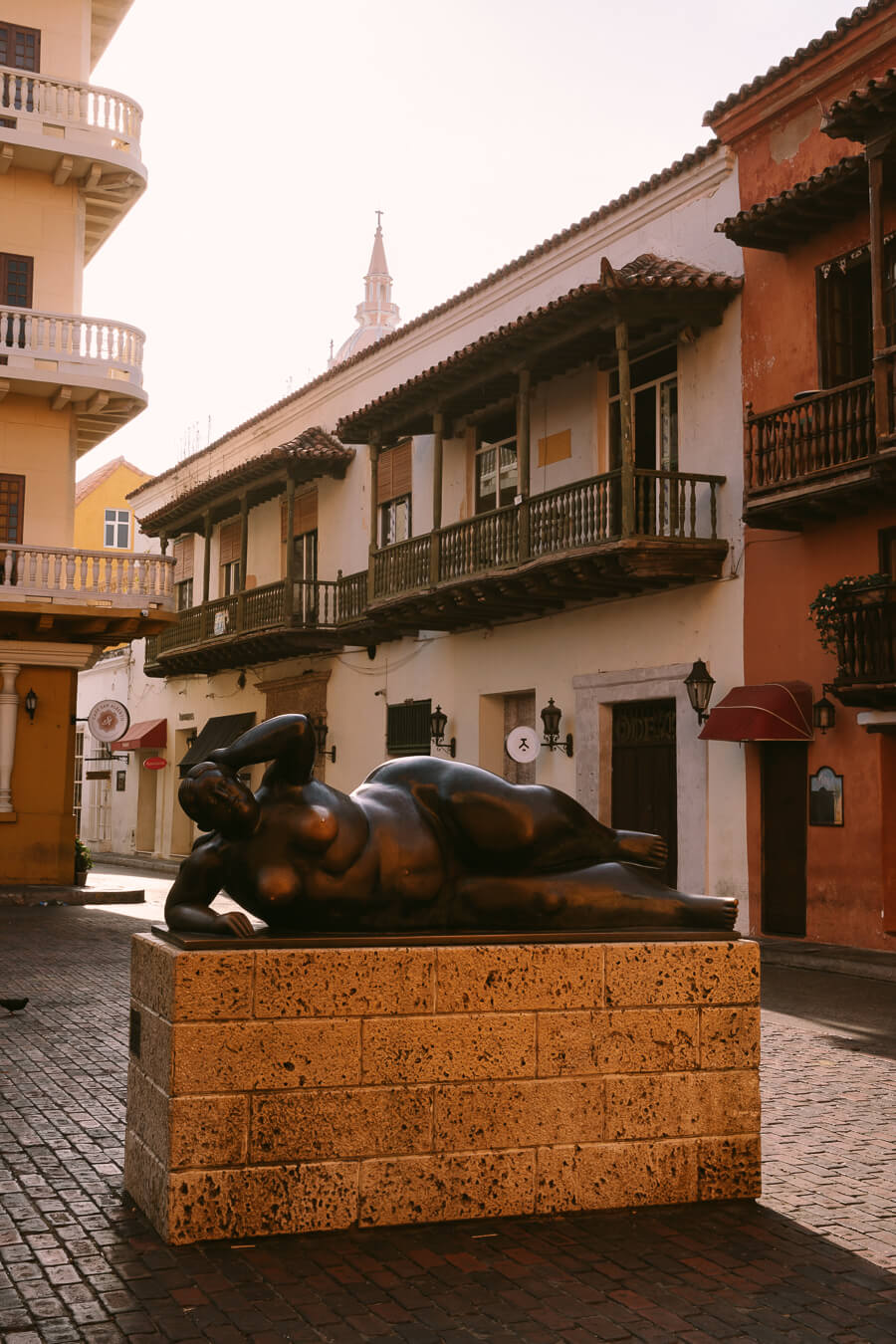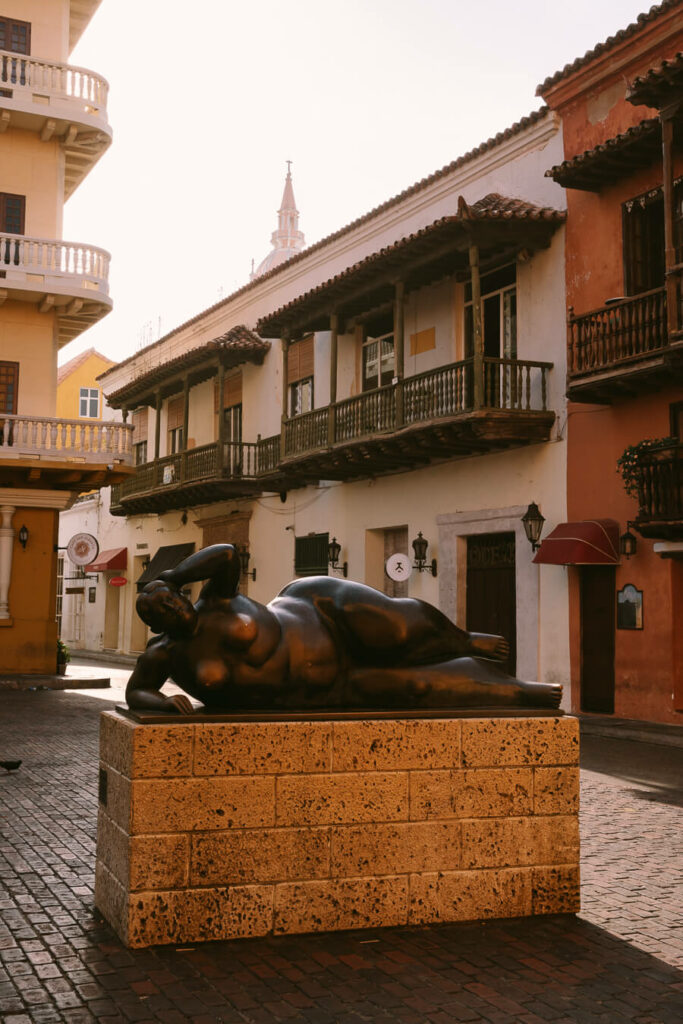 Things to Do in Cartagena: Explore Getsemani
Getsemani is my favourite neighbourhood in Cartagena. It's a little boho, a little grungy, very cool, colourful and laid-back and most importantly- real.
The area is a mixture of local businesses, hostels and boutique hotels, restaurants and local people living their lives on these streets.
Check out the colourful houses, talk to some locals, grab a coffee in a hip cafe and most importantly, seek out the street art.
Getsemani is full of street art from a variety of different artists. Most of which are extremely artistic and of a political nature. 
Make sure not to miss the iconic Plaza de la Trinidad where you can mingle with the locals in the afternoon and evening.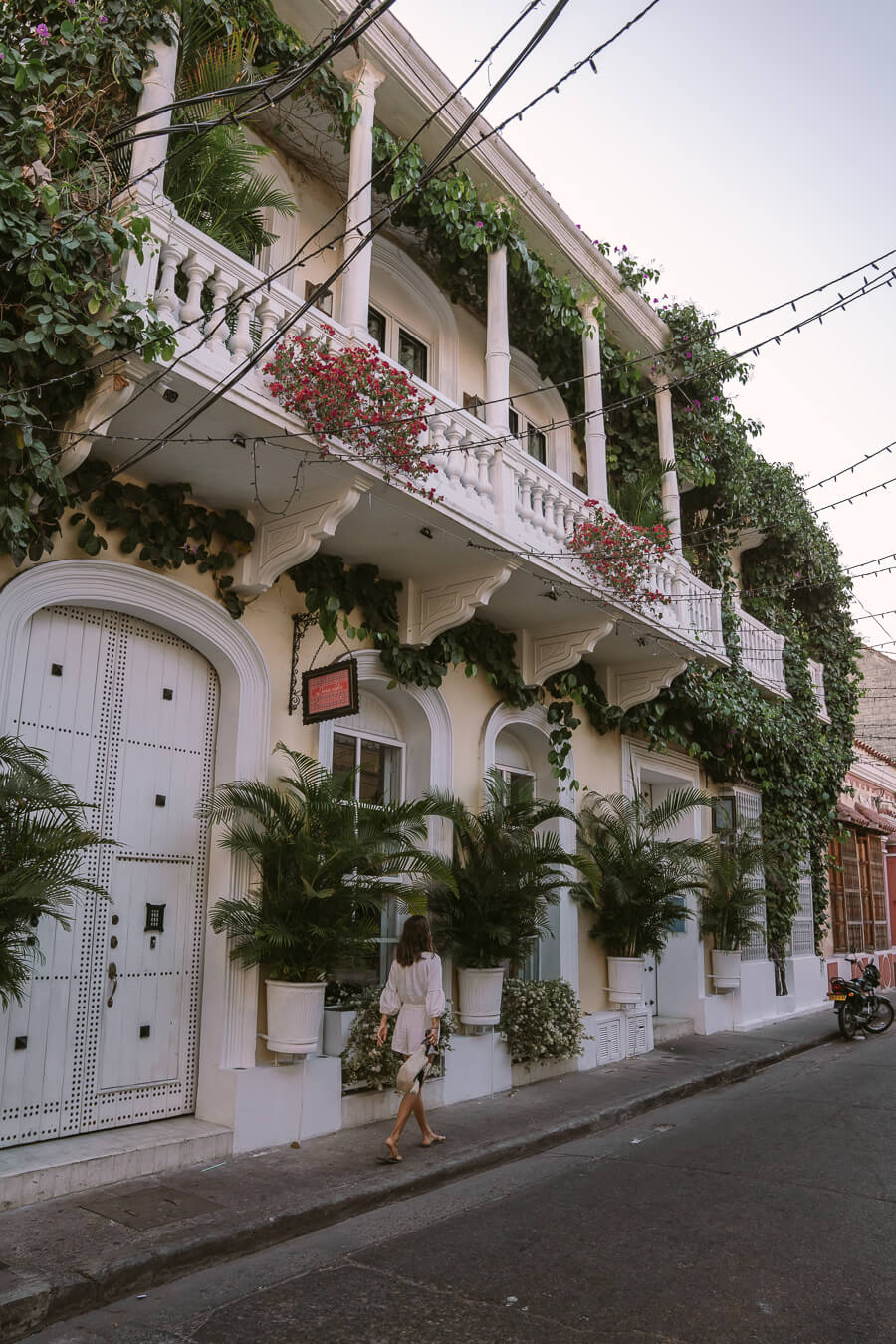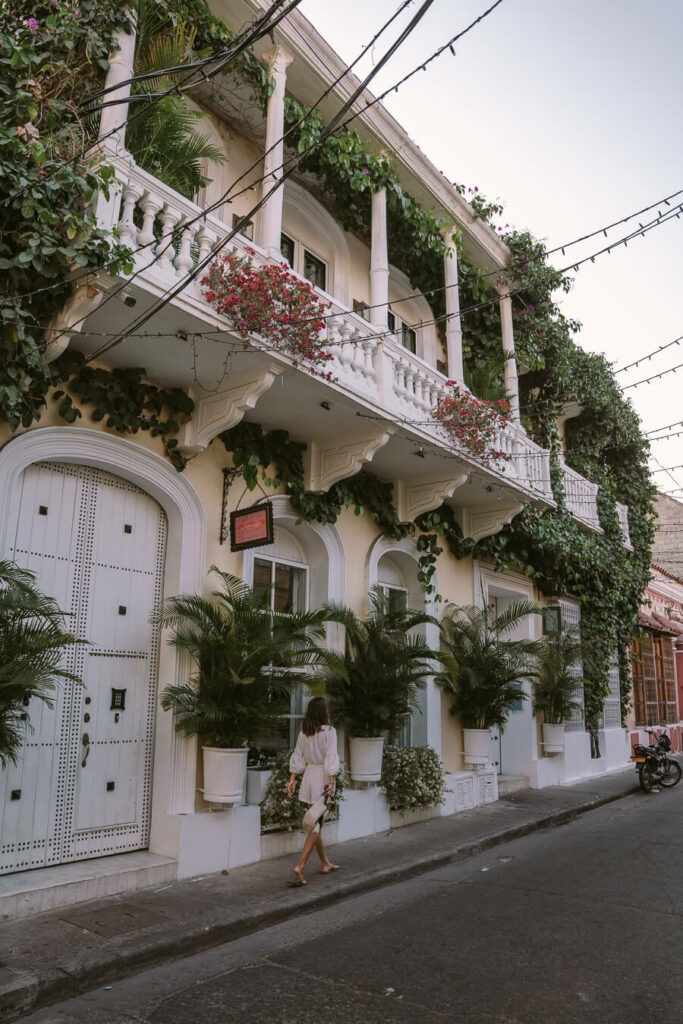 Do you have any comments or questions about things to do in Cartagena Colombia? I'd love to hear from you so comment below.
---
Planning a trip right now? These are just some of my favourite websites I use to book everything from hotels to rental cars!
Rentalcars.com for quick and easy car rentals worldwide
Booking.com for great deals on hotels
Agoda also for great deals on hotels
Get Your Guide and Viator for tours and adventures around the world
Related posts you might like:
The Best Restaurants in Cartagena, Colombia
13 Famous Places in Colombia You Don't Want To Miss
Tayrona National Park, Colombia: Your Essential Guide
The Ultimate Things To Do in San Andres, Colombia | An Island Guide
The Very Best Things to Do in Bogota Colombia
Found this post useful? PIN IT AND SHARE