(Last Updated On: March 25, 2020)
San Andres Island Colombia is a small Caribbean haven which belongs to Colombia but is geographically closer to Nicaragua.  Culturally however San Andres is not much like Colombia; yes people speak Spanish and they are just as warm and hospitable. However, people here share more similarities with their Caribbean neighbours; they prefer to speak a mixture of Creole and English to Spanish. They have a truly welcoming island vibe and with the pure white sand and turquoise waters flanked by palm trees, San Andres is definitely a destination you should consider in the future when looking for a beach break in the Americas. I spent almost a week on this small, castaway island and in this post I'll outline all the best things to do in San Andres, Colombia.
While San Andres a bit more expensive than the Colombia mainland it's still decisively cheaper than Europe or the States. It can be done on a tight budget if you choose your accommodation and food choices wisely.
This idyllic island has been a holiday destination for decades meaning that at times it does feel like just that. People come to relax on the beach, take snorkelling and boat tours and just to eat and drink. Almost all the beaches here have island shack style bars and restaurants so it's very difficult to find tranquillity sometimes unless you get up to watch the sunrise. It's vibrant and full of movement but definitely not overcrowded.
BEST TIME TO GO
San Andres is a year-round destination with tropical temperatures all year round. That being said, it is very much a beach destination so you'll probably want to avoid it during the rainy season which falls at around October/November. The best time to visit in my opinion is April, September or December. The busiest months, which coincide with Colombia's holidays are January, February and March and should be avoided too.
GET IN
San Andres is only accessible by plane. Flights are operated by the major Colombian airlines among others such as Avianca, LATAM, Viva Colombia, and COPA. They fly directly to the island from all major Colombian cities including Medellin, Cali, Bogota and Cartagena. Avianca also fly to San Andres from San Jose, Costa Rica and COPA fly from Panama City.
GETTING AROUND
San Andres island is only 26km2 meaning that it's perfectly explored on 2 or 4 wheels. The island does have a good and cheap bus system that goes around it entirely but service is sporadic. The best way to explore the island while getting some wind in your hair is by scooter or golf buggy. Golf buggies are for 2 or 4+ people plus luggage so this is a great option for small groups or couples who want a bit more space. Note that golf buggies are only allowed to circulate until 6 pm. After that, you might get pulled over by police and there were many checkpoints and police on the roads when I was there. 
Another option is renting a scooter. I paid 70,000 a day and I could ride it as and when I wanted. Driving around the whole island I explored every crevasse and I loved the flexibility it gave me. I was warned to be careful of erratic driving by locals but all was fine. Note that rentals don't come with helmets (locals here don't wear them) so be careful. Petrol stations are located in the town with one other on the West side between the airport and The Cove so make sure you fill up your tank before leaving town.
You also may want to take a taxi from the airport if you're not staying in Centro. I found that the drivers here tended to be fair with the rates. As a guide, I paid 25,000 from the airport to San Luis/ Rocky Cay beach. Moto taxis are also an option if your alone and don't have luggage.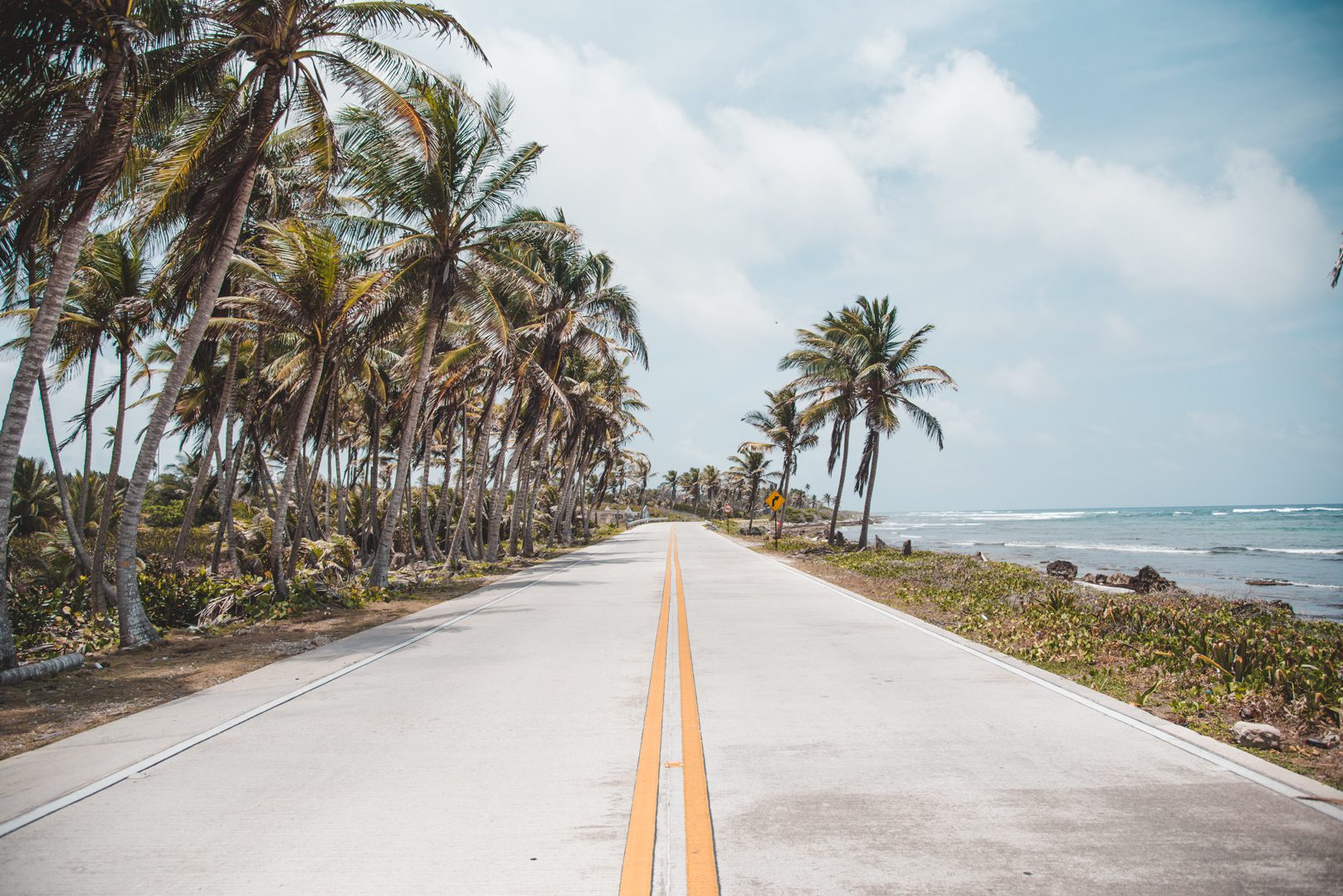 WHERE TO STAY
CENTRO
Most of the hotels are located in the main town on the north end of the island. Here you'll also find all the restaurants, bars, clubs and a few beaches. Staying here has its pros and cons. It's extremely easy to book transportation, tours etc as well as having many options of things to do at night. Most of the eating options are here also, especially the budget options. However, it is pretty crowded (the beaches are very busy) and it can get noisy.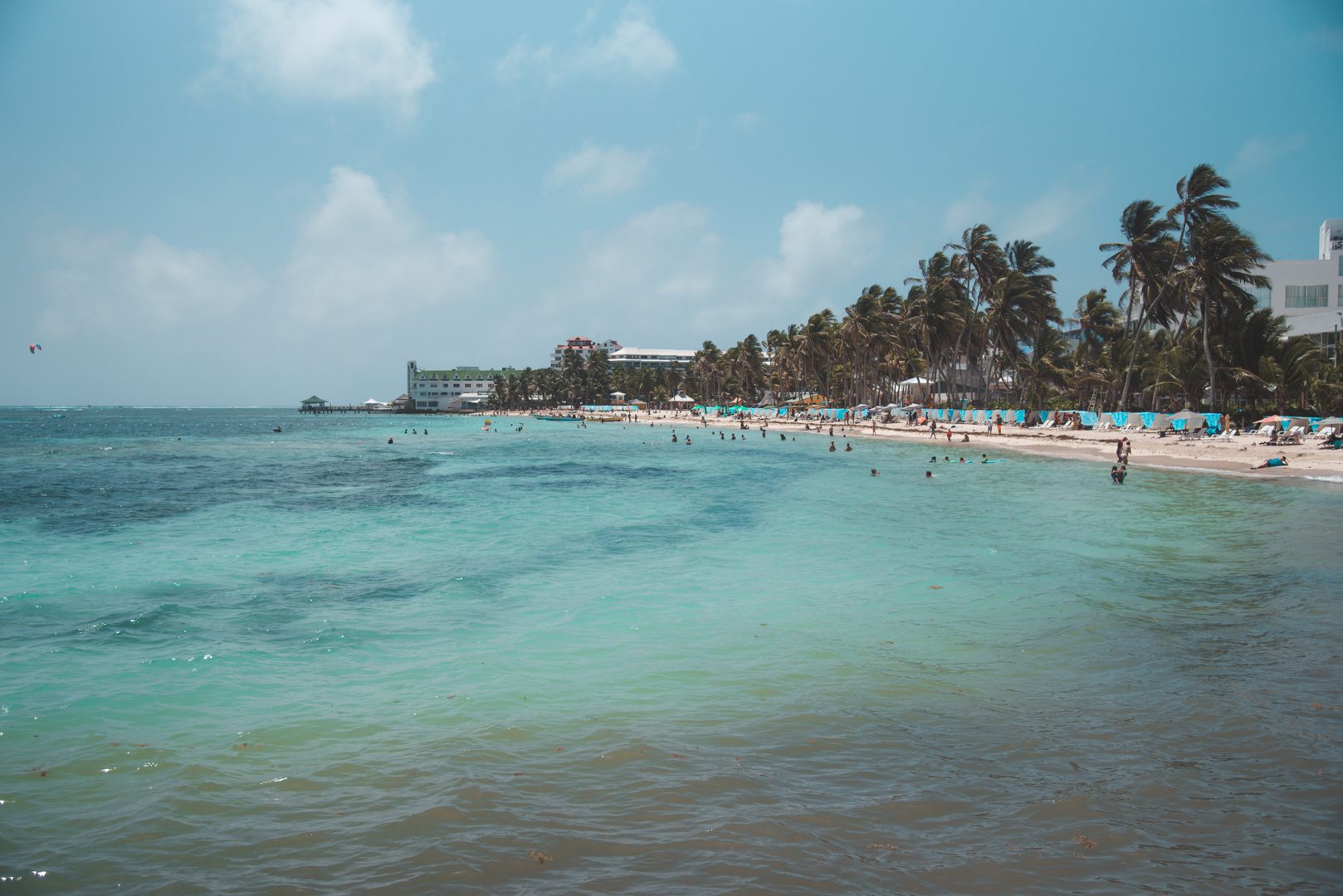 ELSEWHERE
You can quite easily find accommodation elsewhere on the island if you fancy something a little more tranquil. As a general rule the further south you go the less there is around. If you do decide to stay somewhere quite south make sure they offer eating options or self-catering. I stayed in the village of San Luis and I had puppies and chicks running around right outside my door. However, I didn't have many eating options close to me except for a few restaurants on Rocky Cay beach. In the evenings I had to hop on my scooter and drive to the main town for dinner. Given that was just 15 minutes away wasn't an issue.
The are many hotel and Airbnb options on the island. If you haven't yet tried the joys of Airbnb I highly recommend you do. You can get $40 off your first stay using my link here.
Travelling to Cartagena, Colombia? Check out my comprehensive travel guide here.
WHERE TO EAT
As you can probably imagine food on San Andres island revolves around fresh fish and the Colombian/Caribbean classics. Expect seafood, fried plantains, beans, rice and empanadas. I have to be honest and say it's not an inspiring place to eat if your plant-based. There are no exclusively vegetarian or vegan restaurants but I found that salads, pasta, rice and plantains were a good option. If you're looking for something cheap then Subway does a veggie guacamole sub. Food on San Andres is also a little more costly than on the Colombian mainland. Here are some of my favourite places to eat on San Andres.
La Pizzetta Florio– This Italian restaurant is a gem of a find in the centre of San Andres. Serving fresh pasta, pizzas and salads, it's an excellent option for anyone with an Italian food craving. They have a few salads that can be easily adapted to fit a plant-based diet and their spaghetti is amazing too. (Be sure to check if this has egg in it though). At lunchtime, they have a menu of the day which involves at least one veggie dish (beans)- this was great value for money. Where: Av Colon Local 114, San Andres.
Shima Sushi– sushi is always a good idea, and a great veggie option as most establishments will be happy to make a roll without the fish. These guys were no exception, and they treated me to many different mixed veggie rolls. It was fresh and delicious. Where: Av Colon local 8, San Andres
THINGS TO DO AND SEE
DAY TRIP TO JOHNNY CAY ISLAND
This island is the definition of a paradise island. Imagine those idyllic beaches you always see on Instagram and fantasied about going to. Yup this is it. White sand. Coconut palms. Turquoise water. To access Johnny Cay you need to book a tour. Most tours take you to the island on their boat in the morning and leave you there to do your own thing. Some organise lunch for you too. If you don't have lunch provided by your tour, don't worry, there are some restaurants on the island. Excellent tours should also provide you with some decent quality snorkelling equipment. Quality does vary company to company, so check the quality of the equipment and the boat before leaving. All tours and trips can be booked at the pier in the town centre. This is a beyond perfect way to spend the day.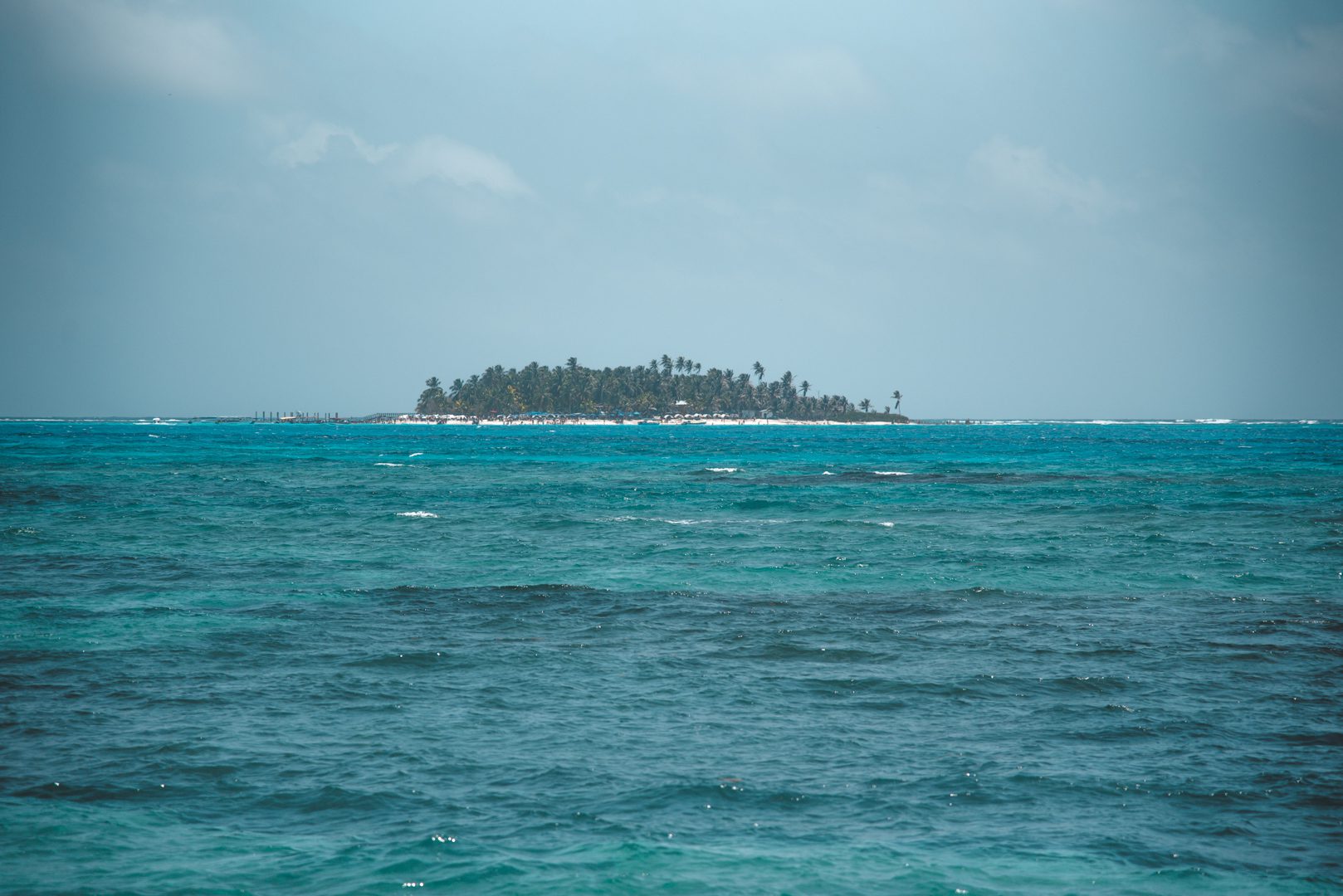 EXPLORE THE ISLAND
Rent a golf buggy or scooter and ride around the island on your own terms. Stop where you want and gaze at the crystal clear waters and pristine beaches. I loved just getting the wind in my hair and driving around the island. The highlights worth stopping at include Coral View Beach, Rocky Cay beach, South Point Beach, The Cove and La Piscinita. As a general rule, the beaches are on the East side of the island and on the West you'll find coral shores with azure waters perfect for snorkelling and diving.
GO SNORKELLING
The West side of the island is full of amazing snorkelling spots waiting to be discovered. La Piscinita is rated by many as the best snorkelling spot on the island. The water is clear and visibility is sometimes over 30 metres. You'll be able to swim among many species of vibrant fish, sea life, coral and even a turtle. You'll have to pay COP5,000 for entrance to La Piscinita but it's worth it as it's somewhere you can relax for the afternoon, snorkel and sip on coconuts. Snorkelling gear can be rented here too.
Other good snorkelling spots include Rocky Cay and West View. For even more snorkelling sites you'll most likely have to have your own equipment and boat or book a trip with one of the diving companies on the island.
VISIT ROCKY CAY BEACH
Rocky Cay beach is located on the East side of the island, about halfway between the town centre and South Point. It's considered the nicest beach on the island and it definitely lives up to that reputation. It's a gorgeous place to swim, lounge around by one of the beach shacks sipping on pina coladas or coconut water, chatting to locals and listening to Bob Marley on loop.
GO DIVING
San Andres island is diving heaven. With countless species of fish, turtles and manta rays living in these blue waters there isn't a shortage of what to see. There are also many wrecks to explore and even a plane wreck. If you're not a certified diver don't worry, there are some diving schools on the island where you can become Open Water qualified. What an amazing place to learn!
RELAX AND UNWIND
Out of all the things to do in San Andres Colombia, this is what people come here for. San Andres is after all a Caribbean island, oozing chilled afro vibes. This island runs on its clock, so the best thing you can do is grab a deck chair, sip a coconut and relax. Don't forget to bring a great book and download your favourite tropical playlists and podcasts.
---
Any questions or comments about things to do in San Andres Colombia? Leave them below, I'd love to hear from you.
Related posts you might like:
Colombia: 12 Mind-Blowing Places you Don't Want to Miss
The 10 Best Things To Do in Cartagena, Colombia
A Guide to the Best Beaches on Colombia's Caribbean Coast
---
LIKE IT? PIN IT AND SHARE!